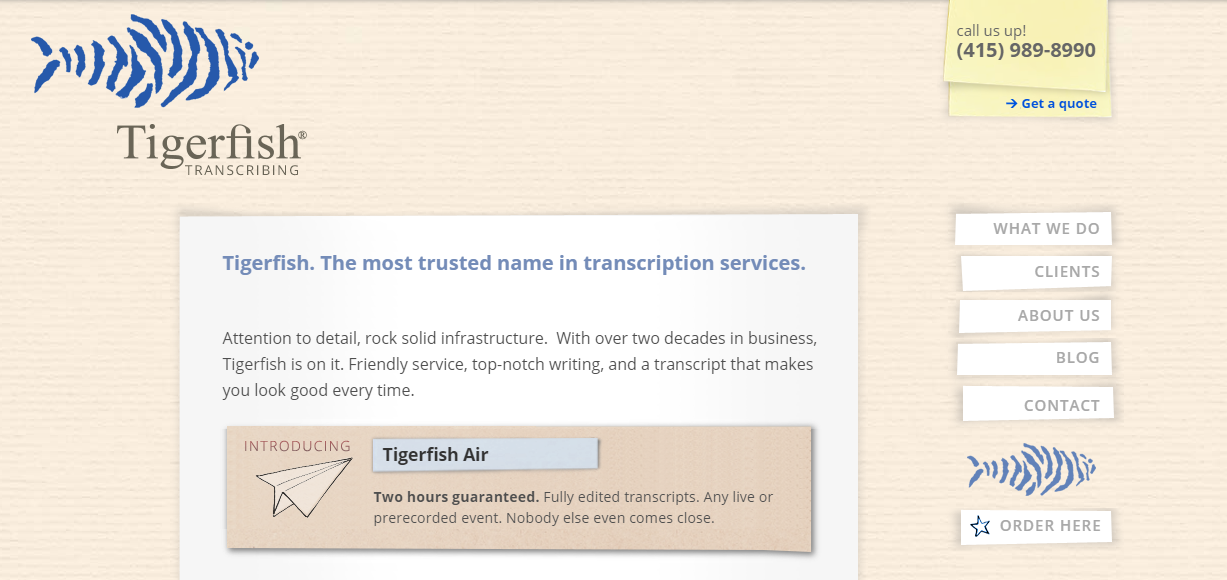 Welcome to My Tigerfish Transcription Review!
Transcription is one of the most popular and easiest ways to make money online; however, it requires various skills to be hired and succeed in this job. That being said, anyone can certainly apply as a transcriber but not everyone will be qualified.
Tigerfish Transcription Review Summary
---
Name: Tigerfish Transcription
Website: tigerfish.com/
Founders: Adam Goldberg
Product Type: Work-At-Home (Transcribing Job)
Price: Free
Quick Summary: Tigerfish Transcription is a legit transcription company that pays people for transcribing audio files. It's one of the most in-demand companies when it comes to transcription; however, it's limited only to a few people. Apparently, you need to be a US resident and at least 18 years old to get qualified.
Overall Rating: 7/10
Recommended: No
When looking for a transcription website, I found Tigerfish Transcription. It's a US-based company that holds a good reputation. I was excited to learn more about this company but I found out a few downsides which I'll gladly share in this honest review.
What Is Tigerfish Transcription About?
I did a lot of digging about Tigerfish Transcription and from what I see, it looks like a great company to work with as a transcriber. It works almost the same as Scribie, another transcription opportunity that pays you for transcribing audios. Beginners can definitely take a look at what this company has to offer but it has a few qualifications to consider.
First, you must be a US resident and second, you should be 18 years old and above. Of course, you'll be needing a few tools, too, like a desktop or a laptop should be Windows since Mac is not compatible with the video timecoding they use), a high-speed internet, quality headphones, and a phone so they can call you. They will also ask you to download a free app called Express Scribe transcription software.
How Tigerfish Transcription Application Works
Normally, all you need to do is to fill out an application form or submit a resume online to become a transcriber; however, Tigerfish Transcribing doesn't work like this. First, you have to download their "Tigerfish Transcription Style Guide" to know how they want their transcription to look like. If you want to become their transcriber, you have to put your attention to this before anything else because the next part is the application.
The next step is to download three different audio files and transcribe it but before you do that, you also need to install a free program that will allow you to listen to the audio. These files, which are about 5 minutes long, are the same kind of audio files that you'll work on once you're hired.
Take note of the total minutes or hours you've spent working on each file as they will ask you this. Once you're done, send your transcription to the email that they have provided. You'll have to wait for a week or two before they respond; however, if you fail to pass the test, you may never hear from them again.
How Much Money Are You Going To Make With Tigerfish Transcription
Based on the experience of Tigerfish transcribers, every word costs $0.005 so more or less, you'll be making $8 - $10 per hour, and this still depends on your experience. In one forum, one transcriber said that he can earn up to $15 per hour; however, he's already a pro when it comes to transcribing.
To learn more about Tigerfish, you can watch the video below:
Is Tigerfish Transcription A Scam?
Tigerfish Transcription is not a scam. In fact, it's one of the most trusted and sought-after transcribing companies. It's also good to know that they accept newbies and that the rate they pay per hour is big enough for a home-based job.
So far, I can say the Tigerfish is a good company especially to those who are interested in this kind of job. However, it's only available to US residents so if you're living outside the United States, you should consider other transcribing companies instead.
Meanwhile, if you think that transcribing is not for you and you want a more flexible money-making opportunity at home, you can consider other alternatives, such as blogging or affiliate marketing. If you have a passion for writing and you can commit to it, you can use it to earn extra income or even a regular source of cash.
Blogging Vs Affiliate Marketing
Blogging and affiliate marketing almost work the same; the difference, however, lies in the type of model they use to earn money. Whether it's blogging or affiliate marketing, you need to have skills, such as creating content and generating traffic.
Anyway, with blogging, you can generate income with the help of CPC (cost-per-click) ads. That means placing ads on your website and every time a reader clicks on it, you will get paid. It's almost easy; however, you need to produce quality content consistently to generate traffic on your website.
With affiliate marketing, on the other hand, you are promoting offers from different merchandisers. What you need to do is place unique links in your content and every time a visitor makes a purchase using your link, you will earn a commission -- and the amount you will make from this is often higher than the ads you place in your blog. This is the reason why most bloggers and internet marketers use this business model to earn money online. Often, it requires little to no investment to get started and the best part is, it's a good source of passive income.
If you're interested to learn more about affiliate marketing, I suggest you consider Wealthy Affiliate. It's one of the most popular affiliate programs of today and it has helped a lot of marketers earn money online. You can also take a look at this free step-by-step guide to get started.
Tigerfish is free; meaning, you don't need to pay for anything to work for them. However, if you're a beginner and you don't have the necessary tools, you have to spend money for your desktop, headphones, and a stable internet connection (in case you don't have this or you want to upgrade your current connection). It's a good investment though if you want to make money online.
Here Is My Top Recommendation to Start Highly Profitable Online Business from Comfort Of Your Home
PROS
Legit And Reputable
Tigerfish Transcription was founded in November 1989 and even after 30 years, the company has maintained a good reputation. It's legit and it's one of the most in-demand transcribing websites, thus if you want to become a transcriber, this site is highly recommended.
High Income Potential
Compared to the usual online jobs, Tigerfish Transcription offers a higher rate per hour. If you're consistent and committed with your role as a transcriber, you can make a good amount of cash here.
CONS
Limited Accessibility
Tigerfish Transcription is only open to residents of the United States, therefore if you're living outside the US, you should start looking for another alternative instead.
Few Job Openings
It's very rare to find a job opening at Tigerfish and it's not surprising at all. Since the company is known for having a good reputation and pay, many people are trying their luck to become one of their transcribers.
Tired of Trading Your Precious Time for Money?
Here is a Blueprint to Owing Highly Profitable Online Business Without Any Experience REVEALED!
Tigerfish Transcription is good for beginners or seasoned transcriber. This is a good opportunity if you want to make your free time lucrative since you are free to choose when you want to work. You can also use this as a replacement for your regular job; just be sure to back it up with another source of income since anything can happen any time.
If you want to make extra money, you can check my
top recommended program
by clicking this link. Don't worry, it's free! You don't need to pay for anything and it has everything you need to get started. Free training. Free 24/7 chat support. And free access to a live community where you can voice out your opinion, share tips, and/or build a connection.
I believe Tigerfish Transcription does not offer any training for their members; however, you can always rely on free resources online. If you want to get hired and become a successful transcriber, you should take as much training as you can before you apply and even after getting hired.
Transcribing per se is a legit opportunity to earn cash and if you have the skills, this job is recommended. Most transcription companies allow you to choose your own work schedule, such as Tigerfish Transcription.
Anyway, the company itself is legal as well and it provides good pay to its transcribers. If you're living in the USA, you can consider this company when you want to become a transcriber. Just be sure to be patient when waiting for their job opening or response.
Overall, I like how Tiger Transcription works and if only I'm a US resident, I would have considered this option. But if you're someone like me who's living outside America, you can consider my top recommended program instead.
Have you just lost a job because of the pandemic? Are you planning to keep yourself safe and healthy by staying indoors? Do you want to make money even when you're just at home?
If yes, then I got a legit opportunity for you to make money online.
Join our #1 recommended program and have access to the following tools and business support you need, such as:
Training resources
Webinars to help you start your business online
One-on-one coaching
Comprehensive guide
And many more!
As always, thank you for taking time to read our Tigerfish Transcription review. If you have questions or comments, please feel free to drop it down below.
We Constantly Review Programs in "Make Money Online" Niche,
So That You Don't Have to Waste Countless Hours
Want To See Our
TOP RECOMMENDATION?