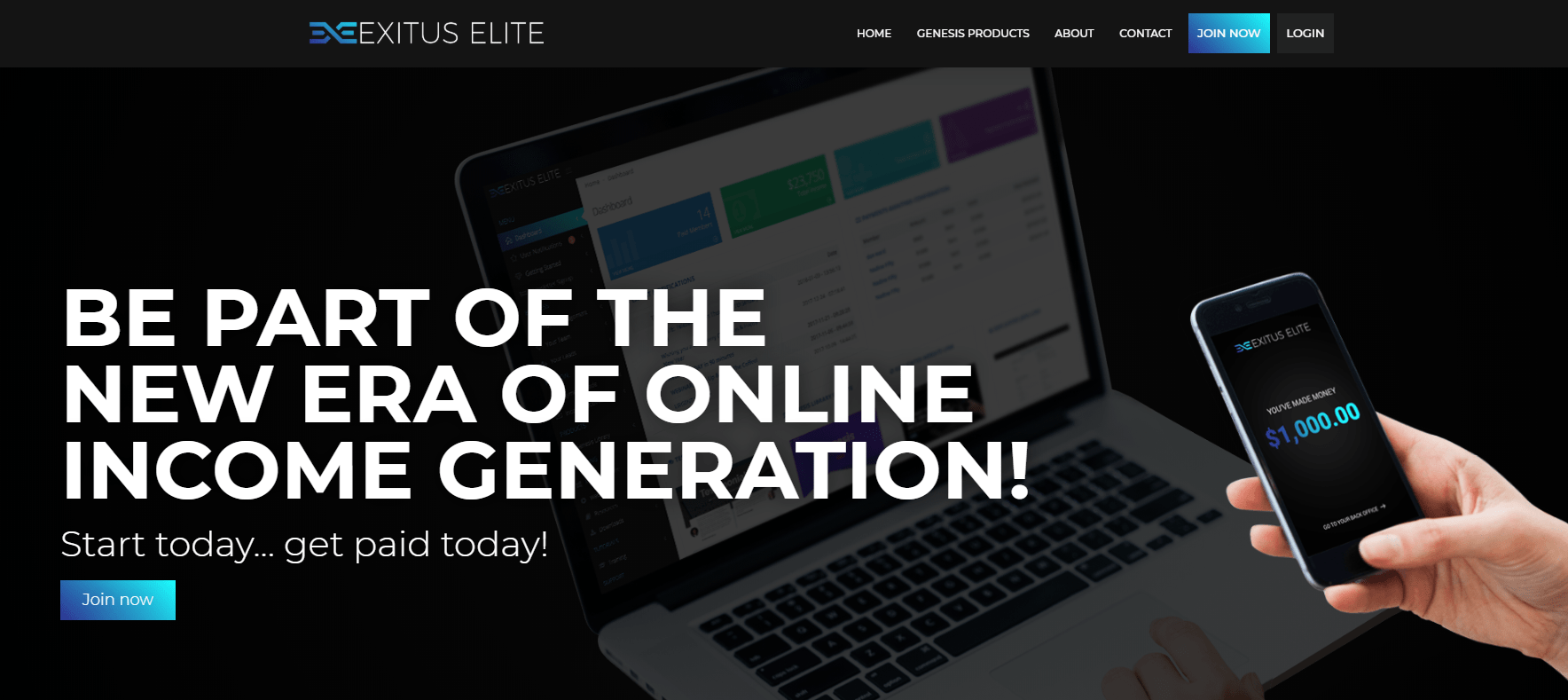 Welcome to my Exitus Elite review!
We know that a lot has been boggling in your mind when someone referred you to this business opportunity. With a lot of business opportunities online, you're probably here to gain some insights on which online income opportunity to take.
Exitus Elite Review Summary
---
Name: Exitus Elite
Website: www.exituselite.com
Founders: Paul Stevenson
Product Type: Multi-Level Marketing

Price: $100-$1000 For The Products + $299 For Annual Membership Fee + $1000 For Participation Fee
Quick Summary: Exitus Elite is a program designed to help people online by selling products for marketing. As a multi-level marketing company, it as well offers an affiliate program to those who would want to join and have an online income. It seems that cryptocurrency is part of this scheme.
Overall Rating: 2/10
Recommended: No
So now, we will be tackling more about this MLM company, Exitus Elite.
With no physical products, would this opportunity give you lucrative income? Or is it not a scam? What makes this platform better than the others?
We will try to clarify things in this review. We will provide facts and details as to what we've gathered. More in this Exitus Elite Review!
What Is Exitus Elite About?
As stated on their website, "Exitus Elite is a membership-based online business that has been "built from the ground up" with your success in mind.
Membership gives you access to everything you need to run a successful online business, including superior products, replicated websites, lead capture pages, autoresponders, resources, and training."
In short, Exitus Elite is a multi-level marketing opportunity that is trying to provide people with a way to make money online and that is through recruitment and services. And with that purpose, thus this company was launched in the summer of 2014 by founder Paul Stevenson while he was living in Florida.
Stevenson is currently based in the United Kingdom or we could as well say that he stays there from time to time. And most probably, it's where Exitus Elite is being operated from. Exitus Elite is not Stevenson's first MLM venture.
He has been affiliated with others as well. According to his Bio, he had a career in sales and marketing for 20 years before creating Exitus Elite. That's probably why Exitus Elite is also into sales and marketing.
But even though how successful Stevenson has been, most of his projects end up going under. Take, for instance, Property Cash Machine in which he was the co-owner as well.
Next, he created Exitus Network, where you'll invest a $500-$1200 membership fee to become an affiliate. Same us Property Cash Network, Exitus Network went under and ceased to exist.
Exitus Elite Product Line
Exitus Elite doesn't have any physical products. They don't have any retailable products or services. Basically what they do market and sell are their affiliate memberships which they refer to as Genesis Products.
Genesis is the name given to its extensive range of exciting educational products. The topics covered include Marketing, Health and Wellness, and Personal and Professional Development.
Price ranges from $100-$1000. The higher-priced packages include all products from the lower production levels.
After completing the product purchase, all of the products from the chosen level are available for instant download to watch and listen for leisure. The products are available in MP3, MP4 and PDF formats.
How To Make Money With Exitus Elite?
According to them, "Currently, our members use such methods as Bank Wire, Internet Banking, Cashiers Check or Cash sent overnight by FedEx or UPS, Western Union, Bitcoin and Credit Card (if you have this facility). Payments are Member to Member."
While they are coined to be running a cryptocurrency scheme, which is somehow true because they do as well use bitcoins in their payouts. For information, Cryptocurrency is a digital currency in which encryption techniques are used to regulate the generation of units of currency and verify the transfer of funds, operating independently of a central bank.
This business was built saying you will not have to recruit but this statement isn't correct as you will have to get people to join and buy the affiliate memberships which is like recruitment itself.
The bottom line is you still have to find people if you want to make money. And as the people you recruit to join will as well sell the products (affiliate memberships), they too can earn money just as you have done. With no physical and retailable products, this kind of platform gives the affiliate on the upper league an advantage.
So, how are affiliates compensated in Exitus Elite?
First, you have to pay the annual fee of $299 and the $1000 to be able to participate in the overall compensation plan. The Exitus Elite compensation plan sees affiliates pay that $1000 participation fee. Commissions are then paid out via a 1-up compensation structure when they recruit others who do the same.
A 1-up compensation structure sees every Exitus Elite affiliate pass up the commission generated on their first recruit. This affiliate is passed up to the recruiting affiliate's upline, including the $1000 commission generated. Every subsequently recruited affiliate pays $1000, with each of them required to in turn pass up their first $1000 commission.
In this manner every newly recruited Exitus Elite affiliate passes up their first $1000 commission, earning in full on their second recruited affiliate onwards.
This is how a 1-up compensation structure work
As an affiliate of Exitus Elite, you will be able to benefit from the powerful compensation plan that enables you to get paid in 4 different ways!
Your personal sales
Pass up sales
Overrides
Upgrades
Learn more about Exitus Elite's compensation plan in the video below:
We can't say if Exitus Elite is a SCAM but there are a lot of red flags in this MLM opportunity.
With no physical and retailable products, income is solely dependent on affiliate membership sales done through recruitment. This company has been running for 6 years and has not yet aired a loud buzz in the scene.
Well, it's safe to say that they're still up. Even the website is up to date and we can see a handful of testimonies on their website. But still, the idea of easy money is ludicrous and is quite suspicious. So, we don't recommend anyone to this program.
They do give a pretty enticing offer, telling you could start making money in less than 20 minutes. How true is that?
Well, first to start in this affiliate program and be eligible for commissions, you have to register and choose an affiliate membership to purchase.
Genesis Products/ Affiliate membership cost:
G100 - $100
G250 - $250
G500- $500
G1000- $1000
On top of the chosen package, you will as well have to pay the annual membership fee of $299.
You can as well join for $99 x 4 payments and this will allow you access to the back office, give you Facebook and Twitter Integration, Support, Auto Responders, Capture Pages for leads and training. Then there is the advanced which you will pay more and the Elite Package at $1000 and continued costs as you go along.
Here Is My Top Recommendation to Start Highly Profitable Online Business from Comfort Of Your Home
PROS
Personally, there's nothing to like about this MLM opportunity.
CONS
Founder's previous MLM businesses went under
Founder Paul Stevenson has extensive experience in sales and marketing and we commend him for that. However, his previous MLM companies which he as well-founded, all went under and even ceased to exist. With that records, how sure are you that his current company will not shut down as well?
Another MLM scheme
We have seen so many MLM companies go down over the years and it's all due to recruitment. But we have also seen ones that are reliable and are still running and succeeding because they do both with retailable sales.
However, though Exitus Elite claims that you will not have to recruit, you will still have to get people to join and buy the affiliate memberships which is like recruitment itself. So, you still have to find people if you want to make money. And that's the hassle, you still need to recruit.
Like a Pyramid & Ponzi Scheme
As you know there are no retailed products or services involved with Exitus Elite. So income opportunity is reliant on recruitment and there's indeed much focus on recruitment, so we can liken it to a Pyramid Scheme.
Why the Ponzi Scheme? Because they may lure people to believe that profits are coming from product sales or other means, but are unaware that other investors are the source of funds, which is somehow true because, with no tangible products, Exitus Elite's source of income is of course from recruitment which is from the Affiliate Membership Fees.
And with this kind of scheme, it is most likely that the people on the upper league win and get all the big profits leaving those in the last downlines on the verge of losing when there's no more to recruit.
Costly (Can Be A Bad Investment)
We think it's unreasonable to invest in a digital product and a membership that will cost you thousands of dollars.
Come to think of it, the information they are selling in their Genesis products is expensive but you could also find these materials for free on Youtube. So it's not wise to buy a product you can as well avail for free online.
But that may be just the facade because their main agenda is to sell affiliate memberships which in all cost you up to $2299 ($100-$1000 plus annual membership of $299, $1000 participation fee). Now, that's big money to invest in something you're not so sure about.
And easy money is something deceptive! Don't be lured with such claims. Most of today's opportunities make such unrealistic claims to persuade people.
Tired of Wasting Time on Low Quality Programs?
I'm so grateful that I was able to find THIS PROGRAM which helped me to finally start making money online!
It's probably intended for those who have experience in digital marketing and the MLM industry. It could be as well for those who are working from home since the company claims that you could get instant money which you could get paid through cryptocurrencies.
Joining as an affiliate allows one to access their company back office as well as they will give you the following:
Facebook and Twitter Integration
Support
Auto Responders
Capture Pages for leads
Training
We can't say that Exitus Elite is a scam but we can somehow compare it to a Ponzi and Pyramid Scheme. And success can be uncertain to a business with no tangible physical products and with much focus on recruitment.
Their digital products are also something unreasonable to buy since you can as well access such materials for free online. It is too expensive to join their affiliate program.
And lastly, the idea of easy money is something audacious. You can take risks but don't take it too much. So definitely not recommending you to join this MLM opportunity!
Tired of being involved with recruitment types of companies?
Don't worry, we have a reliable Step-By-Step Guide which can give you the benefits of time and financial freedom.
One-on-one coaching
Comprehensive guide
The best business tools and support you need
Webinars and training resources
And many more!
Sign up now for free to learn more.
Wishing you the best! Thank you for reading this Exitus Elite Review!
We Constantly Review Programs in "Make Money Online" Niche,
So That You Don't Have to Waste Countless Hours
Want To See Our
TOP RECOMMENDATION?