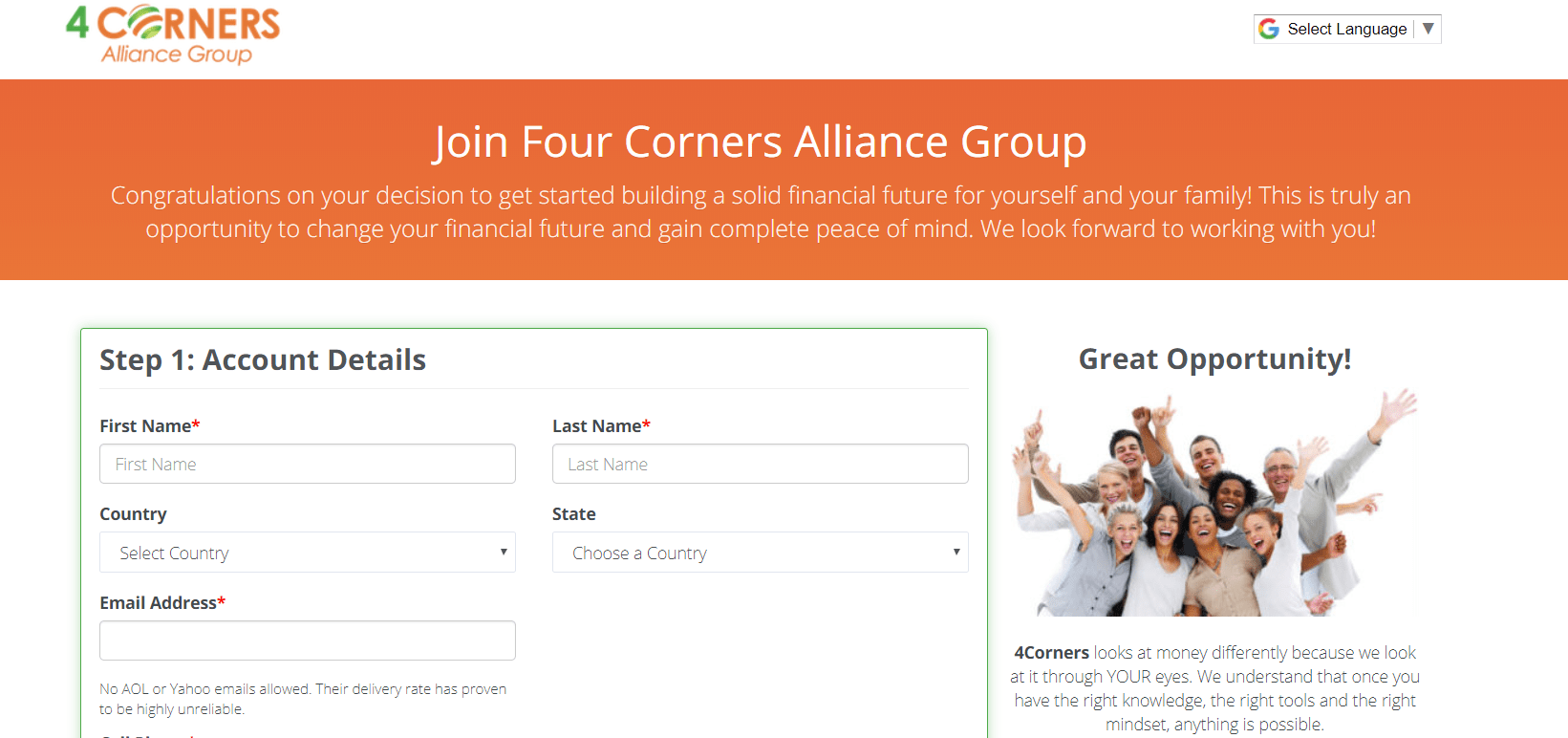 Welcome to My Four Corners Alliance Group Review!
For most people, multi-level marketing (MLM) is a bad thing and I can't blame them because the structure is almost the same as the ones from a pyramid scam. Also, it's because Ponzi schemes usually disguise as legit network marketing companies, leaving most of us confused.
However, you should know that there's a fine line between an MLM and a pyramid scheme. For one, network marketing is unique and two, it won't compensate you for just inviting people. Rather, you and your downline should meet milestones or quotas.
Four Corners Alliance Group Review Summary
---
Name: Four Corners Alliance Group
Website: www.fourcornersalliancegroup.com
Founders: David Harrison
Product Type: Multi-Level Marketing
Price: $18 For The One-Time Membership Fee + Products + More
Quick Summary: Four Corners Alliance Group is a multi-level marketing platform that offers motivational books as its main products. It also offers an opportunity to make money for interested individuals. However, despite being legit, I can't recommend this to anyone.
Overall Rating: 1/10
Recommended: No
A pyramid scheme, on the other hand, is illegal in many states. They have no tangible products or valuable services to offer. Also, they provide commissions directly for every successful invite. Considering this, the business is not stable. If you weren't able to recruit people, that doesn't only mean that you're not going to get a commission but also, you'll have to say goodbye to your investment.
Now that you know the difference between the two business models, it'll be easier for you to spot a scam. Therefore, in this honest Four Corners Alliance Group, you'll be able to determine if this is a good opportunity or a Ponzi scheme in disguise.
What Is Four Corners Alliance Group About?
Four Corners Alliance Group is a network marketing company founded by a man named David Harrison in the year of 2013. Based in Las Vegas, Nevada, the brand is under another MLM company called Cornerstone Alliance Group LLC.
Unfortunately, there's little to no details about their company background. Their website only talks about the products they have, such as the financial education sets and the opportunity to make money from it.
However, there is no information about their founder, executive team, and other necessary details. Nonetheless, it's good to know that David has managed to keep a social media account so we have an idea if he's a real person or not.
Four Corners Alliance Group Product Line
The main product offered by the Four Corners Alliance Group is eBooks. On their website, they call it "Financial Education Set" and it is composed of 45 books that are intended to motivate and set the right mindset of the reader.
Basically, the focus on eBooks is to provide you the right skills and knowledge to grow and manage a successful business. The price of their books is around $29.95 a month.
Is it worth it? Well, every learning is worth it. However, there are a lot of free training tools and support online and you don't need to pay a hefty amount. Yes, $30 is not expensive but imagine if you're going to pay it every month.
Also, research suggests that most of their members join not because of the products but because of the opportunity they offer.
On their website, it says that they offer "to change your financial future and gain complete peace of mind." The brand's tagline also suggests to "FILL UP THE MATRIX and you will be RICH!!!"
If you're not new to this kind of tactic, you'll probably think of it as a scam and I won't blame you. After all, making money is not easy no matter how legit or profitable the business is. It takes time and patience and filling up a matrix simply won't work.
Here's a quick explanation of how the matrix chart works.
For Level 1, you need to recruit 4 people so you can get a $4 commissions per person and your total earnings would be $16. However, you need to pay $10 for the product.
For Level 2, you need to recruit 16 so you can earn $4 per person. Your total earnings for this one is around $6, and you need to pay around $15 to $25 for the product.
For Level 3, you can recruit as much as 64 people and you can get $10 person, making your total earnings as big as $640. However, you need to pay around $15 to $25 for the product.
For Level 4, you can invite as much as 256 people to earn $24 per person, and your total earnings can be as high as $6,144. .However, you need to pay $25 for the product.
For Level 5, you can recruit at least 1,024 people and earn $60 per invites. But then you need to pay $150 for the product.
For Level 6, you can recruit around $4,096 people and for each invite, you can earn $120 per person. However, the product costs $300.
To learn more about Four Corners Alliance Group's matrix, you can watch the video below:
Is Four Corners Alliance Group A Scam?
Surprisingly, the company is legit. It has a record on the Better Business Bureau (BBB) but it's not accredited. Also, it has no rating. But then again, it's not a scam and the matrix? It somehow works, especially for those who have joined the platform earlier. However, if you're just planning to become a member now, the chance to make money is slimmer.
That being said, I cannot recommend the company to anyone unless you are confident about their products. If you think that they offer valuable books and it can help change someone's mindset and overall living, then you may give it a go. But if you're just signing up to make money, I suggest that you look for a better alternative.
You can click my FREE Step-By-Step Guide if you want to make money online.
To make money with Four Corners Alliance Group, you only need to pay $18 but that's just for earning. To be qualified for their commissions, you need to purchase the products ranging from $10 up to $300.
On top of this, you still need to sponsor four people.
Here Is My Top Recommendation to Start Highly Profitable Online Business from Comfort Of Your Home
PROS
Even if Four Corners Alliance Group is legit and I love books, I don't like this program at all. I feel like it's more of a ripoff than an opportunity.
CONS
Profitable For Those Who Joined Earlier
That's one downside of a matrix scheme; only those who joined earlier are more likely to get a fortune.
So what happens to those who have signed up as a member? I'm not saying that there's no chance to make money at all but it might be more difficult.
Also, since more and more people are becoming wiser when joining a platform, it might be challenging to convince anyone to sign up as a member.
Almost Like A Pyramid Scheme
While Four Corners Alliance Group has products to sell -- a.k.a. eBooks -- it works almost the same as a Ponzi scheme. To make money, you have to recruit people and the more invites you to have, the bigger the total earnings you get.
Also, I think of it as a pyramid scheme because only those who are on top are earning. Meanwhile, those who are at the bottom of the pyramid are just losing money.
Expensive Products
As you progress your level and aim for a bigger commission, the price of the product that you need to pay increases, too. For me, it's not worth it given the fact that you're less likely to earn from the platform.
Tired of Wasting Time on Low Quality Programs?
I'm so grateful that I was able to find THIS PROGRAM which helped me to finally start making money online!
I don't recommend this to anyone even if others have made a fortune out of this program. The amount of money that you need to spend before you can actually earn is not reasonable. For me, it's simply a waste of time.
It's good to know that Four Corners Alliance Group is not a scam despite sounding like one. It did offer a profitable business, especially to those who have joined earlier in the past. The product is unique and since these are eBooks, it's something most people can really use.
However, I'd rather skip this program because of the many drawbacks. For one, it looks more like a pyramid scheme than an MLM platform. There's a heavy emphasis on the recruitment part and the price that you need to pay to be qualified for the commissions is expensive.
I know it sounds disappointing but don't worry, there are other legit money-making platforms you can try such as the one below.
Making money online is not easy but it's possible. The best part is, there are a few platforms that would let you earn commissions without paying a hefty amount, such as my top-recommended program.
It's easy to get started since all you have to do is create an account for free. On top of this, you'll be able to get the following perks for zero dollars:
Free Business Websites
Free Training Resources
Free Coaching And Webinars
24/7 Customer Support
And Many More!
I hope you enjoyed my Four Corners Alliance Group review and if you have any questions or you have experienced with this platform, it would be great to hear from you! So, feel free to drop the comment in the box below.
Thank you!
We Constantly Review Programs in "Make Money Online" Niche,
So That You Don't Have to Waste Countless Hours
Want To See Our
TOP RECOMMENDATION?