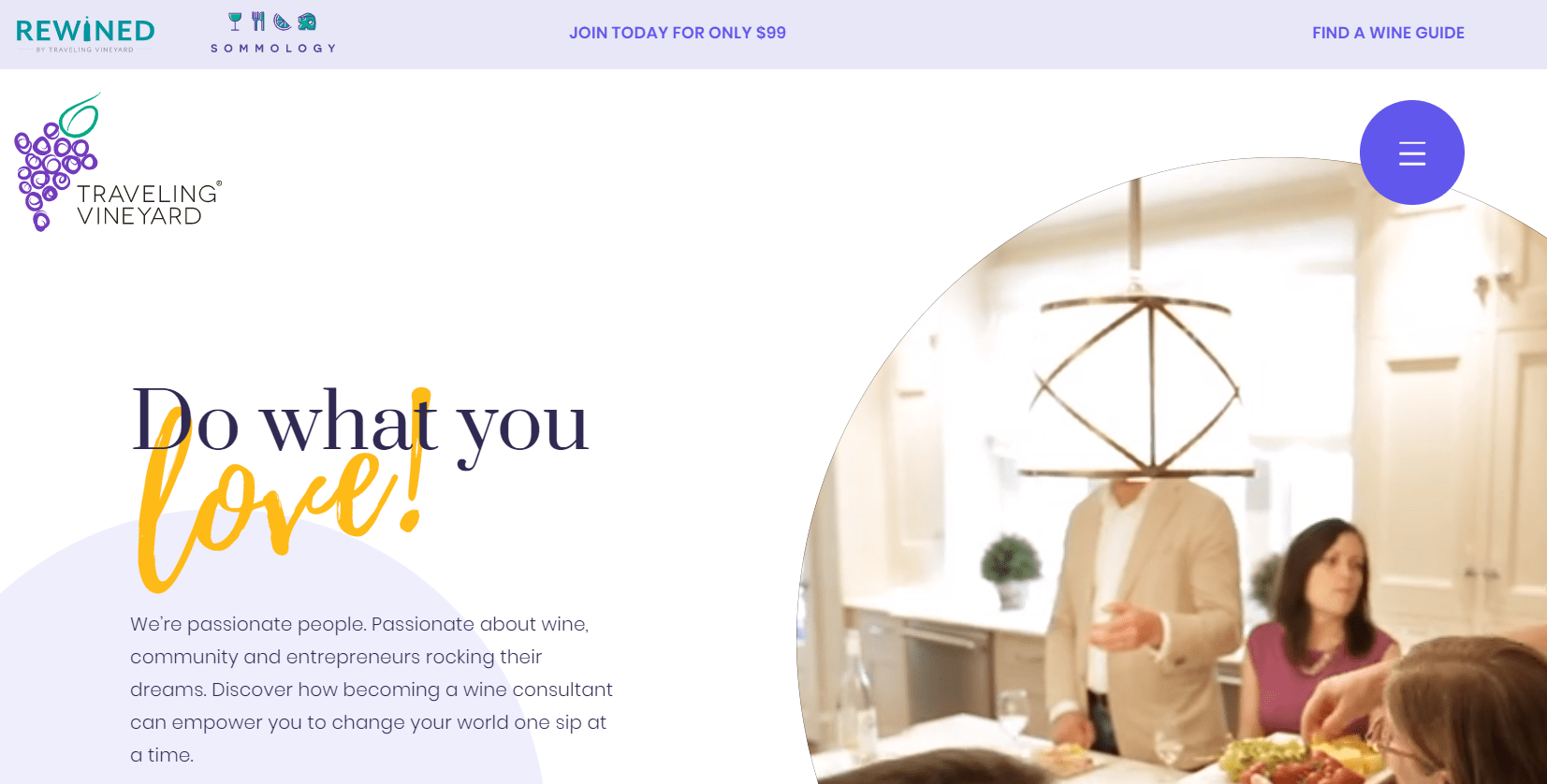 Welcome to My Traveling Vineyard Review!
When it comes to multi-level marketing (MLM), nothing seems to be surprising anymore. I've reviewed more than a dozen programs and most of it promotes products that are far from the usual ones, such as slimming coffee, health supplements, and beauty products.
Traveling Vineyard Review Summary
---
Name: Traveling Vineyard
Website: www.travelingvineyard.com
Founders: Rick Libby
Product Type: Multi-Level Marketing
Price: $99 To $179 Worth Of Business Kits + $15.95 Personal Volume Every Month To Keep Account Active
Quick Summary: Traveling Vineyard is a legit MLM company that promotes wine and wine accessories. It's been in the industry for more than 10 years with satisfied consumers and distributors; however, I cannot recommend this at all and you can find out why by reading my unbiased Traveling Vineyard review.
Overall Rating: 5 /10
Recommended: No
There are debit cards from ZBlackCard, travel discounts from JIFU Travel, and loans from Credit Star Funding to name some.
And now, there's Traveling Vineyard -- a network marketing company that promotes wine. Exciting, right? But will it provide you the opportunity you deserve or is it just another waste of time?
Let's find out in this honest Traveling Vineyard review.
What Is Traveling Vineyard About?
Traveling Vineyard is a multi-level marketing company that promotes wines. Yes, you read that right!
It was founded by Rick Libby, who, according to the website, is a Chief Grape Stomper and Head Cheerleader. He's also worked with various companies in the past, such as CBORD, Geerlings & Wade, Inc., and Cendant.
Apparently, he was inspired he was invited by a friend to a Pampered Chef event. In case you don't know, Pampered Chef is a legit MLM company that promotes kitchen tools and equipment and an opportunity to make money from it.
Now, Rick thought of applying the technique to wine products, thus the birth of Traveling Vineyard.
Traveling Vineyard Product Line
The MLM company promotes more than just the wines itself; they also aim to teach their consumers how to pair the wine, select the right vino for them, and how to enjoy it.
Of course, there's the product and it's divided into 6 categories: red, sweet & fizzy, white, semi-sweet, accessories, and success kit.
Red Wine includes Cabernet Sauvignon, Petite Sirah, Zinfandel, Marche Rosso, Syrah, Tria, Merlot, Mourvèdre Syrah, Nebbiolo, and Fireside Red.
Sweet & Fizzy includes Fizzy White Wine, Sweet Rosé, and Sweet Red.
White Wine includes White Blend, Viogner, Chardonnay, Pinot Grigio, Sauvignon Blanc, Gewürztraminer, White Wine Blend, and Malvasia Bianca.
Semi-Sweet includes Malvasia Bianca and White Wine Blend.
The price of their wines starts from $14.99 to $29.99.
In the Accessories category, you'll find the additional tools for wine drinking, such as Winged Corkscrew, Wine Saver, Wine Chiller, Stainless Steel Cubes, Arctic Pole, Six-Bottle Tote, MN Tasting Set, and Magic Decanter Aerator.
Then, there are the kits you need to become their distributors, such as The Complete Success Kit and Essential Success Kit.
Traveling Vineyard Product Reviews
I've never tried any of their wine so I'll include some screenshots of the reviews I found online. So far, there is no negative feedback. In fact, their customers seem to like it. On their Facebook Page alone, there are 25 reviews and it got 4.7 ratings out of 5.
I also checked Glassdoor for the opportunity they offer and their Wine Guide (the term they use for their distributors) are mostly happy about it.
Perhaps it helps that the product is something that almost everyone likes -- wine! However, like most MLM companies and other types of businesses, you should not expect to get rich in an instant, no matter how likable your goods and/or services are.
You have to exert effort in marketing your products and of course, recruit people.
How To Make Money With Traveling Vineyard
As mentioned above, joining the Traveling Vineyard involves selling the wines and accessories. You'll get a discounted price on all the products and you can sell it based on the suggested retail price (SRP) of the company. The difference between the two rates -- member's price and SRP -- is your profit.
Then there's the commission you get from recruitment. As a network marketing business, you have to expand your network and build a bigger team to get more commissions and incentives. However, since this is a legit business, you won't get paid directly just by inviting people rather, you are compensated for the sales that your downlines make.
Also, when you reach sales quota and milestones as a team or as an individual, you will get promotions, bonuses, and incentives.
Their compensation plan is not available to the public but based on their Wine Guide's presentations, you can earn between 15% to 35%, and this depends on the sales you make. Basically, the higher your sales are, the bigger your compensation is.
For example, their Personal Bonus claims that you can earn a 20% commission for every $400++ sale you make.
To learn more about Traveling Vineyard's compensation plan, you can watch the video below:
Is Traveling Wine A Scam?
Traveling Wine is not a scam.
It's a legit MLM program that has a fun opportunity offered. It breaks the usual products that most network marketing promotes. It's even accredited by the Better Business Bureau with an A+ rating.
Also, despite being in the industry for more than 10 years, the brand has managed to keep a good reputation, which is good news. Most MLM companies have received a backlash against their company's ethics, such as the way their recruit members.
Traveling Vineyard, on the other hand, may require the distributor to invite people but it's not as aggressive as how the other MLM brands do it.
But then, since this is a network marketing program, you should consider many things first, like what Jon Taylor's study suggests. According to his research, "The loss rate for MLMs is at least 99%". Therefore, before you sign up and purchase kits, be sure to think twice before joining the platform.
To become a Wine Guide, you need to pay $15.95 to keep your account active. You also have to purchase any of the following kits, such as:
The Essential Kit $99
Apparently, the entire kit costs $225 in value and it includes:
Fast Start Guide
Hosting Brochure
10 Bottles Of Wine
Surveys And Interest Forms
6 Bottle Tote
Magic Decanter Aerator
Wine Pourers
Stainless Steel Waiter's Style Corkscrew
The Complete Success Kit $179
This includes the same items from The Essential Kit, plus:
Tasting Glasses
Sommology Tins
Glass Carrying Case
Sommology Education Cards
Team Building Brochure
Here Is My Top Recommendation to Start Highly Profitable Online Business from Comfort Of Your Home
PROS
Unique MLM Opportunity
Selling wine is not unique but when it comes to the MLM industry, the products they offer are not usual. It's fun because you know… wine!
It's less challenging to market, especially if you usually host parties.
No Monthly Autoship Required
Most MLM companies will require their members to sign up for monthly autoships. The problem here is not only the money you need to spend every month but also the pressure to sell the products you have at home.
Luckily, Traveling Wine doesn't have this kind of terms and regulations for their Wine Guides.
CONS
Income Potential Is Low
Based on the Income Disclosure Statement they had last 2017, the overall average that a Wine Guide earns per year is $350 -- that makes $29 every month. This is very low, especially when you have a family to feed.
That being said, you cannot rely on it as a regular source of income, not even as a side hustle. Maybe, if you really want to join this platform, you have other legit alternatives so you won't suffer financially.
Tired of Trading Your Precious Time for Money?
Here is a Blueprint to Owing Highly Profitable Online Business Without Any Experience REVEALED!
Traveling Wine is ideal for people who love and have knowledge about wine. Although there's training for this, you are teaching people how to enjoy and pair food with the drink, therefore, it's just fair if you really have expertise about it.
Also, because of the low-income issue, this is good for those who have regular day jobs or other sources of cash. Otherwise, your financial aspect might suffer since it won't be easy to promote MLM products and opportunities.
Traveling Wine provides training and support in two ways. First, you can ask directly from their members or "leaders."
Second, after logging into your account, there are training resources readily available to harness your knowledge about wine and growing your business.
Traveling Vineyard is a legit MLM opportunity, which may or may be right for you. It's good that they have unique products to offer and that the wines come at reasonable prices. However, you have to remember that there are also wines available in the market, thus it's up to you how you are going to promote it.
If you're a newbie, I suggest that you get rid of MLM companies first since you need a huge capital to get started. However, if you the skills in marketing and recruitment, maybe you can consider this.
Nonetheless, the Income Disclosure Statement is more than enough to tell me that I should ignore this platform and look for a better alternative instead.
Want a better alternative that won't ask you to purchase products or recruit people?
Then this is your lucky day!
Sign up now to my #1 recommended program and get all the tools and support you need to start a business, such as:
Training resources
Webinars to help you start your business online
One-on-one coaching
Comprehensive guide
And many more!


I hope you enjoyed my Traveling Vineyard review and if you have any questions or comments, please don't hesitate to share it in the comment box below.
Thank you!
We Constantly Review Programs in "Make Money Online" Niche,
So That You Don't Have to Waste Countless Hours
Want To See Our
TOP RECOMMENDATION?