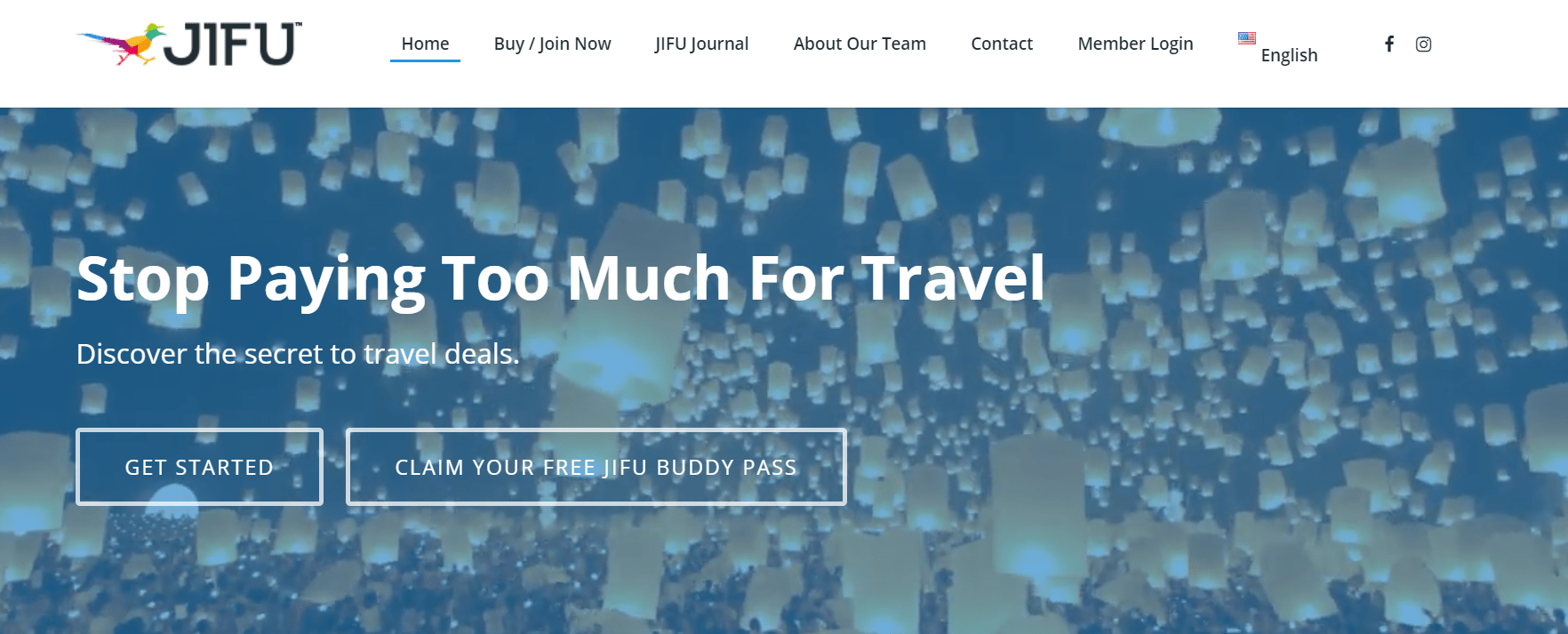 Welcome to My JIFU Travel Review!
Traveling has become very popular nowadays, especially due to the prevalence of social media. Because of this, many companies are promoting one-of-a-kind offers to grab their customers' attention.
One of which is by providing discounted travel deals and a chance to make money by promoting travel packages, such as the ones from a network marketing company called Jifu Travel.
Apparently, this multi-level marketing company lets you save as much as 75% of your travel expenses. In addition, it gives a business opportunity to interested individuals but the questions are: How real is the offer? Is JIFU Travel a scam? What are the pros and cons of joining this platform?
Find out everything you need to know in this unbiased JIFU Travel review.
JIFU Travel Review Summary
---
Name: JIFU Travel
Website: www.jifutravel.com
Founders: Jeffery Boyle and Bradley Boyle
Product Type: Multi-Level Marketing
Price: $50 One-Time Fee + $25/ Month For Members | One-Time Fee Ranging From $100 To $1,000 + Monthly Fee Ranging From $30 To $120
Quick Summary: JIFU Travel is an MLM opportunity that offers discounted rates on travel packages and accommodations. It's ideal for those who frequently fly for leisure or business. According to the brand, it allows you to make money by becoming an affiliate but that means spending a hefty amount.
Overall Rating: 5/10
Recommended: No
What Is JIFU Travel About?
JIFU Travel is a multi-level marketing (MLM) company that falls under the travel niche. It offers a huge discount on travel memberships and packages. It may sound like a new type of business to many people since most MLM programs focus on beauty, health, and skincare.
However, it's almost the same as these brands that I've reviewed in the past: iBuumerang, TraVerus, and Evolution Travel.
If you're not familiar with these companies, you can think of JIFU Travel as Expedia and Agoda when it comes to the discounted rates; however, it offers a business opportunity and membership.
The Idaho-based MLM company was founded by two brothers, namely Jeffrey Boyle and Bradley Boyle. However, when it comes to credibility, Jeffrey seemed to have more experience in the MLM industry.
Jeffrey founded Jus International in 2006 -- another MLM company that's under the health and wellness niche. However in 2009, it shifted from network marketing to retail operation under the name HAVVN and in 2011, it has been shut down.
In 2013, Jeffrey became the CEO of another health and wellness MLM company called Sanki Global but after a couple of years, he left the brand. In 2018, he started his own company called JIFU Travel.
Other than operating MLM companies, Jeffrey also offers coaching and training services.
Bradley, on the other hand, has his own business experiences as well. According to his LinkedIn account, he founded Krosswood Doors LLC in 2005, became the CMO of SeaQuest Interactive Aquariums in 2015, and a Senior Partner of World Consulting Group in 2017. After two years, he was appointed as the President of JIFU Travel.
JIFU Travel Product Line
As mentioned above, the brand offers discounted rates on travel packages and memberships. They have no tangible products to sell but the service and discount they offer are legit so far but since it's been operating for less than a year, it's too early to tell.
Anyway, you have two options to get the discounts: one is you become a member or two, to sign up as an affiliate of their program, thus the MLM opportunity.
How To Make Money With JIFU Travel?
Like typical MLM companies, there are two ways to make money with JIFU Travel -- retail sales and recruitment commissions.
Once you become an affiliate, you can earn around $25 for each sale you make and an additional $5 if they stay as a member every month. For example, your newly-recruit stayed for 6 months, then you'll earn $25 in the first month and another $25 for their 5-month membership.
Of course, there's another commission if you recruit new members and it depends on your membership level or ranking. There are also bonuses if you meet specific goals or sales quota and to learn more about this, you can watch the video below:
JIFU Travel is still new so it's too early to assume whether it's a legit platform or a scam. However, it's good to know that unlike other low-quality programs, it has provided as much detail as possible, such as the founders, so you know who to turn to in case there are concerns.
As of the writing, it's not yet on the Better Business Bureau (BBB) but that doesn't mean that it's a scam.
I checked the reviews online and luckily, I was able to find some. Most of which are positive but like other businesses, there are unsatisfied clients. Feel free to check out the photos below or click this link to read more.
Here Is My Top Recommendation to Start Highly Profitable Online Business from Comfort Of Your Home
To become a member only and not earn commissions, you need to pay the initial one-time fee worth $50. Then, you need to shoulder the membership fee worth $25 every month.
Meanwhile, if you want to make money as an affiliate member of JIFU Travel, you need to pay for a membership every month, and there are four options to choose from:
Silver Affiliate Pack $100 One-Time Fee + $30/Month
Gold Affiliate Pack $400 One-Time Fee + $40/Month
Platinum Affiliate Pack $600 One-Time Fee + $80/Month
Diamond Affiliate Pack $1,000 One-Time Fee + $120/Month
The higher the membership rank is, the bigger the commission and other perks.
For me, if you're after travel packages and discounted accommodation rates only, I suggest that you try other hotel and travel booking engines, such as Agoda, Booking, and Expedia. These two are free and all you have to do is create an account.
I've been using Agoda for more than a year now and I noticed that it's the cheapest of all. Nonetheless, there are other reliable booking engines to choose from that will help you save cash.
PROS
Ideal For Frequent Travelers
If you travel a lot, whether it's for business or leisure, you can take advantage of this offer. Traveling is expensive so it's always a good idea to score discounts. Also, if you have an MLM experience, you can try the opportunity and make money from it.
CONS
Expensive Membership Fees
Even if it's just the one-time fee, the membership costs are too much, especially if you're new to the MLM industry. Imagine, even if you choose the cheapest rank, which is the Silver Affiliate Package, you'll have to spend around $400 a year.
To get your investment back, you have to work extra hard on selling and recruitment part. Otherwise, you'll have to say goodbye to your investment fees.
Our team reviewed lots of products that offer to business opportunities and we found this program to be our Top Recommendation. It's by far the most rewarding way to start making money online from comfort of your home if you are looking for long term income.
Ranking Promotions Is Complicated
In case you choose the hard way, which is to get promoted rather than to purchase a higher membership level, you need to work extra hard and that means focusing more recruitment than making a sale.
Otherwise, you won't make a lot from JIFU Travel.
Now, another challenge here is convincing people to join the platform. Many individuals perceive MLM differently so it's up to you how you will introduce the opportunity to them without sounding aggressive.
Tired of Wasting Time on Low Quality Programs?
I'm so grateful that I was able to find THIS PROGRAM which helped me to finally start making money online!
You can take their membership if you travel a lot or if you have experience with MLM companies. It's not easy to recruit people, let alone promote overpriced products so unless you're confident with your sales and marketing skills, I suggest that you choose other platforms to make money from.
JIFU Travel is still new to the industry but so far, it's good to know that there are reviews online to read in case you want to know if it's a real deal or not. However, considering the amount you need to spend before you can actually earn from them, I think it's not worth it.
There are other opportunities to make money from, especially if you love traveling. For instance, you can make a blog/vlog and monetize your content. You can also join affiliate marketing programs, such as Wealthy Affiliate, to double your revenue. The good thing about these opportunities is that they are free.
You can save from membership fees and use the money for other things instead, such as cameras for better picture taking when traveling. I'm not saying that you'll not benefit from platforms like JIFU Travel; I'm just trying to be practical, especially if you're not highly-skilled with MLM operations.
MLM is a challenging business and not to mention, an expensive one. So if you're looking for the best online opportunity this 2020 once again here is our Top Recommendation:
It doesn't matter what kind of interest you have -- travel, beauty, finance, etc -- as long as you're willing to devote your time and energy. It's not easy and it takes hard work but I tell you, if you are consistent and willing to learn, you will have your desired results.
Besides, you can get these amazing perks:
Training Resources And Webinars
Top Quality Support
A Fine Blueprint to Making Money Online
Live Active Community
And A Lot More!
As always, thank you for taking the time to read my JIFU Travel review and if you have questions or comments, please feel free to drop it down below.
We Constantly Review Programs in "Make Money Online" Niche,
So That You Don't Have to Waste Countless Hours
Want To See Our
TOP RECOMMENDATION?