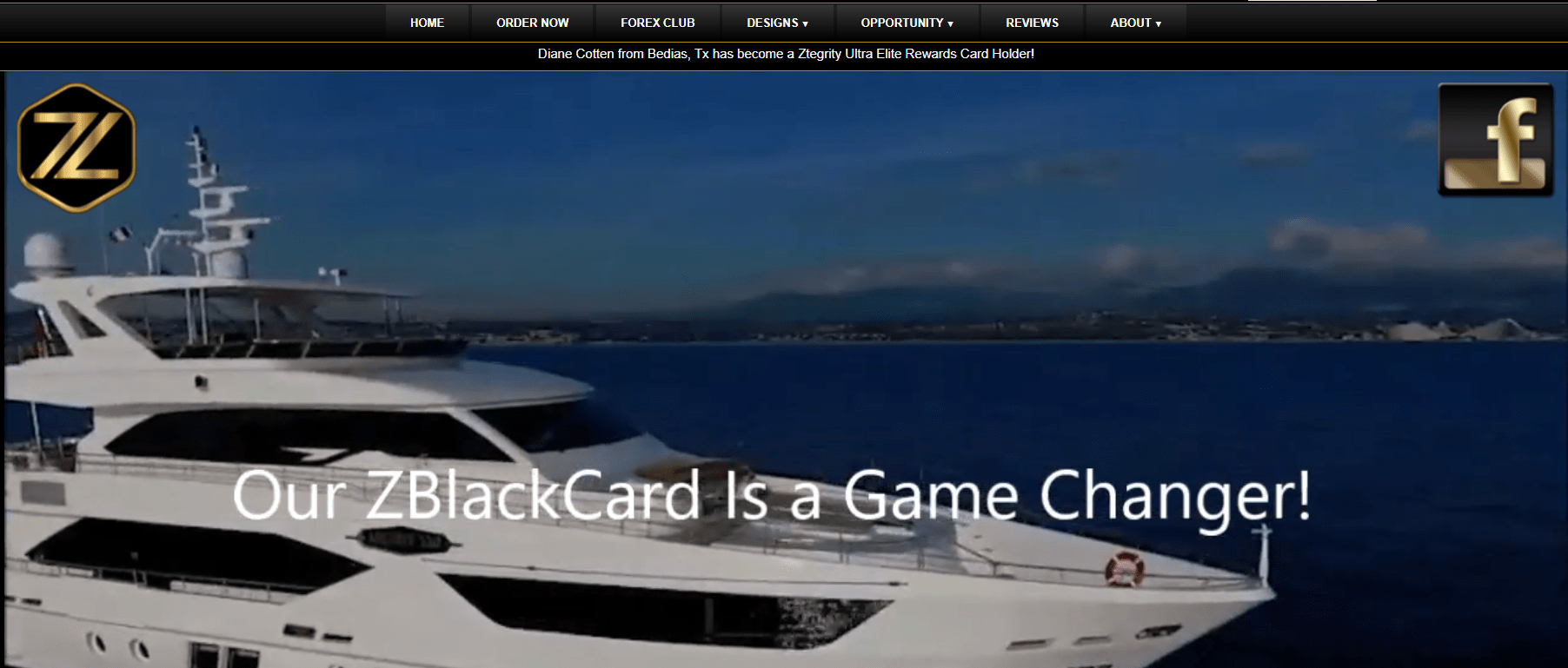 Welcome to My ZBlackCard Review!
Being in a world filled with business opportunities, it's hard to find a reliable and stable earning job. That's why you've probably landed on this page to inquire of a business opportunity you're trying to venture. Well, I salute you for taking time to read a review before diving into the offer.
ZBlackCard Review Summary
---
Name: ZBlackCard
Website: www.zblackcard.com
Founders: Troy Mason
Product Type: Multi-Level Marketing
Price: Affiliate Fee Ranging From $20 To $70
Quick Summary: ZBlackCard is a multi-level marketing (MLM) company that sells and markets debit cards that can be used anywhere. Operating on an MLM platform, you can earn in ZBlackCard through retail sales and recruitment commissions.

Well, would this be a great way to earn a lucrative income for rookies? Probably not! You can't even be sure if affiliates are earning since there is no income disclosure statement to prove it. You'd probably have to spend more money than earning them. See more as I discuss more of this and other things with regards to their company.
Overall Rating: 4/10
Recommended: No
More than the enticing promises a company can offer you, it's essential to investigate and be knowledgeable with all of its processes, a thorough background check and in depth reviews first. At least, this is one way to avoid being scammed.
In this post, I'll talk about ZBlackCard, a multi-level marketing (MLM) company that claims to help you make money.
What Is ZBlackCard About?
ZBlackCard is a unique income opportunity that operates on a multi-level marketing (MLM) compensation plan. Unique in a sense that their main product is a prepaid card that is utilized as a debit card and can be used anywhere.
The company sells Debit and Rewards Card for people who are not qualified for getting credit cards because of having poor credit scores and of the many nonsense requirements that most debit cards require. Having said that, ZBlackCard card is indeed designed to help you improve your credit.
ZBlackCard was founded by Troy Mason, who is still the owner and the President CEO of the company. He is based in Houston, Texas. Aside from ZBlackCard, being a visionary entrepreneur as he claims, he also owned and established a couple of businesses including Ztegrity, ZSurveys, ZLicense, ZPetTags, ZScholars, Z2Be, WifiCinema, Dream Starters USA and Wisdom in Action.
Before beginning with ZBlackCard, in 2013, Mason was the CEO and President of Gas Club of America which was a business that combined penny auctions with gift and gas cards. However, the business only lasted for a few months.
In 2015, a few years later, Mason owned and established Zlicense.
ZBlackCard Product Line
As mentioned above, ZBlackCard as it name states, sells and markets debit cards that works all-in-one in the sense that these Debit Cards can make way for rewards, prepaid settings, and many more. It's even made out of metal and you can also personalize it.
Anyway, you can choose between a Mastercard and Visa ZBlackCard and you can use it anywhere as long as debit cards are accepted.
The ZBlackCard works a lot like most debit card; you need to add funds so you can use it to pay bills or make purchases. You'll then receive a statement for these payments made on every cycle, so these payments will reflect on your credit standing which thereby improves your credit score.
The ZBlackCard will cost anywhere from $60 to $500 upfront and then $60 to $840 per year to get one. You can join the ZBlackCard program and not have a monthly membership cost but you will need to purchase the cards and load them with money to use them.
Well, do their products work? As to what I've seen and researched, I haven't found any negative reviews or any complaints saying that their products don't work. So most probably, their products are working as promised.
How To Make Money With ZBlackCard?
As mentioned above, ZBlackCard works on an MLM platform so income opportunity is by commission through personal sales and recruitment.
Here's an outline of their commissions:
ZBlackCard Position Payout - Pays out commissions every time a new member enrolls on a company's order, and when a customer wants a design, style or elite upgrade.
$1 anytime a new ZBlackCard is sold (one-time)
1% on a custom card order
50% on card design, card style and/or elite upgrade
ZBlackCard Auto Rewards - These commissions are paid out when your referral members and customers join with the "Auto" and "Combo" affiliate plan. This will pay out 4 levels deep from anyone that joins you or your team with the affiliate or combo membership. The compensation that will be used for these commissions is a 5X4 matrix. The payout per levels works as described here:
Level 1 (5 positions) – $1 per position filled per month
Level 2 (25 positions) – $4 per position filled per month
Level 3 (125 positions) – $5 per position filled per month
Level 4 (625 positions) – $6 per position filled per month
VIP Rewards - Are offered to members that sign up with an Affiliate membership or a Combo membership.This is very similar to the Auto Rewards where it has a matrix commission structure but with 5 levels meaning it is a 5X5 matrix structure.This commission plan structure is designed to pay out a dollar for every active member or customer that joins you or your team.
ZBlackCard Lifestyle Bonus - Awarded by the company for the first 60 days. This is a bonus that will qualify you when you start to earn a 100% match bonus from all of your personally sponsored members Auto Rewards commissions. To maintain the Lifestyle bonus match on your personals you must personally sponsor and maintain 5 paid members.
Affiliate Rewards - The ZBlackCard affiliate rewards compensation program will reward members who work the affiliate program and sponsor new members into the program for the purpose to earn commissions.
See more about their compensation plan in this video:
No, it's not a Scam.
ZBlackCard is a legitimate MLM company supplying products (debit cards) that can be used to pay bills and purchase anywhere. You can also earn with these cards through their affiliate program depending on your sales and recruitment commissions.
Most probably their products work as what they have promised since there are not many negative complaints with regards to their product. But still, I would not recommend you joining this MLM opportunity, though they are transparent with a lot of things on their website about the company, they don't have an Income Disclosure Statement (IDS).
To be able to earn commissions as an affiliate, you need to purchase any of the following plans:
VIP Affiliate – $20 a month
Auto Affiliate – $50 a month
Combo Affiliate – $70 a month
Here Is My Top Recommendation to Start Highly Profitable Online Business from Comfort Of Your Home
PROS
Insured By Fdic
Yes, they are FDIC (Federal Deposit Insurance Corporation). So, in the event of being scammed or if your money gets stolen from your ZBlackCard account, your money is insured.
Transparency
One thing that I commend about the company is its transparency when it comes to their compensation plan and other vital information, such as the details about their founder.
Owner and CEO Troy Mason goes the extra mile by doing some of the sales and product overview videos himself.
CONS
No Income Disclosure
Yes, they are transparent with many things but they failed to share their Income Disclosure Statement.
It would be nice if they could provide information on this matter so people have an idea whether their affiliates are earning or not.
Low Income Potential, Low Success Guarantee!
For those looking for a full-time job, this could not give much of a lucrative income especially for rookies with no experience in the MLM world, this would be a great challenge.
With no income disclosure statement, we can't be sure if affiliates are earning or losing more money in this business. For they could even probably come to a point that they would be having more affiliates than customers.
Focuses Heavily On Recruitment!
While it's normal for MLM programs to recruit other people, focusing heavily on it can imply a bad impression. Some people might think of it as a pyramid or a Ponzi scheme and if this happens, there's a chance that it will be shut down by the FTC.
FREE TRAINING
Learn How I Started Highly Profitable Online Business From Comfort of My Home Following This Blueprint
ZBlackCard can be a part-time job but not for a living. This business opportunity is intended for those who have skills in sales and are consummate in the MLM world.
It is also for those who would want to use cards for convenience especially debit cards, for those who want to improve their credit score, or to make it as an earning opportunity by selling these cards to people and by recruiting others to join the affiliate program.
Joining as an affiliate in ZBlackCard is already inclusive of business tools and materials needed to go on with your ZBlackCard business.
Their company website is as well very transparent, as you can see there, it is very well equipped with information with regards to the business including compensation plan, webinars and many more.
Overall, I would not recommend you joining this income opportunity that ZBlackCard offers. Yes, it is a well-established MLM company and it is not a scam. The problem is, it focuses heavily on recruitment.
Yes, you could earn in sales but promotion and earning lucrative income place much dependance on recruitment. So, it will require you hardwork and great recruitment skills to be able to gain company bonuses. Therefore, for newbies and those who are new in this kind of business, it's of low success guarantee.
Let's not forget about their IDS, which they failed to share, by the way. It's either they are not confident with the amount their members are getting or they are hiding something worse.
Probably, the only thing that have ZBlackCard going is their income opportunity. So if you just want a debit card, you can just get one from your bank and it will still offer the same benefits as ZBlackCard and can be more reliable.
But if you want to be an affiliate, I suggest choose choose a legit money-making program that won't require you to pay a hefty amount of cash.
Want to become an affiliate and earn commissions for free? Is that even possible? Yes, it is!
With Wealthy Affiliate, you can start your own business online without purchasing real products or paying a fee to get started. The best part is, you can get the following perks for free:
Training Resources And Webinars
24/7 Chat Support
Live Active Community
And A Lot More!
Thank you for reading my ZBlackCard review and if you want to share your story about this company or share any comment or feedback, please feel free to do so below.
Thank you!
We Constantly Review Programs in "Make Money Online" Niche,
So That You Don't Have to Waste Countless Hours
Want To See Our
TOP RECOMMENDATION?