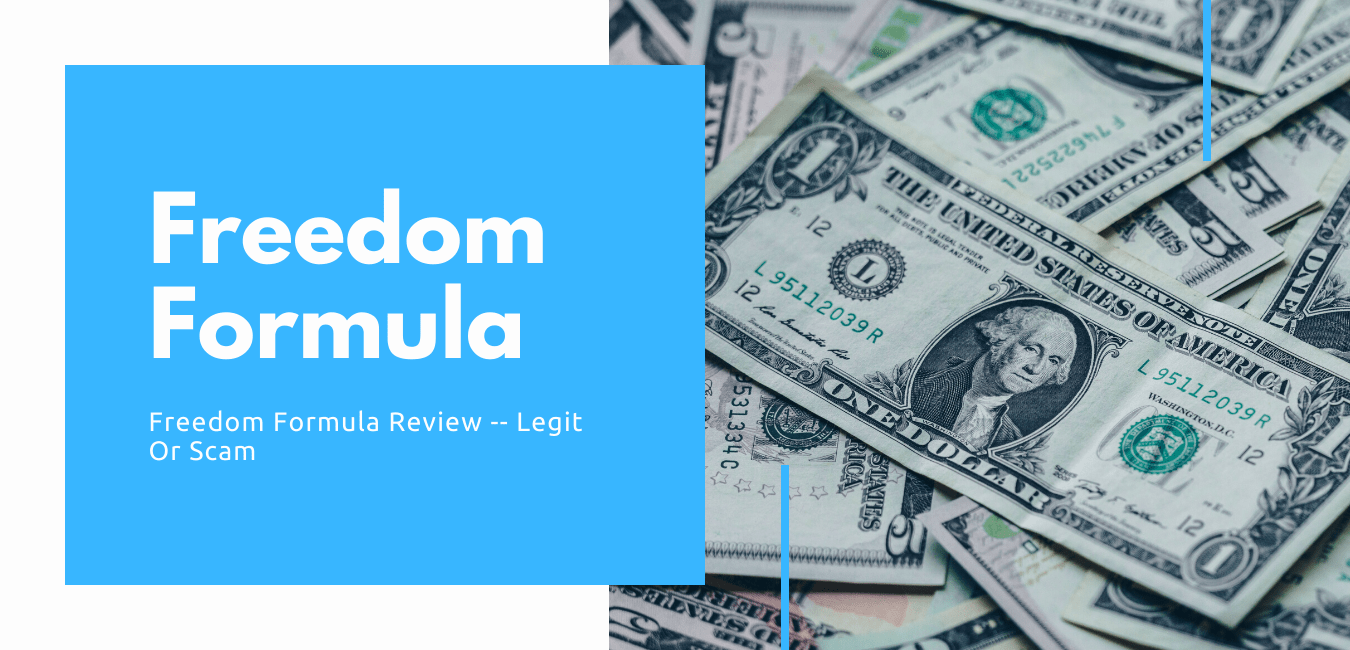 Welcome to My Freedom Formula Review!
Multi-level marketing (MLM) is a legit business model; however, it left a bad impression on many people because of several reasons. For one, it's focused on recruitment and that recruitment usually ends relationships.
Second, overpriced products. Most MLM companies promote essentials, such as slimming coffee, weight-loss drinks, cosmetics, etc., that are expensive compared to the ones sold in the market.
Freedom Formula Review Summary
---
Name: Freedom Formula
Website: www.completefreedomformula.com
Founders: Keysha (Pen Name)
Product Type: Sales Funnel To A Multi-Level Marketing Program
Price: $37 For The Signup Fee
Quick Summary: Freedom Formula is a program that claims to help you make money with no necessary skills required. It's the type of get-rich-quick scheme that many people are falling for so before you sign up, be sure to read the entire Freedom Formula review first to avoid scams.
Overall Rating: 1/10
Recommended: No
Another reason is that some low-quality programs disguise themselves as a network marketing company, inviting people to join their system. It won't be long until these newly-recruited members realized that they've been deceived.
Is this post, I'll talk about a program called Freedom Formula and why I consider it a platform full of deceptions.
What Is Freedom Formula About?
Freedom Formula is the kind of program that I would immediately get rid of. It claims to help "everyday people" generate $10,000's online, using a proven money making method."
While it sounds promising, I've reviewed more than a hundred programs before and more or less, the platforms that drop this kind of promise turn out either as a scam or a low-quality program. But does that mean that Freedom Formula is one of them? Let's find out.
First of all, Freedom Formula is a "system" that lets you earn cash. The problem is, it won't tell you what it's all about and you will make money unless you pay for the signup fee. The only thing you'll see on its website is a video telling you how easy and profitable it is and how it helped people become financially independent.
So, What Is Freedom Formula Really About?
Freedom Formula is a sales funnel that leads to another program called Super Affiliate Network -- an MLM platform.
Basically, you have to pay for a signup fee so you can join Freedom Formula and then you have to pay another amount so you can join Super Affiliate Network. To make money, you have to recruit people to join the platform, too.
Considering this, making money won't be easy, especially nowadays. Many people are becoming wiser and before joining any platform, they research the brand online. Now, if they find out Freedom Formula reviews and how it really works, making money by inviting people will become more difficult.
Nonetheless, both programs are not a scam. Super Affiliate Network, for instance, provide legit training that will help you make money online. However, it has several red flags that I'll gladly discuss below.
What Is Super Affiliate Network?
To give you an idea, here's a quick background of this program:
Super Affiliate Network is a high-ticket online platform that offers tools and training to its members. It has about 20 modules that cover the basics of email marketing, solo ads, coaching, etc. If you're aiming to start a business online, it's helpful. The problem is, you have to spend $47 to join. On top of this, you also have to pay for the upsells that costs almost $300.
Learn more about Super Affiliate Network by watching the video below:
Is Freedom Formula A Scam?
While I can't directly tell that Freedom Formula is a scam, I don't recommend it to anyone. For one, it's not transparent. It will push you into buying a program without telling you how it works and what it's about. It only tells you that you can make easy cash over and over again, which is a red flag already.
I've been working online for more than a couple of years, have tried several platforms that claim to help me earn cash but believe it or not, the ones that are legit will always require effort, patience, and skills.
Yes, it's possible to make money online but it's not going to be easy.
Another red flag is the unknown owner. It says that it's founded by Keysha and because there's no photo or even a last name, I doubt that this is a real person. After all, this is a low-quality program and the real founder knows if he/she reveals his/her identity, he/she will face a lot of questions and negative reactions.
Also, it has no tangible products and the fact that you'll make money just by inviting people may imply that it's a pyramid or Ponzi scheme, which is illegal in most states and countries, by the way.
In addition, it provides a Done-For-You system, which may sound good, especially for newbies. Yes, you don't have to work a lot since you'll operate an automated system. However, it's unreliable since you have no full control of the program. If it shuts down, the only thing you can do is say goodbye to your investment.
Also, the site's not working as of this writing. I wonder if it's been shut down for good or not.
Another problem is the expensive upsells that you have to cover when you join Freedom Formula and once you started with Super Affiliate Network.
With all these red flags, I got two words for you -- DON'T JOIN.
The signup fee costs $37 and this includes the basic training that you need to promote the program to other people. Take note that there are no tangible products involved and all you'll get, aside from the training, are the endless upsells that are useless and not even related to Freedom Formula.
This is expensive considering that you can get similar training for free online. You can check YouTube, podcasts, or even the resources over the Internet without paying for anything. Also, if you want to make money, there are legit platforms you can choose from and most of the time, it's offered for free.
Here Is My Top Recommendation to Start Highly Profitable Online Business from Comfort Of Your Home
No one.
If you want to join MLM programs, there are other legit network marketing companies you can consider. However, you should keep in mind that you have to deal with recruitments and selling overpriced products. It's challenging, especially if it's your first time but the good thing is, it's legit. Just remember to join MLM companies with a good reputation.
Another legit money-making platform you can consider is affiliate marketing, such as Wealthy Affiliate. With this business model, you don't have to purchase products and worry about your inventory. All you have to do is create content or post where you can insert your unique link. Once a person buys a product using your link, you will earn a commission.
Learn more about affiliate marketing by clicking this link.
FREE TRAINING
Learn How I Started Highly Profitable Online Business From Comfort of My Home Following This Blueprint
As mentioned, the program offers real training but that is after you join the other platform they are promoting -- Super Affiliate Network.
The training is all about promoting the platform and that means creating websites, such as the Freedom Formula. It's good because you'll have an idea of how to create a site and how to market it.
The problem is, there are many training resources online that offer the same or even more value that is free. You can even check my FREE Step-By-Step Guide if you want to make money online without paying anything.
Freedom Formula, while not a scam, is a waste of time. The program will tell you how easy it is to make money using their system but won't tell you what it's really about. You have to pay a hefty amount for the signup fee and upsells but you have no idea if it really works or not.
Also, the fact that you don't know who the founder really is and what the company is about is more than enough to tell you that you should ditch this program. I mean, are you really paying for a program that has not been honest in the first place?
Making money online is a dream but remember, you still have to work hard to have the success you want. It's good to know that you don't have to go outside to earn cash but still, you need to exert effort and time. Also, you need to be patient before you see the results you desire.
If this sounds good to you, I suggest you check out my #1 recommended program below.
Tired of low-quality programs that are only after your cash? Don't worry, I have a better solution.
Join my top-recommended platform now and get the following perks, FOR FREE:
FREE Access To A Live Community
FREE Training Resources
FREE Coaching And Webinar
24/7 Customer Support
And Many More!
Thank you for reading my Freedom Formula review and if you have questions or comments, please feel free to share it below.
We Constantly Review Programs in "Make Money Online" Niche,
So That You Don't Have to Waste Countless Hours
Want To See Our
TOP RECOMMENDATION?