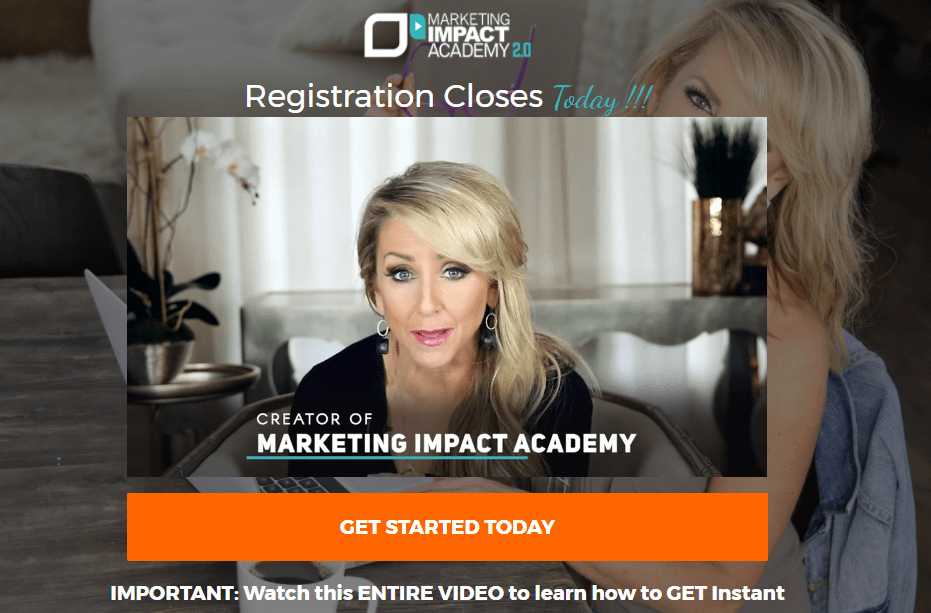 Marketing Impact Academy Review Summary
---
Name: Marketing Impact Academy
Website: marketingimpactacademy.com
Founders: Chalene Johnson
Product Type: Create Online Business with use of Social Media
Price: $1,999
Quick Summary: The Marketing Impact Academy is an educational course for those who want to build online business at their own pace with use of social media created by Chalene Johnson.
There are many Marketing Impact Academy reviews online. Our review ranks one of the highest in search engines because we answer the biggest question whether you should buy this course because it's one of the best on the market or because you simply like Chalene Johnson? For unbiased review keep on reading.
Overall Rating: 5/10
Recommended: No
What is Marketing Impact Academy About?
The Marketing Impact Academy is a 14 week virtual training created by Chalene Johnson for those interested in growing their business or making extra money online. One unique feature is that the program is marketed as a "go at your own pace" training to allow those of all levels to follow along.
With so many changes in the internet and social media it is now a possibility to generate real income online, the only trick is knowing how to do it. That is the idea that the Marketing Impact Academy is centered around.
The program states that it will help users of all experience level build a captivating brand, master changes in Social Media, attract your ideal customer, increase profits with paid traffic and set the foundation for a solid evolving business, among other things. This sounds pretty legitimate, but you might be wondering if there is a catch.
Who is Chalene Johnson?
Chalene Johnson is fitness celebrity very famous for her fitness programs and record number of DVD sales, she was even placed in to The Guinness Book of World Records for selling 10 million DVD copies.
She is also entrepreneur who helps people to achieve their dreams by building a business they always wanted. So here she is with Marketing Impact Academy program trying to help people build their business with use of Social Media.
Here is a great interview video of Chalene Johnson which helps you to learn more about her personality and how she uses Social Media to make her business ventures very successful:
Is There a Marketing Impact Academy Scam?
When reading through the Marketing Impact Academy site, it is hard to spot a scam. The information provided on the website is specific and gives you a clear view of what Marketing Impact Academy will offer you. This is not always the case for training programs like this.
There also isn't a promise of making fast cash, and there is even an acknowledgement right on the site stating that this is not a way to get rich quick. Usually scam sites utilize other language and promises of making massive amounts of money to draw potential members in, but Marketing Impact Academy avoids these marketing ploys.
There is one Red Flag that stands out, which is the claim that they only run the course once a year and that registration "closes today." If you were to check out the website a week from today, it would say the same. This isn't a deal breaker though.
The two main issues with Marketing Impact Academy are the high cost, and the fact that the training is specifically for gaining social media followers.
Though the training can be quite generalized, it still offers some value. The issue is that this program is not for people looking to build up a website and generate income, rather those looking to increase their social media followers.
When you look at what you're actually getting for the price, it becomes highly overpriced.
Here Is My Top Recommendation to Start Highly Profitable Online Business from Comfort Of Your Home
The Marketing Impact Academy cost is one thing to strongly consider before signing up with the program.
For $1,999 you will get access to all of the training modules for life. There are no up-sells or monthly fees on top of that, which is almost refreshing in the world of online training courses.
However, when you look at what you're actually getting for the price, the program starts to lose some legitimacy. $1,999 wouldn't be a bad price to pay for lifetime access and support for a training course that shows you how to build and market an online business. To pay that for lessons on increasing your social media followers, is another thing entirely.
I mean you can build a business solely on social media following but I can find a ton of Free training programs that have even more in-depth tutorials on how to use: Instagram, Twitter, Facebook and YouTube.
If this program was offered for $199 one time fee then I would give it much higher rating but $1,999 sounds like you will pay for Chalene Johnson to deliver training to you, so if you are really in love with her then this might be a good deal.
FREE TRAINING
Learn How I Started Highly Profitable Online Business From Comfort of My Home Following This Blueprint
Pros:
Money back guarantee
Varying types of training materials with lifetime access
Good quality videos
Cons:
The training materials are generalized and basic
Some tactics taught are spam
The price is too high for the information gleaned
The course is too specific for anyone starting an online business
There are a few things that Marketing Impact Academy has going for , including the Money Back Guarantee. Additionally, the videos are also good quality, and people of varying learning styles have access to the type of materials they need to learn.
However, the training is too generalized to be of much use and the program is specific to increasing social media followers. The price is just too high to justify signing up.
Marketing Impact Academy is especially for those looking to increase their social media followers. It is mostly geared towards beginners because the information is more generalized and basic for those with experience.
That being said, paying $1,999 for tips on increasing social media followers is too steep of a price to pay for anyone, especially for beginners. It will work though very well for Chalene Johnson's followers who might be ready to spend this kind of money because of her celebrity image.
When you sign up for the training, you will receive new training courses every week for a duration of 14 weeks. The training will include videos, tutorials that they walk you through, charts, PDF downloads, and audio training. You will also have access to study guides.
With the variety of media to learn from, the program is geared for varying experience levels and different types of learners. That is one nice thing about Marketing Impact Academy, that visual, audio and hands on learners will have access to the type of training materials that they need.
With lifetime access to the training materials, you can move as quickly or slowly as you like through the material, and even go back for refreshers!
In terms of support, you will have access to the Marketing Impact Academy community to ask questions and provide feedback. You will also have access to the people behind Marketing Impact Academy should you have any questions or need assistance learning how to utilize the provided tools.
So, Is Marketing Impact Academy a Scam? – No, definitely not a scam, but I still cannot recommend it. $1,999 is too high of a price to learn how to increase your social media followers, especially when there are so many free resources on the topic.
For those looking to learn how to start and grow and online business to make money, this program may not give you the success you are looking for. There are much better training courses and programs out there to consider, and many will be priced lower than the whopping $2,000 Chalene Johnson charges for Marketing Impact Academy.
We Constantly Review Programs in "Make Money Online" Niche,
So That You Don't Have to Waste Countless Hours
Want To See Our
TOP RECOMMENDATION?