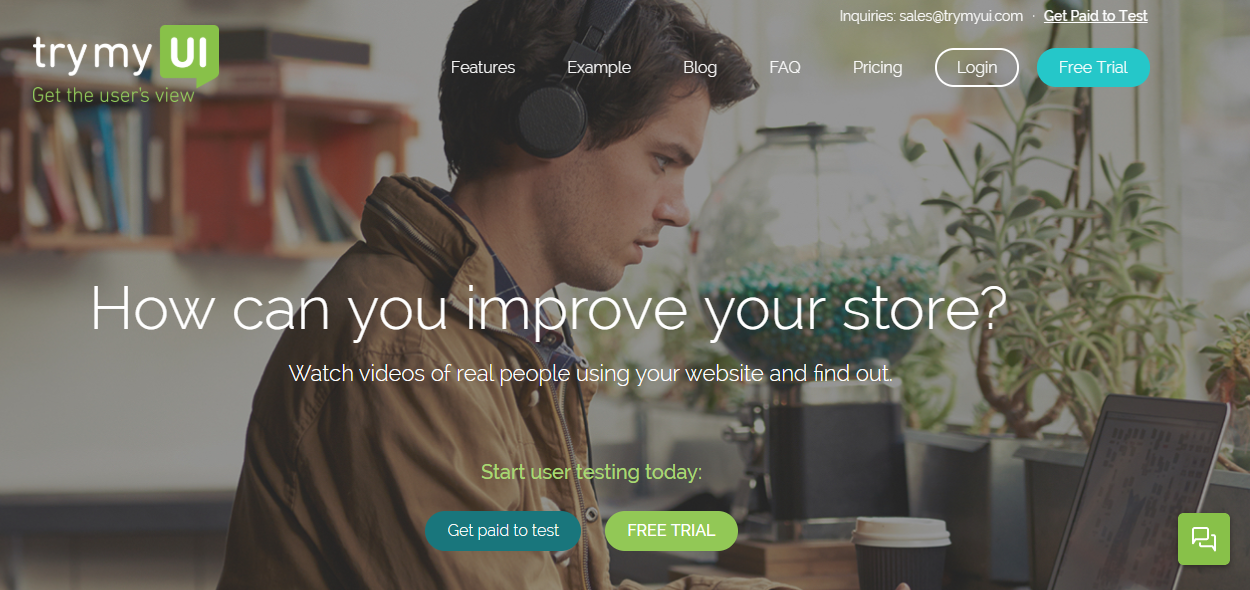 Welcome to My TryMyUI.Com Review!
Apart from paid surveys, one of the ways to make money online is by participating in usability testing websites. Some people claim that they earn cash by simply providing feedback on a company's website, mobile application, etc.
TryMyUI Review Summary
---
Name: TryMyUI
Website: www.trymyui.com
Founders: Ritvij Gautam
Product Type: Usability Testing Website
Price: Free
Quick Summary: TryMyUI is a usability website that serves to clients -- a business owner and an individual seeking a way to make money online. Its main role is to help entrepreneurs and website developers to evaluate their site. It also gives an income opportunity to anyone who wants to become a tester.
Overall Rating: 6/10
Recommended: Yes...And No
It's easy and unlike home-based jobs, having a professional experience is rarely required. However, users are attesting that this kind of platform is nothing but a scam or a low-quality program that's only full of hype. But still, there's one usability site that claims to pay its members a good amount of cash.
And the platform that I'm talking about is TryMyUI -- a site that pays $10 for each test taken.
But how true is this claim? Is TryMyUI a scam? How much money can you make from this program?
When checking a website's credibility, one of the things that I look at is the layout. As for TryMyUI, it's simple, well-designed, and it has all the basic things a visitor might need, including the contact details, FAQ, and the details about the company.
While the site's main focus is to attend to people who need their websites, mobile applications, and products to be tested, there's a small area on the upper right corner of the page that says: "Get Paid To Test."
Anyway, since the main clientele of the site are companies who want their products to be evaluated, the details they've given on their website are mostly directed to them. For example, on their site, they mentioned how it works.
Initially, you have to create a list of jobs you want your tester to accomplish on your website or mobile application. The next step is to look for a demographic that would fit your requirements. For the part, you can watch the videos to know the opinion of the tester about your website.
Having your platform tested by other people outside your company is important as this may help you find details you might have missed. It also gives you a chance, as a business owner or website developer, to address areas that need improvement.
How To Become A Tester On TryMyUI
As mentioned, you can click the "Get Paid To Test" tab on the upper right corner of the page to apply as a tester. This will lead you to another page that would ask a few details, like your full name, PayPal email, and a password.
On the right side of their page, you'll see a few more details about the usability test that you would take. From what I understand (and how usability test normally works), your monitor and voice will be recorded. You should speak your opinion about the site out loud so they can assess your application. You will also provide a written reply to a quick survey.
In case you failed the test, you have unlimited chances to try it over and over again; however, you can only have a few chances every week.
Anyway, after filling up the form, you'll receive an email that contains your verification link. Once you've verified your account, you will receive a few instructions or guidelines on how you can come up with a good test.
Once you've finished reading the guidelines and agreeing to the non-disclosure agreement, you will be asked to download an application that would allow them to record your screen and voice. According to the note on the right side, you should complete the installation process to proceed with the test.
How Will TryMyUI Pay You?
Once your tests have been evaluated by their graders, your payment will be cleared and sent on your PayPal account every Friday. Therefore, before you even start taking the tests, you should have your own PayPal account.
If none, you can start creating one now. It's free and easy to use. You can link on your credit or debit card and get your cash in as fast as three days. I highly recommend this financial platform when you're offering your service internationally or even locally or if you want to create a business online. This is one of the safest platforms to use when receiving your payment.
TryMyUI is not a scam. It's a legit site founded by Ritvij Gautam on May 2010. It's been paying its testers since then. But, like other websites and companies, it has received a number of complaints from its testers, making it sound like a scam or a low-quality program.
For one, most members complained about rejected tests despite following the instructions. One member even said that maybe, the company is looking for a reason to decline their tests so they don't need to pay the tester.
Here Is My Top Recommendation to Start Highly Profitable Online Business from Comfort Of Your Home
TryMyUI is free for everyone. You can create an account without paying for anything. All you need to do is provide your name and PayPal email address and download the free screen recorder application.
TryMyUI sounds like a promising app especially since it's free. Imagine, all you have to do is navigate a website and state what you see out loud. If you have any comments, suggestions, or you see a problem no matter how small or big it is, all you have to do is say it loud and clear.
However, it's only good as a side hustle. The tests within the platform will require a specific demographic and if you did not match the criteria that they are looking for, then you will not earn. Also, even if you qualified for a test, there's no guarantee that you will receive a payment because they will still evaluate your recordings.
That being said, you cannot rely on this when you need a full-time income or even as a part-time job. It's not stable and there's no guarantee that you will earn after being qualified. But don't worry, I got the right solution!
Just check out my step-by-step guide on how to make money online for free!
Tired of Wasting Time on Low Quality Programs?
I'm so grateful that I was able to find THIS PROGRAM which helped me to finally start making money online!
PROS
It's A Legit Site
There are many scams nowadays and it's so good to know that there are still people whose main intention is to help other individuals make money online. TryMyUI is legit and if you have enough patience, you can give it a try.
Otherwise, I suggest you sign up with my top recommended program.
Uses PayPal To Pay
PayPal is a trusted platform and I recommend this to anyone who wants to make money online. You can receive your cash easily using this program plus, it's free!
$10 Per Test
$10 is not bad enough for a 20-minute long test and even if you can have a few tasks for a week, I think it's better than nothing.
CONS
Very Limited Income Potential
Even if you passed the test and became a qualified tester, there's still a chance for your tests to be rejected -- and you will not be paid for your effort.
Also, if your demographics do not fit what the company is looking for, then you cannot take the test.
If you want to learn more about TryMyUI, you can watch the video below:
TryMyUI is an online opportunity who wants to earn extra income -- not a full-time one. While it's legit, you cannot expect to earn a lot of dollars from it. It's good if you have a regular job or business and you just want to make money in your free time.
Although the amount you can get from TryMyUI is not enough to suffice your daily expenses, you can use the extra earnings to cover your debt or start a savings account.
There's no comprehensive training provided but before you begin taking the test, there are a few guidelines you can consider to come up with a good score. Some of it includes saying your comment out loud, identifying minor problems, taking the survey, etc.
Overall, TryMyUI is a good website. It offers a legit opportunity to make EXTRA cash online. It's not a good replacement for your day job though and it won't guarantee a passive income. Also, since there's a chance for your application or test to be rejected, there's no assurance that you will make money from this program.
If you want to make money online NOW and you don't want to take any risk of getting rejected, I suggest you sign up with my #1 program.
You can start for free and get as much perks as you can, such as:
Intensive Training And Webinars
24/7 Customer Service
Supportive Community
And A Lot More!
All these -- for free! So what are you waiting for?
Achieve financial independence. Become your own boss. And fulfill your dream to make money online.
We Constantly Review Programs in "Make Money Online" Niche,
So That You Don't Have to Waste Countless Hours
Want To See Our
TOP RECOMMENDATION?