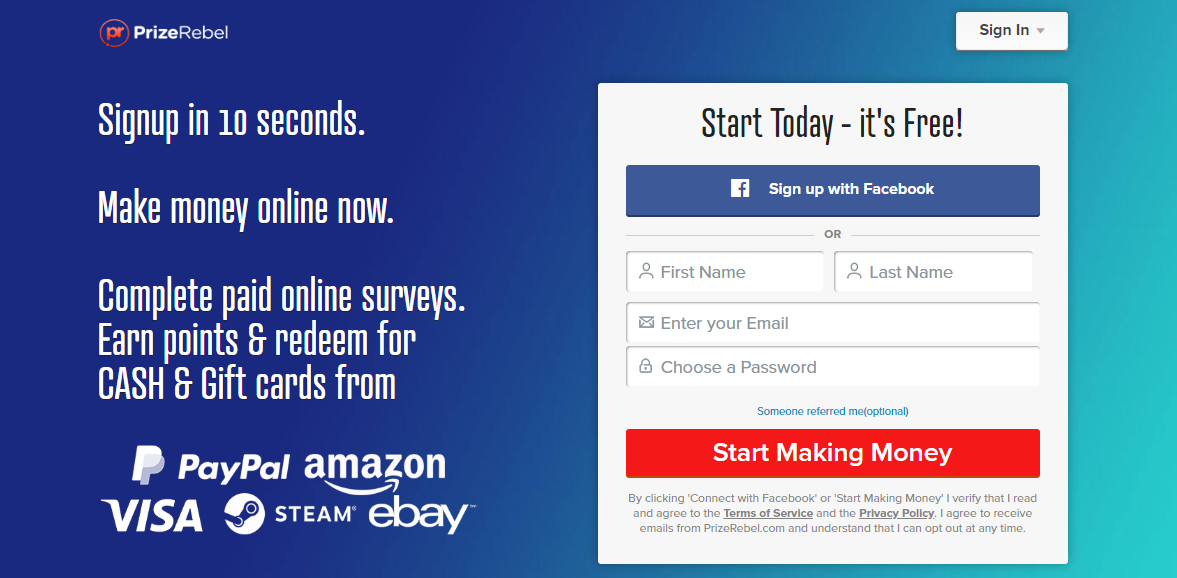 Welcome to My PrizeRebel Review!
One of the perks of making money online is that you have a lot of free time to find other opportunities. For instance, if you're a freelance writer, you only need to complete your writing jobs for 5 hours or less and you're free to do other things.
PrizeRebel Review Summary
---
Name: PrizeRebel
Website: www.prizerebel.com/
Founders: Undisclosed
Product Type: Paid Survey Website
Price: Free | Paid Offers
Quick Summary: PrizeRebel is a paid survey site that offers various ways to earn within its platform. It's legit and has been founded in 2007. It is available worldwide but the problem is, most of its surveys are limited to members residing in the U.S., Canada, Australia, and the U.K.
Overall Rating: 4/10
Recommended: No
If you're working or have a business online, one of the side hustles you can try is paid surveys. As the name suggests, all you have to do is answer questionnaires and get paid for doing so. Many platforms offer this opportunity and one of the most popular ones is PrizeRebel.
In this review, you'll find out everything you need. How does it work? Is PrizeRebel A Scam? How much money can you make from it?
P.S.
While most paid survey sites are legit, the amount you will get from it every month is very small. Therefore, I recommend that you take my FREE Step-By-Step Guide on how to make more money online.
What Is PrizeRebel About?
Founded in 2007, PrizeRebel was developed by a former survey taker who got tired of how usually paid survey sites and Get-Paid-To (GPT) websites work. For more than 10 years, the site has added features, such as instant reward redemptions, extensive rewards catalog, and other ways to make money within the platform. That being said, it's more than just a paid survey site; it's more of a GPT platform that pays its members for completing minor tasks.
How PrizeRebel Works?
Like other paid survey sites, you need to create an account first before you proceed. This will require you to share basic details, like your name, email address, and password. A confirmation email will be sent and you need to click the link to verify your account. Next, you can start answering surveys or accomplish mini jobs.
You can also sign up using your Facebook account. As long as you're 18 years old and above, there will be no problem; however, if you're between 13 to 17 years old, you are required to give a letter of parental consent. Also, while it is available worldwide, most of their surveys depend on your demographic and normally, it is available to those who are residing in Australia, Canada, the United Kingdom, and the United States Of America.
Once you created an account successfully, you can have access to paid surveys and other tasks, such as cash offers, watching videos, data entry, etc. The amount of points you can get depends on the task you need to complete.
How Much Money Can You Make Using PrizeRebel
According to their website, 100 points is equal to $1 and compared to the paid survey sites I've reviewed in the past, this is a reasonable offer. You may not make a lot of cash but from what I see, you can make more dollars using this program than others.
But before you proceed, you need to understand how their point system really works for two reasons: for one, it will help you know the cash conversion of the points and two, it will give you an idea of their Tier System, which I'll discuss in a bit.
As for the number of points you can get, they claimed that they beat the payout rates of their competitors and many reviews will support this. As mentioned, the points you'll receive depends on the task and usually, it's worth more than a hundred points.
How To Make Money With PrizeRebel
Cash Offers
One way to earn with PrizeRebel is to participate in paid and/or free offers. These are provided by third-party programs, such as OfferToro, AdGate, PeanutLabs, Persona.ly, TrialPay, RadiumOne, Superrewards, and Adscend.
Participating in offers might mean visiting and signing up for a website or simply visiting a website for a certain period. Some will require you to pay using points while others might ask you to pay using your credit card information.
For paid offers, most tasks will pay $5 after completion, which, I think, is worth it. Just be sure to cancel your subscriptions before the expiration date to avoid charges.
Paid Surveys
PrizeRebel partnered with different paid survey sites for this task, including Toluna, Your Surveys, Daily Gold, OpinionWorld, Sayso4good, PeanutLabs, Cint, and Precision. These paid survey sites are well-known -- and for good reasons. For one, they are all legit and two, they pay higher than their competitors.
It's also worth knowing that, despite using a third party for their surveys, you don't need to register again on these sites. You will only be directed to a new tab where you can answer the questionnaire and when you're done, the points will be added to your account.
Watching Videos
For this task, PrizeRebel has partnered with another third party platform named Encrave. To complete this option, all you need to do is click on a video or ad so you will be directed to a new tab where you can watch the clip. You need to finish the entire video to get paid.
Mini Tasks
If you've visited GPT websites before, you might be familiar with CrowdFlower. It's a third party program that provides various small jobs, such as data entry, Google search, and image annotation.
Daily Points
For this task, you are required to visit 10 websites which can take less than 3 minutes to complete. You'll receive 2 points for completing this task.
Referral Program
Like other paid survey sites, you can get a commission for inviting a new member to join the platform -- and you can get 20% of their earnings for a lifetime. Also, this increases when you reach a higher ranking.
PrizeRebel Tier Status
For all new users, your status of Bronze Level and once you reach 1,000 points or a total of $100 in earnings, you will move to Silver Level. Meanwhile, when you have 3,000 points, you will move up to Gold Level; 7,000 points for Platinum Level, and 12,000 points for Diamond Level.
As your rank increases, your referral commission and incentives will also increase.
How Will PrizeRebel Pay You?
Depending on your location, you can exchange your points for a gift card coming from different merchandisers, like Best Buy, Amazon, Whole Foods, Forever 21, etc. Otherwise, you can convert it to cash and get paid via PayPal.
To withdraw your cash, you need to have at least 500 points which are equal to $5. For the gift card, you need to have at least $2 or 200 points in your account.
To learn more about PrizeRebel, you can watch the video below:
PrizeRebel is not a scam. It's a legit site that pays more than the other paid survey websites. After all, this is what they promise: "beating our competitors on survey payout rates". However, like typical GPT sites, it won't provide enough income for you to survive. You may use it as a way to earn money online in your free time but you should not rely on it when you want to achieve financial freedom.
If you want to make money online, I suggest you take this FREE TRAINING now. Don't worry, you will not pay for anything. Your credit card details are not even required.
PrizeRebel is free and you can sign up by entering your email address or through your Facebook account. However, if you choose to participate in paid offers, you'll be required to provide your credit card information. While you will not be charged right away, you will pay for it if you fail to cancel your subscriptions.
Here Is My Top Recommendation to Start Highly Profitable Online Business from Comfort Of Your Home
PROS
Low Threshold
Unlike other paid survey sites, PrizeRebel will only ask you to have $5 in your account so you can withdraw it via PayPal.
Bigger Pay
Compared to the past survey sites I reviewed, PrizeRebel's point conversion is more reasonable. For example, you only need 100 points to earn $1 and the good part is that some tasks will reward you with more than a hundred points.
More Ways To Earn
With PrizeRebel, you are not limited to answering questionnaires alone; you can also complete minor tasks, such as watching videos, visiting websites, and data entry to earn more points.
CONS
No Stable Source Of Income
While PrizeRebel is legit, it's not a good source of income. Remember, most surveys are only available to limited countries, like Australia, Canada, the U.S., and the U.K. Even if you're residing in these countries, the income potential is still low.
Tired of Trading Your Precious Time for Money?
Here is a Blueprint to Owing Highly Profitable Online Business Without Any Experience REVEALED!
PrizeRebel is ideal for anyone who wants to make money during their free time or for beginners who are still searching for better opportunities. However, don't expect a lot since it won't provide much money.
PrizeRebel, compared to its competitors, is a better option if you want to make money answering surveys. Don't worry, I'm not an affiliate of this platform so I'm not promoting it. But then again, it's not the best solution if you want to have a regular income without leaving your home.
If you're looking for a legit way to earn online, I suggest you take my top recommended program. It's the same platform that most internet marketers would propose if you want to make more cash.
If you're a beginner, don't worry, it has everything you need to get started, such as:
Step-By-Step Guide
24/7 Chat Support
Live Active Community
And A Lot More!
I hope I have enlightened you with my PrizeRebel review and if you have any questions or comments, please feel free to share it below.
Thank you!
We Constantly Review Programs in "Make Money Online" Niche,
So That You Don't Have to Waste Countless Hours
Want To See Our
TOP RECOMMENDATION?