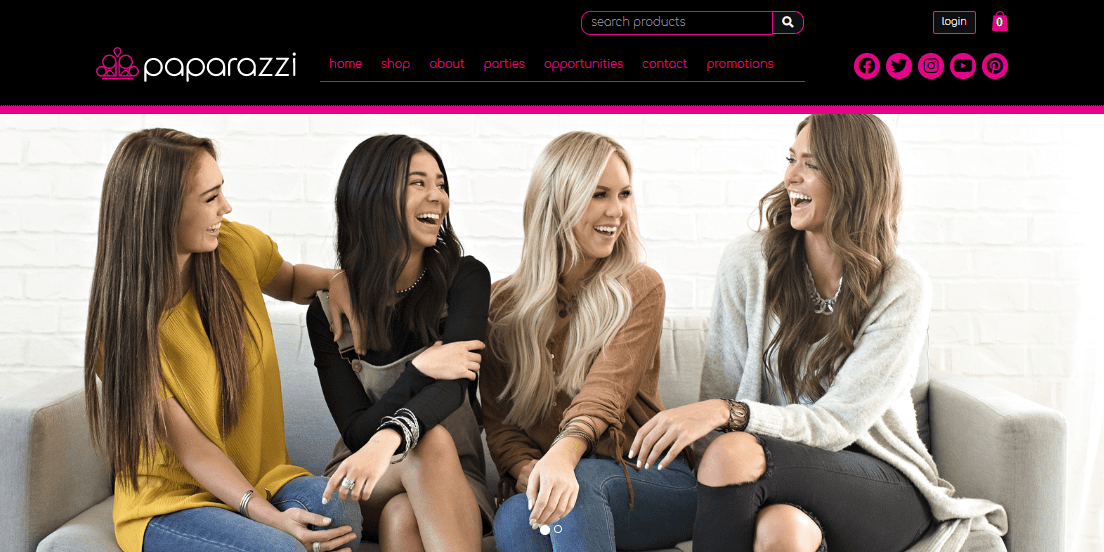 Welcome to My Paparazzi Jewelry Review!
You're probably in this site trying to gain insights and information about a business you're trying to pursue. So pat yourselves for trying the extra mile by researching and investigating. It is better to be meticulous rather than being too risky and careless.
That's a great way of avoiding scams. And after all, you will be investing your time, money, effort and energy in whatever business you will opt to try and of course, you won't want to lose it afterwards.
Paparazzi Jewelry Review Summary
---
Name: Paparazzi Jewelry
Website: www.paparazziaccessories.com
Founders: Misty and Trent Kirby, Chani and Ryan Reeve
Product Type: Multi-Level Marketing
Price: Starting From $99 To $499
Quick Summary: Paparazzi Jewelry or also known as Paparazzi accessories is another E-commerce MLM company that markets and sells customized fancy jewelry to buyers and distributors. But this is a network marketing opportunity that puts more focus on recruitment not to mention the large emphasis on hosting house parties thinking it's the best and fast way to sell a lot of jewelry. You will earn from your profits in selling and recruiting someone to join the company. Well, would that give you high income? Probably not!
Overall Rating: 4/10
Recommended: No
Nowadays, MLM opportunities are anywhere. Most of the time they market products, from beauty to the health and wellness niche, name it, they have a lot right? And now, we will be discussing jewelry distributing MLM company. And probably you have already heard or have been in one of those house parties they've set where they showcase a product and would entice you to buy.
If it's fancy jewelry that would only cost you $5, then it's most likely to be Paparazzi Jewelry.
Well, is Paparazzi Jewelry a legit MLM company? Is it not a scam? How about the profit that you'll get? Is this the best opportunity to start building a business? What are the benefits and disadvantages of joining this company? Yes, we will tackle all of that here and we will try to answer all of your questions in mind.
BONUS: Network marketing's a tough business to try so in case you're looking for a side hustle for extra income, I suggest you take my FREE Step-By-Step Guide now!
Let's talk about this MLM Opportunity- Paparazzi Jewelry in this review!
What Is Paparazzi Jewelry About?
Paparazzi jewelry is a multi-level marketing (MLM) company that markets and sells trendy costume jewelry. Costume jewelry or fancy ones are highly popular and inexpensive compared to traditional jewelry which comes at a high price and has many restrictions in selling.
Paparazzi Jewelry was founded in 2010 at Hurricane, Utah. Launched by the sister team-up of Misty and Chani that started from their hobby of making fancy jewelry, the company continued and expanded along with their leadership and along with their husbands- Misty's husband Trent Kirby and Chani's husband Ryan Reeve.
"We believe that trendy accessories can be available, and affordable, to women everywhere", their company mission is stated on their website.
Paparazzi Jewelry Product Line
As their entitlement implies, Paparazzi jewelry sells and markets costume jewelry and accessories. All their products are individually designed and sourced by Misty and Chani.
They then work directly with their manufacturers, probably through email across the globe because at a $5 pop, manufacturers are notified and these accessories are manufactured as far as in China. Yes, they're made in China and they are nickel, cadmium and lead-free. These products are made of mixed metals, plastic, wood, and organic components.
These accessories are inexpensive, trendy and fashionable. It may not stand for a long time but at a low price of $5, it's not that bad.
See some of their products in the picture below.
How To Make Money With Paparazzi Jewelry?
So how to make money with this MLM company? First, you'll start as a member. You have to sign up and purchase a starter kit with a price ranging from $99-$499 which is already inclusive of some accessories, marketing materials, repair kits and everything you need to get going in the business.
Here are the following starter kits offered by Paparazzi Jewelry with inclusive jewelry and retail value:
$99 – Preview Pack/Paquette Prevista– 35 pieces of Jewelry- Retail Value: $175
$299 – Small Home Party Kit/ Pequeña Home Party Starter Kit- 120 pcs. of Jewelry- Retail value: $600
$499 – Large Home Party Starter Kit/ Gran Home Party Starter Kit– 200 pcs. of Jewelry- Retail value: $1000
So you earn in Paparazzi Jewelry through:
Retail commissions – By purchasing the starter kits with a corresponding high retail value of the inclusive jewelry and accessories, you could earn through the profit from accessories sold. You can earn 45% commissions on every sale.
MLM Commissions – These commissions will be dependent on how much product you and your team purchase. You can qualify for some big cash bonuses once you make it to the top level and in order to get that, you'll have to consistently maintain a personal volume (PV) of 250 which is about 125 sales per month and have an organizational volume of 1,000,000-1,500,000 which is about 500,000-750,000 sales per month within your organization.
Here are the levels/ranks of the program that qualify for cash bonuses – Luxe Jetsetter ($25,000) and Impressionista (50,000).
Direct recruitment Commissions- Paparazzi jewelry emphasizes the need for recruitment. Just like any MLM, you can earn by recruiting other consultants and pick up 5% - 10% on their sales. The more people you recruit under you, the more income you will get. And as your downlines make recruits, you'll receive as well 2%-3% of the sales of their recruits.
Click the link to check their compensation plan or you can also watch the video below:
Is Paparazzi Jewelry A Scam?
Definitely, it is not a scam. It is a legit MLM company that's been already in the business for more or less 9 years.
Though they are not a Better Bureau Business (BBB) accredited company due to some rules, procedures, and ways that are not convincing and questioning their credibility but they've been already running since 2010. They're a real business selling real tangible accessories.
Starting with this MLM opportunity, you have to sign up by purchasing any of their starter kits which ranges from $99-$499 which comes along with a bundle of jewelry, marketing materials, and other resources.
As discussed above, here are the starter packs with their corresponding price:
Preview Pack/Paquette Prevista– $99
Small Home Party Kit/ Pequeña Home Party Starter Kit- $299
Large Home Party Starter Kit/ Gran Home Party Starter Kit– $499
Here Is My Top Recommendation to Start Highly Profitable Online Business from Comfort Of Your Home
Good Profit Margin
You could earn at least 45% for each paparazzi jewelry sold and that's a good commission rate for an MLM.
Inexpensive And Trendy Accessories
Costume jewelry are cheap and trendy. It is enticing for the eyes and popular in the market so it would be easy to sell.
Variety Of Products
They have a variety of accessories. You can choose from rings to bracelets to necklaces and more. Your buyer would probably scoop a bunch of each type of accessory.
CONS
Emphasis On Recruitment
Instead of focusing on the progress of sales and customer satisfaction, this MLM company is more focused on recruitment.
Large Emphasis On House Party
Hosting House Parties is a brilliant idea to maximize product promotion and the best way to sell a lot of products but is giving quite a pressure to the hosting rookie member especially for someone who is not used to face-to-face selling and big events.
Low Dollar Sales
Though you can have a 45% commission on each jewelry sold, you can still only gain less than $2.50 per sale. So to earn more, you have to work hard to sell a bulk of this jewelry and that's a lot of work.
No Company Benefits
Yes, no health insurance, no incentives and no perks for consultants in this MLM company. You take it on your own and you are the boss of your own business.
Tired of Wasting Time on Low Quality Programs?
I'm so grateful that I was able to find THIS PROGRAM which helped me to finally start making money online!
It is a business opportunity intended for those who are jewelry enthusiasts that are mostly women but it can be for anyone who has a passion for sales.
People with experience in the network marketing and MLM have also the advantage in this business but for a rookie, it will be hard to try your aces in this business since this company emphasizes the need for recruitment and you would also earn from that. That's why it takes not only the guts, effort but also the skills gained from previous MLM experiences. But it can be an opportunity for a part-time job.
Signing up as a Paparazzi Jewelry consultant and purchasing their starter kits allow you to access their business tools and resources. Along with your starter kit are the marketing materials, resources and other things that you would need to keep you going and running in the business.
Overall, I would not recommend joining this MLM business venture. Running already for 9 years in the business, it is definitely not a SCAM. It is a well-established MLM company selling tangible fancy jewelry and accessories.
Though it is an MLM with a high-profit margin of 45%, it can only give you low dollar sales that are about less than $2.5. And also, the company is more focused on recruitment so it will really require your hard work, great recruitment skills and the guts in sales to progress and earn big.
Therefore, for newbies and those who are new in this kind of business, it's of low success guarantee and low-income potential. Yes, you will be the boss of your own business but you don't have any company benefits.
MLM is really a challenging and risky world to venture into starting a business. It would cost you a lot, for you will have to risk not only your time and effort but also your money.
Want to earn an income online without capital? I suggest you take my top-recommended program.
It's FREE to get started and there's no need to buy overpriced products and sell them. Also, no recruitment required so you can save yourself time and money. Sign up now and enjoy the following perks:
Proven strategy to work smart and earn a lot (literally)
Best possible support including your own training coach
Lots of training resources
Step-by-step guidance
My personal help
And so much more!
By the way, thank you for taking the time to read my Paparazzi Jewelry review. I hope this has given you clarity and had answered your questions.
Have a great day!
We Constantly Review Programs in "Make Money Online" Niche,
So That You Don't Have to Waste Countless Hours
Want To See Our
TOP RECOMMENDATION?