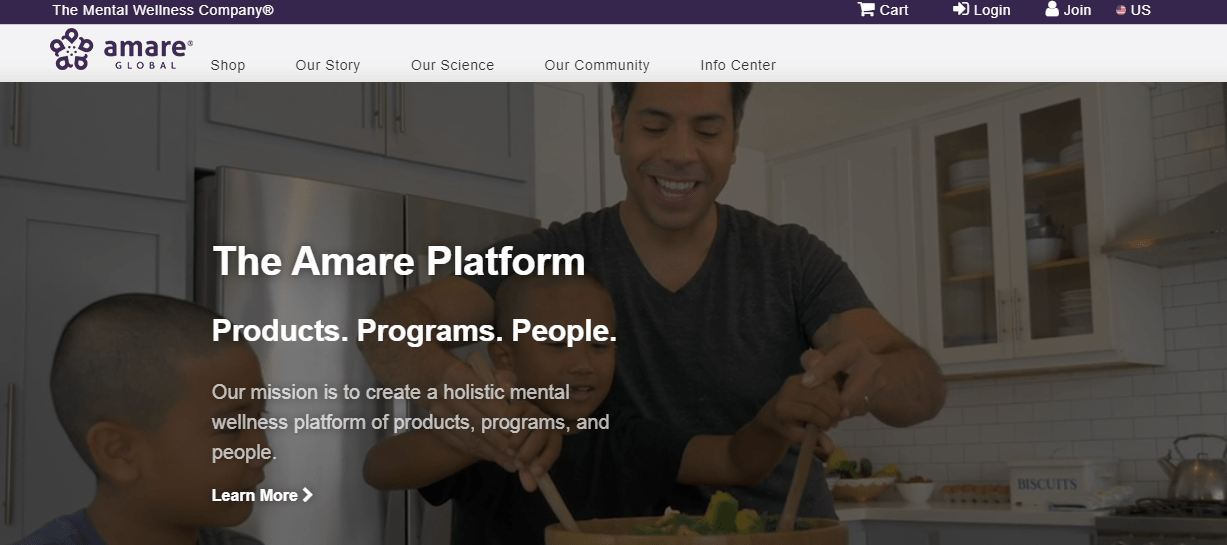 Welcome to My Amare Global Review!
Is Amare Global legit or a total scam?
If that's one of the many questions you have in mind about the brand, then you've come to the right place.
Amare Global Review Summary
---
Name: Amare Global
Website: www.amare.com
Founders: Hiep Tran
Product Type: Multi-Level Marketing
Price: Starts From $24.95 to $69.95/Year Or $699.95 For A One-Time Fee
Quick Summary: Amare Global is an MLM company that promotes supplements for mental health. It's been operating for 3 years and so far, it's not been involved in any controversies. It offers a good compensation plan to its distributors but before you sign up, be sure to read the entire post first.
Overall Rating: 4/10
Recommended: Yes/No
In this unbiased Amare Global review, we'll discuss what it is about, its compensation plan, the products, pros and cons, and everything else you need to know about the platform.
P.S.
Whether you've decided to join Amare Global or not, I suggest you take my FREE Step-By-Step Guide on how you can make money online.
What Is Amare Global About?
The Mental Wellness Company -- that's what Amare Global is about, or so their website suggests.
Founded in 2016 by Hiep Tran, the multi-level marketing brand promotes mental wellness products and merchandise, such as tablecloths, water bottles, and notebooks. So far, the brand has not been involved in any controversies since it's still new, and it's a good thing.
According to its website, Hiep has been successful in the business world. He founded Meritus Payment Solutions, a payment processing platform. He's also a mentor, a coach, and a mental health advocate, thus the birth of his Amare Global brand.
However, there's one problem: Shawn Talbott, one of its executive team members. Before becoming the Chief Science Office/ Founding Executive of the brand, Talbott has been involved in an issue with FTC.
Apparently, his product call CortiSlim has false claims and because of that, the dietary supplement brand has to pay over 4 million from the lawsuit. I just hope that the same thing won't happen to Amare Global.
Amare Global Products
According to them, their all-natural products were created using "ancient traditions and modern scientific principles." Their supplements are intended to nourish the body and of course, the brain.
Here's a glimpse of their product line:
FundaMentals™ (flagship product of Amare Global)This includes MentaBiotics, MentaFocus, MentaSync, MentaHeart, Amare FundaMentals pack, and Three Brains Fundamental Pack
MentaTherapeutics™ This includes Energy+, Mood+, Relief+, Sleep+, and Reboot+.
MentaEssentials™ This includes Probiotics, Digestive, VitaGBX, OmMEGA, GBX Protein, GBX SeedFiber, GBX, SuperFood, and GBX Foods System.
AmareKids™ This includes Kids FundaMentals, Kids VitaGBX, Kids Mood+, Kids FundaMentals 2-pack, and Amare Kids pack.
Amare Packs
Amare Gear
The brand also sells apparel and merchandise, such as banners, notebooks, business cards, tablecloths, table runners, messenger bags, and water bottles.
Like typical MLM companies, the products come with exaggerated pricing, and for a new brand like this, selling these essentials would be a challenge.
Amare Global Product Reviews
If you're wondering what people are saying about their products, you might want to check their Facebook account. It's full of positive feedback about their supplements and business opportunity. It shows how Amare Global has helped them overcome their illnesses, such as depression, Hashimoto, anxiety, etc.
However, I found out that some of the people who left their feedback are distributors of the brand, so it's best if you're going to take it with a grain of salt.
Meanwhile, I found another review from this website. It may be unbiased since it's an anti-MLM thread but for me, it perfectly makes sense. Many network marketing sites claim that their product is the "solution" to physical or mental illness but sadly, these are nothing but bold claims.
I remembered an MLM brand that I've reviewed before, claiming that it provides a cure to any mental illness. Q Sciences is a legit network marketing company but they marketed their brand in the wrong way. So wrong that somebody who believed it so much got killed.
How To Make Money With Amare Global?
As a multi-level marketing business, Amare Global offers two options to make money -- retail profits and recruitment.
When you want to earn as their distributor, you can purchase their products at a discounted rate and sell it based on the suggested retail price -- and that's when you earn profits.
You can also earn commissions, bonuses, and incentives when you grow your team. Now, don't get confused about a legit MLM with a pyramid scheme, like what most people do.
A multi-level marketing company will ask you to invite people but they won't compensate you directly for doing that. This kind of business model also has tangible products to sell and is legitimate to operate.
Meanwhile, a pyramid scheme will only require you to recruit more people so you can earn. This kind of business model is not stable since there are no tangible products to promote. Also, it's illegal in most states.
Amare Global Compensation Plan
To learn more about Amare Global's compensation plan, you can click this link or watch the video below:
No. Amare Global is not a scam. From what I see, it is legit. However, it's been in the industry for three years so it's still too early to assume anything.
But then, there are three red flags that you should consider before joining this program, including:
Focused On Recruitment
While recruitment is a normal part of Amare Global, putting too much emphasis on inviting new people often leads to a negative impression. Some MLM brands have been shut down by the FTC because of this, such as AdvoCare.
As with Amare Global, their compensation plan rewards those who can invite more people to join the platform, thus showing how focused they are when it comes to recruitment.
Overpriced Products
Aside from being new to the industry, the price of their products is too high. For instance, their MentaBiotics cost $66.95 per tub. If you'll check Amazon, you may be able to find similar products at a lower price.
If you're a distributor, making a profit can be difficult, let alone getting your investment back.
Founding Excetuive's Bad Reputation
As mentioned above, Shawn Talbott had a bad reputation for making bold claims about his previous products. As a result, he had to pay over 4 million dollars to resolve this.
Now, he may not be the main founder but he's still part of the executive team. There's a huge chance that he'll be doing it again to Amare Global so if I were you, I'd rather skip this opportunity.
Here Is My Top Recommendation to Start Highly Profitable Online Business from Comfort Of Your Home
Amare Global offers two kinds of membership -- Preferred Customer and Wellness Partner.
If you want to become a Preferred Customer, you need to pay $24.95 every year to get a 25$ discount on all products. You can also get free essentials by recruiting new people.
Now, when you want to become an Amare Global Wellness Partner, you need to pay $69.95 every year and get a 25% discount on all products. This also lets you start a business, have the tools you need to make money with them, and earn through their compensation plan.
Amare Global has been in the industry for three years, which is relatively new to the MLM world. Therefore, it's ideal for those who have been doing network marketing for quite some time since they already have the expertise to make it work.
It's also good for those who have personally tried their essentials, and like it. This lets you market the products easily since you can provide your own reviews to your prospects.
FREE TRAINING
Learn How I Started Highly Profitable Online Business From Comfort of My Home Following This Blueprint
On their website, you can find a list of the available training resources they have about their products and pricing. They also help distributors build a successful business through Amare Conference Calls.
Overall, Amare Global is not a bad MLM brand. Yes, it's still new and one of its executives had a bad reputation but still, it's too early to tell if this company will come out bad.
If you're interested, you may give it a try, especially if you're passionate about mental wellness. However, like usual MLM programs, you have to keep in mind that it's not just about selling the products, you also have to invite people and grow your team.
If you're not comfortable with making calls and sending messages to your friends and families and telling them to join your team, then I have good news. You have another opportunity to take advantage of!
Want to start a business without inviting people to join your team? Or better yet, want to make money without capital?
Then you're in the right place! Sign up for my top-recommended program and enjoy the following perks:
One-on-one coaching
Comprehensive guide
The best business tools and support you need
Webinars and training resources
And many more!
What are you waiting for? End 2019 with a legit money-making opportunity you need.
I hope you like my Amare Global review and if you have any questions or comments, please feel free to drop it down below.
Thank you!
We Constantly Review Programs in "Make Money Online" Niche,
So That You Don't Have to Waste Countless Hours
Want To See Our
TOP RECOMMENDATION?