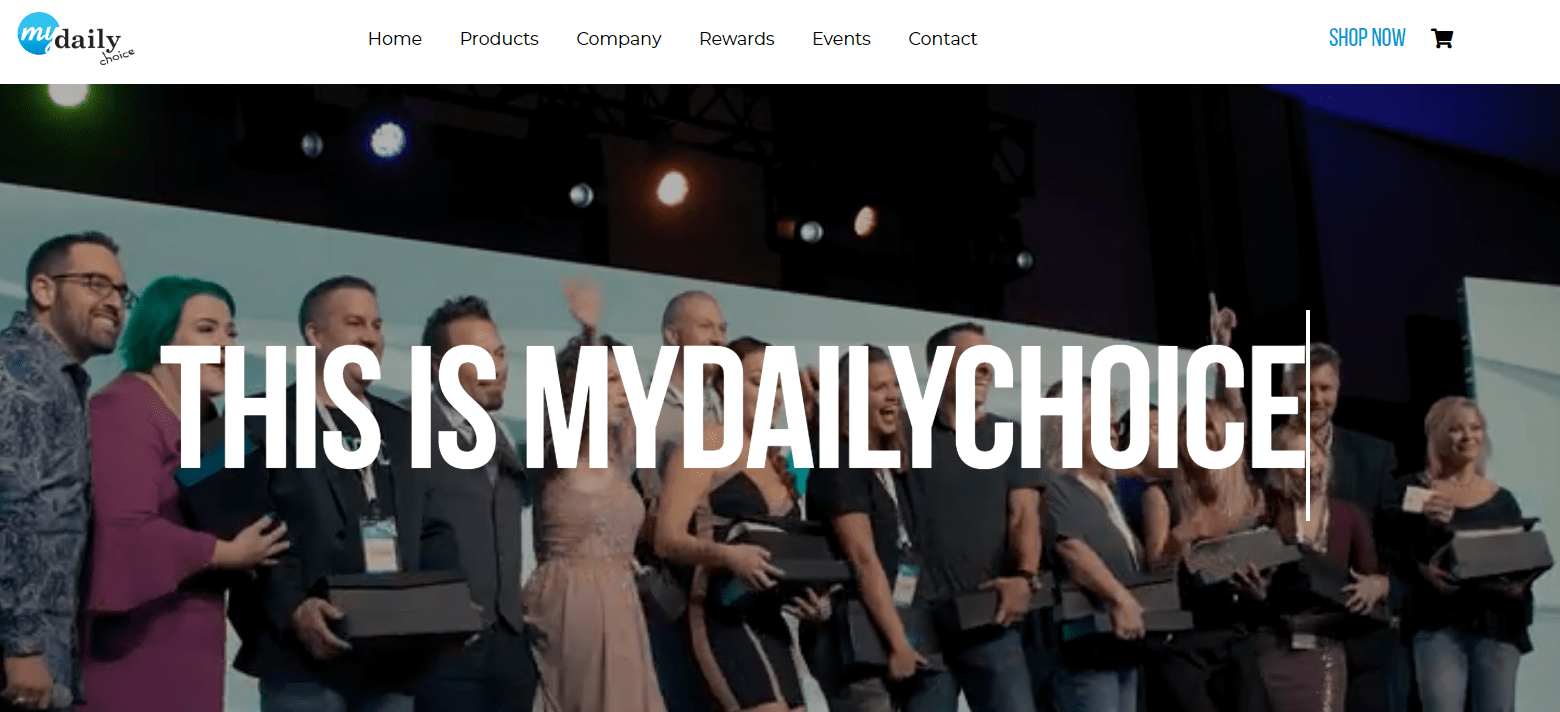 Welcome to My Daily Choice Review!
When it comes to network marketing, one of the most popular niches is health and wellness. It's not a surprise though since many people wanted to become healthy and fit.
However, other than the products, these companies also provide an opportunity to start a business and make money. So, if you're here to find out whether My Daily Choice is a scam or not, then you're in the right place.
In this review, you'll learn what it's about, My Daily Choice's compensation plan, its pros and cons, and more.
My Daily Choice Review Summary
---
Name: My Daily Choice
Website: www.mydailychoice.com/
Founders: Josh And Jenna Zwagil
Product Type: Multi-Level Marketing
Price: Starting From $69 To $599 For Membership Packages + $20 For Back Office Tools + Required Monthly PV
Quick Summary: My Daily Choice is a legit multi-level marketing company that sells oral sprays and CBD-infused products for humans and animals. It offers a business opportunity to interested individuals but is it worth your time?
Overall Rating: 4/10
Recommended: No
What Is My Daily Choice About?
My Daily Choice is an MLM program that claims to promote "life-changing products" under the health and wealth niche. Some of their products include CBD oils, bath bombs, and coffee.
It was founded by Josh and Jenna Zwagil, who, according to their website, didn't have "careers in the corporate world." I think this is something new since most of the founders from my previous posts have been in various companies before they started their own MLM business.
However, I don't see this as a problem or concern because for me, starting a business is possible even if you've never been to the executive team before. What's important is that you have determination, courage, and patience to make it grow. Of course, you need to improve your skills and expertise to make it work.
Going back to the founders, both Josh and Jenna were affiliates prior to starting their own business so pretty much, they have an idea on how to run their own company.
Nonetheless, it's almost the same as these MLM companies -- doTerra, Purium, and TruVision Health.
My Daily Choice Products
Like typical MLM companies, My Daily Choice has various claims for their brand. According to them, it's made of all-natural ingredients that are free from synthetics, GMOs, fillers, and other ingredients that are harmful to human and animal health.
Anyway, My Daily Choice is known for its oral sprays, which is their flagship product. It includes Deer Antler Velvet as the main ingredient.
But other than that, they also have CBD-infused products from HempWorx -- another MLM program that I've reviewed in the past.
Just to give you a quick background about this brand, HempWorx is a legit MLM company that promotes US Hemp Authority-certified products. This certification is the highest recognition in the CBD industry so, I guess it's safe to say that the essentials offered by My Daily Choice are of quality.
Here's a glimpse of My Daily Choice product line:
CBD Tinctures
Full Spectrum
THC Free Oil
CBD Topicals
HempWorx For Pets
CBD Pet Oil
CBD Dog Treats
CBD Bath Bombs
CBD Coffee
CBD Keto Creamers
CBD Gummies
Hair Care
Hair Mask
Hair Serum
Hand And Body Lotion
Shampoo
Conditioner
Mantra Essential Oils
Oral Sprays
Peak
Boost
Brain
Trim365
Sleep
Shield
How To Make Money With My Daily Choice
My Daily Choice is not different from other MLM platforms when it comes to earning opportunities. You can make money with them by selling their products and recruiting people to join the platform.
As a distributor, you can earn a 25% commission on all products, which is not bad at all. There's also a chance for you to sell it easier but I'm not sure if it's according to the policies of the company. What I'm trying to say is to sell it at a lower rate, which is what other distributors are doing on Amazon.
But to be able to do this, you have to sign up as a member or distributor first and that means paying for certain fees, which I'll discuss more in a bit. Also, for you to enjoy the commissions and other incentives, you have to maintain at least 50 Personal Volume (PV) a month, which is around $70.
In line with this, you have to recruit other people because the more people you have on your team, the bigger the chance for you to hit sales quota and earn bonuses.
My Daily Choice Compensation Plan
As for the compensation plan, I believe it would be easier for you to understand it by watching the video below:
Is My Daily Choice A Scam?
My Daily Choice is not a scam. It's a legit MLM opportunity that may provide you a good source of income. Of course, this depends on your skills and expertise as a distributor.
However, it's not accredited by the Better Business Bureau (BBB) and it has a B- rating, which is not impressive at all. There are also complaints, such as product damages, terminated accounts without notifications, and poor customer service.
Nonetheless, this doesn't mean that the company is a scam but you can use these reviews to help you decide whether the program is for you or not.
Here Is My Top Recommendation to Start Highly Profitable Online Business from Comfort Of Your Home
As mentioned, you have to pay for various fees to become a distributor. This is usual for MLM platforms and another usual thing is the expensive rates. Therefore, before you join this kind of opportunity, you have to be sure about it first.

Here's a quick view of their membership packages:
Spray Builder Pack ($69)
Spray Director Pack ($149)
Spray Executive Pack ($299)
Brain Bears Builder Pack ($59)
Brain Bears Director Pack ($129)
Brain Bears Executive Pack ($199)
Travel Builder Membership ($69)
Travel Director Membership ($199)
Travel Executive Membership ($599)
On top of this, the brand requires you to purchase a specific amount every month to keep your account active. For me, this is a drawback I mean, what if you weren't able to sell all products, right? Then you're going to add more items in the coming months, which is a new problem for you.
Also, there's a $20 that you need to pay one-time and that's for the back office and tools for your business.
PROS
Legit Business Opportunity With Good Reputation
The fact that it's legit and it's not another Ponzi scheme is good enough. I mean, many programs are claiming that they are the best opportunity for you but after you invested your time and money, they'll be gone in a snap.
Also, the brand has not been involved with any scandals yet so compared to other MLM programs, I think this is a good one.
CONS
Poor Income Potential
For one, their products are not unique so it'll be challenging for you to sell the brand. Another thing is the wrong impression of people about MLM program. Most individuals think that this is a scam and although a pyramid scheme and a network marketing company are two different things, you cannot simply convince anyone.
Also, if you'll check their Income Disclosure Statement, you'll find out that the average earnings of their "Builder" are only around $10.22 per month of $122 a year. Now, that's too small even for a side hustle.
Required Monthly Autoship
This is a deal-breaker. Every month, you are forced to purchase products just to keep your account active and for you to be able to earn commissions. What if your products are slowly or not moving at all?
Limited Market
CBD is not legal in some states and most countries so your market is limited. Also, as mentioned above, it'll be a challenge to promote it since there are other CBD brands in the market.
Tired of Wasting Time on Low Quality Programs?
I'm so grateful that I was able to find THIS PROGRAM which helped me to finally start making money online!
Making money with this kind of business model is difficult and usually, it takes time and a lot of effort to grow it. Thus, if you want to make it work, it's ideal if you're either passionate about their products or you have experience with network marketing or both.
According to their website, they offer mobile applications, free training videos, live streams, and product presentation to help improve their distributors' knowledge and skills in growing a business.
My Daily Choice has its own pros and cons but I can't recommend it since because the drawbacks outweigh the advantages. Also, the income potential is very low so I don't think it's worth your time.
If you want a legit and profitable income opportunity that won't require you to purchase products at all, I suggest you take my top-recommended program.
It's easy to get started. And you can follow proven business blueprint that has been already implemented successfully by so many entepreneuers:
A Fine Business Blueprint to Making Money Online
Comprehensive Training Resources (videos, webinars, etc.)
Access To A Supportive Community
Excellent Customer Service
And So Much More!
Thanks for taking the time to read my My Daily Choice review and if you have any questions or comments, please feel free to share your thoughts below.
We Constantly Review Programs in "Make Money Online" Niche,
So That You Don't Have to Waste Countless Hours
Want To See Our
TOP RECOMMENDATION?