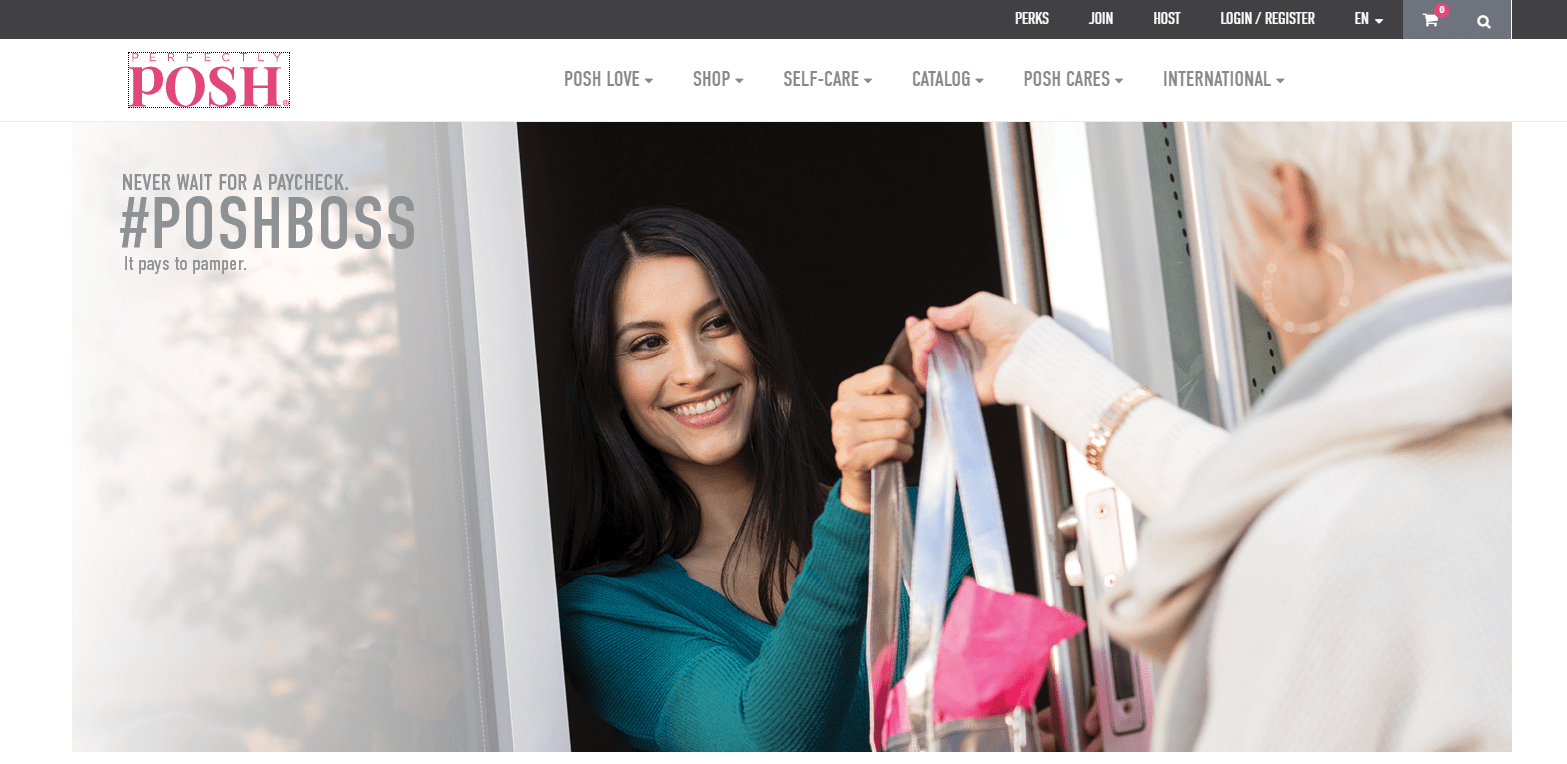 Welcome to My Perfectly Posh Review!
In this busy generation, rest is much needed. And probably, most of the time spent resting is through pampering one's self.
Well, here comes a company that offers self-care products as well as a business opportunity for aspiring members called Perfectly Posh.
Perfectly Posh Review Summary
---
Name: Perfectly Posh
Website: www.perfectlyposh.com
Founders: Ann Dalton and Andrew McBride
Product Type: Multi-Level Marketing
Price: $30-$99 For The Starter Kit + Applicable Taxes + Shipping Fee
Quick Summary: Perfectly Posh is another multi-level marketing (MLM) company that sells pampering products, such as soaps, lotions, face creams, lips glosses, hair sprays, and a variety of body butters. Such products are said to be made from gentle and natural ingredients.

Like most MLM opportunities, you'll earn through retail sales and recruitments.

With issues such as in customer service, product unwanted side effects and competitions in this kind of niche, would joining this MLM opportunity let you earn lucrative income?
Overall Rating: 3/10
Recommended: No
With a lot of businesses operating on an MLM platform and with them teeming over the business scene, will this be a great opportunity to have a successful business? Is Perfectly Posh legit? What makes it greater than the similar MLM programs?
Let's find out in this Perfectly Posh review!
What Is Perfectly Posh About?
Perfectly Posh is a multi-level marketing company in the personal care niche and their products are mostly for pampering and self-care. The company was established in 2011 by Ann Dalton and Andrew McBride with the concept that women deserve to pamper themselves for all the hard work they do. The company headquarters is based in Salt Lake City (UT), USA.
Perfectly Posh Product Line
Pampering products that are made in the USA with gentle, natural ingredients -- that's what Perfectly Posh is about… or so their website says.
As mentioned above, Perfectly Posh offers a variety of pampering products like soaps, lotions, face creams, lips glosses, hair sprays, body butters and many more.
They claim that what makes their products so unique is that it's made of natural ingredients such as nuts, flowers, and oils. They also claim that they're cruelty-free, meaning that there are no animals hurt and that they only use animal by-products such as milk, honey, and beeswax. These products are made of top of the line ingredients that are guaranteed to be SLS-free (Sodium Lauryl Sulphate), lanolin-free, paraben-free, soy-free, gluten-free, and animal by-product free. This ensures that Perfectly Posh is 100% safe for all skin types and abides by the ethical production and testing of skincare products.
Here are the categories of their products from their website:
Here are some of their products (the new arrivals) as well as their costs. If you would want to see a complete list of their products, see more on their landing page.
Does it work?
With all the claims that Perfectly Posh's products are made from ingredients that are safe and natural, still the FDA (Food and Drug Authority) stated that Perfectly Posh's products are not generally recognized as safe and effective.
They are also not Better Bureau Business (BBB) accredited, However, this brand has been marketed and sold since 2011 and would be nearing a decade by next year. Well, they would not probably be on the run for that long if their products don't work.
Here are some product reviews I've found in Amazon, there were negative reviews but most were positive. See for yourself and be the judge.
How To Make Money With Perfectly Posh?
Before making money with Perfectly Posh, you have to finish the signing up process and purchase a starter kit. This would help you become eligible for commissions once you make a sale and when you recruit someone to join the program.
As a rookie, you'll be at rank 1 (protégé) where basically, you'll earn 20% on all commissions you make. Then as time goes on, you can then go for higher ranks and be able to earn more money.
After making 1,000 dollars worth of sales, you can then start earning 25% on all your commission.
Just like most MLM companies, you'll definitely have to recruit for you to make a good income. And to make this happen, you'll have to obtain a rank of "Pink Plus 1" — and as a requirement, you have to sell $500 worth of products monthly, sell a total of 2,000 dollars worth of items from you and your team and also have 1 qualified front line consultant.
Learn more about Perfectly Posh's compensation plan in the video below:
Is Perfectly Posh A Scam?
Perfectly Posh is not a scam. It is a legit MLM company that's already been in the business for 9 years and already nearing a decade. Though they are not a Better Bureau Business (BBB) accredited company, they do have tangible and interesting products. However, unlike most unaccredited MLM programs with good ratings, this brand has an F.
That being said, I would not recommend this MLM opportunity and I'll explain more about it in the pros and cons section.
As an MLM opportunity, Perfectly Posh offers an affiliate program for those interested in their MLM opportunity.
Once enrolled, they would refer to you as a Perfectly Posh Influencer but to start as one, you will have to purchase from the following starter kits below (see price and inclusions). The kit comes with several different products that you can then use to build your business.
Starter Kit 1 — $30*
-contains all the business tools you need to get started!
Mini Pink Ink™ Catalog (1 single)
Polka-Dotted Guide
Opportunity Card (10 pack)
Pick Your 6 Notepads (3 pack)
Spanish Starter Kit Card
You Deserve to be Pampered Sample Card (10 pack)
Right Back at Ya™ Face Cleanser and Mask Samples (20 pack)
Starter Kit 2 — $99*
large kit, you'll get all the tools listed above, plus products! It also includes a Hyperwallet fee of $6.95. This month, the large kit comes with these products:
Sassyooma™ Exfoliating Jelly Wash
Brazilian Bombshell™ So Soapy
Honey Honey!™ Body Crème
The Healer™ Skin Stick
Show Me What You're Mermaid Of™ Big Fat Yummy Hand Crème
BFF: Best Face Forever™ Exfoliating Face Wash
Moisturize 911™ Caffeinated Face Crème
Glam Goals Bag
Aside from the fees of the starter kits, you also have to pay for the applicable taxes and shipping fees. Shipping starts at $5.99, with options to upgrade for just a few dollars more. They ship directly to anywhere in the US, including the 5 US territories and APO/FPO addresses. Depending on your location, your orders will ship from Salt Lake City, UT or Atlanta, GA.
Here Is My Top Recommendation to Start Highly Profitable Online Business from Comfort Of Your Home
PROS
Natural Based And Cruelty Free Products
Perfectly posh offer pampering products that are said to be made in the US which are from gentle and natural ingredients. These products are made of top of the line ingredients that are guaranteed to be SLS-free (Sodium Lauryl Sulphate), lanolin-free, paraben-free, soy-free, gluten-free, and animal by-product free.
Product Packaging
Personally, I like how they present their products. The packaging for each product is unique, refreshing and catchy. It's something that would really capture the eye and would entice someone to buy. And most of their products seem to have unique smells that people will love. With these, the company title Perfectly Posh indeed suits its name.
CONS
Terrible Customer Service
They are not Better Bureau Business (BBB) accredited and their BBB rating is even rated F which is the lowest, due to unresolved complaints and they as well complain about awful customer service.
Many Competition/ Overpriced
With a lot of competition in the market with companies selling also the same line of products, it would be hard selling Perfectly Posh products since they are quite overpriced. And also with the fact that there are available products from other companies which are cheaper and more effective.
Adverse Effects
Though the positive product reviews outweighed the negative ones, the notion that the products can have undesirable adverse effects such as rash is something to worry about. Some of the face products have caused rashes and burns on people.
With all the claims that Perfectly Posh's products are made from ingredients that are safe and natural, still the FDA (Food and Drug Authority) stated that Perfectly Posh's products are not generally recognized as safe and effective. And having records of such adverse effects is indeed bad publicity and would even affect the sales.
Heavily Focused On Recruitment
Recruitment is normal in MLM schemes, and that's one thing you have to consider when joining an MLM opportunity because this is how it works in the first place.
It's not a bad thing unless the program is too focused on it, and that seems to be the case with Perfectly Posh.
Just like any other MLM opportunities, instead of putting attention on the progress of sales and customer satisfaction, Perfectly Posh, being on an MLM scheme, also encourages recruitment. Your promotion and as well as being eligible in gaining big company bonuses is dependent on how well you've recruited people. In short, you level up with your rank with the team that you build.
Too Many Unhappy Clients And Affiliates
A few women complained about how Perfectly Posh is always getting rid of their popular products and replacing them with higher-priced ones. This is just from a review from an affiliate but from the looks of it, many people are unhappy and dissatisfied with this company.
Tired of Trading Your Precious Time for Money?
Here is a Blueprint to Owing Highly Profitable Online Business Without Any Experience REVEALED!
It is a business opportunity intended for those who have skills in sales and are consummate in the MLM world. It is also dominantly intended for women since pampering products such as soaps, lotions, face creams, lips glosses, hair sprays, and body butters are used by women.
It is also for those who are hardworking and competitive since gaining large income really requires a lot of hard work and competence to gain more sales and to recruit more people to join.
Being a Perfectly Posh Influences gives you an account to access their back office (which they call the virtual office) and you will as well receive tools and resources which come along in your starter kits. These will help you in your business. Being an MLM opportunity, you will have as well your direct upline and downlines, in short, the team that will as well motivate and help you in the business.
Overall, I would not this MLM business opportunity.
Yes, Perfectly Posh is a well-established MLM company and it is not a scam. It somehow offers a fairly decent business opportunity. However, the idea that it is an MLM that focuses on recruitment is already a red flag for me.
For just like other MLM opportunities, this company places more focus on recruitment to earn big and be eligible for bigger income. So, it will require hard work, great recruitment skills, and the guts to progress and be promoted in this business.
With bad records such as awful customer service, undesirable adverse product effects (such as rashes and burns) and the fact that their products are overpriced, it will be difficult to sell and market their products, since there is a lot of competition in the market offering the same line of products and are cheaper and more effective.
MLM is really a challenging and risky world to venture into finding a business. So better skip this platform and see my recommended programs which could provide you safe and high-income jobs.
Want to make money without paying for an overpriced membership fee and products? If yes, I suggest that you sign up with my #1 recommended program now and enjoy the following benefits, such as:
FREE Access To A Live Community
FREE Training Resources
FREE Coaching And Webinar
24/7 Customer Support
And Many More!
Thank you for reading my review and if you have any questions or comments, please feel free to drop it down below.
We Constantly Review Programs in "Make Money Online" Niche,
So That You Don't Have to Waste Countless Hours
Want To See Our
TOP RECOMMENDATION?