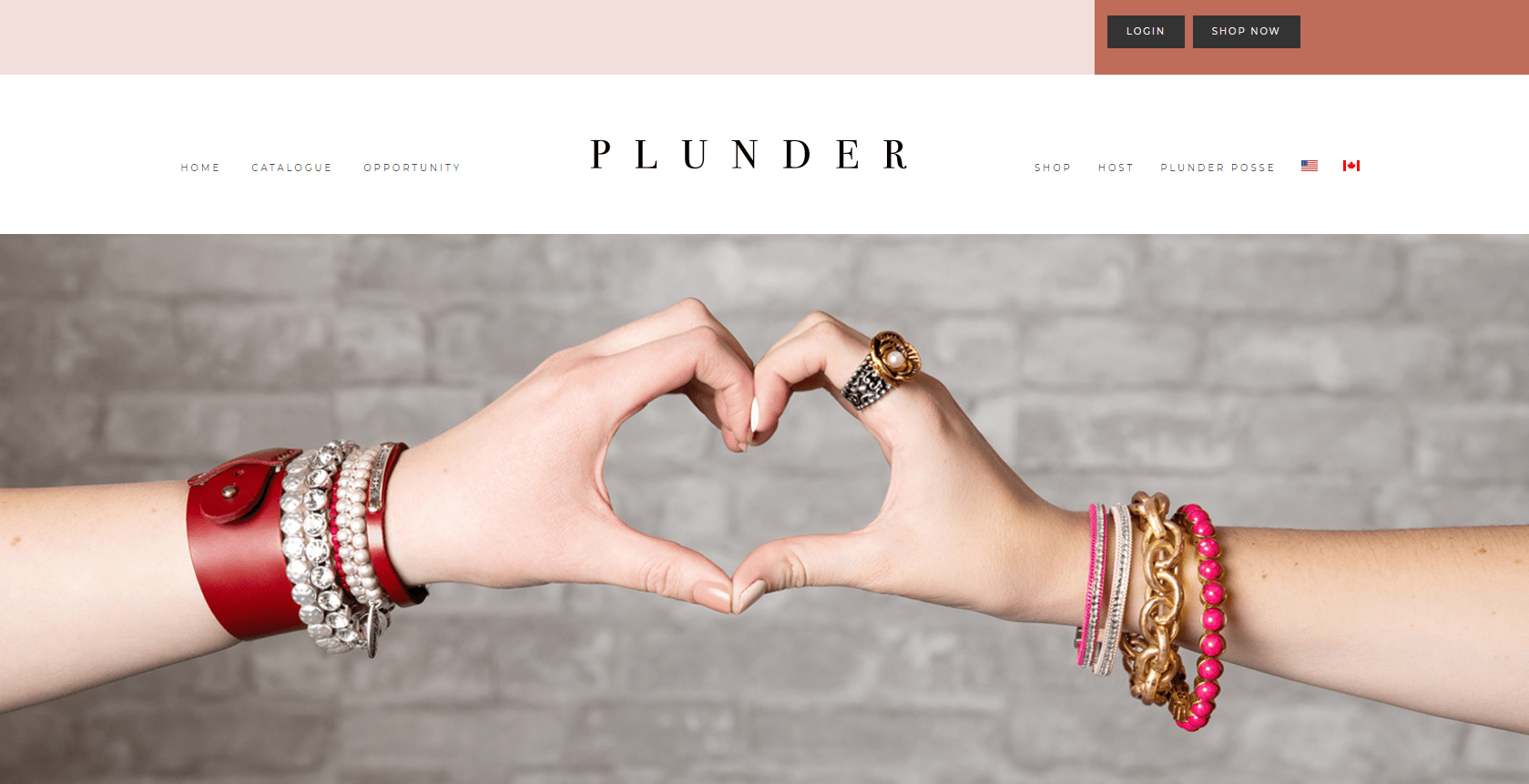 Welcome to My Plunder Design Review!
Nowadays, MLM opportunities are teeming over the business scene. Most of the time they market products ranging from beauty to finance niche.
Name it, this business model may have it.
Plunder Design Review Summary
---
Name: Plunder Design
Website: www.plunderdesign.com
Founders: Hillary Adams
Product Type: Multi-Level Marketing
Price: $99 For Plunder Design Kit +$25 For Plunder Posse Subscription + $149 For The Upgrade Kit
Quick Summary: Plunder Design is a multi-level marketing (MLM) company that markets and sells jewelry to buyers and members whom they refer to as a plunder stylist. They offer a variety of jewelry including earrings, necklaces, pendants, bracelets, add ons and many others.

Being an MLM opportunity, you will earn profits from your personal sales and through group sales. Well, would this be a high-income potential opportunity?
Overall Rating: 4/10
Recommended: No
And now, we will be discussing jewelry distributing MLM company called -- Plunder Design.
With a lot of competition in the jewelry and accessory niche, will this be a great opportunity to gain lucrative income from?
What Is Plunder Design About?
Plunder Design is a multi-level marketing (MLM) company that markets and sells unique and vintage jewelry including earrings, necklaces, pendants, bracelets, add ons and many others.
It was founded in 2008 by Hillary Adams, who has personally designed all the products from her brand. It started because of her love of all vintage things and so it began she started making jewelry as a hobby and then her family and friends loved it and asked her to make for them as well.
The brand started distributing locally in 2012 and when the orders started piling up, she decided to ask help from her family and friends. They soon expanded in 2014 and thus the birth of Plunder Design's MLM opportunity.
The company is based in Payson, Utah and the current President is Brad Adams.
Plunder Design Product Line
As discussed above, Plunder Design offers various jewelry from earrings to necklaces, pendants, bracelets and so on. The customers can also customize the jewelry that they buy but the customization seems to be limited to an image or a text.
How To Make Money With Plunder Design?
As a Plunder Stylist, your first 100 days are the most important. By following their Power Start Program, Stylists will earn your commissions and have an opportunity to earn up to $1000 in jewelry, cash, and sales tools!
Basically, these are the major ways of earning money in Plunder Jewelry:
Retail Sales

Personal Team & Override Bonus
Group Generation Bonus
Rank Advancement Bonus
Retail Sales - Can earn commission on retail sales based on monthly personal commissionable volume and rank. In the beginning, a 20% base retail commission can be earned. When the stylist advances to the rank of Posh Consultant, they will earn a 25% base retail commission.
After reaching the rank of Stellar Consultant or higher, they will start earning a 30% base retail commission. Basically, they can earn a base retail commission ranging from 20% to 30%. There is also the super retail bonus that is paid ranging from 2% to 6%. They will just need $1,200 in personal commissionable volume in a calendar month to earn in this bonus. The percentage of the super retail bonus will depend on the rank.
Personal Team & Override Bonus - Are paid on the downline commissionable volume of the people on various levels in a stylist's team. There are levels like level 1, level 2 and so on. Level 1 includes the people that they recruit and level 2 includes the people that are recruited by consultants on level 1.
This continues as more and more levels are added to the downline. Stylists can earn these bonuses ranging from 2% to 8% depending on their rank.
Group Generation Bonus- this bonus occurs when someone in a stylist's downline qualifies for the rank of 1 Star Peep or higher, they too may earn the group generation bonus. This bonus is paid on the 1 Star Peep or higher generations and their teams. You can earn this bonus for up to 4 generations deep. Pay ranges from 3% to 4% based on the rank.
Rank Advancement Bonus- is paid when a stylist achieves a rank for the first time. Pay ranges from $100 to $10,000 depending on the rank that they'll achieve. $10,000 is a lot of money and it will take a lot to reach this kind of bonus. Yes, it is definitely going to be extremely tough.
See more of their opportunity in the video below as discussed by their founder and CEO, Hillary Adams.
Is Plunder Design A Scam?
No, it's not a Scam. It's been running for a couple of years. And also, Plunder Design is a Better Business Bureau (BBB) accredited company which makes them a legitimate MLM business. Not to mention, that they do hold an A+ rating from BBB as well.
To become a member of Plunder Design, you have to pay for a fee, which for me is a considerably affordable amount.
The membership fee is already inclusive of the Starter Kit. What is included in the starter kit is a few products, catalogs, order forms, and other necessary business supplies, tools, and materials you'll be needing to grow your own Plunder Design business. Well, you can as well decide to have an autoship subscription of products but that is not necessary to become a member. You can also choose to add an Upgrade Kit which is an additional payment costing $149 or subscribe to Plunder Posse.
Plunder Stylist Kits And Inclusions
Starter Kit ($99) - The kit comes with $200 worth pre-selected plunder jewelry, $100 promo code, 18 annual catalogs, 18 mini catalogs, 25 business cards, 25 order forms, 25 thank you cards, 20 opportunity brochures, 1 Plunderpedia (reference guide), 1 power start guide and 1 ring sizer.

Upgrade Kit ($149)- To get this, you need to purchase the Starter Kit first. The Upgrade kit comes with $125 worth pre-selected plunder jewelry, $100 promo code, Plunder tablecloth with Topper, Plunder Canvas Bag, 3 Plunder notebooks, and 8 plunder pens.
Along with the Upgrade Kit, Stylists can also choose to subscribe to another add on, Plunder Posse which is a subscription service that delivers 1-3 on-trend pieces monthly. These pieces can be a gift to the stylist or others. Perks are included for consecutive months, so the more jewelry they wear, the more they can earn.
After becoming a member and purchasing the starter kits, you are now a Plunder Stylist who is eligible for earning commissions in their affiliate program and MLM opportunity.
Here Is My Top Recommendation to Start Highly Profitable Online Business from Comfort Of Your Home
PROS
Women Empowerment
One thing I like about this MLM company is that they uphold women empowerment. They also promote unity and sisterhood helping one another build up one's self.
That's pretty encouraging to hear especially if you're a lady like me. You can not only have an income opportunity but also an opportunity to boost yourself.
Wide Variety Of Products
And also I would like to commend them for their products. I may not be an expert but I could say that Plunder Design products look dashing and appealing. They are as well reasonably priced, unlike some other companies.
The cost of joining their MLM opportunity is also not that expensive. But with a lot of competition in this kind of niche, I think it's still quite a challenge to sell these products. It will indeed take guts and skills.
CONS
Low Income Potential
There are reports in their Income Disclosure Statements, saying that most members are not earning well.
With that pattern of low earnings, what can make you think that you can gain lucrative income? This would probably be a low-income potential and low success guarantee opportunity!
High Qualifications
You can gain as high as $10,000 depending on the rank they achieve but the issue here is that the compensation plan has high qualifications. There are qualifications related to your team as well as your personal sales.
Probably, most people will struggle to meet the qualifications consistently. I think it will be too demanding for them. The starting commission on retail sales is not that great as well.
Tired of Trading Your Precious Time for Money?
Here is a Blueprint to Owing Highly Profitable Online Business Without Any Experience REVEALED!
It is a business opportunity intended for those who are fond of jewelry items -vintage, trendy fashion jewelry in which the majority is women. Being an MLM business opportunity, it's basically intended for those who have skills in sales and are consummate in the MLM world.
Signing up as a Plunder Stylist and purchasing their starter kits allows members to access their back office, business tools, and resources. Along with their starter kits are the products, marketing materials, resources and other things that stylists would need to keep going and running their very own Plunder Design business.
They also have updated training and tutorial videos on youtube in which members and potential joiners can use it as a reference. Being a jewelry company, they also help one another host product showcase parties or hosting parties.
In conclusion, yes, Plunder Design is a well-established MLM company. It is legit and it's not a scam for it has been already running for a couple of years in the business. It has wonderful tangible products which are various arrays of jewelry and it is also a BBB accredited company.
However, I would still not recommend you joining this MLM business opportunity. Why? First and foremost, it's another MLM opportunity. And just like most of the companies running in this business scheme, recruitment is highly encouraged!
Yes, Plunder design is more focused on recruitment so it will really require your hard work, great recruitment skills and the guts in sales to progress and earn big especially that they have high requirements in gaining ranks.
And also, in their income disclosure statement, most stylists are not earning well in their plunder design business. So it's of low success guarantee and low-income potential. It's an opportunity that is not for everyone.
Want to make money without recruiting or worrying about your inventory? If yes, I suggest you sign up with my top-recommended platform now.
Create an account (no credit card required) and take advantage of the following perks:
Step-by-step guidance
My personal help
The best tools and support for your online business
Comprehensive training
And many more!
I hope I have enlightened you with my Plunder Design review and if you have questions and comments, please drop it in the comment box below.
Thank you!
We Constantly Review Programs in "Make Money Online" Niche,
So That You Don't Have to Waste Countless Hours
Want To See Our
TOP RECOMMENDATION?