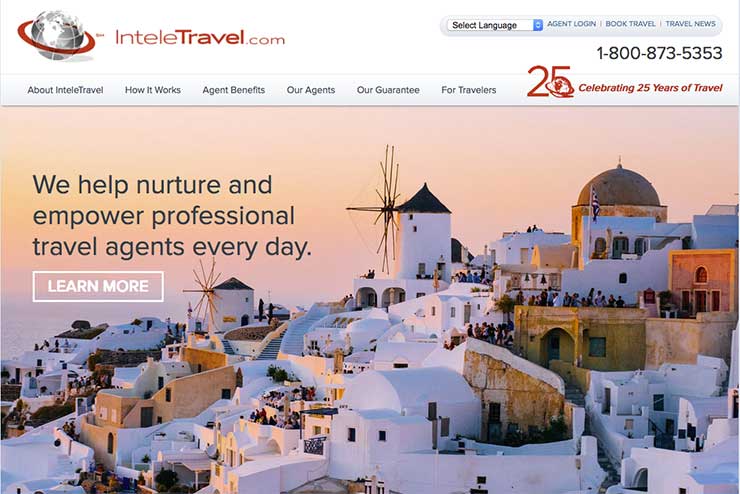 Welcome to My InteleTravel Review!
Do you like traveling?
What if I tell you that you can make money while traveling, too?
In this review, I'll share with you a company called InteleTravel. It's a network marketing company that lets you earn by selling discounted travel products, such as tickets and through recruitment.
InteleTravel Review Summary
---
Name: InteleTravel
Website: www.inteletravel.com/FB
Founders: James Ferrara and Joe Traina
Product Type: Multi-Level Marketing
Price: $179.95 One-Time Membership Fee + 19.95 Planet Marketing Fee + 39.95 Administrative Fee Every Month
Quick Summary: InteleTravel is a multi-level marketing company that sells discounted travel services. It also offers an opportunity to make money online with a commission of around 70% to 80%. It's legit but can it really help you make money online?
Overall Rating: 2/10
Recommended: No
But the questions are:
Is InteleTravel legit?
Can it help you make a decent income?
What are the pros and cons of joining this program?
What Is InteleTravel About?
As the name implies, InteleTravel is a multi-level marketing (MLM) company that provides discounted travel packages. It's not the usual health and wellness niche but it's also not unique. In fact, I've reviewed a few network marketing brands that promote the same products and business opportunity, such as:
It was founded by Joe Traina and James Ferrara in 1992 with the following goals:
To provide an easier, more affordable way to travel
To provide a full-time or part-time opportunity for interest individuals
Truly, the brand was true to its promise when it comes to affordability because, through their programs, customers don't have to shoulder the agent fees.
So how do their agents make money?
I'll discuss more of this in a bit but to give you an idea, they earn through commissions and the amount they get depends on the travel packages they sold.
InteleTravel Product Line
Unlike the usual MLM companies, InteleTravel has no tangible products to offer. They provide services instead.
What they do is they partner with various airlines, cruise lines, hotels, etc., so they can offer a discounted rate. Think of Expedia and Booking.com -- these online hotel booking services provide a lower price for their consumers.
Here are some of the travel suppliers that InteleTravel is in partner with:
Air France, British Airways, Delta, JetBlue Airlines, United Airlines, etc.
Avis, Budget, Hertz, etc.
Disney Cruise Line, Norwegian Cruise Line, Royal Caribbean Cruise Line, etc.
Hilton Hotels and Resorts, Sandals Resorts, W Hotels, etc.
Travel Insured
Disney Vacations, Funjet Vacations, Travel Impressions, etc.
In my opinion, there's a good chance that these services are lucrative. After all, a lot of people are traveling nowadays and of course, it's always good to get a hotel or have a vacation at a discounted rate.
But still, you have to think twice before considering the program. For one, the fees of becoming their member or agent are expensive and I'll talk about this in a bit.
InteleTravel Review
I can't find reviews of consumers who have booked with InteleTravel agents so I can't tell whether they had a good experience or not.
I did find a bunch of reviews from their agents and most of them are negative. The majority of the complaints are about NOT receiving the commission and you can check this link for more feedback or look at the screenshots below.
How To Make Money With InteleTravel?
Just like other MLM brands, you make money through these options:
Selling their travel packages or tickets
Recruiting people to join the platform
For every product sold, InteleTravel can earn around 8% to 16% commission and as a travel agent, you can get around 70% to 80% commissions.
Also, when your downline was able to sell a travel package or ticket, you can earn another 10% override commission.
To learn more about this, you can watch the video below:
So you want to know: is InteleTravel legitimate? The answer is… yes!
It's legit and it's been operating for more than 20 years. It offers an attractive opportunity, especially because there are a lot of people who love to travel nowadays. It's even accredited by the Better Business Bureau (BBB) with an A- rating.
But then, after reading the reviews from their travel agents, I'd rather skip this program at all costs.
You are going to pay a hefty amount for one-time and shoulder fees every month and the fact that there's a chance for you to NOT get your commissions, I see this platform as a waste of time.
If you're a travel enthusiast or you just want to earn commissions for promoting products or services, I suggest that you join an affiliate marketing program instead, such as Wealthy Affiliate.
What Is Affiliate Marketing?
For starters, affiliate marketing is a legit business model that lets you earn by simply promoting a company, a service, or products without actually buying any of them. The merchandiser or the brand pays you for the result, such as a sale or lead.
For instance, you promote a certain coffee brand by putting a unique link in your content or social media post; if a person purchases the coffee using your link, you will earn a commission.
The good thing about this is that you don't have to worry about buying the products, unlike how most MLM programs work. You don't have to go out because you can start your affiliate business at the comforts of your own home. And the best part is that you don't have to recruit other people.
The good thing about Wealthy Affiliate is that you can get the business tools and support you need for free!
But take note, this is a business and just like other businesses, you can't simply earn a massive amount in just a few weeks. It takes time, effort, and consistency to make it work but then again, there's nothing to worry about because even if you're a beginner, Wealthy Affiliate can help you.
To become a member of InteleTravel, you have to join PlanNet Marketing first.
PlanNet Marketing is another multi-level marketing company that offers travel businesses. James Ferrara, InteleTravel's founder, is also part of the management of this brand.
Anyway, here are the costs you need to shoulder before you can sell their products and earn commissions:
InteleTravel Enrollment Fee $179.95 (One-Time Only)

Monthly Administrative Fee $39.95 (Every Month)

PlanNet Marketing Administrative Fee $19.95 (Every Month)
All in all, you have to pay $239.85, which, for me, is expensive. Remember, you won't pay these one-time; you'll have to spend $59.90 a month.
Also, considering the reviews they have from their agents, I don't think it's worth your money and time.
Here Is My Top Recommendation to Start Highly Profitable Online Business from Comfort Of Your Home
PROS
Might Help You Make Money
As mentioned, many people are traveling nowadays and offering a discounted travel package or tickets can help them have the best travel experience. That being said, there's a chance for you to make money by joining this program.
Also, the commission, which is around 70% to 80% is big enough.
CONS
Expensive Fees To Become A Travel Agent
To become an agent, you have to pay more than $200 and it doesn't end there, you have to pay almost $60 every month. Now, this is big, especially if you have no experience with sales or network marketing.
Even if you're not earning yet, you still have to spend a certain amount to be qualified for commissions and keep your account active.
Too Many Bad Reviews
Having negative reviews is normal. Even the most established, well-known company has a few of them but if it's too much, like the majority of the feedback is about complaints against the brand, then for me, you should just consider other options.
If you can remember, the complaints are about NOT receiving commissions even after paying and working hard.
If this doesn't scare you, I don't know what else will.
Tired of Trading Your Precious Time for Money?
Here is a Blueprint to Owing Highly Profitable Online Business Without Any Experience REVEALED!
InteleTravel is for those who like to travel a lot and also for those who want to make money promoting travel packages or tickets. Also, it's more ideal if you have experience with network marketing since you need to recruit people if you want to earn more commissions.
It's good that InteleTravel is not a scam. It's a legit business that offers a discounted travel package or tickets. Anyone who travels frequently can benefit from this program.
Travel agents can also make money because of its services but then, I can't recommend it due to the number of negative feedback. I'd rather not risk my time and money here knowing that there are better alternatives that can help me make money online.
Want to make money without the need to recruit other people? If yes, then feel free to sign up in our top-recommended program.
It's free and it offers the best tools and supports you can ask for, such as:
Proven strategy to work smart and earn a lot (literally)
Step-by-step guidance
Best possible support including your own training coach
Lots of training resources
My personal help
And so much more!


I hope my InteleTravel review has enlightened you and if you have any questions or comments, please feel free to share it below.
We Constantly Review Programs in "Make Money Online" Niche,
So That You Don't Have to Waste Countless Hours
Want To See Our
TOP RECOMMENDATION?