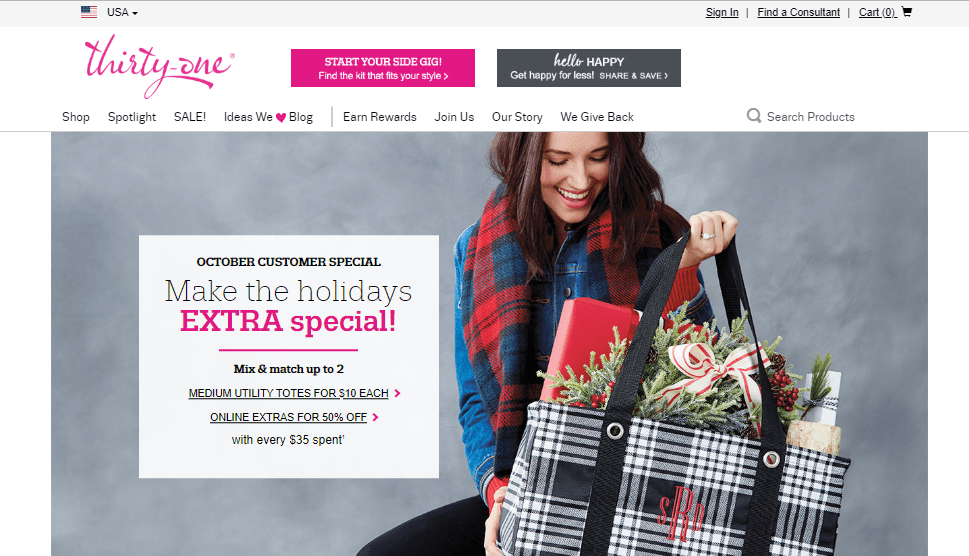 Welcome to My Thirty-One Review!
Are you looking for an honest Thirty-One Gifts review? Do you want to join their program but you're not sure whether it's worth your time or not? Are you planning to start a business but you're worried about your capital?
If you answered yes to one or all of these questions, then you're in the right place!
Thirty-One Gifts Review Summary
---
Name: Thirty-One Gifts
Website: www.mythirtyone.com
Founders: Cindy Monroe
Product Type: Multi-Level Marketing
Price: $99 Or $179 For Enrollment Kit + $14.95 For Monthly Membership Fee
Quick Summary: Thirty-One Gifts is a multi-level marketing company that sells stylish personalised products such as handbags, travel bags, thermal bags, diaper bags, crafts, home decor, and jewelry.
Overall Rating: 5/10
Recommended: No
I'm not an affiliate or distributor of this company so rest assured that I'm not biased with this review. I'll provide all the basic details you need, including the company's background, compensation plan, pros and cons, and more.
I've also included my #1 recommended program when you want a legit way to make money online.
So sit back, relax, and continue reading.
What Is Thirty-One Gifts About?
Founded in 2003 by Cindy Monroe, Thirty-One Gifts sells personalised gift items like hand bags and purses, wallets, totes, stationery and many more. They offer a variety of fashion products for women.
The company was conceived in the basement of Cindy's house while the name Thirty-One Gifts comes from the Proverbs 31 quote with something about the description of a woman who's beloved by her family and manages the household with kindness.
Thirty-One Gifts is known as a party planning multi-level marketing (MLM) company that focuses on direct sales. According to them, they employ more than 90,000 independent Sales Consultants across the United States and Canada with a mission of helping women build a successful business. Also, the company ranks 3rd in the MLM party planning industry, following Tupperware and Mary Kay Cosmetics.
Thirty-One Gifts Products
Since their products are for women, the most popular items to sell are their bags and storage products. But they also have wallets, jewelry, make ups, babies accessories, and some for the opposite sex. Browsing further their website, I noticed that instead of labelling it as men's products, the company labels it as gifts for him. They use several shades of colour pink on their website to appeal to mostly women. Some of their all-time bestselling products are:
Large Utility Tote, first offered in 2009
Retro Metro Bag, first offered in 2010
Cindy Tote, named after founder Cindy Monroe that has been in the catalog since 2008
Thirty-One Gifts offers over 100 different products are most of the items fall into one of the each categories:
Accessories – A collection of cases, bags, and pouches, as well as key fobs and a scarf
Home – A variety of home goods, including storage bins, pillows, baskets, and more
Jewelry – A collection of necklaces, charms, chains, and other types of jewelry
Purses – Handbags in all shapes, sizes, and colors, including wallets
Diaper Bags – Find the totes, backpacks, bottle thermals, and baby bags you need
Thermals – Thermals, in both large and small sizes
Totes – A collection of utility totes, craft cases, and caddies
Travel Bags – A collection of duffels, overnight bags, and travel accessories
Being true to their service, most of the products can be personalised, so you can include your name or someone else's if you want the product to be a gift.
How To Make Money With Thirty-One Gifts?
Just like any typical MLM companies in the market, Thirty-One Gifts offers two income-earning opportunities to those who are interested to join: profits from selling products and commissions from recruiting.
The company sells its products through independent distributors who are called Consultants. To become a Consultant, you should pay the start up fee. Once on the team, Consultants are highly encouraged to host parties so they can sell the products in a large group and network all at the same time. However, there are different ranks that affect your income potential. And the more product you sell and the more you recruit, the higher your rank will be. See the ranks:
Consultant
Senior Consultant
Director
Senior Director
Executive Director
Senior Executive Director
Consultants earn 25% commission on products they sell and goes up to 34% when you reach Senior Executive level.
There are also other incentives and discounts available for every successful hosted parties.. For every $200 sold on a party, they get $25 and a 50% discount on one item and one exclusive item.
In terms of recruiting, Consultants can build a team of distributors and earn commissions based on the sales of team members. The company follows a unilevel MLM compensation plan structure where your income potential relies on how many people you recruit into the team. As a distributor and recruiter, you have the potential of earning from 2% to 9% on the total monthly sales of your team. This depends on your rank.
You may also browse their Income Disclosure Statement (US) or Statement of Typical Participant's Earnings (CA) for details.
To learn more about Thirty-One Gifts compensation plan, you can watch the video below:
Is Thirty-One Gifts A Scam?
Similar to other MLMs I've review before, and I know I kept on saying this: If the company sells real and actual products, therefore it is not a scam. So, I can say that Thirty-One Gifts is a legitimate MLM company that offers direct selling of a wide variety of personalised gifts, from handbags to accessories to storage boxes.
Thirty-One Gifts was included at the Direct Selling Association (DSA) Top 20 company in 2018. They were also recognised as the No. 1 fastest growing woman-owned company in the world in 2014. The company also has a strong and amazing support from their distributors and satisfied customers.
If you're interested in becoming a Consultant for this company, you are required to pay an Enrollment Kit for either $99 or $179. The Enrollment Kit includes $400 worth of products and supplies to help you jumpstart the business.
You will also be charged $14.95 + tax for a monthly subscription fee for the cost of a personal website and the branded emails sent to your customers.
Here Is My Top Recommendation to Start Highly Profitable Online Business from Comfort Of Your Home
PROS
Reasonable Price For Enrollment Kit
As shared by most distributors, the enrollment kit and trainings provided by the company in one of its best assets. Remember that the price of joining is at $99. This might be high and expensive for some people, receiving an estimated $400-worth of products and supplies makes it worthwhile.
Part of the enrollment kit as well is the personalised website where distributors can sell products. They also include at the start training session for you to know how to navigate. In my opinion, this is an applicable training and support that other MLM companies don't provide.
Good Reputation, Quality Products
Thirty-One Gifts has a good standing, brand and reputation in the industry. The company's products are in demand and well-received. Browsing through some online reviews, you can see that most customers are satisfied with the products they purchase from Thirty-One Gifts.
Good Income Opportunity
The wide variety of products offered is a plus. Distributors are not stuck with just one item to sell. With many to choose from, the target customers can be expanded as well, from working moms to stay-at-home, teens, toddlers and even men. Thirty-One Gifts sells; what you see on the company's website is what you're going to get in most instances. Still, you shouldn't underestimate the importance of customer satisfaction, especially in the MLM industry.
Business With A Cause
Thirty-One Gifts cares beyond the sales the company makes. It has donated millions of dollars in money and products to a variety of non-profit organizations, most of which benefit women and families. This is a positive indicator.
CONS
Double Billing Concerns
The company has glitches with issuing their billings to their customers. They have received complaints about online ordering process that double-charge customers for products or bills them for the wrong product. These types of complaints can usually be resolved. However, it can discourage some customers and create issues for the distributors when selling.
Oversaturated Market
I should warn you that there's already a huge number of distributors just in the USA alone so that may be difficult for you to recruit and sell - an oversaturated market. The company has 65,000 Consultants in North America, and kept growing. If there are already a significant number of distributors in your area, it may be difficult to find customers, and thus your ceiling for making money may be limited.
Distributors Should Meet Quota
The company has set selling quotas, rules and regulations that distributors should follow. A distributor should at least reach $200 in sales every 3 months or will be put in inactive status. On lean season were sales are not good, this forces distributors to buy new products themselves because they are not reaching the target but wants to remain in the company.
FREE TRAINING
Learn How I Started Highly Profitable Online Business From Comfort of My Home Following This Blueprint
Who Is Thirty-One Gifts For?
Thirty-One Gifts is best for women or anyone who can market and sell these personalised gift items. It is for people who have large social circles. Since a Consultant is encouraged to host a party, I can imagine that the person should also be sociable and outgoing or else how can he/she manage the party?
Despite being an MLM company, Thirty-One Gifts is one of the more honest companies in the industry. You will realised this when you browse through the company's clear mission of women empowerment, donations in charitable institutions, positive support from its distributors, and sells products that receive positive reviews.
In my opinion, if you're interested to join this company, go for it, especially if you're confident that you can market their products. Just don't expect to get rich or quit your day job with it. Earning through this has potential. It's a safe venture that's relatively risk-free.
However, just like with any other MLM company, remember to weigh the pros and cons before signing up. But most of the issues and concerns related to Thirty-One Gifts are minor and can be resolved.
Want to start a business without capital? Yes, it's possible!
With my top-recommended program, you can promote products and earn cash even without investing a huge amount of cash. All you have to do is take advantage of the following perks:
Training resources
One-on-one coaching
Comprehensive guide
Webinars to help you start your business online
And many more!
I hope you enjoyed my Thirty-One Gifts review and if you have any questions or comments, please feel free to share it below.
Thank you!
We Constantly Review Programs in "Make Money Online" Niche,
So That You Don't Have to Waste Countless Hours
Want To See Our
TOP RECOMMENDATION?