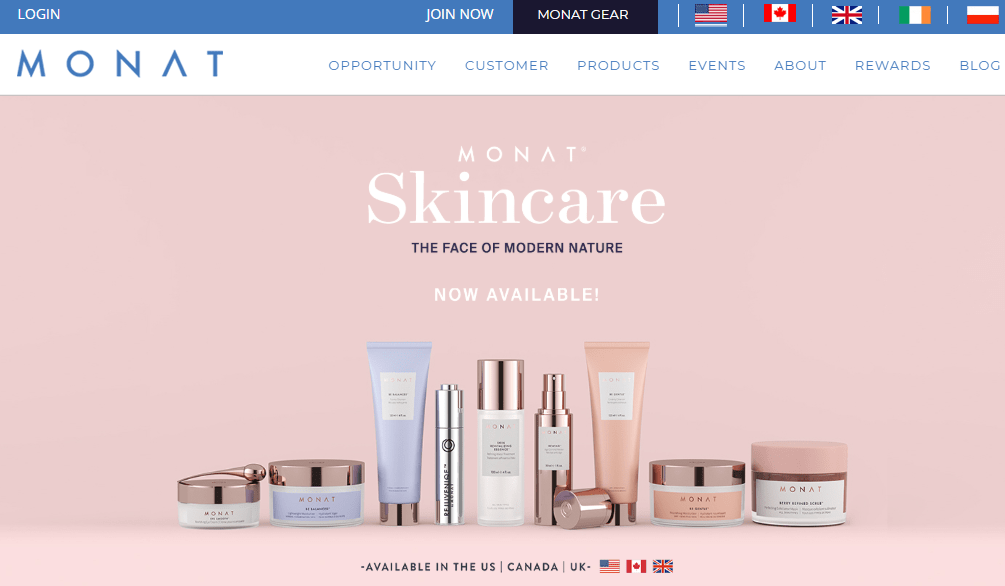 Welcome to my MONAT Global Review!
Aside from health and wellness, one of the most popular industries is skincare. Even men are raving about skincare essentials that claim to improve the appearance of the skin. That being said, there are many multi-level marketing companies developed under this niche.
MONAT Global Review Summary
---
Name: MONAT Global
Website: www.monatglobal.com
Founders: Luis Urdaneta
Product Type: Multi-Level Marketing 
Price: $99 Starter Fee + $49.99 Annual Fee + Packages Ranging From $99 To $649
Quick Summary: MONAT Global is an MLM company that promotes "all-natural" skincare and hair care essentials. It's been popular for quite some time however, the brand has been involved with several lawsuits so before you sign up and become their consultant, be sure to read this review first.
Overall Rating: 4/10
Recommended: No

One of which is MONAT Global, a Florida-based MLM company that is known for promoting skincare and hair care. So if you're planning to become one of their distributors or even use any of their products, read this review to know if it's worth your time or not.
Hint: Product complaints and a pile of lawsuits. Let's dive deep in to this review:
What Is MONAT Global About?
MONAT Global is an MLM company that promotes skin care and hair care essentials. It was founded by Luis Urdaneta in 2014 under a company called Alcora Corporation, however, after they produced their own hair essentials, they've become an independent brand. 
The term MONAT is short for "Mother Nature" as the company claims to products hair care products that are "absolutely safe" and "all-natural". This helped them reach instant popularity but due to the controversies they've been involved with, their fame almost declined.
But before we discuss the lawsuits against them, let's talk about their product line.
MONAT Global Products
Basically, MONAT Global produced products that would solve hair loss problems, and this includes:
Shampoo Conditioner Hair Spray Hair Repair Treatment
The brand's most popular product is called Rejuviniqe Oil Intensive -- a $99-worth "multitasking elixir" that can be used on the hair and skin. 
According to the brand, this product has over 13 all-natural ingredients that provide intense hydration to the scalp. It can also be used on the face as a moisturizer to remove wrinkles and fine lines.
MONAT Global also promotes skincare essentials, such as facial cleansers, skin essence, and moisturizers. They also have products for pets, like cleansers and deodorizing sprays.
How To Make Money With MONAT Global?
MONAT Global is a typical MLM program that offers two ways to make money -- selling their hair and skin care products and inviting people to join the platform.
As a distributor/consultant, you can buy their products at a discounted rate and you can sell it based on the suggested retail price. The difference between the two prices -- discounted rate and SRP -- is your profit.
Meanwhile, you can get bonuses if you expand your team and encourage them to make more sales. As mentioned above, you don't earn by just inviting new people rather, by meeting quotas or certain milestones.
Here's a glimpse of their compensation plan:
Sales Commissions
Sponsor And Develop
Builder Bonus
Advancement Bonus
VIP Customer Sales
To learn more about MONAT Global's Compensation Plan, you can click this link.
MONAT Global is not a scam or a pyramid scheme. Yes, it will ask you to recruit other people to join the platform but it's far from the usual Ponzi schemes or MLM brands in disguise. 
For one, MONAT Global has real, tangible products that its distributors can sell to make money. Also, they don't pay their members for referring a new person -- they provide incentives and bonuses instead if their team has reached a certain milestone.
A pyramid scheme, on the other hand, will pay you directly for every new recruit members. 
The problem with MONAT Global is that they've been involved with many complaints and lawsuits, which for me, is a big NO. MLM companies are already misunderstood by many people and having cases against them only makes it worse. 
Here are the RED FLAGS that you should take note of:
Overpriced Low-Quality Products
Seriously, are you going to buy a 30ml product for $99? I mean, I know quality products come with a premium price but with MONAT Global, the price is not worth it considering the complaints they get from it.
Some people lose hair while others develop allergic reactions after using their oil. There's even feedback claiming that some people are paid to give positive reviews. You can read more by clicking this link.
Too Many Complaints
In Better Business Bureau alone, MONAT Global has received over 900 complaints for only 3 years.
I know, all businesses have negative feedback from various customers, even the longest operating and popular ones. However, when you look at what people are saying about their product, the negative reviews outweigh the positive ones.
I believe this is an important thing to consider when you want to promote their products. Before you invest in their business, you have to understand are worth selling or not.
Complaints Even Reached The Media
You know the complaints are serious and not just made up if it reaches the media -- and that's what happened with MONAT Global. Too many people have experienced their products' adverse effects, such as hair loss, that it was reported in the news.
You can check the video below:
Lawsuits After Lawsuits
In February 2018 alone, 4 lawsuits have been filed against MONAT Global and another one came in March of the same year. You can read the files below to learn more.
MONAT Global may have expensive products but when it comes to their membership, they offer cheaper rates compared to other programs.
Here are the four types of memberships that MONAT Global provides:
Starter Product Pack $99 (One-Time Fee)
This includes sample products, product brochures, and workbooks.
Business Product Pack $299
This includes sample products and full-sized products. This also lets you earn 40% on sales. On top of this, you still need to pay for the starter fee that costs $99.
Success Product Pack $399
This includes full-size and sample products plus a product brochure. This lets you earn 46% on sales. Like the Business Product Pack, you need to pay $99 to start, too.
Overachiever Product Pack $649
This includes more than a hundred sample products, full-sized essentials, and almost 50% on sales profit.
You also need to pay $49.99 every year to keep your account active.
Here Is My Top Recommendation to Start Highly Profitable Online Business from Comfort Of Your Home
PROS
Recognitions And Awards
MONAT Global has been a successful platform in the first years of its operation, and this is one of the reasons why they have become an independent company. In fact, they've received various awards, such as:
2016 Stevie Awards for Women in Business
2016 American Business Award
2017 Direct Sellers Association of Canada
Good Compensation Plan
When it comes to compensating its people, MONAT Global is generous. But then again, you have to deal with selling overpriced products, controversies, and the risk of losing relationships because of inviting them to join the platform.
Good Training And Support
Like other MLM products, MONAT Global provides training to its members. This encourages them to make more sales, updates them about the latest products, and become better at inviting new people.
MONAT Global provides support through training materials and personal coaching and assistance, especially to new members. 
CONS
Low Income Potential
With all the controversies that this company is facing, selling the product is quite challenging, let alone inviting new people. That being said, your earning potential is low. Aside from that, a study conducted suggests that only 1% of MLM participants earn money.
Only Those Who Are On Top Earns Money
MONAT Global is not a scam, however, there's no guarantee that you would make money from it unless you're at the top of the "pyramid". Meaning, if you're the upline, there's a chance for you to get your investment back or earn a little more.
If you're at the bottom, there's a chance for you to make money if you can recruit your own downline, however, the one who recruited you will get commissions, too.
Alarming Complaints
MONAT Global has faced not just minor controversies, but serious ones. It's too alarming that it even reached the televisions. If you're someone like me, this is more than enough to tell me that I should stay away from their program and products. 
MONAT Global is not a scam -- and that's a good thing. If you're into MLM, you can consider this program as one of your options, especially if you're a fan of skincare and/or hair care essentials. 
However, you have to know how to market their products effectively despite all the complaints. On top of this, you should know how to persuade people to join the platform otherwise, you won't qualify for bonuses and incentives.
But then again, there are too many red flags so I can't recommend this platform at all.
If you want to make money or start your own business online, you can do so by checking my FREE Step-By-Step Guide.
It's easy to get started and even if you're a beginner, you have all the resources and support you need. Sign up now and enjoy the following perks:
Step-By-Step Guide
24/7 Chat Support
Live Active Community
And A Lot More!
Thank you for reading my MONAT Global review and if you have any questions or comments, please feel free to share it down below.
Do You Want to Work With
Me & My Team
Personally To Launch You An Online Business
Together?