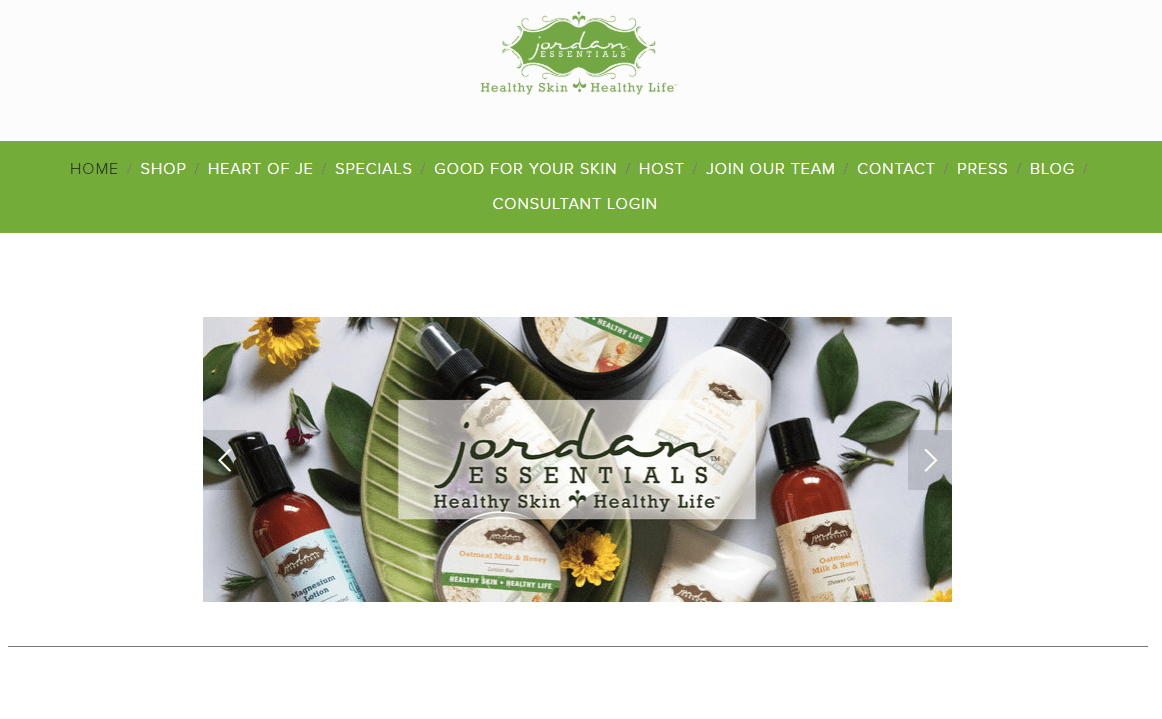 Welcome to my Jordan Essentials Review!
When it comes to multi-level marketing (MLM), one of the most popular products distributed are skincare. It's not a surprise though since this is not only a commodity for women but men, too.
While the chances of making a profitable business out of it are high, there are a few things to consider, such as the brand you're going to promote, its price, quality, and the list goes on.
Jordan Essentials Review Summary
---
Name: Jordan Essentials
Website: www.jordanessentials.com
Founders: Nancy Bogart
Product Type: Multi-Level Marketing
Price: Starter Kits Ranging From $99 To $300 + 9.95 For The Website (Optional)
Quick Summary: Jordan Essentials is an MLM company under the beauty niche. It's a legit opportunity you can consider if you want to make extra cash. It offers quality products, such as a lotion bar, mineral makeups, etc.
Overall Rating: 6/10
Recommended: Yes
So if you're interested, this post will help you find out (or eliminate) the company that claims to help you start your beauty business. It's called Jordan Essentials and it focuses on natural ingredients.
What is it about? Is Jordan Essentials a scam? Can you make money from this program?
P.S.
I'm not a member or distributor of this brand so rest assured that I will only give you an unbiased Jordan Essentials review.
What Is Jordan Essentials About?
Healthy Skin + Healthy Life -- that's what Jordan Essentials' tagline is about.
So obviously, this network marketing brand focuses on skincare essentials. This includes anti-aging serum, lotion, mineral makeup, and even essential oils.
Jordan Essentials was founded by Nancy Bogart in 2000, with the main goal of producing products that are both quality and effective. From a stay-at-home mom, she became a successful entrepreneur after selling her lotion bars at an event.
Aside from the uniqueness of her products, the brand is also free from harmful chemicals. According to their page, their essentials are made with peppermint oil, magnesium, lavender, and other "earth's healthiest ingredients."
To be honest, this is a plus for me. While the skincare industry is already saturated, products like this, especially something that's handcrafted, have a good chance of standing out. After all, more and more people are becoming conscious of what they use, especially on their skin.
But does this mean that you should join Jordan Essentials?
Before we answer that, let's check their product line.
Jordan Essentials Product Line
On their website, you'll find various categories under the "Shop Now" tab, namely:
New Products:
Catalog
Face Care
Mineral Makeup
Monthly Subscriptions
New Fragrance
Pet Line
Essential Oils
Magnesium Lotion & Soaks
Sales And Specials:
JE Outlet
JE Outlet (Up to 30% Of)
Limited Edition
JE Outlet (Up to 50% Off)
Gift Certificates
Bath & Body:
Purposeful Lotion
Systems
Lotion And Lotion Bars
Magnesium Lotion & Soaks
Shower Gels And Salt Scrubs
Soaps
Deodorant & Spritzers
Hair Care
Men
Kids
Baby
Happy Feet
Face Care & Anti-Aging:
Systems
Cleanse
Tone
Moisturize
Mask
Exfoliate
Age-Defying Serums
Lips
Eyes
Mineral Makeup:
Systems
Lips
Tinted Moisturizer
Mineral Powder
Cheeks
Bronzer And Conceal
Eyes
Brushes
Fragrance:
Apple Orchard
Grapefruit & Bergamot
Promise
Bergamot & Sandalwood
Black Raspberry Vanilla
Lavender & Eucalyptus
Naturally Unscented
Oatmeal Milk & Honey
Sea Spa
Essential Oils & Healthy Home:
Healthy Home
Single Oils
Herbal Blends
Joyful Jordan & Cap Packs:
As you can see, there's a variety of products to choose from but it's not as overwhelming as the other brands. It mainly focuses on skincare. Also, their essence is not as expensive as other MLM products.
For instance, you can buy their Lotion Bar for only $10; a skincare set or their Everyday Body Care Collection for only $51. That's a huge saving compared to the similar products offered by other network marketing brands.
But other than that, the one thing I like the most is the reviews available on each product. This makes it easier for interested individuals to check honest feedback online. So far, most comments are positive so I guess it's safe to assume that you can trust their essentials.
How To Make Money With Jordan Essentials?
Since it's a network marketing brand, it offers two ways to make money: selling the products and/or creating a team.
You can earn around 25% up to 35% retail commissions and since their products are reasonable and lower compared to usual MLM brands, you already have an edge to sell their essentials.
Also, it doesn't take advantage of the overused MLM claims, such as "life-changing" or "miraculous" so I guess people won't end up annoyed with your products. They do tell that their lotion and other skincare products are free from SLS or Sodium Lauryl Sulfate, which is deemed harmful for the skin.
Take note, however, that you need at least $1,500 personal volume every month to be qualified for the 30% commissions. The good news is that you don't have to purchase these items; you can just place orders on their website.
Now that's almost hassle-free!
One way to increase your sale is through hosting a party -- traditional marketing for most MLM brands. This means holding an event at home, restaurant, etc., where you can let your friends and families see and experience your essentials.
You can also take advantage of the online world through the replicated website provided by the company. I know, I know. Having a website is not as easy as it sounds but this is important in almost every business.
You can check my FREE Step-By-Step Guide on how to start a business website and grow it. This can help you no matter what niche you're trying to create.
This will also help you grow your team, which provides bigger commissions and incentives.
While this approach can help you make more money even without doing anything, this can be complicated. According to Jordan Essentials' compensation plan, you can earn around 3% to 12% overrides on your downline's sales.
However, is that the commission depends on your rank. The higher your rank is (the more downline you have), the bigger the bonuses, incentives, or commissions you get. So if you're new to this and have no downline yet, don't expect to make much.
Also, the recruiting part is always challenging. Most people do not like the idea of MLM as they see it as a scam. Although pyramid schemes and network marketing are two different things, you can't just please everyone considering the negative impression it left on many people.
But to help you understand here's a quick video about their differences:
Other than inviting people, the next challenge for you as an upline is to train your team. After all, all of you won't make money unless you are skilled and knowledgeable with whatever it is you're doing, right?
To learn more about Jordan Essentials, you can watch the video below:
Is Jordan Essentials A Scam?
Jordan Essentials is not a scam.
It's a legit multi-level marketing company that I actually like.
To be honest, I'm not into MLM because of the bad experiences I've had in the past but I feel like this one is not just about making money from other people; it's about promoting entrepreneurship.
While there's the recruitment part, Jordan Essentials have competitive products that you can actually sell.
Here Is My Top Recommendation to Start Highly Profitable Online Business from Comfort Of Your Home
To become a distributor of Jordan Essentials, you can choose from any of these starter kits.
Basic Kit $99
Over $300 worth of products
Starter Kit
Training Program

Personal Website For 3 Months (Cancellable after 3 months)
If you choose to keep your website, you only need to pay $9.95 every month.
PROS
Reasonable Price For Products And Memberships
Unlike other MLM brands, the products of Jordan Essentials are fairly priced. There may be cheaper alternatives online but for a network marketing company, their rates are reasonable.
The same thing with their membership. It's only $9.95 plus the products that you will sell. The good thing about this is that you can place your order on their website in case you don't have much cash to purchase.
Legit Company That Focuses On Entrepreneurship
While there's more money with recruitment, it's clear that the brand focuses on the quality of their products, thus helping distributors to get more sales. This is an advantage for me because as a business person, they are helping you develop your skills by letting you focus on marketing their products.
CONS
Saturated Market
There are just too many skincare essentials in the market nowadays but honestly, instead of seeing this as a drawback, I take this as a challenge.
If you're confident with your products and the brand, the only thing you need to do is harness your skills in promoting your essentials. The brand already has strong selling points, such as being a natural and reasonable price; you just have to let the people know about it.
No Income Disclosure Statement
The brand has been in the industry for more than 20 years but I did not see Jordan Essentials provide an Income Disclosure Statement.
It would really help to know how much their distributors earn a year or every month. This way, aspiring members know what they would expect when they sign up.
Tired of Wasting Time on Low Quality Programs?
I'm so grateful that I was able to find THIS PROGRAM which helped me to finally start making money online!
This is ideal for skincare enthusiasts, especially those who enjoy essentials made of natural ingredients. It's also for those who have experience with network marketing since recruitment is involved.
Jordan Essentials is a legit MLM company that I actually like. The story of how the founder, Nancy started is something that most entrepreneurs can relate to. She began with something small as a lotion bar, and now she's built a company that promotes quality products.
But what I like the most is the price they offer -- reasonable. It's also good to know that they are not too focused on recruitment.
However, it would help if they would provide an Income Disclosure Statement for the public just to give an idea of how much their members are earning.
Overall, I like the brand and recommend it to anyone interested in natural skincare and makeup.
Want to know what is the best way we found to make money online Don't worry, I got a perfect solution!
Check Out my top-recommended program now and get the following perks:
A Fine Blueprint to Making Money Online
Top Quality Education from Experienced Entrepreneurs
Step-by-step guidance
Top notch support including your own training coach
Lots of training resources
My personal help
And so much more!
I hope I helped you decide with my Jordan Essentials review. If you have any questions or clarifications, don't hesitate to share your thoughts in the comment box below.
Thank you!
We Constantly Review Programs in "Make Money Online" Niche,
So That You Don't Have to Waste Countless Hours
Want To See Our
TOP RECOMMENDATION?