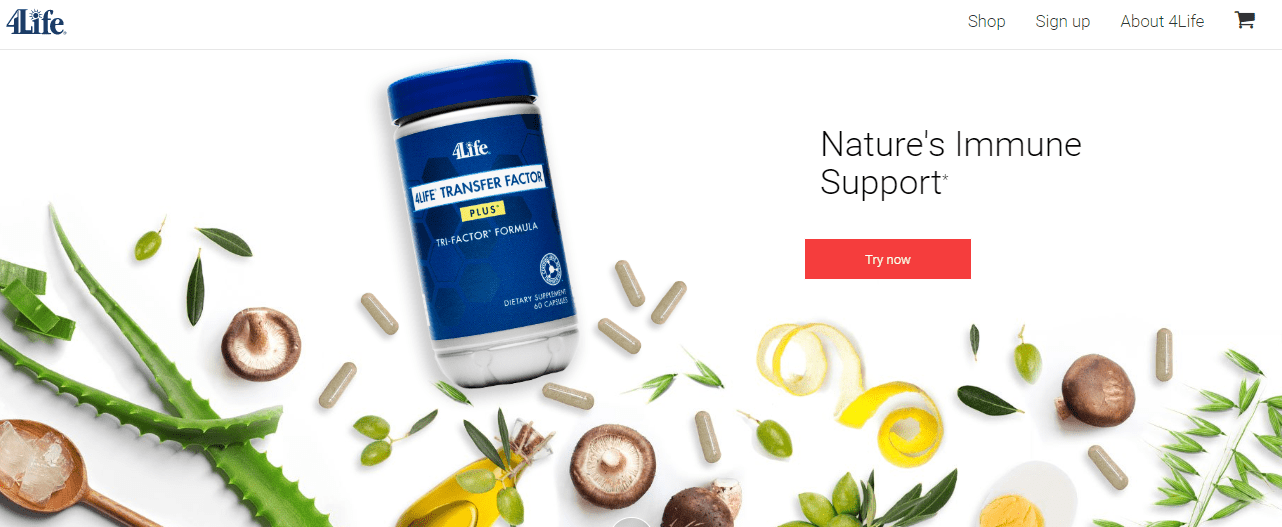 Welcome to My 4Life Review!
Health and wellness are one of the most popular niches nowadays, and 4Life is just one of the many programs under this type. Like typical multi-level marketing companies, it offers more than one way to make money but the questions are: is 4Life worth it?
4Life Review Summary
---
Name: 4Life
Website: www.4life.com
Founders: David and Bianca Lisonbee
Product Type: Multi-Level Marketing
Price: $25 + $333 To $700 Products
Quick Summary: 4Life is one of the oldest MLM companies yet it has managed to keep a good reputation. It promotes health and wellness products and a business opportunity to interested individuals.
Overall Rating: 5/10
Recommended: No
Is it a scam or a legit program? How does it work? What else do you need to know about this platform before you sign up?
If you're looking for an unbiased and honest 4Life review, then you're in the right place. I'm not -- in any way -- affiliated with the program so rest assured that I'll be giving fair feedback.
4Life is a typical health and wellness MLM brand that promotes supplements. However, what makes it better than most of its competitors is the fact that they've been in the industry for a long time. On top of that, they've managed to maintain a good reputation.
Founded in 1998 by David and Bianca Lisonbee, the brand distributes health supplements that fight aging and strengthen the immune system. 4Life has teamed up with some of today's leading researchers, scientists, and doctors to create potent yet safe supplements.
For 21 years, the brand has managed to grow its business and now, it serves more than 50 countries. This only proves how stable and popular 4Life is. But despite the demand, 4Life has too many competitors in this niche, such as: TruVision Health, Purium, and Team Beachbody.
4Life Product Line
At first glance, I thought there's nothing unusual with 4Life's products. Like other MLM brands, supplements are produced to improve human health. As for 4Life, it targets the immune system -- the system responsible for protecting the body from harmful microorganisms, such as bacteria, viruses, and foreign bodies. They also offer products that slow down aging and regulate bowel movements.
What makes this brand unique, however, is the core innovation that their company has. 4Life has flagship products called 4Life Transfer Factor4Life Transfer Factor -- an immune molecule that boosts the function of the immune system.
Other products include:
Enummi Personal Care
Tri-Factor Formulas
Targeted Transfer Factor
ShopRite by 4Life
Foundation Of Life
Fortify Meal Pack
Healthy Lifestyle Packs
Animal Health For Life
Like typical MLM products, their essentials are very expensive. For example, 1 bottle of Cardio (120 capsules) costs $68. You can browse similar products on Amazon for a lower price. But in fairness with 4Life, they get a lot of positive reviews on their supplements, such as the ones below:
However, there is also feedback, such as having an allergic reaction after taking their supplements. You can read more reviews by clicking this link.
How To Make Money With 4Life
There's nothing unique with 4Life when it comes to their business opportunity. Like typical MLM programs, there are two main ways to earn -- selling and inviting new people to join your team.
What makes 4Life better, however, is the simple compensation plan they have. I've reviewed more than a dozen MLM programs and what I notice is that they have a confusing compensation plan but with 4Life, that's not the case.
Retail Profits
As a 4Life distributor, you have access to their wholesale price and this gives you the chance to sell it to non-members based on the company's suggested retail rate. For every 4Life products/packages, you can make 25% in profits.
4Life Builder Bonus
You can get as much as $800 worth of cash bonuses when you have more reorders. The goal to get this incentive is to make as many sales as you can and re-purchase their products.
Infinity Payout
Now, this is how you can make more money -- refer new people to join the team and encourage them to make more sales. Once you reach a certain sales quota, you can earn a certain percentage of the total sales that your team makes.
Since this is a legit MLM platform, you don't earn directly from inviting new people. Yes, it's a must if you want to participate in bonuses and incentives but the essence is getting new individuals to join the program and training them to sell the products effectively.
This is just one of the many things that make MLM platforms complicated. After inviting people, your work is not done. You still have to take care of your downline so you can reach milestones.
If this doesn't sound like the opportunity for you, don't worry! There are better solutions, such as my top recommended program. Unlike MLM companies, you don't have to worry about selling overpriced products, inviting new people, and training your team.
To learn more about 4Life Compensation Plan, you can watch the video below:
4Life is not a scam and their products are definitely worth a try. Pricey but if you are willing to spend cash and prove how effective the product is yourself, you can do so. If you really on Better Business Bureau like me, you'll be pleased to know that it's accredited and that it has an A+ rating.
But based on what I mentioned above, it would be challenging to earn cash, let alone get your investment back. In line with this, 4Life has had an issue with the FDA, claiming that the MLM program has fraudulent products.
Also, some former distributors call the program a scam because they weren't able to get their money back. It's not a surprise though because a study performed by Jon Taylor suggests that only 1% of MLM participants earn cash.
Based on my personal research and experience, only those who are on the top are making money. The rest, such as the downlines, won't make much. Other participants even leave the program without getting anything.
Another issue I have with MLM programs is their distributors. Since inviting new people to join the program is a must, most of them have an unethical approach. They provide bold claims or intimidate other people so they can expand their team.
Like usual MLM programs, you have to invest a certain amount or follow a specific procedure before you can join.
For instance, with NeVetica -- an MLM program under the pet health niche) -- you have to find a distributor nearby first. Meanwhile, other platforms like Nature's Sunshine and Thrive Life will require you to pay for an enrollment fee or starter kit before you can earn from their compensation plan.
As with 4Life, you are required to become a 4Life Preferred Customer first. This means paying an amount worth $25 plus the shipping fee and tax. Then you should purchase any preferred customer packages with prices ranging from $333 to $700.
It's a huge investment so you should definitely think twice, thrice, or more times if possible before you join the program. Is this what you really wanted? Do you think you can sell these products and get your investment back?
Remember, as an MLM participant, you have to invite people every now and then to be qualified in bonuses and incentives. If you think this is not worth your time, then you should look for another legit money-making program online.
Here Is My Top Recommendation to Start Highly Profitable Online Business from Comfort Of Your Home
PROS
One Of The Oldest, Legit MLM Programs
It has been in the industry since 1998 and for a business, this is gold! Most MLM companies do not last for a long time. Considering this, 4Life must be doing something better than the rest that's why until now, after 21 years, they are still operating.
CONS
Overpriced Products
Despite the many wonderful claims, it's not easy to persuade people to buy expensive supplements knowing that they can always find a cheaper alternative.
Huge Investment
With 4Life, you have to spend $25 + shipping fees and taxes so you can join the program. And that does not include the products that you will sell yet. All in all, you need to have at least $400 as an investment.
Considering all the things mentioned above, the investment plus the risk of losing it is big so for me, it's a no. Unless you're an experienced distributor or you know how to market your business effectively, then you should look for another option.
Low Earning Potential
Making money from MLM is not impossible, but it is challenging. I'm not saying that you can't earn from 4Life but you have to consider the things I've mentioned above. If you're new to MLM, this can be more difficult. Aside from the overpriced products and recruitment part, you have to consider your competitors, too.
One Of The Oldest, Legit MLM Programs
It has been in the industry since 1998 and for a business, this is gold! Most MLM companies do not last for a long time. Considering this, 4Life must be doing something better than the rest that's why until now, after 21 years, they are still operating.
Tired of Trading Your Precious Time for Money?
Here is a Blueprint to Owing Highly Profitable Online Business Without Any Experience REVEALED!
Despite all the issues, such as the ones involving the FDA, there's still the potential to make money with 4Life. However, I cannot recommend it to newbies unless you believe in their products. The good news is that many people are vouching for their essentials.
The bad news, on the other hand, is that you have to overcome the challenges, such as building a team and getting your investment back.
If you want to start a business but you don't want to take the risk of losing your money, I suggest you sign up with my #1 recommended program.
Why? For one, you can promote products that you believe in -- and you're not limited to supplements alone. You can also enjoy the following perks for FREE:
One-on-one coaching
Comprehensive guide
The best business tools and support you need
Webinars and training resources
And many more!
Thank you for reading my 4Lifereview and if you have any questions or comments, please feel free to share it below.
We Constantly Review Programs in "Make Money Online" Niche,
So That You Don't Have to Waste Countless Hours
Want To See Our
TOP RECOMMENDATION?