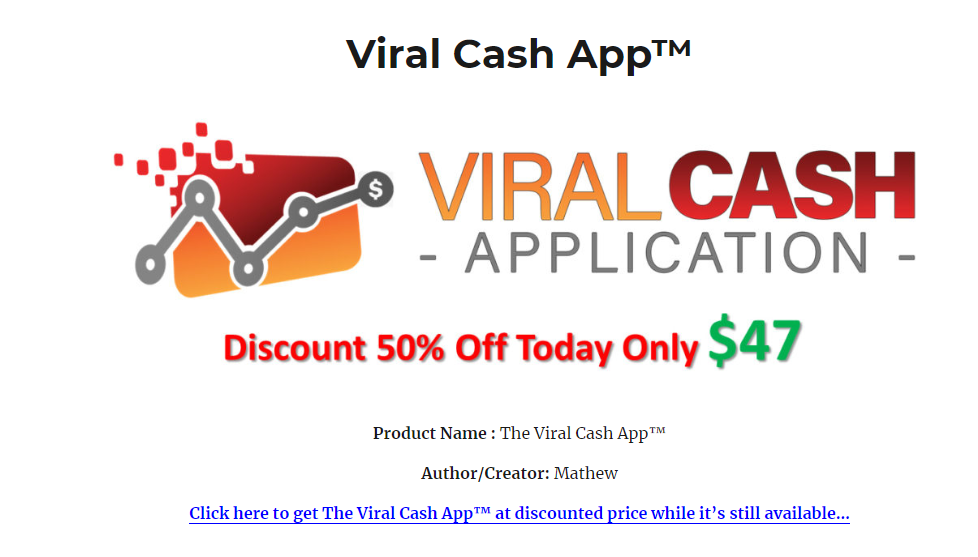 Welcome to My Viral Cash App Review!
The first time I saw Viral Cash App, I thought I heard it before. Then I saw the founder's name, Matthew Neer, and that confirmed my suspicions.
Viral Cash App Review Summary
---
Name: Viral Cash App
Website: viralcashsapp.com
Founders: Matthew Neer
Product Type: Online Software
Price: $47 + Upsells
Quick Summary: Viral Cash App is a software that claims to help you make money by uploading a video. According to Matthew Neer, the founder of this program, they will create a website for you and generate traffic to it so you can earn cash. However, there are a lot of things that they are not telling you, and I'll gladly share it below.
Overall Rating: 4/10
Recommended: No
Like his other programs, 5K Formula System and Income League, this platform comes with a lot of bold claims, such as making money online even without prior experience. The difference? It's a software that claims to provide you everything you need to get started if you want to earn cash online.
In my previous reviews, Matthew's programs are legit but the problem is, it's often misleading that's why I can't recommend it to anyone. However, it's too early to assume that Viral Cash App's the same, too.
That's why I did a lot of digging and here's what I found out about Viral Cash App.
What Is Viral Cash App About?
Viral Cash App is a "great software" developed by Matthew Neer, a reputable internet marketer. He has created various platforms and most of which are geared towards affiliate marketing.
According to its sales page, Viral Cash App is newbie-friendly and it's designed to help you make your videos that you can monetize online. While this concept is true and I've seen a lot of YouTubers earn their money and fame online, I'm skeptical about their claim that you can easily make money uploading videos even if you've never done this before.
How Does Viral Cash App Works?
On their sales page, it says that all you need to do is download the software, choose a category, and start making money. It also says that they will set up a website on your behalf and drive traffic to it so there's nothing to worry about.
According to them, the reason why you'll make money through this method is because once your video goes viral, advertisers will pay you for letting them place their ads on your video. Also, you can place your affiliate links to it and when someone clicks on it, you get paid again. Easy, right? So what's the catch?
The thing is, it's not as easy as what Viral Cash App Claims. Their concept is possible since that's how YouTube videos work. Once your channel is qualified for their monetization program, you can start earning through ads that are placed on your videos. However, unlike what they are claiming, it's not simple to make money by uploading videos, whether it's on YouTube or Facebook.
To be eligible for their monetization program, you need to have at least 1,000 followers and 40,000 views. This means that you have to consistently post videos are that entertaining and useful enough otherwise, no one would want to watch it. Also, traffic is vital and while they say that they'll generate traffic on your site, it's almost next to impossible.
Based on my and other internet marketers' experience, creating traffic to your website takes time. For some, the desired result can be gained after two to six months but for others, it might take a year depending on your work. You can't just rely on an autopilot system; you need to work on it consistently otherwise, you won't be able to generate organic traffic.
One way to create traffic is through Search Engine Optimization (SEO) which is optimizing your website so it can rank higher on a search engine. This gives your site a chance to become more visible and if you don't know how to do it correctly, you're almost doomed.
You can also increase your traffic through social media; however, if you're only sharing your post or content, it's only limited to your friends. Meanwhile, if you choose paid traffic using Facebook ads, it means paying a certain amount and again, if you're not skilled or you don't have the expertise on how to create ads on Facebook, you're only wasting your time and money.
That being said, it's not easy and the fact that they are not telling you how their program really works should be a red flag already. If you want to make money online and you want to do it correctly, I suggest you take my step-by-step guide and learn all the basic things you need to know when making money online.
Is Viral Cash App A Scam?
No, Viral Cash App is not a scam. It's legit, however, because of the exaggerated claims that it has, many people are expecting a huge result from the program and since it's less likely to achieve it, many of them think it's a sham.
While you're guaranteed that Viral Cash App is legit and it even has a money-back policy, there are things to be disappointed about it -- and it's more than just the bold claims.
For one, it gave affiliate marketing a bad name.
Matthew Neer mentioned about affiliate marketing and how you can make easily make money from it by posting videos. However, it's not enough. You need an optimized website or an effective sales funnel or even both.
Of course, if you have a website, you need to curate content that would spark the interest of your readers otherwise, it'll be useless. That being said, you need experience on setting up a website, writing content that will encourage people to buy the products you offer, and optimizing it so that it'll rank higher on Search Engine Results Page (SERP).
Meanwhile, you need a sales funnel that would influence your visitor's buying decision and it takes time to learn the right techniques. Sadly, none of these are taught in the Viral Cash App.
You can watch the video below to know more about Viral Cash App:
The initial investment for Viral Cash App is $47 but like his other programs (and other programs claiming that you can get rich quickly), there are high-ticket upsells and weird downsells that are almost useless.
I described downsells as weird because it sounds like Matthew is very eager to get your money. For example, on their sales page, if you scroll down their website, you'll see a 50% discount that's only available "today". That means you'll get it for $24 instead of 47. However, if you try to exit the website, you'll see another downsell, making the program cost only $9.
Another funny thing is that even if you re-visited the site tomorrow or the next month (if they're still lucky to be operating), the 50% discount will still be there.
Here's a quick outline of their upsells:
Upsell 1: Viral Cash App Unlimited Package ($149)
Upsell 2: Easy Button ($97)
Upsell 3: Millionaire Mentor Coaching Course ($197)
Here Is My Top Recommendation to Start Highly Profitable Online Business from Comfort Of Your Home
PROS
The Idea About Affiliate Marketing
Affiliate marketing is legit, in the first place, and it's a business model that's been widely used by internet marketers and individuals who doesn't only want to make money online but also get a chance to have a source of passive income.
If you'll only grab this concept and join another affiliate marketing program that's legit and reliable instead, I believe you can get what you really want -- make money online.
Money-Back Guarantee
Let's say you want to personally experience Viral Cash App; you can purchase the software and get your money back within 60 days in case you're not satisfied. That's one good thing about ClickBank products -- they give a refund if you're not happy or you did not achieve the promised result.
CONS
Unrealistic Claims
Earn money online without any experience? C'mon! Although it's possible to make money over the internet, you have to work on your skills and expertise before you become successful in it.
The same thing with affiliate marketing, which Viral App Cash is suggesting. If you want to make money with it, you cannot rely on autopilot or the software to generate traffic to your site. As much as possible, you need to have the right training and the good news is that you can get it online for free.
Interested? Simply click this link.
Expensive Upsells
To be honest, the upsells are useless because they won't provide you any value. Rather than help you make money, Matthew is making money out of you.
You Don't Own The Website
On their sales page, they mentioned about creating "a website on your behalf". The truth is, you don't own this. You don't even have a domain name of your own so how are you going to say that this is your website. To cut the story short, this website still belongs to Matthew Neer.
If you want a website of your own where you can promote products according to the niche of your choice, I suggest you sign up with my number 1 recommendation!
Tired of Wasting Time on Low Quality Programs?
I'm so grateful that I was able to find THIS PROGRAM which helped me to finally start making money online!
I can't really recommend Viral Cash App especially for beginners; however, if you're an affiliate marketer who's only after making money rather than promoting products that really provides value, maybe you can take advantage of this offer.
Viral Cash App is legit and it provides a refund in case you're disappointed with the product. However, it's full of misleading details and bold claims so it's really hard to trust products like this. In addition, Matthew Neer has produced similar programs that are full of upsells and little value so you'll know that helping you make money is not his priority.
But don't worry, there's another legit opportunity you can work on and I'll share it in the next section.
Affiliate marketing is one of the most popular ways to make money online and you can have the necessary training you need by joining Wealthy Affiliate. It's my top recommended program and the most trusted platform of many affiliate marketers.
Sign up now and enjoy the following perks:
Free Step-By-Step Guide
Free Websites
Freedom To Choose Your OWN Niche
Free Access To A Live Community
Free 24/7 Customer Support
As always, I hope I've enlightened you with my Viral Cash App review and if you have any questions and comments, please feel free to drop it down below.
Thank you!
We Constantly Review Programs in "Make Money Online" Niche,
So That You Don't Have to Waste Countless Hours
Want To See Our
TOP RECOMMENDATION?