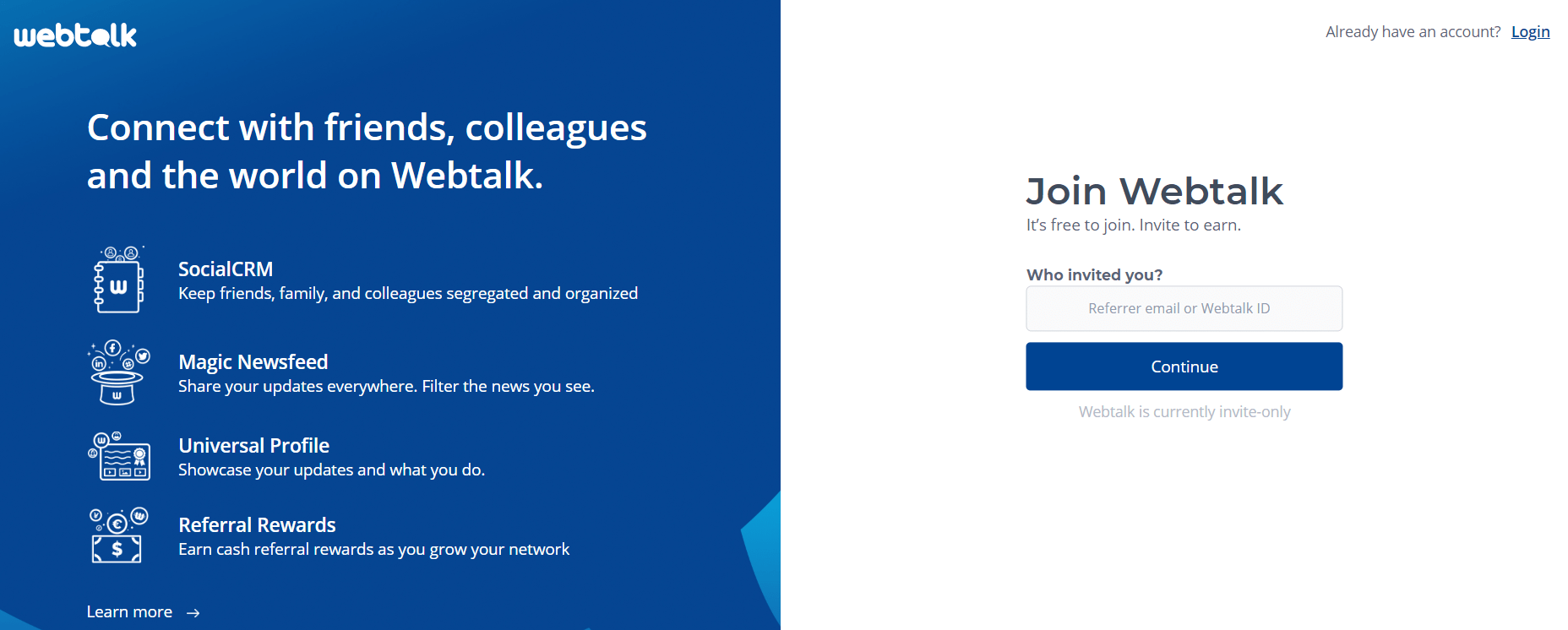 Welcome to My Webtalk Review!
You're probably in this site trying to gain insights and information about a business you're trying to pursue. So pat yourselves for trying the extra mile by researching and investigating. It is better to be meticulous rather than being too risky and careless.
That's a great way to avert scams. And after all, you will be investing your time, money, effort and energy in whatever business you will opt to try and of course, you won't want to lose it afterward.
Nowadays, MLM opportunities are anywhere. And now we will be discussing an MLM opportunity that comes with a social media platform- Webtalk.
Webtalk Review Summary
---
Name: Webtalk
Website: www.webtalk.co
Founders: Robert Garbowicz
Product Type: Multi-Level Marketing
Price: $20 To $40 Monthly
Quick Summary: Webtalk is a multi-level marketing (MLM) opportunity that sells and markets a social media site. It operates like Facebook, LinkedIn, Skype and other social media platforms. You'll have an earning opportunity by recruiting people to join and as they purchase communication-related features on Webtalk, you can gain your commission.

This MLM company has already been on the run for 9 years now, nearing a decade, who would have said it's a scam? It is a legit MLM opportunity as to what I can see but probably with low-income potential!
Overall Rating: 4/10
Recommended: No
With a lot of social media site competitions that are free, will this be a great opportunity to earn lucrative income? Is Webtalk a legit MLM company? Is it not a scam? What are the pros and cons of joining this company? Yes, we will tackle all of that here and we will try to answer all of your queries in mind.
Let's talk about this MLM Opportunity- WEBTALK in this review!
P.S.
We all know starting an MLM business can be challenging -- very challenging -- so it's best to have another source of income in case it didn't work out. So, I'm happy to share with you my FREE Step-By-Step Guide on making money online.
Webtalk is a social media platform that operates on a multi-level marketing (MLM) business model. It serves just like other social media platforms. It works all together just like Facebook, LinkedIn, Skype, etc. and with improvements.
As a social media company with an MLM opportunity, you will earn money every time you invite people to join and every time your downline will as well avail a website feature.
Webtalk started back in 2010. It was founded by Robert Garbowicz who was as well the man behind YourNight business which was running just like Webtalk.
Webtalk now has a corporate office and its headquarters is in St. Petersburg, Florida. The people behind the company as well as the founder envisions to make the world a better place by enabling people to have better communication and achieve success through Webtalk.
Webtalk's edge among other social media platforms is because of its privacy and the fact that it limits its crowd. And this is achieved through selling features that you could only avail if you paid for it. The cost will be as well be based on the features and number of connections in your account.
In general, these are the major features of Webtalk:
Control the news you see and share
Add value to your relationships with searchable tags and notes
Organize your data with integrated file management
And FYI, there is no app. Do not download mobile apps claiming that they are Webtalk.
How To Make Money With Webtalk?
So first you have to join as an Affiliate by signing up for free and that is done by accepting the invitation sent to you by an existing user. After you finish signing up, you just have to wait for a confirmation email if your request to join has been granted and you have to confirm the link in the email for verification. You will then have your Webtalk profile but with limited features. You can then avail these upgrades to unlock certain features:
Pro ($20 a month)
500 contacts
5 messages per month to non-WebTalk members
5 emails
Enabled feature to see profile viewers
Getting rid of banner ads
Pro Plus ($30 a month)
1000 contacts
10 messages per month to non-WebTalk members
10 emails
Pro Platinum ($40 a month)
Enabled access to profiles without the other party knowing
Search profiles
Access to unlimited contacts
20 messages
20 emails
So if you would ask if their product or feature works? Yes, they do but it is limited upon free sign-up and you would have to pay to upgrade certain features.
So, if you want to go through 500 contacts, you have to pay $20/month or if you want to upgrade to have unlimited contacts go for Pro Platinum that will cost you to pay $40 a month and that would cost you up to $400 a year.
See more about Webtalk in the video below:
So how will you earn in Webtalk? Just like other MLM companies, you will gain commissions through people you invite to join and if they purchase to upgrade for certain products or in this case -features.
In Webtalk, they coined this compensation plan or Affiliate program as the Webtalk Affiliate Program SocialCPX. Compared to other social media platforms who keep billions of their earnings among themselves, Webtalk, on the other hand, shares 50% of all their income generated earnings.
As mentioned, you will as well gain commission if your invite purchased the features or if they upgrade their account to Pro, Pro Plus and Pro Platinum. You will then earn a 10% commission value (CV) if your invites purchased any of the three and for all your referrals within 5 degrees of separation if you joined among the first million affiliates. You would also get 10% for advertising rates. So if a member pays $100 for ads, you will get $10.
Webtalk's compensation plan is somehow like RJ Garbowicz another company, YourNight. Webtalk may operate in such away.
There's a thin line that it's a scam since it's already nearing a decade in the business. Webtalk appears to be a legitimate company that allows you to earn through their MLM opportunity. It as well provides services and features that people could use for communication-related purposes.
But with the notion that there are so many social media platforms that has features for free, income potential would be probably low because why would you have to spend money for this when there are other sites that are available and you could use for free.
Plus there's another concern, since Webtalk is still in beta testing, meaning the system is still not fully complete.
Joining in Webtalk is free but with limited futures, so you will opt to purchase the following upgrades to avail more features.
These are the following costs of each upgrade (per month):
$20 - Pro
$30 - Pro Plus
$40 - Pro Platinum
Here Is My Top Recommendation to Start Highly Profitable Online Business from Comfort Of Your Home
PROS
Privacy
Since Webtalk has enabled the features only when you upgrade, it gives you a limited crowd, so you can have the benefit to control your circle or even just have 500 contacts. It is beneficial for those who want to connect with people, friends, and professionals but still would want to maintain a quiet life whereas compared with facebook and other social media platforms that are already crowded with a lot of users.
But if you want to have more contacts, you can always upgrade to Pro Platinum where you can have unlimited contacts. I also like the thought that not only do you enjoy the site but you could as well earn from it.
CONS
Low Income Potential
For those looking for a full-time job, this could not give much of a lucrative income. With only a 10% commission per referral, it could not be much for a living. Well, it can be an extra part-time job.
Still On Beta Testing
When you say Beta Testing, the system is still not fully complete. And probably Webtalk can't send out money yet to its affiliates. But how is it that they are already accepting payments from affiliates and referred people? There's probably no guarantee of ROI (return of investment). And also they are not as big as Facebook or Twitter who have billions of users.
Founder's Bankrupt History
WebTalk founder's former platform, YourNight failed. It has gone bankrupt. There were only more or less 100,000 registered users as compared with the 1 million predicted number who'll join. And so it ended up closing. It only operated less than 12 months since it was launched.
But still founding executives try hard to establish a new social media MLM, thus the birth of Webtalk. They want to push the idea that you can build a network marketing business around social media. We don't know yet if Webtalk would also end up closing.
Social Media Platform Mlm Idea Probably Won't Work
It's quite impractical to pay for a social media platform just to avail of certain features. It's inconvenient and costly. Probably this MLM opportunity won't progress in the long run because why would someone want to spend money on a social media platform when there are free sites and a lot popular such as Twitter, Facebook, and Skype.
There is also LinkedIn where professionals could use and makes it easy for them to build a network for free. So, why spend money on building a network when you could do it for free?
Tired of Trading Your Precious Time for Money?
Here is a Blueprint to Owing Highly Profitable Online Business Without Any Experience REVEALED!
It is for people who are in-depth with the social media world where you cannot only enjoy the features of a social media platform but you can also earn from it.
It's also for people who are enthusiasts of better communication, better connection, even limiting crowd by enabling only certain features for upgraded accounts, thereby promoting more private and professional discussions between a circle of contacts.
Yes, it can give quite a decent income but I doubt if it can give you a lucrative income. It can be a part-time earning opportunity but can't support much of a living.
Joining Webtalk gives you a profile and with that, you could search for some discussions on training and topics also made by other Webtalk Influencers. You could as well search videos online for references. But I have not seen much in-depth training or webinars over the internet.
Webtalk is not a SCAM. It is a well-established MLM company that offers somehow a decent income but not for a living. But with a lot of social media platforms that offer features for free, it would be hard to earn big in this MLM opportunity.
So it will require you so much hard work and effort to persuade people to join and convince them to purchase upgrades for you to have more commission. So if I were you, I would not solely depend on it for earning money.
Want to make money without risking a huge amount of cash? Then you've come to the right place.
My top-recommended program is not only FREE, but it also offers everything you need to get started. This is perfect for those who have a full-time job and need a side hustle or those who want to make money online.
Sign up now and enjoy the following perks:
Training Resources And Webinars
24/7 Chat Support
One-on-one coaching
Comprehensive guide
And many more!
Thank you for reading my Webtalk review. I hope you learned something from it and if you have any questions and comments, please feel free to comment it down below.
We Constantly Review Programs in "Make Money Online" Niche,
So That You Don't Have to Waste Countless Hours
Want To See Our
TOP RECOMMENDATION?