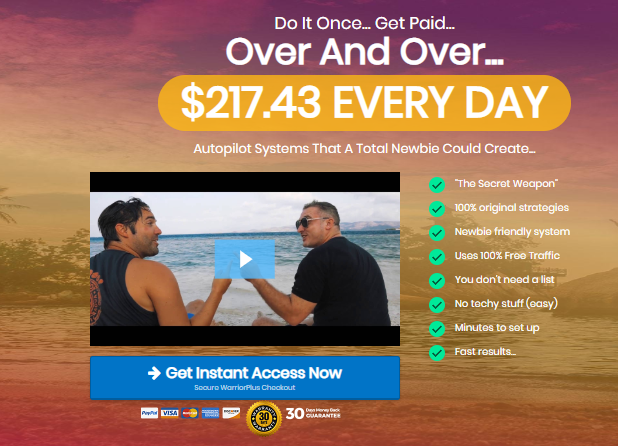 Welcome to My The Secret Weapon Review!
I've said this before and I'll say it again: no one can make money overnight. But I don't why some program developers have the audacity to put such claims in their platforms despite knowing that it's impossible, such as The Secret Weapon.
The Secret Weapon Review Summary
---
Name: The Secret Weapon
Website: https://www.fuegosecrets.com/the-secret-weapon
Founders: Eric Cagi, Jono Armstrong, And Brendan Mace
Product Type: Online Training Course (Affiliate Marketing)
Price: $12.95
Quick Summary: The Secret Weapon is an online training platform that claims to use a "brand new secret method" that will help you earn $200+ a day. It says that it's newbie-friendly and you can start making money right after you purchase the offer.
However, I found out that there are a lot of things you need to do and as a beginner, this can be overwhelming. In addition, the business model they use for this program is NOT A SECRET AT ALL. What is it about? That you'll find out in a bit.
Overall Rating: 3/10
Recommended: No
The founders of this program are popular and not for the best reasons. Eric Cagi, Jono Armstrong, and Brendan Mace have their names circulated online all because of releasing platforms claiming that it can help users earn a massive amount in a short time.
And probably, that's why you're here. You want to know what it's all about. Is The Secret Weapon a scam? Will it work according to its claims this time?
Find all the answers in this honest The Secret Weapon review.
What Is The Secret Weapon About?
"Earn $217.43 Every Day" -- that's what The Secret Weapon is claiming. Apparently, it's a program that contains 100% original strategies and uses 100% free traffic. It's newbie-friendly and it only takes a few minutes to set up. Above all, it gives quick results.
But Eric Cagi, Jono Armstrong, And Brendan Mace have never mentioned upfront what their program is really about. I've reviewed more than a dozen systems like this and I realized that most of them are not for beginners.
While they provide a step-by-step guide on how you can make money using a certain business model, they leave most of the essential details in their training rather, they share only basic (sometimes less than basic) information. As a result, you have to figure a lot of things on your own and if you're just new to whatever platform you'll be using, you'll end up confused and not making money at all.
And that's the danger of investing time and money on a program that doesn't even tell you what its about.
How Does The Secret Weapon Really Work?
The concept behind The Secret Method is setting up an effective Sales Funnel so you, as an affiliate marketer, can promote the offers from WarriorPlus. Using Facebook, you will drive traffic to your website so you can create sales conversions.
So where's the secret, you say? I'm not really sure about that. But anyway, there are three steps involved:
Step 1: Reveal "The Secret Weapon
Step 2: Setup using their Exact Blueprint
Step 3: Sit back and earn $100+
On their sales page, there's an optional step saying: "Do This Only If You Want To Create A Job Crushing Online Income". It shares nothing about what you'll be doing but I bet it's just another upsell.
Considering the three steps, it seems like an easy method but in reality, you will be doing a lot of things such as generating affiliate links, creating a landing page, and driving traffic to your site so you can finally earn.
Sounds familiar? Yes, it does because it's affiliate marketing with a lot of hypes involved.
While this business model is legal and profitable (I use this method to make money online, by the way). It doesn't offer easy money, and no matter how you revolutionary you think your method is, it won't provide results overnight. But to make it more disappointing, this method is no secret at all.
On their sales page, it says that you'll be using 100% free traffic but sooner you'll find out that you are going to use paid traffic techniques, such as Bing Ads and Solo Ad.
I did a review about a program called 2019 Blast Off and it uses Solo Ads as a marketing technique. It's an email campaign that may be helpful to some marketers; however, it's not recommended most of the times. For one, beginners cannot benefit from this because you need to know what you're doing in the first place. You have to write a good subject and content otherwise, the receiver will just ignore your message. And two, it's simply outdated.
Bing Ads, on the other hand, might still work but still, you need to have the right skills and expertise when using this otherwise, you're just wasting your time and money.
Meanwhile, if you think you can rely on the free traffic mentioned by The Secret Weapon, I don't see it as a very efficient traffic technique because what you will do is spam Facebook groups. Nonetheless, the founders have given justice to their training but still, I doubt that their promises will be delivered.
Is The Secret Weapon A Scam?
No, it's not. In fact, it even offers a money-back guarantee in case you want a refund. Also, their program is not really that bad if you only ignore the bold claims. They did share a bit of information and a good idea on how you can earn online through affiliate marketing; however, most of it can be found online for free.
If I were you (and you want to earn money without capital), I suggest you join Wealthy Affiliate. It's a program that offers free membership, free training, and two free websites. Newbies can join this platform without risks, as there's no need to pay for anything. You have everything you need to get started including a live community where you can raise concerns, ask for advice, or simply build a connection.
Seasoned marketers can also benefit from my top recommended program. Aside from the advanced training provided, you also have the chance to talk to its founders.
Here Is My Top Recommendation to Start Highly Profitable Online Business from Comfort Of Your Home
The Secret Weapon costs $12.95 and for a program like this, I think the price is reasonable enough. But remember, you will shoulder other costs, too, including:
Paid Traffic via Bing Ads and Solo Ad
InstaBuilder 2.0 $77-$197/year
Email marketing software $20/month


In addition, there will be upsells, which are not surprising at all, because obviously, these guys are after your money rather than providing real value.
Anyway, here's a list of The Secret Weapon upsells:
Upsell 1: Done For You Templates $37
Upsell 2: High Ticket Commissions $197
Upsell 3: Limitless Traffic For 365 Days $197
Upsell 4: Easiest System Ever $157
Upsell 5: Reseller's Rights $97
All in all, the upsells are worth $685! If I were you, I will ignore these upsells immediately because I don't see how it will be of help. I mean, they already claimed that The Secret Weapon can help you earn more than $200 a day, so what else are you looking for? Unless of course, these are all a trap so you can give them more money.
If you want to learn more about The Secret Weapon, you can watch the video below:
PROS
Quality Training Course
If you're new to affiliate marketing or you just want to learn more about it (just don't expect too much), you can take advantage of this legit course online. Just be sure to ignore the paid traffic methods and upsells instead, spend extra time researching for other sources online.
There are a lot of free training materials which can help you improve yourself as an affiliate marketer and one of which is Wealthy Affiliate. Join now for free and get all the training you need.
30-Day Money Back Guarantee
The Secret Weapon is sold on a digital product platform called WarriorPlus.com, therefore it's covered with a 30-day money back guarantee. In case you want to explore the program on your own or you're interested to learn using this platform, you have 30 days to try it and if you are not satisfied, you can simply ask for a refund.
However, I don't think upsells are part of the refund policy so you'll have to double check if they are sold through WarriorPlus.com or not.
CONS
Get Rich Quick Scheme
Although The Secret Weapon is legit, the way they market the program makes it sound like a scam. They say that you can earn $217.43 every single day when in reality, you cannot.
Even if you have created a landing page, you cannot make a sale in a snap, and their marketing methods are just not efficient. I mean, would you click on a link you're not familiar about? Are you going to share your credit card details without knowing the person behind the posts? My point is: you have to build credibility and gain trusts from your potential client first so you can grow your page and create conversions.
And you cannot do this by spamming emails or Facebook groups; not even by using paid ads because some people are wise enough to know whether the ads are ranked because it's paid or because it's high quality.
There's No Such Thing As Secret Method
I don't know what's up with these marketers claiming that they have found the secret method that's never been used before when they know that none of what they are saying is real. A sales funnel is not a new technique. Spamming Facebook and emails are not new marketing strategies. Affiliate marketing is not a new money-making method.
A Bunch Of Lies
On their sales page, it says that you'll know "how to quickly scale things up to $1000+ per week with just minutes per day and without spending a dime out of your pocket." LIE! You've seen the additional costs associated from this program already so you know that you're going to spend a lot of dimes.
Tired of Wasting Time on Low Quality Programs?
I'm so grateful that I was able to find THIS PROGRAM which helped me to finally start making money online!
The Secret Weapon is ideal for marketers or anyone who want to earn online through affiliate marketing. The training videos did share good information about how you can set up a landing page, create traffic, and convert sales. Just be sure to ignore the upsells and other costs and take time to learn from other free resources.
The training for The Secret Weapon covers the sales funnel used by Erik Cagi called InstaBuilder. It also talks about creating different pages, such as the bonus and thank you page, using Bing Ads and Solo Ad, using opt-in forms, and choosing high-converting WarriorPlus offers.
The Secret Weapon has given a good introduction to each topic they covered. You can benefit from it if you have at least a basic knowledge about affiliate marketing. There are tools that you need to set up and if you're a beginner, this can be overwhelming. But although it's provided proper training, you should not expect much about their claims because obviously, you cannot earn instant cash no matter what method you use.
If you're tired of hearing overhyped messages and programs that are only after your money, then join my top recommended platform and enjoy the following benefits:
Free Membership
Free Training
Free Access To A Live Community
Free 24/7 Support
I hope you found my The Secret Weapon review helpful and in case you have any questions or comments, please feel free to drop it down below.
Thank you!
We Constantly Review Programs in "Make Money Online" Niche,
So That You Don't Have to Waste Countless Hours
Want To See Our
TOP RECOMMENDATION?