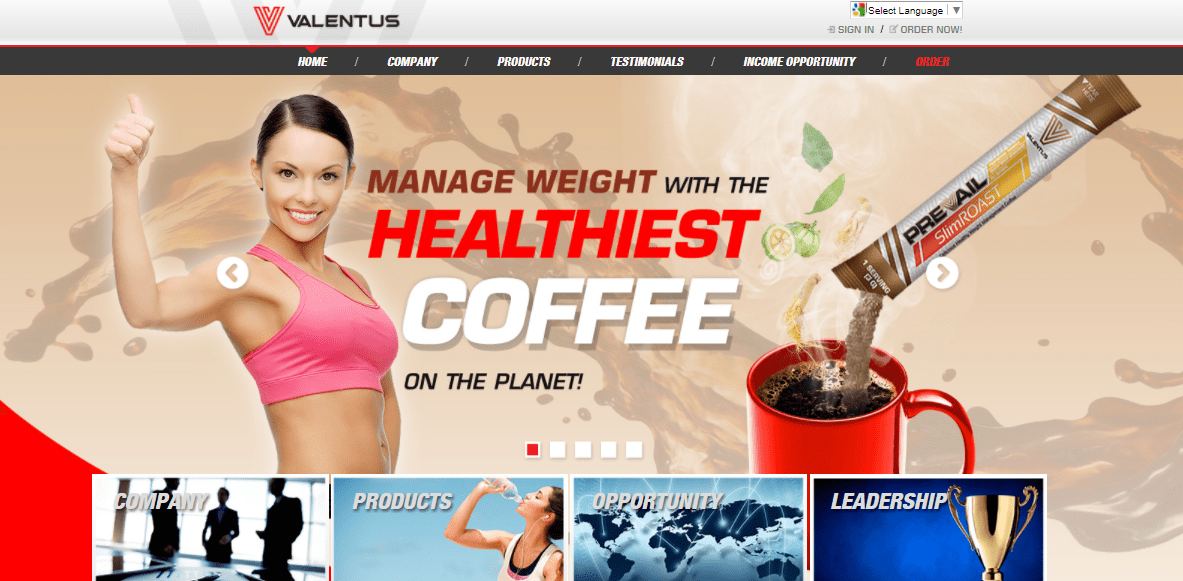 Valentus Review Summary
---
Name: Valentus
Website: http://www.valentus.com
Founders: Dave Jordan
Product Type: Multi-Level-Marketing
Price: $59.95 to $499.95
Quick Summary: Valentus is another MLM nutrition company that claims to have a great product to help you lose weight and at the same time earn substantial income by promoting their products. In my review I will uncover what Valentus offers and the main question: Can you make money with Valentus?
Overall Rating: 4/10
Recommended: No
Founded in 2014 by Dave Jordan, who is a master in the MLM industry, Valentus is a company that sells different types of drinks that help you manage weight. The four original products are:
Prevail Slimroast
Prevail Energy
Prevail Immune Boost
Prevail Trim
These drinks are all natural and range from providing a boost of anti-oxidants and vitamins to the immune system, helping you lose weight and even providing an energy boost.
The business opportunity with Valentus is to join their team as an Independent Representative. How does Valentus work when you join as an Independent Representative? Well, you essentially serve as a distributor of the products and are compensated for your work.
Many people may be wondering if Valentus is a scam, and the answer is NO. Valentus is not an outright scam, but there are some Red Flags that need to be considered before you join Valentus as one of their Independent Representatives.
Valentus is a legitimate MLM company, but over 95% of Independent representatives fail in their model.
This is because you will not make a lot of money just selling the product on your own. There are claims that you make 25% commission, but the truth is that you will need to sell thousands of dollars worth of product every week to see a strong income.
Those who are successful at making money as an Independent Representative for Valentus actually make their money by recruiting others to join their team and sell products. So, is Valentus a pyramid scheme? Sort of, but Valentus has a strong track record to back up their business model.
By the way, a company called Vemma that sells dietary supplements was called a "Pyramid Scheme" by FTC for having most of their sales come from brand partners versus actual clients. Another words their brand partners had to buy product monthly.
So I am not calling Valentus a Pyramid Scheme but being a brand partner of this company can be a risky decision as laws get more strict on MLM companies
Another issue with Valentus is the fact that you will have to buy packs of products to stock your inventory and you will have to buy an entire box of packets. If you are short on Prevail Energy and a customer wants to place an order for a few packets, you will have to purchase – and pay for – a box that contains 24 packets.
If you don't find anyone else who wants the additional product, you can be stuck paying for product that you do not need.
I am Vasiliy,
Discover My Secrets to Making Money Online
To join Valentus as an Independent Representative you will need to pay a $20 Independent Representative Start-Up fee. Additionally, you will also need to stock inventory to sell.
Valentus products are sold in various boxes and range in price from $59.95 to $499.95. The smallest option comes with 24 packets of whichever product you choose, as well as access to the tools, training calls and marketing systems that Valentus offers.
The next largest option costs $129.95 and you will get 24 packets of three different products that you specify, as well as a Gold Rank. The packages go up in price and product totals until you reach the highest one, which will cost you $499.95.
Valentus Compensation Plan
The best way to understand Valentus Compensation plan is to watch this video as it explains everything about:
Fast Start Bonus
Dual Team Commissions
Dual Team Matching Bonus
Legacy Coded Bonus
PROS
Valentus offers a suite of products that are well received
If you can recruit people, the compensation structure is in your favor
$20 to join is relatively cheap
CONS
You have to buy products in large packages
There is no formal training
It is hard to make money just selling products
You need to purchase product every month
There are a few good things that Valentus has going for them, such as a suite of products that seem to be well received from clients.
If you can recruit people to join your team, you have a chance – albeit a slim chance – to make some money. The $20 start-up fee is also on the lower end and there is no annual renewal fee, which is a great bonus.
However, although there are no annual renewal fees, you have to purchase product every month to keep your seller status and be eligible for bonus. That could result in you ending up with massive amounts of product that you cannot move, especially considering you have to buy large boxes of product.
There is also no formal training and if you join a team with a poor leader, you will be hard pressed to keep your head above water.
In order to sell Valentus products, you need to believe in them and have a base to sell to. It is already going to be hard to sell these products and if you cannot whole heartedly get behind them you will have an even more difficult time.
It's always a good idea to try the products first and ensure that this is something you can imagine selling to your friends. Additionally, it's a good idea to plan before you join.
Make a list of people you know that might be interested in either purchasing Valentus products or joining the team. Keep in mind that a small percentage of people on that list will consider buying Valentus, and an even slimmer margin will actually purchase something. If your list is small to begin with, this might not be a good opportunity for you.
After all just like any MLM opportunity you pursue – you have to hustle your family and friends first and then find prospects who will be willing to buy these products. Valentus has good products but just like most MLM companies it's very hard to turn it in to Full-Time income.
FREE TRAINING
Learn How I Started Highly Profitable Online Business in 4 Simple Steps Without Initial Investment with THIS PROGRAM
The training that you receive through Valentus when you become an Independent Representative is largely dependent upon the team that you join.
There are some basic training materials and tools that you will get access to, but the main source of learning will be through your team leader. This can be both good and bad.
If you have a team leader who is enthusiastic and willing to help you through the process, you will have a better shot at finding success. However, if you have a leader who largely ignores you, don't expect any help from Valentus.
So, Can You Make Money with Valentus?
Yes and No. If you are looking for a legitimate way to make money online and want to have full Freedom (what MLM cannot offer) then here is my #1 Recommendation, where you can make money in any interest or passion you may have and it's 100% legitimate.
However if you fell in love with Valentus products and feel that you want to become their distributor and ready to tackle all the monthly requirements they have – then maybe you should give it a shot.
Don't get me wrong there are people who make money in MLM – it's just compare to so many great opportunities out there it's no longer the most attractive way to make money, in fact MLM became way harder than it was introduced back in the days.
Overall, Valentus is an opportunity that might be the right fit for someone, but it is definitely not a good option for everyone.
It borders on being a pyramid scheme, although Valentus does have the bankroll to back it up. A $20 start-up fee doesn't seem like much, but the money you will be spending on product every month can add us as quickly as your additional stockpile of inventory.
If you aren't able to get in with a good team and recruit more people, chances are that you will fall into the 95% of Independent Representatives that lose money through Valentus.
Let me know if you have any experience with Valentus or have any comments on my Valentus review:
We Constantly Review Programs in "Make Money Online" Niche,
So That You Don't Have to Waste Countless Hours
Want To See Our
TOP RECOMMENDATION?