Name: Vemma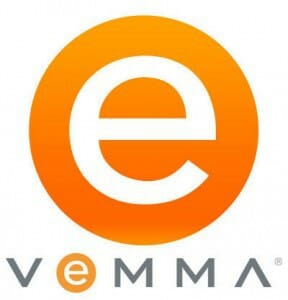 Website: www.Vemma.com
Price: $499.95-$999.95 based on the kit
Owner: Benson K. Boreyko
Overall Rank: 5 out of 10
Who it's for: Intermediate – Expert
WHAT IS VEMMA?
---
Today I would like to review Vemma from my personal experience as I was a member of their brand partner program back in 2010.  I will share great inside information for you to judge whether it is SCAM or LEGIT company.
Vemma is a nutrition company with a series of different products offered through Multi Level Marketing (MLM) business model. Many people review Vemma either for their products or their business model. We will mostly talk about business with Vemma however I would like to share my personal experience with their products as I had subscription and had to buy their energy drink.
Does Vemma really have good products?
There are many reviews online where people in fact are very happy with Vemma products. There are 3 main options to choose from:
Vemma nutritional supplement in 32 oz bottle
Vemma nutritional supplement in  2 oz bottles
Verve – Energy drink
I personally fell in love with their Verve energy drink, it has a great taste and it is definitely a better option for you than Red Bull. I will take Verve any day over Red Bull, the only draw back it's more expensive but if you advance with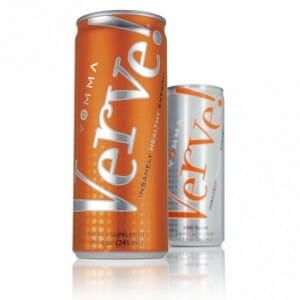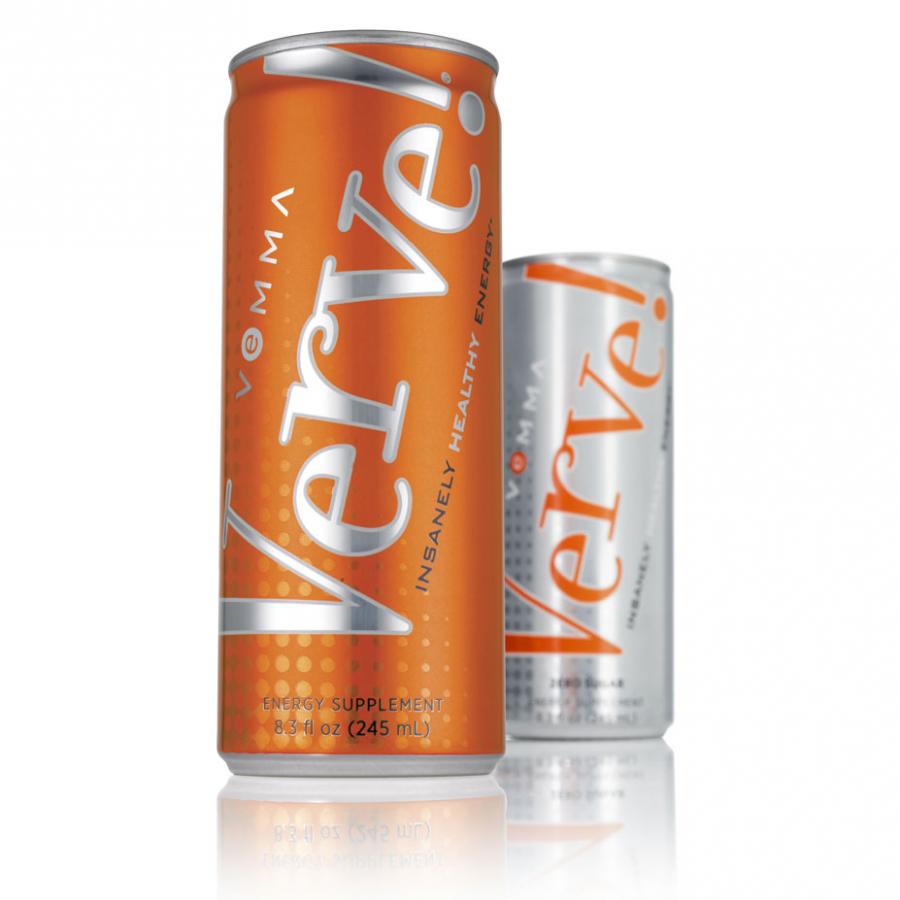 the system and build your downline it becomes nearly Free.
CEO B.K. Boreyko invested a great amount of time in something called: "Vemma Science" to prove their products really have positive effect on people and offer not only great daily nutritional value but also help people fight some of the health challenges they have. All reviews can be found easily in Google with health results people get by drinking Vemma on regular basis. Main ingredients Vemma uses as powerful antioxidants are: Mangosteen, Aloe Vera and Green tea.
How does Vemma MLM system work?
Now let's talk about business with Vemma. When you first sign up to become a Brand Partner or Affiliate you will get in to subscription model forcing you to buy monthly supplies each month. You will also need to build 2 legs from the start to create balanced MLM structure and start earning commission from affiliates. If you sign up everyone only in one leg you will struggle with entire structure and will not earn proper commission just like many typical MLM concepts.
You will also be given your own web page on Vemma's domain and a mobile app to help you navigate through Vemma products and programs. There are general online tutorials as well as local seminars that could be attended on some occasions which mostly focus on how to build your downline. The rest is just all bells and whistles on how to achieve different ranks, bonuses, gifts etc..
I will say not much changed since 2010 when I was first involved with Vemma. I still remember all that motivation I had to start building my downline and consume these great high end products and dream about high earning potential.
PROS/CONS
---
 Pros. 
Overall great products
I personally can't say anything bad about Vemma products and you will find that proof by searching lots of product reviews online.
Cons. 
Not for newbies
Lots of hype, lots of promises, not much practical help
Typical MLM politics whose downline you are in and who will help you and who will not
Outdated education
Vemma controls all your online activities and has very strict policies
Very small percentage of people actually make a living out of it
If you are serious about making money online then consider this:
Vemma just like many other MLM companies still trains new recruits to have little therapy sessions with their friends, relatives, co-workers and everyone you know. This might work out in many ways to either gain new friends or to lose some old friends. If you ever knew someone who was involved in MLM business you maybe noticed they get literally sick with it and try to push their "Best Ever Found" company everywhere they go. And if you ever attend a seminar for MLM companies with actual members it will look like you are in a church where everyone prays to their leaders and company in general.
The thing to realize is that we live in the world of Internet where great money can be made online with your own website reaching everyone globally whether someone is in US or Europe or Brazil.
My first disappointment came along when I tried to figure out how to advertise Vemma's business opportunity and use different marketing channels online. I started getting calls from their support telling me I couldn't do so many great things and only follow their strict policies. It is almost unrealistic for someone with not many friends or relatives to start building downline which will not just earn you pennies but bring actual sizable income. If you are still considering MLM you will be up for some great challenges and will be running around in a rat race unless you have super solid plan in place.
WHO IS IT FOR?
---
Vemma just like most MLM companies is for people with strong personality and good understanding and experience in Multi-level marketing. Most new people start and fail in a very short period of time. Don't just take my words. Here is Vemma's actual commission payout graph for 2013: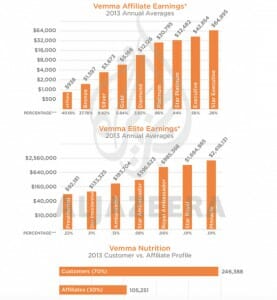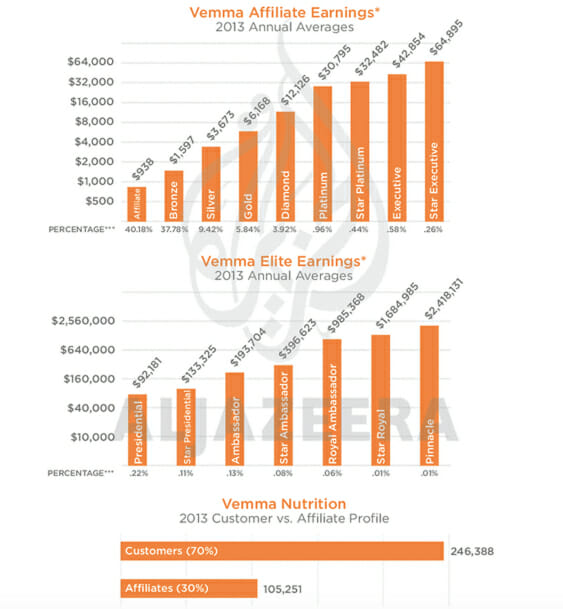 Only 1% of people who actually make good money in Vemma and these are all sponsors at the top: Alcazin family and several others. I have met Brad Alcazin personally. About 80% of members struggle to make money. You can actually see from the graph that not many people succeed in the long term.
It all comes down to keeping hype at the top and use fancy lexicon to make you believe that you can buy that dream home, dream car, vacation etc.. Similar scheme is used in most MLM companies. You have to always work with your downline to make sure they are working, otherwise people quickly lose interest.
TRAINING/TOOLS OVERVIEW
---
When you sign up you will be offered an online training – video tutorials describing all the benefits of Vemma products and business model which tells you how easy it is to start business with Vemma. You can also buy DVD's for $49.95 which are called "Driving Force".  Besides this you can attend local seminars if they are held by your sponsors.
You can go through the training very quickly as there is not much to learn. What you will realize is that once you are ready to build your downline you will need to come up with good pitch for your friends, relatives and anyone you know to recruit in to Vemma.
SUPPORT
---
Vemma offers phone support and online help via email. Your sponsors should be the ones guiding you through the initial steps, that is why it is very good to know who are your sponsors and if you are lucky enough they will work with you.
PRICE
---
You can start out as a Bronze member with just monthly subscription to any of Vemma lines of products for 60 points and will pay something around $80 per month. It will get a little easier if you recruit 2 people as soon as possible to build your left and right legs – this way you will start earning commission.
Other memberships are Silver ($499.95) and Gold ($999.95) which offer mostly higher bonuses and better payouts. It makes sense to upgrade to Silver or Gold if you are building your downline aggressively.
MY FINAL VERDICT
---
If you already familiar with MLM scheme and just curious about Vemma then you will quickly learn that Vemma has different products but business model is all the same.
If you are new to MLM and deciding whether Vemma is the right choice then consider all the information I provided in my review and read other reviews online. I think MLM structure is very much outdated today and can only work for few people who have good plan in place on how to build their business.
If you are tired of scams online and want to learn about real opportunities available online then read my review of Wealthy Affiliate – my #1 Recommended product.
You should always keep in mind that real solid online business takes some motivation and time invested however there should be clear vision and clear path on how to succeed and there should be instant help available when you hit road blocks. Don't ever fall in trap of hype and huge promises to become rich quickly, they simply want your money and looking for people like you to grow their business.
FINAL VERDICT:            
NOT WORTH IT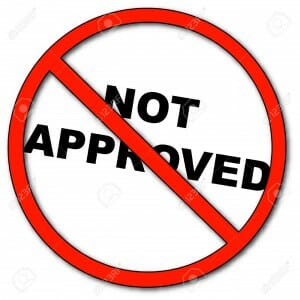 Your guide for Online Reviews Vasiliy. Please leave a comment if you have any questions or comments.