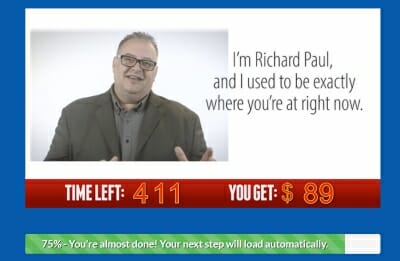 Name: Countdown to Profits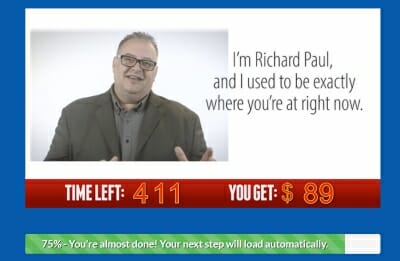 Website: http://countdowntoprofit.org/
Price: $97 to start
Founders: Richard Paul
Overall Ranking: 0 / 10
Who's it For: No one
---
What is Countdown to Profits About?
If you're thinking about joining Countdown to Profits, it's a good thing you decided to do a bit of research first. This is a program that has generated interest, but leaves many members frustrated and scratching their heads. Created by Richard Paul, the same man associated with some other binary scams that you should avoid, this program promises to make you tons of money.
Well if you are wondering how much interest there really is for this program, here are some stats: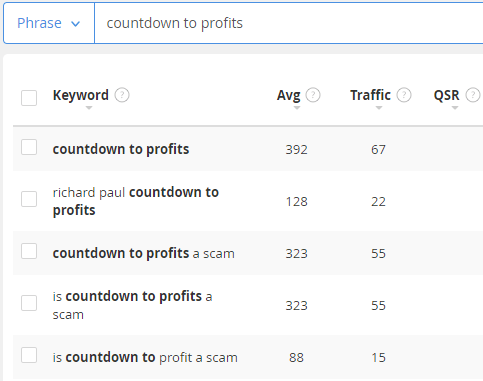 I ran a query in a keyword tool and here are the results. As you can see there are only 392 average monthly searches for their main keyword which means this program really lost a ton of interest already and not as popular as it might have been in the past.  Let's move on to more details:
You'll hear lots about how much money you will make, but little about how you'll actually make this money. That ambiguity should raise Red Flags right there, but we'll keep going.
What actually is Countdown to Profits? Based on the vague information that can be pieced together from the sales page and website, Countdown to Profits looks to be centered on building a website to sell digital products, and creating e-commerce stores.
Seems pretty legit right? They'll even pay you $500 just for watching the intro video! Well, have you ever heard the saying that if something seems too good to be true, that it might be? This theory definitely applies to Countdown to Profits. You just won't realize it until it's too late.
Is Countdown to Profits a Scam?
So, is Countdown to Profits legit or is it a scam? Reading Countdown to Profits program reviews can be deceiving, but I am here to provide you a real review. Keep reading for our unbiased review of Countdown to Profits and analysis of whether it's a viable money making option for you.
The first thing that should raise major red flags is that you don't really know what Countdown to Profits is actually about when you are on the sales page. You will be blasted with fake screenshots of massive paychecks, but that doesn't tell you how you will make money. Is this an MLM business? Is it a list builder? Is there a training program? A legitimate program will be upfront and honest about what you are paying for, but Countdown to Profits is not.
Another issue is that Countdown to Profits uses false promises to attract members. You are promised $500 for watching the intro video. However, once you get through the video you will only get paid if you join the program and do not make a commission in the first 30 days. Even this comes with a slew of caveats that makes it clear they have no intention of paying you $500. That's false marketing and if you haven't stopped taking the program seriously yet, you really should!

Price
The cost to join Countdown to Profits is listed at $97. However, this is only the price until you click to leave the website. Then, it will miraculously jump down to $77 to make it seem like you're getting a great deal. $77 might not seem like much, but it's just the first expense in a long list. Their "millionaire mentors" will pressure you to sign up for other programs and tools by making you feel like you won't have any success if you do not. $77 is honestly just the entrance price, you'll have to pay even more to ride the rides.
Pros / Cons
Pros:
There is a 30 day money back guarantee
Cons:
They lie about getting $500 just for watching the video
The sales page is very deceiving and uninformative
This is a sales funnel for a product called "Automatic Edge"
The owner is linked to other scam programs
Pressure tactics are used to make you act quickly to sign up without thought
There are up-sells
Your millionaire mentor will ask personal questions and upsell you on worthless products
Who is it For?
Simply put, Countdown to Profits is not for anyone. This program is backed by a man—who I am not even sure is a real person—that has been associated with other scams. This is not something that you should want to be associated with. Their marketing tactics are dishonest and they get members to join on false pretenses. There are much better programs out there and you shouldn't join one that is just out for your money!
Training Tools / Support
The type of training you get will heavily depend on your membership level. If you are a Gold Member you will be given training on how to sell digital products and set up websites. Platinum Members also learn how to build ecommerce websites, and Platinum Plus Members will be given access to elite mentors and advanced features like a website blog builders and pre-made website designs. In reality, what you are given are the tools to create a sales funnel for Automatic Edge.
In terms of support, Richard Paul guarantees that he will give you all the websites you need, training, software, advertising, payment processing, and even a millionaire mentor when you pay to join. Having a millionaire mentor at your service seems like a great benefit, when in reality this person is just there to make more money off you. They will ask you very personal questions about what debts, expenses and income you have so they know how much money they can take from you. This mentor is not there to help you, just to upsell you on more worthless products.
Final Opinion / Verdict
So, what's the final verdict on Countdown to Profits? Well, if you haven't noticed yet, I am not too impressed with this program. That's because they are dishonest and are selling a program that doesn't offer any value. They make promises of lofty commissions and $500 rewards just for considering joining, but both of those are false promises. They never intend to give you $500 and right on the website they state that projected incomes are not guaranteed.
I consider a program like: "Countdown to Profits" a glimpse from the past where Internet was overly flooded with "Get Rich Quick" hype type of products. I am sure based on their low traffic overall interest dropped dramatically as people are more aware now that you don't want to waste time on these low quality programs as they don't offer any value.
We Constantly Review Programs in "Make Money Online" Niche,
So That You Don't Have to Waste Countless Hours
Want To See Our
TOP RECOMMENDATION?