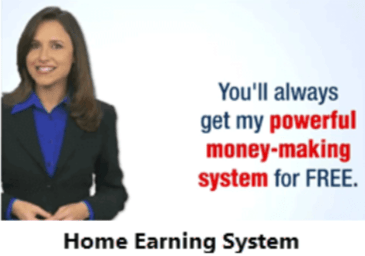 Name: Home Earning System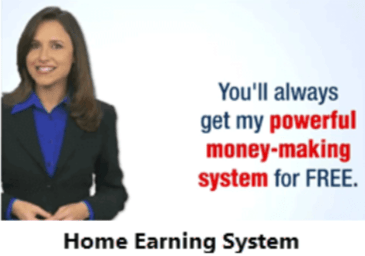 Website: https://homearningsystem.com
Price: $47 to start with + up-sells
Founders: Kelly Richards
Overall Ranking: 0 / 10
Who's it For: No One
What is Home Earning System About?
Do you like the idea of making $1,000 a day working from home? That figure certainly seems appealing, which is what lures people into the Kelly Richards Home Earning System. This system claims that in just 7 minutes you can gain access to their work from system that nets $1,000 a day for members. That seems like it's too good to be true, and that's because it is!
You might read some Home Earning System reviews that paint the company in a good light, but chances are that those reviews are entirely fake and posted by employees of the company. Before you get sucked in to the promises of $1,000 a day, keep reading for an unbiased review of Home Earning System and see what the company is really about.
So, What Does this System Require You to Do?
Well you have to go a little beyond the sales page to really understand this program. For anyone who does not have any experience with: "Get Rich Quick" Scams might fall in for this easily.
Essentially this is affiliate marketing but packaged in a different way. They claim all you need to do is this:
Log in to Your Account
Choose a link to post
Paste that link in to the proper field
Sit Back and relax – let their software do all the magic for you
This is super funny. In reality they want you to post affiliate links on given Free website that you will have and earn commission from that. What you will learn later is that you actually have to write proper content to promote those links and you will have to figure out how to drive traffic. But all of that you will end up figuring out later on.
These are very shady tactics which are focused to get you in and further leave you with many questions.
If You Are Serious About Starting Your Own Online Business – Here is my #1 Recommendation that has full training and the best support in the industry:
Is Home Earning System a Scam?
Yes. Usually there are some gray lines when trying to determine if a company is legitimate or not, but Home Earning System is a Scam, plain and simple. There are so many red flags that come up as soon as you navigate to their website that it's almost hard to keep track of them all.
First, they throw up logos of prominent news brands to make you believe that they have been endorsed by them.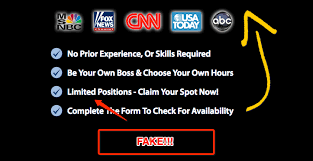 That is entirely not true. These news stations have discussed the value in work from home opportunities, but have never and will never endorse Home Earning System directly. This is just a sneaky marketing play, as is claiming that they are running out of spots in the program and that you need to act quickly. This is a common tactic to make you rush into a decision before doing more research. Truthfully, Home Earning System is out to take your money and they will never turn a paying customer away.
Also, right on the main page there is a disclaimer that nothing on the page "should be taken literally," which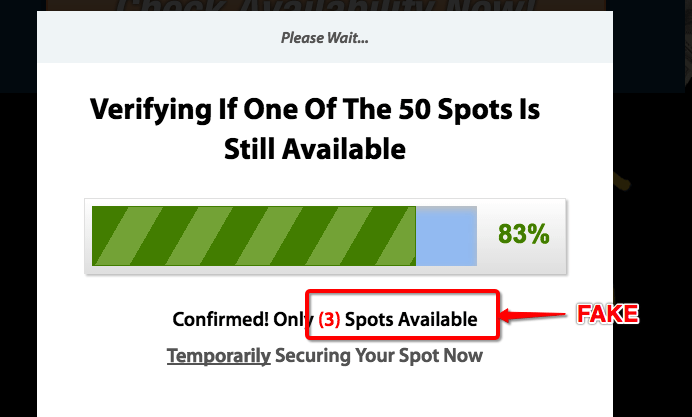 essentially means that nothing on the page is true. This is a massive red flag, especially when combined with the other issues. They will just take your money and keep hitting you with worthless up-sells until you finally get wise and leave their platform all together.
Some argue that a money back guarantee can keep you from being scammed, but Home Earning System has this down as well. They offer a 10 day money back guarantee, but they bill you immediately and it conveniently takes around 10 days for your product to arrive. That means when you call to cancel, their records show that you've passed the 10 day refund period. This is a completely dishonest tactic and is cause to stay away.
Tired of Being Scammed – Here is #1 Recommendation that is 100% Legitimate. Learn More:
Price
Right from the start Home Earning System begins sucking your wallet dry. You are offered a "Free" trial that you actually have to pay $2.97 shipping and handling fee. Okay, $3 isn't too bad, but then once you agree to this, you will also be charged a $135.95 startup fee and another $4.95 monthly. All of sudden this "Free" system is costing you tons of money, and this is just the beginning. As you participate in paltry training and info sessions, you will be subjected to more up-sells.
Pros / Cons
Pros:
Cons:
They use dishonest marketing tactics to convince you to join
There are costly up-sells
They scam you from the start
There is nothing good about Home Earning System when it comes down to it. They are a dishonest company just looking to take your money and offer nothing of value in return. They use dishonest marketing tactics to try and lure in new members, especially by promising the chance to earn $1,000 per day with no experience.
Additionally, you are provided a "Free" trial that is not actually free, and then are subjected to costly up-sells afterwards. Additionally, they claim to offer a money back guarantee, but clearly have not designed their system around honoring that promise. This company will scam you from the start and won't stop until you finally catch on.
Who Is It For
This system is not for anyone. It is an outright scam that teaches you nothing and is something that you should avoid. Home Earning System claims that their program is great for beginners with no experience, but simply put, there is no way that beginners are going to make $1,000 a day with no experience.
What Home Earning System is expecting, is someone that isn't adept enough to recognize their scam. After reading this review, hopefully you can recognize that this program is not good for anyone. The only one that benefits from Home Earning System, is Home Earning System.
Training Tools / Support
When it comes to training tools, Home Earning System completely fails. This whole business is supposed to be built on teaching you how to make money online, but they completely fail to do so. This isn't unexpected seeing as they are just scamming unsuspecting beginners for their money.
In terms of support, Home Earning System also leaves much to be desired. They promise a 10 day money back guarantee and then fail to get the product to the customer within those 10 days, essentially negating the refund period. This lack of support further detracts any legitimacy that Home Earning System might have had.
Final Opinion / Verdict
Home Earning System is a company that you should stay away from. Anyone with an experience eye can tell that it is as scam as soon as you click on their website. They use common dishonest marketing techniques that are often seen with other get-rich-quick schemes and their failure to honor a money back guarantee just adds to it. If you have no experience in online business, you are not going to make $1,000 a day, right away. This takes time and any company that promises you this is lying. There are other viable online business opportunities out there, so don't let yourself become a victim of a scam like Home Earning System.
We Constantly Review Programs in "Make Money Online" Niche,
So That You Don't Have to Waste Countless Hours
Want To See Our
TOP RECOMMENDATION?