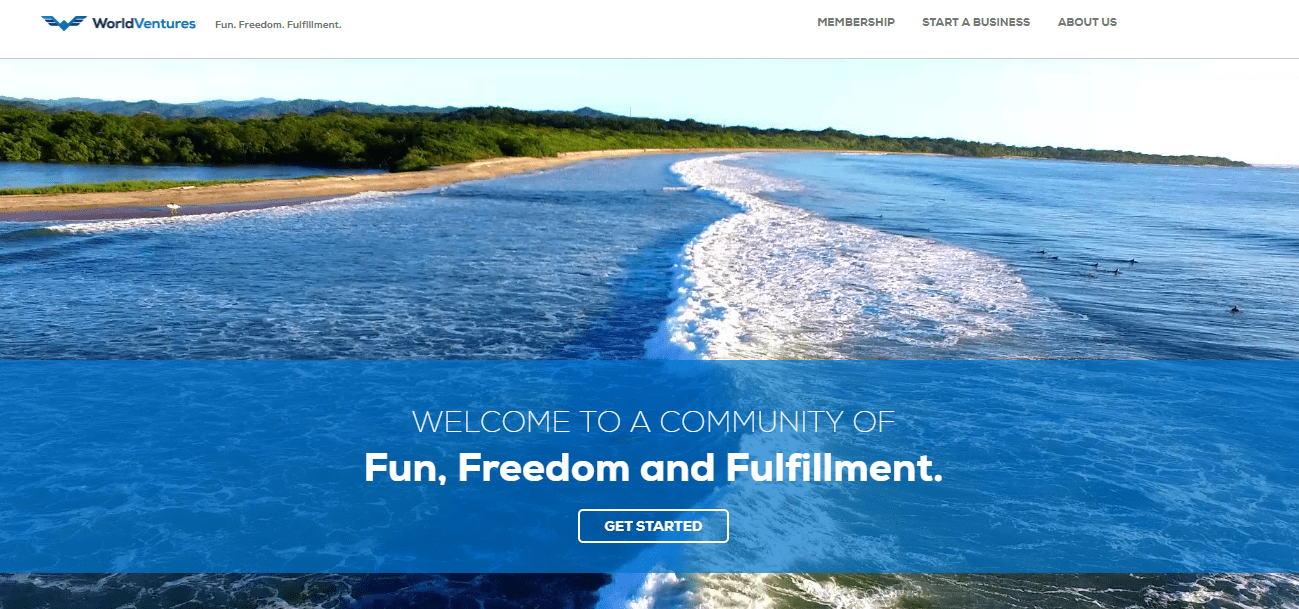 Name: World Ventures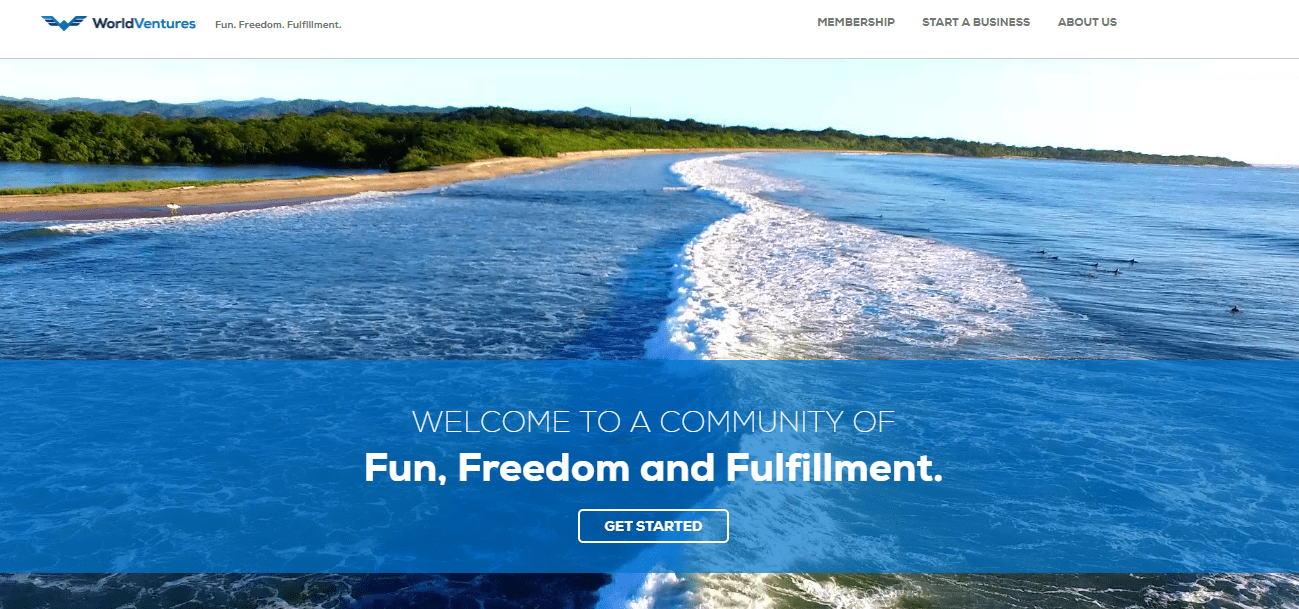 Website: https://www.worldventures.com
Price: $360 plus $60 per month
Founders: Wayne Nugent & Mike Azcue
Overall Ranking: 2 / 10
Who's it For: No One
What is World Ventures About?
---
World Ventures is a company founded by Wayne Nugent in 2005. Nugent wanted to create a company that enhances the spiritual, emotional, intellectual, physical and financial lives of members. This privately held company offers travel solutions to help connect its global network. They offer a platform called: "Dream Trips Life" which is essentially a web scraping software that detects the best travel deals throughout the web and then hosts them on your website.
The trick is that you have to pay to become a member to view these deals. While it is convenient to have them saved in one place, the issue with World Ventures is that you are paying for information that is readily available across different websites. In addition to this, World Ventures does negotiate group rates for members, which adds a touch of value to their offering.
While deciphering whether or not World Ventures offers real value is hot topic, what we're here to review is the Representative Business System (RBS) opportunity. This allows others to make money by recruiting others to join World Ventures. Is it legit though?
Is World Ventures a Scam?
There have been plenty of World Ventures complaints that are aired on the Better Business Bureau website. Many of the World Ventures reviews state that the product overstated and under delivered. The information on the website is readily available on other free internet websites. Convincing people to pay for that is easier said than done.
Another issue with World Ventures RBS system is that recruiters can often be misleading. Many new members are told that the product sells itself, but this simply isn't the case. Convincing people to sign up for a business opportunity where they need to front money can be difficult.
There can also be a lack of support, which leaves members high and dry when it comes to meeting their goals in order to earn commission. With World Ventures there is a lot of risk, especially because the company has such poor reviews already.
Here is my #1 Recommendation for a Reputable Business Opportunity that does not require you to hard sell anything
Price
---
There are a couple different prices that need to be analyzed here. First, there are the membership fees to join the program.
The Dream Trips Gold package costs $249.98, with an additional $49.99 per month membership fee. This gets you 200 travel points (TPs), and another 600 at the end of your first year. There is also a Dream Trips Platinum package that costs $399.98 upfront and $99.99 a month. In addition, if you want to recruit others, you will also need to pay $33 upfront, plus an additional $17 a month after that. Those might seem insignificant, but the fact that you are paying $17 a month to work for the company isn't something you want to see.
Compensation Plan
Just like with any MLM company compensation plain is just like a pyramid where you are placed at the top and then start building left team and right team. The whole point is to keep both teams in balance and earn sales commission.
Here is the best video that explains it:

Pros / Cons
---
Pros:
You can save time by consolidating information in one place
The compensation plans are decent
Cons:
You are paying for information that is available for Free
You must pay to get commission
The company has a bad reputation, which can make it hard to recruit
You have to sign up 4 people in the first 30 days
Any time technology can make your life convenient it is a pro. World Ventures does that by consolidating travel deals from across the web on one website. If you are able to recruit members and convince them to join, they also have decent compensation plans.
While the potential to earn is there, there are many drawbacks with World Ventures. You are paying for information that is already available across the web, which makes it a tougher sell. You also have to pay extra fees monthly to remain in the RBS system. This is a deterrent, as is the fact that World Ventures has gotten such negative reviews. These complaints and poor reviews can make it very difficult to recruit the 4 people you are required to gather in the first 30 days.
How Many People Make Money with WorldVentures?
Here is information directly from BBB that gives you an idea of how many people really earn money and what average commission is like:

It might sound like a little outdated but do you think in 2017 average commission is in thousands? I highly doubt it.
If you are looking for legitimate opportunity that is NOT MLM and allows you to build online business in any niche – Here is My #1 Recommendation: 
Who Is It For
---
For anyone looking to make money using World Ventures, you need to have strong marketing experience. With sites like Expedia, Travelzoo and Kayak that already consolidate deals, there is stiff competition. Also, with World Ventures you need to gather people for in-person meetings, which is outdated and can be difficult to do. You really need to have experience in marketing and sales to pull this off.
However, great marketing experience might not be enough. You need to recruit 4 people in the first 30 days, which can be tough even for great marketers. World Ventures has received many complaints, hundreds of which are listed on the BBB website. This alone can make it difficult to sell packages even for the most experienced sales person. Keep that in mind when you are considering joining, because your ethics might be tested if someone calls you out on the lack of value.
Training Tools / Support
---
World Ventures is often promoted as a business opportunity that sells itself. There are weekly to monthly seminars where leaders of World Ventures present their thoughts and information about the opportunity. However, some of these seminars can be poorly done, or don't take place in your area, and you will find yourself struggling to gain any traction in your recruiting efforts. If you get a sponsor who is not interested in helping you grow, you will be without proper training and support.
Final Opinion / Verdict
---
Overall, World Ventures RBS opportunity is not something that I can recommend. Is World Ventures a Pyramid Scheme? – This is up to you to decide. It is definitely MLM and it has a product to promote, but while it's nice to have all travel deals compiled in one website, getting people to pay for information that is already out there can be a tough sell. Sites like Travelzoo, Kayak, Orbitz and Expedia offer similar services, without costly memberships.
The level of value simply is not there with World Ventures. It doesn't matter how appealing the compensation plans are, if you are unable to recruit people you will not make any money. Save yourself – and your wallet – the hassle and look at legitimate opportunities which are not going to waste your time.