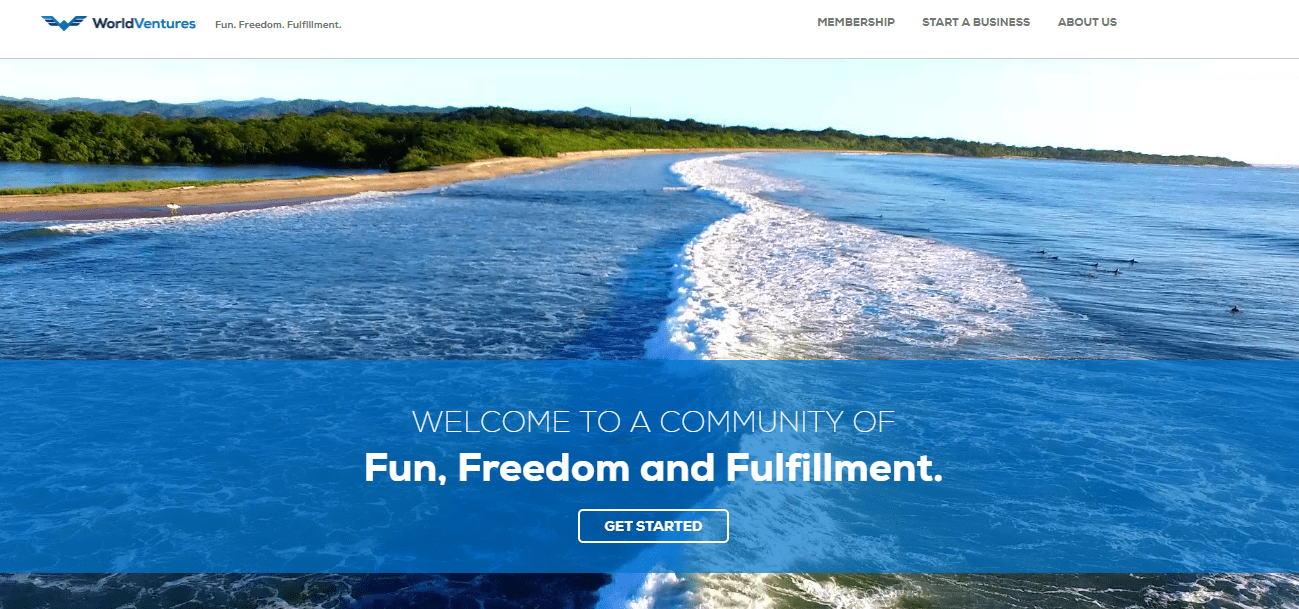 Welcome to My WorldVentures Review!
Good job in making decision to read this WorldVentures review in case you were planning to either join WorldVentures or simply want to learn more about them.
World Ventures has been around since 2005 and I initially wrote this review back in 2017 and it is being refreshed in 2020 with more updated information. Want to know all the details? All the cool stuff and all the ugly truth, well stay tuned as we are going to dive in deep here:
WorldVentures Review Summary
---
Name: WorldVentures
Website: https://www.worldventures.com
Founders: Wayne Nugent
Product Type: Multi-Level-Marketing (MLM)
Price: Many Tiers
Quick Summary: WorldVentures is an MLM company that is kind of like Time Share that offers travel packages through it's own platform called Dream Trips. The catch is that it's an MLM structure which means there are costs to get in to the travel program but then you can also make money with WorldVentures. Is it really all worth it? Well you be the judge and read our final verdict at the end.
Overall Rating: 4/10
Recommended: No
What is WorldVentures About?
WorldVentures is a company founded by Wayne Nugent in 2005. Nugent had a vision to create a company that enhances the spiritual, emotional, intellectual, physical and financial lives of members.
This sounds great, but in reality WorldVentures is:
Privately held company that offers travel solutions to help connect it's global network. They offer a platform called: "Dream Trips Life" which is essentially a web scraping software that detects the best travel deals and then hosts them on your website.
How WorldVenture Gets Deals on Vacation Packages
Think of WorldVentures as just like a Costo Wholesale buyer that goes out there and buys lots of spaces in various resorts around the world and then offers them as retail packages to individual customers. This poses the Good and the Bad:
The Good
Vacation packages can be attractive
Earning points while spending money
Also an income opportunity
The Bad
Options may be limited compare to normal Expedia Travel or Costco Travel
May end up traveling with other WorldVenture members
Recurring monthly fees even if you are not traveling
Have you heard of Time Share?
Some people know what Time Share is and get shivers when they hear this word. We have been in Cancun, Mexico with my wife few years back and we were approached many times starting from airport, hotel, beaches and anywhere we went to go to a presentation which we eventually did - and that was a day completely wasted in our vacation, but at least I learned everything about Time Share.
So WorldVentures is pretty much the same thing - it's just packaged in to MLM structure. Let's just say you decided to go with WorldVentures since you are planning to travel - here are the biggest limitations:
Monthly Fees
Whether you like it or not you will pay monthly fees because people who recruited you have to earn commission from you, so if you are not traveling for some reason, let's say your health or there is global pandemic COVID19 (hopefully never again) you will still have to pay. And for that WorldVentures says this:
So you continue to earn points through eating out etc.. and when you are ready you can use them. If you can really put this program in to use then it's worth for sure, but if you realize you can't earn points all the time - oh well you need to pay those fees.
Limited Availability
Just like any Time Share - WorldVentures has arrangements around the world where they buy spaces in select hotels/resorts. That means I can't just point a finger at any hotel in the world and go there.
Even if that hotel will be in WorldVentures list - it may not be available when you want to go or you may have to partner with our WV members to make it happen. This will solely depend on destination.
It's not that all bad for some people but many others will be shocked finding out these inconveniences. And hope your representative gives you all the details so you know what to expect when you commit to WorldVentures.
The trick is that you have to pay to become a member to view these deals. While it is convenient to have them saved in one place, the issue with World Ventures is that you are paying for information that is readily available across different websites. In addition to this, World Ventures does negotiate group rates for members, which adds a touch of value to their offering.
While deciphering whether or not World Ventures offers real value is hot topic, what we're here to review is the Representative Business System (RBS) opportunity. This allows others to make money by recruiting others to join World Ventures. Is it legit though?
Tired of Wasting Time on Low Quality Programs?
I'm so grateful that I was able to find THIS PROGRAM which helped me to finally start making money online!
How Much Does World Ventures Cost?
This is most updated pricing info on 3 Membership Levels including new Silver plan:
DreamTrips Siliver package costs $25 plus $25 per month. This gets you 0 points.
The Dream Trips Gold package costs $200, with an additional $57 per month. This gets you 140 travel points (TPs) on enrollment, and another 684 at the end of your first year.
There is also a Dream Trips Platinum package that costs $300 upfront and $100 a month and offers 200 enrollment points and 1200 after your first anniversary.
WorldVentures Compensation Plan
Just like with any MLM company compensation plan is just like a pyramid where you are placed at the top and then start building left team and right team.
But it actually gets more complicated as WorldVentures uses 2 types of Organization structures: Lineage and Binary as you can see from their own pdf file.
So basically you earn with WorldVentures using these 2 main ways:
Sell company's products (travel packages) and earn commission
Recruit people in to the system and earn recurring commission
And here is a video below explaining how compensation plan works:
World Ventures offers some good extensive support through the following channels:
1. Support from your leading Sponsor
So if you have a good knowledgeable sponsor then you are in good hands, if not then you have to rely on other resources more heavily.
2. QuickCoach
These are series of videos that you can quickly reference to and get all your answers. So it's like your Quick guide:
3. WorldVentures Advantage
This is their main training and it's geared towards:
Personal development

Recruitment

How to sell

How to overcome objections etc..
4. Live Events
Just like with any MLM company there are lots of Live Events which include:
Training Schools

Bootcamps

Regional Events
If you were wondering whether this company is big - well it's huge and has more than 10,000 members operating in more than 40 countries around the world. They gather huge crowds at their events.
Do People Make Money with WorldVentures?
Here is information directly from BBB alerts that gives you an idea of how many people really earn money and what average commission is like:
First this information was available for year of 2014, but now latest information shows 2016 and it's very similar except in 2016 median earned was $200 compared to 2014 was $40.
Well how about WorldVentures own Income Disclosure Statement and basically saying people make barely any money:
So as you can see people barely make any money with WorldVentures because it's hard to recruit people and sell this business opportunity. And there are so many ways to make money online these days.
FREE TRAINING
Learn How I Started Highly Profitable Online Business From Comfort of My Home Following This Blueprint
WorldVentures Complaints/Lawsuits
Since I initially reviewed WorldVentures in 2017 and now in 2020 complaints are just piling up. Let's just check on BBB website that throws an immediate warning message:
Further more if you do a thorough research then you will find law suits filed in these countries:
Rwanda
South Africa
Uganda
Kenya
Norway
Most recent in California, USA. Here is the case filed
So basically in some places what WorldVentures does is not really accepted as a norm because of false claims of earnings.
This reminds me of another company that I personally was a member of: Vemma that was called a "Pyramid Scheme" by FTC and had to restructure their operations for similar claims.
There have been plenty of World Ventures complaints that are aired on the Better Business Bureau website. Many of the World Ventures reviews state that the product overstated and under delivered.
The information on the website is readily available on other free internet websites. Convincing people to pay for that is easier said than done.
Another issue with World Ventures RBS system is that recruiters can often be misleading. Many new members are told that the product sells itself, but this simply isn't the case. Convincing people to sign up for a business opportunity where they need to front money can be difficult.
While it is not a Scam since it has a product and full business structure but I can't recommend it.
Here Is My Top Recommendation to Start Highly Profitable Online Business from Comfort Of Your Home
PROS:
You can save time by consolidating information in one place
The compensation plans are decent
If you know how to market VW you may be able to enjoy the system
CONS:
You are paying for information that is available for Free
You must pay to get commission
The company has a bad reputation, which can make it hard to recruit
Not a rewarding opportunity based on disclosure statement
Vacation Packages may have limited availability


Any time technology can make your life convenient it is a pro. World Ventures does that by consolidating travel deals from across the web on one website. If you are able to recruit members and convince them to join, they also have decent compensation plans.
While the potential to earn is there, there are many drawbacks with World Ventures. You are paying for information that is already available across the web, which makes it a tougher sell.
You also have to pay extra fees monthly to remain in the RBS system. This is a deterrent, as is the fact that World Ventures has gotten such negative reviews. These complaints and poor WorldVentures reviews can make it very difficult to recruit people in to the opportunity.
For anyone looking to make money using World Ventures, you need to have strong marketing experience and financial pillow.
With sites like Expedia, Travelzoo, Kayak or even Costco Travel that already consolidate deals, there is stiff competition. Also, with World Ventures you need to gather people for in-person meetings, which is outdated and can be difficult to do. You really need to have experience in marketing and sales to pull this off.
So if this fits your lifestyle and you have all above skills then you may become their 1% of people who make money.
If you are looking to start an online business and want a rewarding opportunity that offers lots of flexibility and solid blueprint then here is our #1 Recommendation
Is WorldVentures a Pyramid Scheme?
If you were wondering up until now if WorldVentures a Pyramid Scheme? Even though they have lots of complaints and unhappy members who were promised huge commissions - WorldVentures is not a Pyramid Scheme because they offer a real product.
Members do get commission for referring new partners in to the system but they also sell vacation packages. But this question still remains subjective as FTC and companies around the world tighten their rules on MLM companies when number of complains arise and we know that by examples like with Vemma.
Overall, World Ventures RBS opportunity is not something that I can recommend. Once again Is World Ventures a Pyramid Scheme? – This is up to you to decide.
It is definitely MLM and it has a product to promote, but while it's nice to have all travel deals compiled in one website, getting people to pay for information that is already out there can be a tough sell. Sites like Travelzoo, Kayak, Orbitz and Expedia offer similar services, without costly memberships.
The level of value simply is not there with World Ventures. It doesn't matter how appealing the compensation plans are, if you are unable to recruit people you will not make any money.
Not to mention all the complaints and law suits that put company's reputation on the line including their own disclosure statement showing that it's not that rewarding opportunity after all.
If you are looking for legitimate opportunity that is rewarding and offers great value and tons of support then put in an email address below.
You will get access to:
Fine Business Blueprint
15 Day Business Challenge to Kick Start Your Online Business
Full Guidance
Top Quality Support
I hope you found my review insightful. Let me know if you have any questions or comments below:
We Constantly Review Programs in "Make Money Online" Niche,
So That You Don't Have to Waste Countless Hours
Want To See Our
TOP RECOMMENDATION?