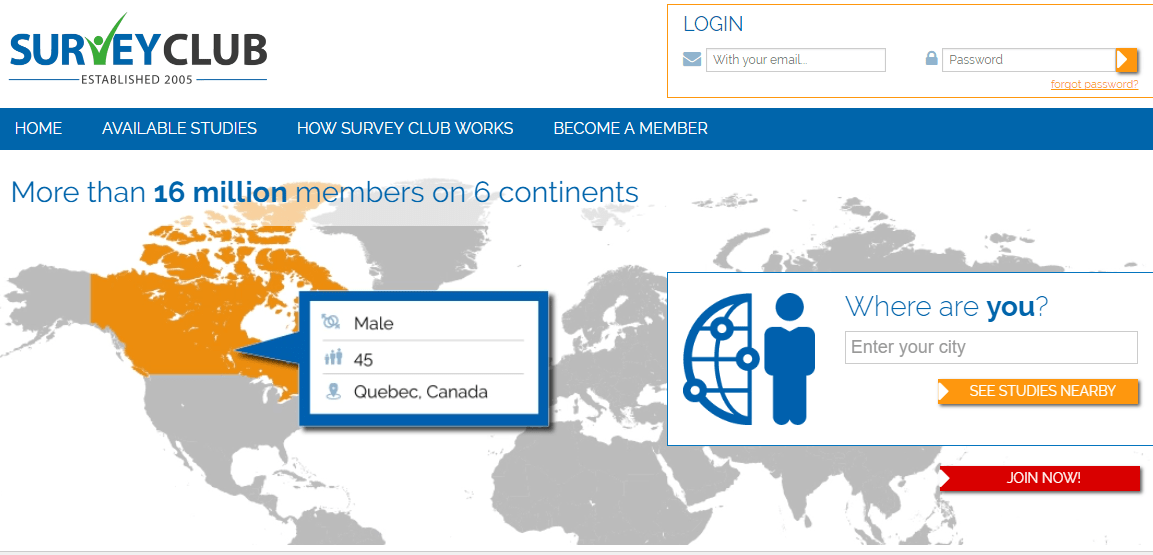 Name: Survey Club
Website: https://www.surveyclub.com
Price: Free to Join
Founders: N/A
Overall Ranking: 6/10
Who's it For: Anyone
What is Survey Club About?
---
Founded in 2005, Survey Club, also known as Survey Club Research, is a free survey directory. You need to
become a member to gain access to the directory and if you join, you will be added to the more than 16 million people that have become a part of the club.
One thing to note is that Survey Club is a directory and not the actual site conducting studies. This research recruitment platform connects companies and organizations with individuals who fit the profile they are looking to study.
The survey site is easy to use, and you simply need to create an account by filling out the "Become a Member" form. Then you complete your profile and tell them a bit about yourself. You are then matched with surveys in your area that you may qualify for, and these are listed under the "Available Studies" page on your Survey Club dashboard. After completing the surveys, your reward is released.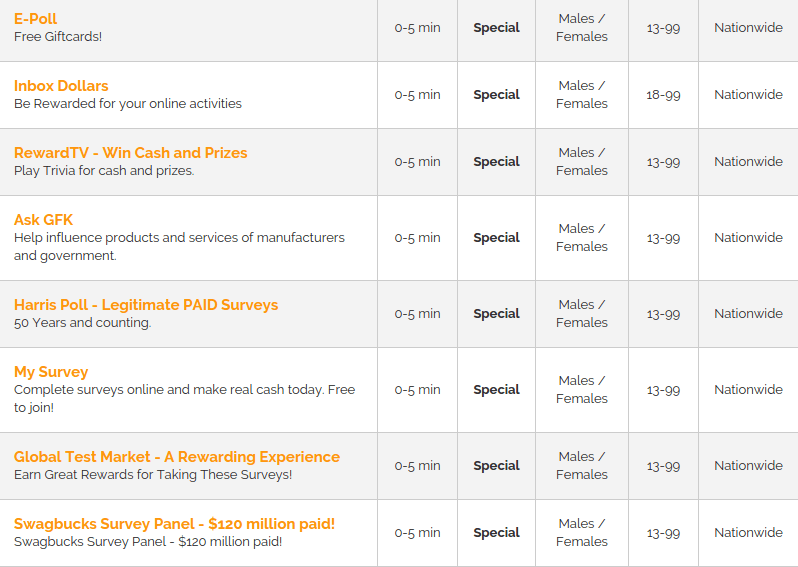 Is Survey Club Legitimate?
Survey Club is certainly not a Scam, but there are some factors that you want to take into consideration. It is possible to generate some extra income using a survey site like Survey Club, but you will need to put in a lot of time and effort. Surveys generally pay more the longer they are, so to cash in any significant amounts you will need to commit larger chunks of time to completing the surveys you qualify for. I have done many surveys in the past and wrote a post whether you can make money with online surveys.
Survey Club also claims to hook you up with Panels and Focus Groups that pay more, but it is unclear if they actually come through on this promise regularly. A lot of your income potential hinges on the demographics that you fall under, so that's something to keep in mind.
While Survey Club is not a scam, there are some frequent complaints that come up in Survey Club reviews. First, is the fact that you are opening yourself up to spam. When you join it is important to keep in mind that Survey Club is essentially a middleman connecting you to surveys from many different sources.
When you join, you are giving permission to have their partners contact you, which often floods your inbox with large amounts of spam, some of which isn't even survey related. You can only imagine how much spam you will have to deal with since all these survey sites require separate registrations.
Another drawback is that, as with any survey site, there are many low paying surveys. In addition to this, there might be long periods where you don't qualify for any surveys at all. This makes it hard to earn consistent income and in reality all Survey Club will help you do is earn a bit of extra income every month.
If you are serious about Making Money Online that can generate Full-Time income I encourage you to read about my

#1 Recommendation. 
What is a Minimum for Cash Withdrawal?
You must earn at least $20 before you can cash out your rewards. This might seem easy, but a lot of people get frustrated from repeatedly not qualifying for surveys and they quit before reaching this amount. Also, not all surveys pay in cash. Some give you gift cards or sweepstakes entries as a reward, so pay attention to what is being offered before taking the time to complete a survey.
Price
---
Survey Club is free to join, which definitely helps lend the survey site some legitimacy. You can go through the entire sign-up without having to fork over your credit card information, so at least there is no financial cost to join Survey Club.  
Pros / Cons
---
Pros:
The directory brings all survey offers into one dashboard

The club is free to join
Cons:
Many surveys are low paying or you won't qualify

You get spammed by Survey Club partners

You can't make consistent income

You are directed to other survey sites
Survey Club is free to join and that means that there is generally little risk associated with trying it out. It's also nice to have many survey options accessible by one dashboard. That makes it easier to sort through viable options and can increase your take home pay.
The downside with Survey Club, is that similarly to most other survey sites, you cannot generate consistent income. There are either few surveys that you actually qualify for, or many surveys that are very low paying. It is easy to become frustrated as you are rejected from surveys or spend lengthy periods of time taking a survey to earn just a few dollars.
Another issue with Survey Club is that you are often directed to other survey sites where you have to sign up for their service before you can take a survey that you qualify for. Essentially, you're signing up for a survey site that occasionally directs you to sign up for other survey sites. This is another factor that members become frustrated with.
 Stop Wasting Time on online surveys and Start Online Business that

Makes Money Every Month
Who Is It For
---
Anyone that is from the United States, Canada, Australia or United Kingdom, and is 13 years of age or older can join Survey Club. This makes it a good opportunity for college or even high school students to earn a bit of extra income in their spare time. You simply need access to a computer connected to the internet to sign up for an account. It is important to know that it takes a fair amount of time to make any real income through a survey site, so you will need to have free time to commit to taking the surveys you qualify for.
Training Tools / Support
---
In terms of training, there is none given. That's because there isn't actually any training needed to begin participating in Survey Club. The Survey Club dashboard is easy to use and every survey or study that you partake in will have its own set of directions to follow. If you do have questions, there is an FAQ section provided on their website that might be able to clear up your confusion.
Survey Club does offer a "Support Desk" that can help should you encounter any difficulties. You can contract them by phone at 813-749-7149, or send mail to their headquarters in Denver, Colorado. They also offer email support through the email [email protected], or the Contact Us form on their website. 
Final Opinion / Verdict
---
So, is Survey Club legitimate? Yes, but it is similar to most other survey sites in the sense that it is very difficult to generate consistent income. However, Survey Club does offer more opportunities than standalone survey sites, because they pull in offers from many different sites. Unfortunately, this feature is often mitigated by the fact that you are required to sign up for these other sites as well in order to participate in certain surveys. While this can be a good option to earn a little bit of extra income on the side, I cannot recommend it as a full-time venture. 
We Constantly Review Programs in "Make Money Online" Niche,
So That You Don't Have to Waste Countless Hours
Want To See Our
TOP RECOMMENDATION?