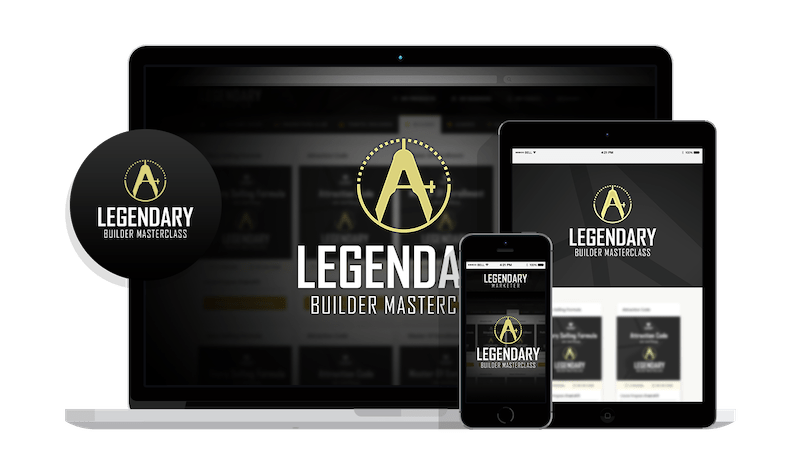 Are you looking for the latest 2020 Legendary Marketer Review and wondering whether Legendary Marketer is a Legitimate business opportunity?
Here is the thing: Most reviews on Legendary marketer online are completely outdated as there are so many things have changed for 2020 since most of the reviews which by the way are written by my fellow Wealthy Affiliate members were written some time back or they only cover very basic information. 
Yes I am also Wealthy Affiliate member but I have decided to take a deep dive in to Legendary Marketer and become their member as well because Legendary Marketer got so much attention for being very attractive high ticket program.
I will uncover some insider information about Legendary Marketer and Dave Sharpe whom I still remember from Empower Network. 
Excited? Let's jump in to this: 


Legendary Marketer Review Summary
---
Name: Legendary Marketer
Website: www.legendarymarketer.com
Founders: David Sharpe
Product Type: One-Level Affiliate Marketing
Price: Starting from $30 a month up to $30,000 (one time fee)
Quick Summary: Legendary Marketer is a High Ticket program that offers education to it's members in form of educational courses. They teach paid advertising and YouTube approach to promote either Legendary Marketer program or any other product out there. Want to know if Legendary Marketer is legit? Well I am here to bring it all down for you like no other review out there. 
Overall Rating: 8/10
Recommended: Yes
What Is Legendary Marketer About?
Legendary Marketer (LM) is an educational course on how to build successful online business by either promoting Legendary Marketer itself or any other product using paid ads and starting a YouTube channel or basically how they say - 1 Free and 1 Paid channel. 
Legendary Marketer has become super popular because being a high ticket program it offers high commission for it's own products or in general they suggest that high ticket products is the best way to go if you want to build highly profitable, sustainable online business and not just some hobby business. And I will explain more on that. 
I have already mentioned Empower Network above. Dave Sharpe was first known for being involved in Empower Network with David Wood. That was also high ticket program and had MLM element in it. 
Dave Sharpe and David Wood got in to some personal issues and their partnership fell apart. So many reviews may rate Legendary Marketer by Dave Sharpe's involvement in to Empower Network which eventually shut down. 
And the biggest fear for most people is whether Legendary Marketer following the same footprint as Empower Network where it will be a short-lived program which will eventually disappear. And that exactly brings us to the next point:
Legendary Marketer Compliance
If you buy any of Legendary Mareketer's blueprints or become their affiliate the first section they are going to show you is their Compliance training which is very intense. Basically this is what it says:
You can't use high income claims in any of the ads 
Income disclaimers have to be used on all sales pages
Legendary Marketer sells education in it's Business Blueprints
and so on...
Basically there is whole legal team that overlooks Legendary Marketer program and constantly screens it's affiliates to stay compliant. And this brings us to the main question:
Is Legendary Marketer Legit?
After carefully evaluating this program I am happy to say that: Legendary Marketer is Legit for the following Main Reasons:
Legendary Marketer is fully compliant to ensure they don't get flagged by FTC
No MLM aspect (can't be a pyramid scheme)
Very strict with what affiliates use in their promotions
No bogus high income claims
Focused on Education 
Lots of training material 
Offers full support via email and over the phone
Now that we answered the main questions let's figure out what is Legendary Marketer is all about and why it stands by it's solid business approach.
Why Legendary Marketer Uses High Ticket Model?
Basically, Dave Sharpe is a big follower of Jay Abraham who is a business executive, coach, author and influencer. Jay Abraham have done lots of analysis in to all types of businesses and came up with these following 3 core principles for highly profitable business model:
Get more customers
Do repeat business with those same customers
Sell high ticket product to existing customers
This explains why Legendary Marketer is so successful and why affiliates promoting Legendary Marketer make a lot of money. In fact below is a screenshot of what Dave Sharpe says what are the attributes of successful business:
This answers questions for most other business models that are considered very hot right now. For example: 
You can basically sell lots of products and make very small margin, so you are constantly in this race to make a small profit.
In fact I am a perfect example of that because I sourced my own product on Amazon and I got outrun by competition as I ran out of money. You can read my review about an Amazon course that I bought for $4,000 here: 
Yes there are many sellers who are very successful on Amazon, but it requires a really good investment. Many sellers lose money on first few products before they find the one that works out finally.
Legendary Marketer Uses Sales Funnels
Here is the philosophy behind Legendary Marketer: 
There are 3 Evergreen niches where traffic only continuous to grow and they are very hot all the time. And it's not really a secret:
Weight Loss
Personal Growth
Addiction
Diabetes
Make Money Opportunities
Investing
Trading Stocks
Software
If you create your business around these Evergreen niches then you are tapping in to enormous traffic potential which is very long lasting as these niches are always hot topics. 
There are also 4 core business models that allow you to use "3 profit activators" we discussed above meaning these 4 business models allow us to get new customers, make business with repeat customers and introduce to them back-end high ticket up-sells:
Affiliate Marketing
Digital Courses
Coaching Courses
Masterminds/Events
Obviously if you are new it makes sense to start with Affiliate Marketing and learn how to market other people's products to gain marketing experience before you move to other types of business models. Although this is not a hard rule, you can also start by creating your own course. 
And this is what a typical Sales Funnel looks like taught inside LM:
You drive traffic from any of the sources listed on the left side in to the funnel. Whether it's Legendary Marketer product or anyone's else product this funnel will lead your prospects to product's sales page where they will get a chance to buy that product. 
And then you follow up with an Email series offering education and help, since most people will take 3-7 follow ups in order to make a decision on their purchase.
And this is why I also became I stronger supporter of switching my funnels to Email because most people just come to your offer and leave, but if you captured their email then you still have connection to them. 
Is It Ethical to Sell High Ticket Products?
The reason I want to bring this up - is because Legendary Marketer is criticized a lot for being a high ticket program. It all depends how you look at it. I can criticize them as well or I can give you another perspective. 
First let's get into some examples whether it's ethical to charge more $$$ for something you could get cheaper: 
Why People buy Porsche Panamera for $80,000 when they could buy Toyota Camry for $25,000 here in United States
Why buy and IPhone for $699 when you could get Samsung Galaxy A series for about $300
Why would you buy Tesla Model 3 for $40,000 or Nissan Leaf for $30,000
A list of examples can go on and on. The simple answer is VALUE. And that value can be in any form. 
To many people it's more valuable to drive Porsche Panamera because it raises their social status. If a person is a Business owner and makes good money he wants to associate himself with luxury items to have high social status that portraits him as a successful person. 
Or people want an IPhone or IMac which is 3 times more expensive than regular computer because it offers certain quality that people are ready to pay for. 
If you can offer value then you can have a business model where you can introduce up-sells. A typical classic example is Apple.
Here is something called a Value Ladder that is taught in Legendary Marketer and it uses Apple to illustrate how up-sells work with high ticket products:
First you would buy an IPhone, get hooked to it and then buy other more expensive products. This model is applicable to many companies and is used successfully. In case of digital products we can't picture the same value ladder because we have natural belief that everything should be either FREE or offered at very little price of like $49. 
And this is where most online reviewers like to compare Legendary Marketer to Wealthy Affiliate and point out the up-sells Legendary Marketer has where Wealthy Affiliate has only 1 monthly fee of $49. So let's quickly compare Wealthy Affiliate vs Legendary Marketer.
If you never heard of Wealthy Affiliate then please read my Wealthy Affiliate review here. It's a program that is bench-marked against all other programs in Make Money Online niche space and Legendary Marketer is no exception. 
Legendary Marketer vs Wealthy Affiliate
As a Wealthy Affiliate member this is the comparison chart I would usually use as it is offered inside WA and it highlights the main features of Wealthy Affiliate which many other programs simply don't have:
Now let's say I want to do same comparison but highlighting Legendary Marketer's features against Wealthy Affiliate and use Legendary Marketer's angle and this is comparing if you were to promote Wealthy Affiliate (like I do) or Legendary Marketer and what features would be available:
| | | |
| --- | --- | --- |
| Are there daily webinars by Owner?  | | |
| Is there private coaching by phone | | |
| Is there a sales team to help you close a sale | | |
| Are there video marketing resources for affiliates | | |
| Can You Make $1,000 in 1 Sale promoting a program | | |
| Is there new training for affiliates every week on new angles to promote the program? | | |
I can write these comparisons whichever way I want and make either program more attractive. It really depends what is my motive. 
What I can say is that Wealthy Affiliate is great for newbies who are on a tight budget because WA teaches you how to create a blog and start promoting either any product that you want or Wealthy Affiliate program itself. 
But then Wealthy Affiliate is more of a self-learning service where you go through online program at your own pace, interact with other members and get Weekly webinars. 
And creating a blog is a TON of work. I know this because I did this and many people simply give up as they can't handle this stress of constant writing. In fact I have a full-time writer for my blog as I couldn't continue writing consistently since I have Life as well. 
Having a blog is a great asset as it gives you Free traffic once it gains traction, but getting it up to speed can take significant efforts. 
If you have a way to invest in to Legendary Marketer - it's a faster way to build very rewarding online business. They have members who earned $1 million in less than 2 years.  
Let's just throw some broad theory here: For Wealthy Affiliate members to start making $10,000 a month would take about 434 affiliates actively paying for their membership on monthly basis. As I know most members who stick around upgrade to Yearly, which means you need more affiliates to get to $10K mark. 
With Legendary Marketer it may take only 5-10 sales per month to hit $10K per month because of it's High ticket model. Do you see the difference?
But if you say well WA has recurring commission - guess what LM has it too - its called Marketer's Club and - yes people really do pay for it and you get $18 per month. 
Can You Promote Other Products with LM?
Yes Legendary Marketer will get you started first with promoting lower ticket programs just to get a feel for sales if you are completely new in this industry. They have a philosophy that you need to learn to start making money fast to get motivated and move to high ticket products. I will talk more about new: "Decade in a Day" live webinar down below. 
So no it's not all only about promoting Legendary Marketer, you can promote other products. It's just promoting Legendary marketer is so rewarding that it simply makes sense to do so and here is why:
Multiple up-sells
High commissions
Full-time sales team to assist you close sales
Full-time support for your affiliates by LM
You literally drive people in to a Sales funnel and the rest is done for you. Am I saying it's super easy - No. You still need traffic whether it's Free or Paid and I will cover that in the Training section. 
How Much Does Legendary Marketer Cost?
Let's first start with 3 ways you can get in to the program. So if you are curious about trying 15 Days Business Builder Challenge I will show you all the ways you can enter it. This is Insider information not covered in any review. 
Legendary Marketer Entry Points  (Below images are clickable)
These are 3 ways to get in to 15 days business builder challenge. It's not FREE but you pay as low as $1 to get good resources and enter 15 Days Business Builder Challenge.
I would choose either Copywriter's playbook for only $1 or an Ebook for $1.99. Both offer very good value and also give you access to 15 Days Business Builder Challenge.
If you decide to invest in to education with Legendary Marketer below are the prices once you get inside:
Omni Branding Formula - 1 time payment - $67
This is what Dave Sharpe calls: " 7-days of content for Facebook, Instagram, and Youtube in 1-hour". He gives all information in this tutorial to get started onn social medial quickly. 
You get 5 modules of recorded video training. This is what modules include: 
Module 1:

The Omni-Branding Formula Foundation

 
Module 2:

How To Find Your Million Dollar Message

 

Module 3:

The 5-Minute Topic Hack

Module 4:

My Complete Equipment List

Module 5:

How to Outsource Everything For Pennies On The Dollar!

 
Marketer's Club -monthly subscription - $30.00
Marketer's club has a series of videos that teach how to build and grow online business. You will have examples from You Tubers like Nathan Lucas and lots of educational materials by Dave Sharpe and Matt Heltzel (CMO). 
Every week there is new information updated as to what new strategies have been introduced in to LM and what works well. There is also weekly Q&A session to ask any questions. 
Affiliate Marketing Business Blueprint - one time payment -$2500
 Business blueprints are the core products of Legendary Marketer and they give you access to all the educational materials. (This is most updated info) You get access to: 
"Decade in a Day" live workshop
Affiliate Marketing Business Blueprint
Digital Course Business Blueprint
Coaching Business Blueprint
Mastermind Business Blueprint
BONUS: 4 Done-For-You Campaigns (Ads,copy,product)
BONUS: Free Traffic to Daily Passive Commissions Youtube Secrets
BONUS: Private Business Blueprint Facebook Community
BONUS: The Million Dollar Marketer Mindset Audio
BONUS: New Business Consult with a Corporate Analyst
I will discuss Business Blueprint more in the training section. The newest additions are "Decade in a Day" and Traffic University. 
Traffic University - $1497 - one time payment
This is new addition in to the program. It is included in some Business Blueprints, but can also be purchased separately. Essentially it gives you all the Done-For-You Ad Copies. 
Basically all ads that LM uses on Facebook, Youtube, Google Ads - will be given to you. So it's kind of like copy/paste system. Traffic University is constantly being updated with latest marketing strategies. 
So let's say you already getting familiar with online marketing but you need some guidance in creating ads and writing effective Ad copies - you can just buy Traffic University and skip other products. 
Masterminds 
There are so many things have changed with Masterminds. And this will debunk some of the myths you will find online about Masterminds in Legendary Marketer. 
Some Business Blueprints include 1 ticket to Mastermind events
You don't have to buy Mastermind if you don't want. If you become an affiliate of LM you can still get commission if someone buys a Mastermind even if you didn't buy it. 
Affiliates buy Masterminds if they already making money and simply want to meet Dave Sharpe and other top affiliates
So Masterminds are not part of the actual Education. They are completely optional. Now let's talk about Training and Support.
15-Days Business Builder Challenge
I have outlined above all the ways you can get in to this challenge. You can literally spend $1 - get Copywriter's Playbook and watch 15 days of training by Dave Sharpe. This training is more than 15 hours of real marketing videos where you will learn about:
Sales Funnels
Lead Generation
Mindset
Where Industry is Going
Earn $1000 without any marketing tools
Why other online opportunities are hard to succeed in
It's a lot to list. Hours and hours of real marketing education and all the feedback from people who bought Legendary Marketer. 
Decade in a Day
If you buy one of the Business Blueprints you will get an invitation to a Live workshop with Dave Sharpe and Matt Heltzel called: "Decade in a Day". 
This is where all the knowledge and experience Dave Sharpe and Matt Heltzel have will be shared with you in this coaching session. You will get 4 Done-For-You marketing campaigns. 
You will then build your first Sales Funnel and start promoting products from Clickbank. The idea is to start making commission fast, so that you get a taste for this business model. 
In fact Dave Sharpe says that if within a week I believe you won't get your first commission you will get intense coaching to the point until you get your first sale. 
Personal Advisers
When you get in to 15 -Days Business Builder Challenge you have an option to get a personal adviser who will connect with you on the phone and help you with your business plan. 
Obviously they will promote Business Blueprints, but they tend to be not pushy at all and more in a way to answer all your questions especially if you are completely new and just starting out. 
Private Facebook Group
There are few private groups for members who purchased Business Blueprints and Dave Sharpe with his team share new ideas on how to promote products including Legendary itself.
For example here is the latest strategy to use TikTok. TikTok? Am I serious? You won't believe how powerful it is and here is a Free Video - check it out:
So there are daily coaching sessions from Monday-Friday on Facebook and they really share real marketing. I mean I have been in the industry for some time and I appreciate the fact that you get to learn new ideas, strategies and real implementation of it, not some bogus theories. 
Email Support
I included this because you can email Legendary Marketer Support, but I would say 99% of all questions will be answered inside Facebook private group by Matt Heltzel or other members. 
PROS
Very rewarding opportunity
Offers real education
Ton of support
Lots of new ideas
Many Done-For-You campaigns
CONS
Pricey if you are on a tight budget
Requires Investment in to other tools
Basically, despite buying a program you will also need your ClickFunnels or something similar platform and auto responder in order to run your marketing campaigns. You will need to spend money on ads, but because of Done-For-You campaigns costs can be significantly optimized. 
And there are also Free ways to get traffic which is super powerful. It's just Free traffic requires some work to build a brand. 
Legendary Marketer is for those who are serious to start online business. It's for people who want solid online business and are ready to invest some money and time. 
It will work for both newbies and experienced marketers who've been looking for rewarding opportunity. When I fully discovered LM I already had traffic on my website and I started getting sales from LM almost immediately. 
If you are on a really tight budget and you are OK to take some time to build your business then I recommend Wealthy Affiliate as it's a cheaper alternative where you can create a blog similar to mine and work your way to get Free traffic. 
But quite honestly I am finding out now more and more that building online business is faster with social media. You are able to show yourself more and create a huge following which sells better. Blogging should be supplemental to the social media. This is just my take on it. 
Final Take on Legendary Marketer
As you can see I have uncovered what Legendary Marketer is All About. This review is very different than most reviews that you read online. 
You can call me bias for showing the good side of LM, but the fact is I promote close to 5 programs that cover different segments of Online Business and Legendary Marketer is at the top of my list for work-reward ratio. 
Yes Legendary Marketer is a high ticket program, but you can either walk away from this or use them to your own advantage. It's really just an option. 
Do you want to make $$$ or $. I say all this because I have been through many hoops and realized that at the end of the day your efforts need to be compensated well or else you will struggle online and simply quit. 
Let me know in the comments what you think about Legendary Marketer and if you have any experience with them. I know that in early days Legendary Marketer had less features and overall looked like of a lesser value than it is now, so it got lots of criticism overall. But looking at it in 2020 and gaining insider access I can see why people want to promote it. 
Affiliate Disclaimer: I hope you enjoyed my Legendary Marketer review. Please note that some of the links you find in this article are affiliate links to Legendary Marketer. I am an affiliate and may be compensated for promoting Legendary Marketer. Thanks for your time.
Legendary Marketer FAQ
Is Legendary Marketer a Pyramid Scheme?
No Legendary Marketer is not a Pyramid Scheme since they don't have MLM aspect in their business model. It's an educational program on how to become a digital freelancer.
Is Legendary Marketer Worth It?
Based on What I know now - yes it's worth it as it offers very rewarding opportunity and very solid Business Blueprint