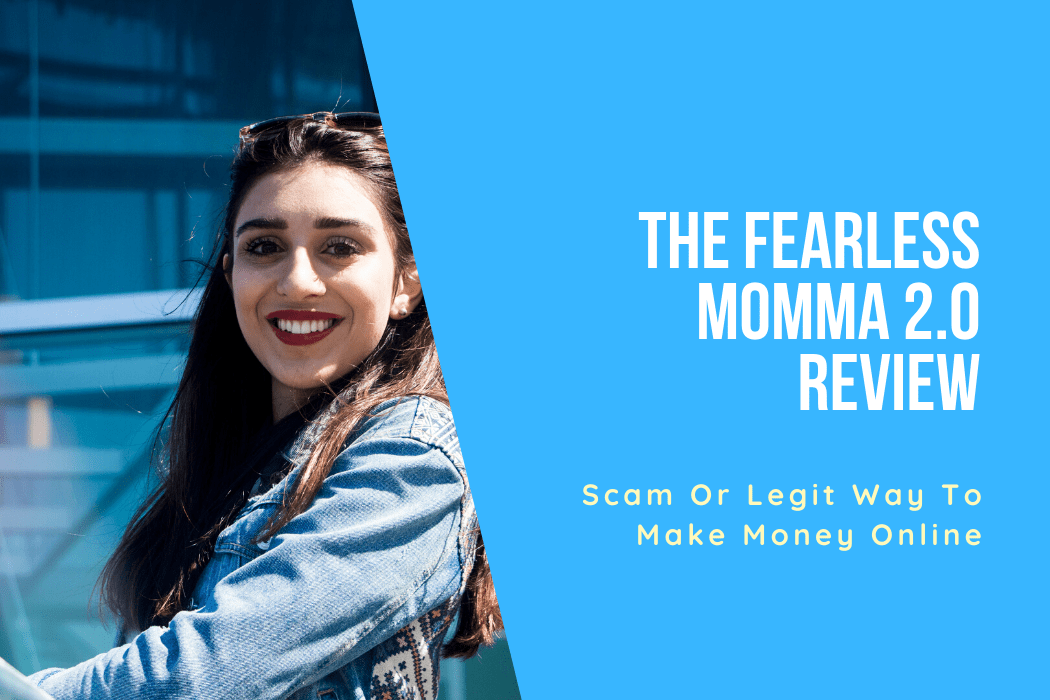 Welcome to My The Fearless Momma 2.0 Review!
Without a doubt, there are many ways to earn online. There are opportunities with affiliate marketing, home-based jobs, online businesses, etc. There's also a business model called "multi-level marketing" or MLM.
The Fearless Momma 2.0 Review Summary
---
Name: The Fearless Momma 2.0
Website: www.thefearlessmomma.com
Founders: Tammy Montgomery
Product Type: Multi-Level Marketing / Email Marketing
Price: $250
Quick Summary: The Fearless Momma 2.0 gives an opportunity to make money by selling the product and recruiting other people. At first glance, it has an MLM structure since you are compensated for making a sale and recruitment but it won't be long until you realize that it's more of a pyramid scheme in disguise.
Overall Rating: 1/10
Recommended: No
The problem is, it's challenging to spot a legit offer from a fake one, especially when the claims are too hard to resist, such as the one from The Fearless Momma 2.0. According to this platform, you can make $250 from their system in just a few days.
If you've been testing various money-making platforms for a long time, you'll easily know if the claim is real or not. But of course, we don't want to draw any conclusion without the facts so if you're interested to learn more about The Fearless Momma 2.0, here's an honest review for you!
What Is The Fearless Momma 2.0 About?
The Fearless Momma 2.0 makes a tough title, and I did wish that it offers a legit way to make money online. The problem is, once you check their website, you'll instantly know that it's nothing but crap.
No other details are provided other than the white screen and random testimonials. It's structured as an MLM, compensating you for making a sale and for inviting new people but let me tell you one thing, it's not a legit network marketing program.
I'm not a fan of MLM but just to be transparent, it's a legit business model with a real opportunity to make money. There are a lot of risks, however, such as paying for expensive membership fees, selling overpriced products, and the need to recruit. But compared to a pyramid scheme, you are selling tangible products on this platform.
A pyramid scheme, on the other hand, only focuses on recruitment. Yes, they may cover their real identity by asking you to sell "products or systems" but whatever it is, it has no value.
How The Fearless Momma 2.0 Works?
As mentioned, there's nothing inside their platform other than the bold claims and an orange button. So if you want to join (please, don't), all you have to do is click it and enter your email address, which, for me, is a red flag already. Why? Because they have your email address ALREADY and that means they can spam you anytime.
Anyway, once your email address has been verified, you'll see a 4-minute video that talks about how the system works.
To get started, you need to pay a certain fee. This will give you access to their training materials and the opportunity to make money.
As you dive into the system, you'll figure out that they're using "email solo ads".
If you're not familiar with this email marketing technique, it's basically paying a list owner to send your email to a list. It works like this: let's say you have an email message -- this includes your content and links -- but you have little to no email address on your list.
To make a sale or get traffic using your email, you will pay me (list owner) to send your email. This type of marketing has its own pros and cons but if there's one thing I'm certain about, it doesn't guarantee anything. For one, your message will be received by a random person so there's a chance that it will go to the Spam folder or will be deleted immediately.
Anyway, in the video, Tammy Montgomery, who is the owner of The Fearless Momma 2.0, also talked about being an affiliate of another program called "Six Figure Empire." I did a quick research and found out that it's a high-ticket platform that works almost the same as Tammy's program.
It sounds like The Fearless Momma 2.0 is a sales funnel created for the Six Figure Empire.
The Fearless Momma 2.0 Compensation Plan
The compensation plan for The Fearless Momma 2.0 is simple. If you don't make a sale, you don't get a commission. The good news is that you get 100% commission so if you can sell the program to one person, you'll get $250 in return.
The problem is how it's marketed. Again, you are spamming people so there's a small chance to earn.
To learn more about The Fearless Momma 2.0, you can watch the video below:
Is The Fearless Momma 2.0 A Scam?
I can't directly tell you that The Fearless Momma 2.0 is a scam but I guarantee you that this is not what you want when you want to make money online. There are too many RED FLAGS and I'll discuss these below:
No Sales, No Commissions
As mentioned, you are only compensated when you make a sale. As stated in their FAQ section, you are getting a resell license for paying $250 and you can only earn once you've convinced another person to join the platform.
Similar To A Pyramid Scheme
Since the focus is on recruitment, there's a chance that it's another Ponzi scheme or pyramid in disguise. According to SEC, you can spot Ponzi schemes using these warning signs: claims of "guaranteed" income or investment, unregistered firms, and being secretive or providing little to no details at all.
Also, The Fearless Momma 2.0 has no genuine product to sell, so that alone is a red flag.
Pay To Play
First of all, you cannot access the platform and earn unless you pay $250. If it's a legit MLM business, this is normal but you'll get tangible products in return. With The Fearless Momma 2.0, you get nothing except the training. The rest is up to you -- no sales, no commissions!
To become a member of The Fearless Momma 2.0, you have to pay $250. This fee includes the training resources that are basically about marketing the program. To be honest, this is not the first time I've encountered such a product. It's almost the same as Legendary Marketer where members earn by promoting the program itself.
In addition, if you want to earn thousands worth of commissions, you can purchase their upsell, which is the Six Figure Empire platform.
Worth it?
I don't think so. While it's structured like an MLM, it's also similar to how an affiliate marketing program works. The difference is the practice -- it's more ethical since you don't send email messages to random people. Instead, you create content where you can insert your unique links. Once a person purchases a product or completes an offer using your link, you'll receive a commission.
The best part is -- most program, such as Wealthy Affiliate, offers it for free. All you have to do is sign up and take the training to learn more.
Here Is My Top Recommendation to Start Highly Profitable Online Business from Comfort Of Your Home
No one!
The Fearless Momma 2.0 has a lot of bold claims and red flags. I'm not saying that you can NOT earn from this platform; there might be a tiny chance for someone to get interested, and that is if that someone is not the type of person who reads reviews.
But nowadays, many people check feedback online before they sign up for an offer and in case they find out what the program is really about, there's a chance that your email will be ignored.
Tired of Wasting Time on Low Quality Programs?
I'm so grateful that I was able to find THIS PROGRAM which helped me to finally start making money online!
The Fearless Momma 2.0 has about 7 modules and 4 bonus training. It talks about how to market the program which can be helpful in case you're starting a business online. However, I believe that there are other legit guides on how to make money over the internet that won't require you to pay a huge amount.
The Fearless Momma 2.0 is the kind of program that I would avoid at all costs!
The website alone is enough to tell me that this platform is up to no good. Sure, there's a slight chance to make money but honestly, would you really open an email from a random person?
Are you willing to pay more than a hundred bucks for a system that doesn't explain how it works in the first place?
Also, it's 2020! Do you still believe that you can make money -- in a short time -- even without skills and expertise?
Making money online is possible but it's not easy. It takes time and hard work, just like how you make money when you have a job or business. That being said, you need skills and expertise.
Lucky you, my top-recommended program offers ALL the tools you need to get started, whether you're a beginner or a seasoned marketer. Sign up now and take advantage of the following benefits:
Proven strategy to work smart and earn a lot (literally)
Step-by-step guidance
Best possible support including your own training coach
Lots of training resources
My personal help
And so much more!
As always, thank you for reading my The Fearless Momma 2.0
We Constantly Review Programs in "Make Money Online" Niche,
So That You Don't Have to Waste Countless Hours
Want To See Our
TOP RECOMMENDATION?