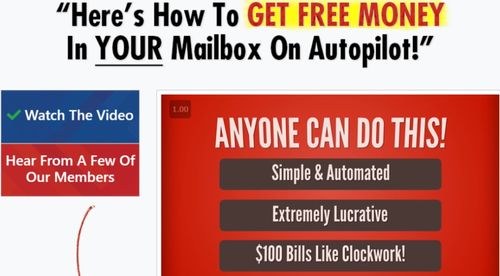 Club Cash Fund Review Summary
---
Name: Club Cash Fund
Website: clubcashfund.com/legal.php
Founders: Undisclosed
Product Type: Recruitment Platform (Almost Like A Pyramid Scheme)
Price: $80
Quick Summary: Club Cash Fund works almost like a pyramid scheme because you will be required to invite new people to join the platform. However, there are no tangible products to sell and you can only earn commissions for successful referrals.
While there's a good chance that you'll be making money using this program, it's unstable and there's no guarantee that it will last for a long time.
Overall Rating: 3/10
Recommended: No
And now, I bumped into another website called Club Cash Fund and in an instant, I know how it'll end up. But then, I can't just call it a scam without finding out what it really is. So I did some research and I found out the TRUTH about this program.
So if you want to know if this platform's different from the rest or if Club Cash Fund is a scam, just sit back, relax, and continue reading.
What Is Club Cash Fund About?
The first time I visited their website, I only found these things -- Terms Of Use, Privacy Policy, and Income Disclaimer. Apparently, you can't access their website unless a member invited you to join them.
Anyway, Club Cash Fund is a business model that will require you to invite more people to join the program. It works like a multi-level marketing (MLM) company but since there are no tangible products and the only way to earn cash is by recruiting more people, it's similar to a pyramid scheme.
While pyramid schemes often come with a high upfront cost, Club Cash Fund do not but other than the price, the rest of their method is the same.
On their website, they claim that the method is simple and automated but in reality, it's not. You'll have to invite other people to join the program manually. Therefore, your main goal is to promote the system and you have no other products to choose from. You're not going to sell any item but the platform alone, thus making it sound like a pyramid scheme.
This makes the business model unstable. Since you have no real products to sell and you only rely on recruiting members, there's a chance for the company to shut down anytime. Actually, it works and sounds like the two platforms which have been shut down by FTC -- Digital Altitude and Mobe.
Basically, you have to send cash to them and hope to get money in return from other members. To be honest, there's a chance for you to earn here but because of the way their system works, which is illegal by the way, it's not really a good opportunity to consider. As mentioned, you also need to invite new people to join the program and to make it work, you have to spend time and more cash.
How Club Cash Fund Works?
When you have access on their website, you'll be asked to provide your details. Once this is done, you'll be led to another page to watch a sales video, which, as expected, is full of hype and bold claims.
Next, you will get a phone call and the main goal of their salesperson is to convince you to join the program. Once you obliged, you will get your kit and pay for the membership. Then, the recruitment begins.
You can watch the video below to know how Club Cash Fund works:
How Much Money Can You Make With Club Cash Fund?
The commission system for Club Cash Fund works like this: if you have successfully invited a new member, you will get $20, and the person who has invited you as well as his upline will get $20 each. Meanwhile, the website will also get $20.
However, the commission you'll get depends on the level that you will reach. For instance, you will start at 25% and you can have up to 75% commissions.
Is Club Cash Fund A Scam?
I can't say that the Club Cash Fund is a complete scam because you really have the chance to earn money. But as mentioned, the business model they use is illegal and there are similar programs which are not working anymore.
In addition, the owner did not give his real identity nor any of his social media accounts so you, as a member, can check whether he's a real person or not. For me, being transparent is important especially because you'll be spending money to earn money in this program.
While there's an earning potential in this program, I cannot recommend it to anyone because of obvious reasons. There are a lot of opportunities out there which are not only legit but also, very profitable.
For example, you can join an affiliate marketing program and earn huge commissions, too. If you haven't heard of this yet, affiliate marketing works like this: you place an affiliate link or content to a website or social media and when a person purchases the items using your link, you will get paid.
It won't promise you quick cash but once you get used to how the method works (and you've developed the necessary skills and expertise), you can give yourself a passive source of income.
To get started, you need to pay $80 but that's not all. When promoting the product, you have to use various marketing channels, such as solo ads and paid ads. Therefore, you need to have separate cash for your marketing.
Is it worth it? It depends on how you see it. I mean, there's really a chance for you to earn money here and the commission, as mentioned above, is between 25% up to 75%. But then again, there's no assurance that this business model will last because first of all, it works almost like a pyramid scheme that has a possibility to be shut down anytime.
Here Is My Top Recommendation to Start Highly Profitable Online Business from Comfort Of Your Home
PROS
To be honest, I don't like how the program works despite the making-money opportunity so I'd focus on the disadvantages instead.
CONS
Illegal Business Model
With Club Cash Fund, you'll have to promote the system to earn commissions. You're not selling any tangible products, unlike how legit multi-level marketing (MLM) works. This makes it similar to a pyramid scheme which is 100% illegal.
Unless you're fine with how the system works (and you're not scared that it will shut down anytime), it's best to ditch this offer and switch to a legit money-making opportunity instead.
It Takes A Lot Of Hard Work
Club Cash Fund claims that it's automated but once you enter the platform, you'll realize that there's a lot of work that needs to get done. To get your investment back, which is worth $80, you need to invite at least 4 people to join the platform. This means spending more time and cash with your marketing.
Sounds interesting? Not anymore!
You Have Nothing Against The Company
No name of the real owner. No social media accounts to follow. No office address to visit. No contact number (except the one you need to call to become a member). Nothing! In case there's a concern or a bigger problem, such as the company shutting down, there's no one to call from Club Cash Fund.
Tired of Trading Your Precious Time for Money?
Here is a Blueprint to Owing Highly Profitable Online Business Without Any Experience REVEALED!
No one.
If you want to earn cash legally and you're willing to spend time, I suggest you follow this step-by-step guide now. It's a legit business model that most marketers are using nowadays and you can use it, too, even if you're a beginner. Just be sure to apply the learning you've learned from the training and be consistent. Should there be a problem, you can always ask assistance from the 24/7 chat support or to other members.
Club Cash Fund will provide some basic training to help you promote the product properly, and this involves creating a video marketing and through solo ads. It also includes generating leads using LinkedIn, Instagram, and other social media.
The thing is, the training is just basic and you can see more quality learning materials online for free. Meanwhile, if you're convinced that this program is no good for you, I'd like to invite you to a legit and top recommended opportunity online. Unlike Club Cash Fund, there's no need to pay for anything and the business model used is not only legit, but it's lucrative.
The best part is that it's easy to get started. You can click this link for a free step-by-step guide now!
I think I've proven my statement above: that most companies with a "cash" or "club" on its name is either a low-quality program or a scam. While you can make money on this platform, it's unstable and anytime, the company is at risk of closing down without notifying any of its members.
Also, there's no guarantee that you can invite new people to join the platform because nowadays, more and more individuals are smarter when it comes to taking opportunities. So if I were you, I'd rather invest my time and money on a more profitable, transparent, and legit offer.
Club Cash Fund may have disappointed you but it's not the end. There are a lot of real money-making opportunities online, such as the program that I'm really proud of. Why? Because it focuses on results rather than bold claims.
So if you're tired of the same, ol' low-quality program, sign up with my #1 recommended program and enjoy the following perks:
Proven strategy to work smart and earn a lot (literally)
Best possible support including your own training coach
Step-by-step guidance

Lots of training resources

My personal help
And so much more!


I hope I've enlightened you with my Club Cash Fund review and if you have clarifications, concerns, or you want to share your personal experience with this product, please feel free to drop it down below.
Thank you!.
We Constantly Review Programs in "Make Money Online" Niche,
So That You Don't Have to Waste Countless Hours
Want To See Our
TOP RECOMMENDATION?