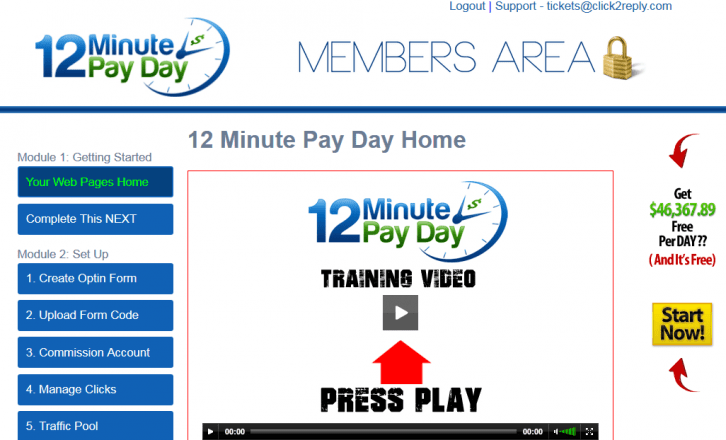 Name: 12 Minute Payday

Website: www.12minutepayday.com
Price: $47, down-sell to just $9, plus other up-sells
Founders: Justin James & Steven James
Overall Ranking: 1/10
Who's it For: No One
What is 12 Minute Payday About?
---
12 Minute Payday is a system designed by Justin James and Steven James that aims to teach you how to generate money online. They do this through a method known as list building, which is an aspect of online marketing. Through list building, you can frequently get into contact with your potential customers and reintroduce them to the product or service that you are offering.
The 12 Minute Payday system provides some basic information and video training on list building and email marketing, but what they really offer once you sign up is several landing pages that are supposedly designed to convert for you. Aside from that, you are upsold for various other training aspects and products.
Is the 12 Minute Payday a Scam?
Yes, 12 Minute Payday is absolutely a SCAM and you should steer clear of this supposed business opportunity.
Right from the start it is easy to see that 12 Minute Payday is deceitful. They claim it is free to sign up, but when you click forward you are hit with a price tag of $47 to gain access to their system. They'll eventually lower this price to $9 once you try to exit from the page, but a company that is blatantly dishonest before you even sign up is not to be trusted.
The company claims that they can help you generate $2,035.38 every day in just 12 minutes, but this is a lie. When you're talking about a company that includes a disclaimer – in teeny tiny letters, of course – stating that "the typical purchaser does not make any money using this system," you know what you're dealing with is a scam. Language like this protects 12 Minute Payday from legal action by those who become members and do not achieve the thousands or millions promised to them.
With their shady pricing strategy – that we'll get into in a moment – some blatant upsell techniques, outright lies and lack of evidence that their system consistently delivers what is promised, 12 Minute Payday is a scam that you want to avoid.
Don't waste your time and money on this scam program. I encourage you to read my review of #1 Recommendation here
Price
---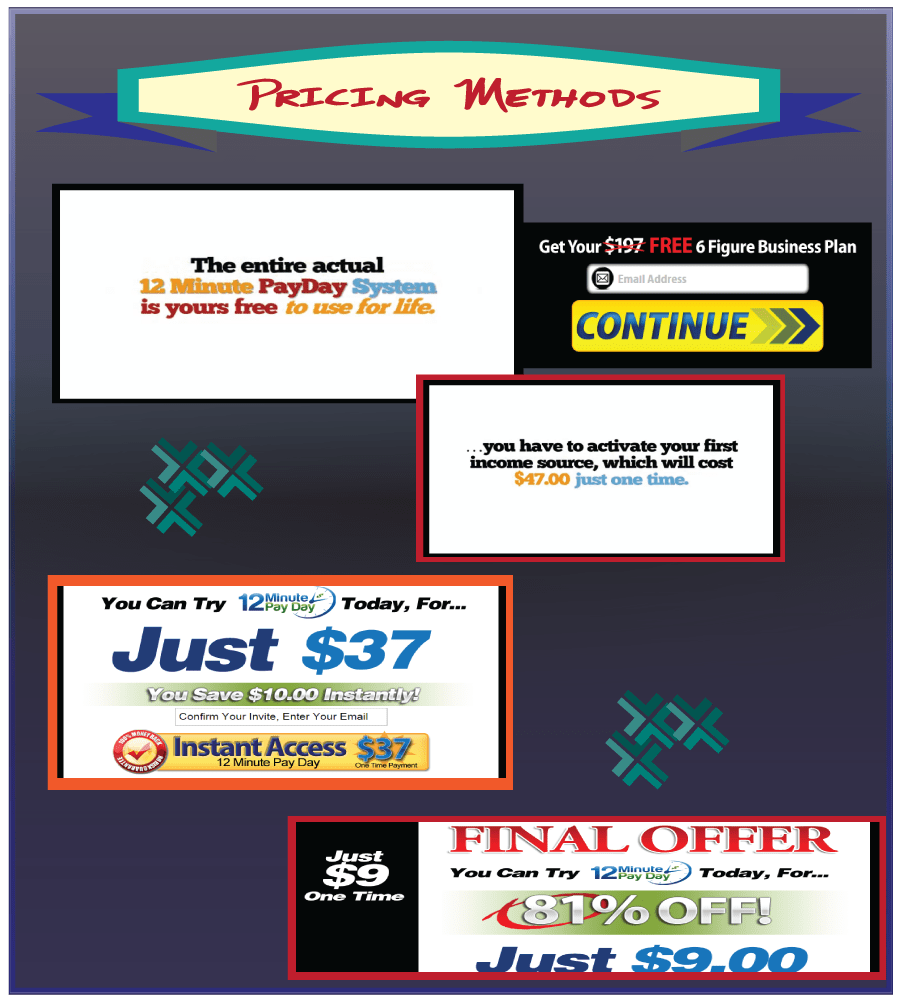 Quite honestly, the pricing for 12 Minute Payday can be quite confusing. When you first land on the page you are
promised a free business plan for entering your email. Singing up with your email supposedly initiates a waiver of the normal $197 fee for 6 figure business plan. However, when you click on that you are brought to a page requesting a $47 payment to gain access to 12 Minute Payday – THE complete work at home system. Wait…it was supposed to be free, right?
Then, when you try to exit out of the page upon realizing the 12 Minute Payday is not in fact free as you were originally told, they try to lure you in by offering discounts. The first time you exit, a popup reducing the price to $37 is generated, and if you exit again you will see a final price of $9. If 12 Minute Payday was so legitimate, why would they need to reduce the price so much? And for those who actually pay the $47, they're getting ripped off before even becoming a member.
Once you are a member, the scheming continues. If you want to use the email marketing system that 12 Minute Payday offers through Global Virtual Opportunities (GVO), it will cost you another $10 a month. This is on top of the other products and services, like the $34.95/month Traffic Pool product, that 12 Minute Payday scams you into buying.
Pros / Cons
---
Pros:
You can get the initial payment reduced to $9

They offer a 60-day money back guarantee policy

They aim to respond to support requests within 24 hours
Cons:
Numerous up-sells

The product does not work

12 Minute Payday is deceitful from the start
For all the negatives that 12 Minute Payday has going for them, there are a few positives. First, although the whole system is a scam, you can at least lower the initial price to $9 from the preposterous $47. Aside from that, the only good thing 12 Minute Payday offers is support. They typically respond to email and phone requests within 24 hours. 12 Minute Payday also offers you a 60-day money back guarantee, so at least you can get your money back if you get roped into their scam.
Now it's time to look at the negatives. Right from the beginning you will be hit with typical cheesy video of how you can generate so much income online in only 12 minutes. Aren't we over this type of hype yet? This used to be a trend in early 2000s where many such programs were created based on hype.
Simply put, 12 Minute Payday cannot guarantee results and they can't even prove that members consistently generate any sort of income from the system. They lie from the start about the free business plan and subject you to numerous up-sells after becoming a member. The company is deceitful and takes no shame in it.
If you want to avoid being scammed and looking for legitimate online opportunity you can learn more about

Wealthy Affiliate

. The only transparent, all-inclusive and highly valued program you will find online.
Who Is It For
---
Quite honestly, I cannot recommend this product to anyone. There is no evidence that 12 Minute Payday offers any real value. The company mentions that "the typical purchaser does not make any money using this system" in their own disclaimer. That right there is a huge red flag. Even beginners looking for an online business opportunity should shy away from 12 Minute Payday, because there are much better options available.
Training Tools / Support
---
Once you become a member you will have access to the members area. Here you will find modules teaching you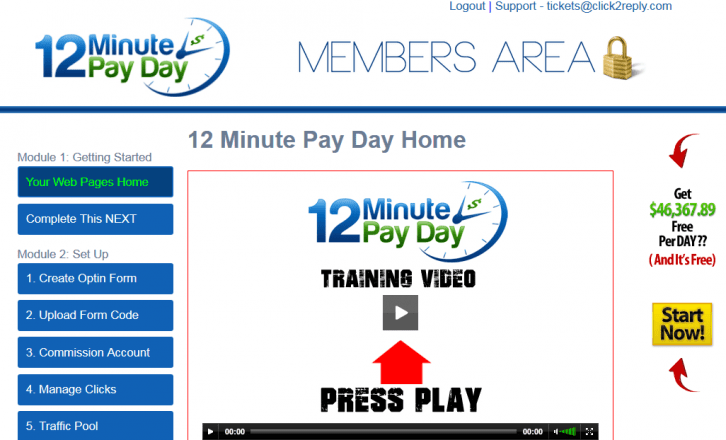 various aspects of using email marketing campaigns and how to set them up. You are also given a "personal millionaire mentor" to call, but all it takes is a minute on the phone to realize that they are in fact, a sales person pressuring you to purchase their ridiculous up-sells. Your "mentor" will try to sell you for a business upgrade that runs about $100, and Traffic Pool, which will cost you an additional $34.95 per month.
12 Minute Payday support might be one of the only good things about the system. Support is available through an email, but there is also a toll-free number that you can contact should you need more assistance. Though it is not guaranteed, the support team does strive to respond to requests within 24 hours.
Final Opinion / Verdict
---
There are many 12 minute payday system reviews online and it is no wonder why you will not find any reviews claiming this program is legit, there is so much scam throughout the whole program. 
Email marketing approach can be a viable business model, the system that 12 Minute Payday employs is not legitimate. Right on their website, it states that "12 Minute Payday does not guarantee income or success" and the $2,000 a day that they can help you make is all but impossible to achieve through their system. Everything considered, the 12 Minute Payday scam is one that you want to avoid.
This program does not offer any value. Instead you will see lots of pressure from their up-sells and lots of hype of potential high generating income. It was solely designed to rip people off first with initial fee of $9 and further with all the up-sells within the program.
We Constantly Review Programs in "Make Money Online" Niche,
So That You Don't Have to Waste Countless Hours
Want To See Our
TOP RECOMMENDATION?