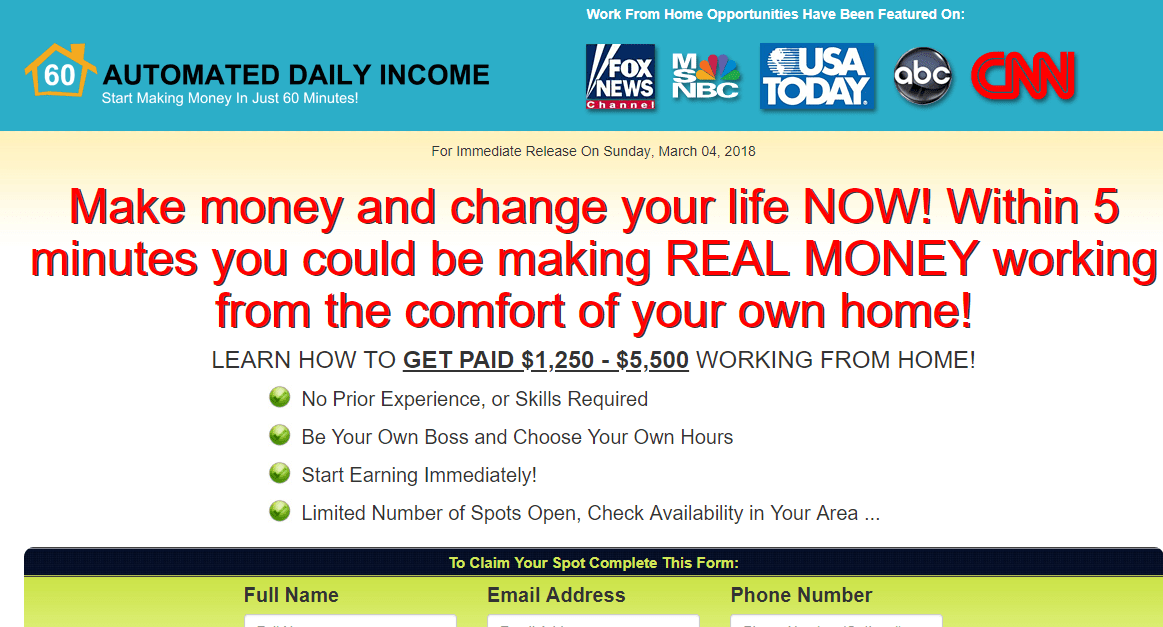 Name: Automated Daily Income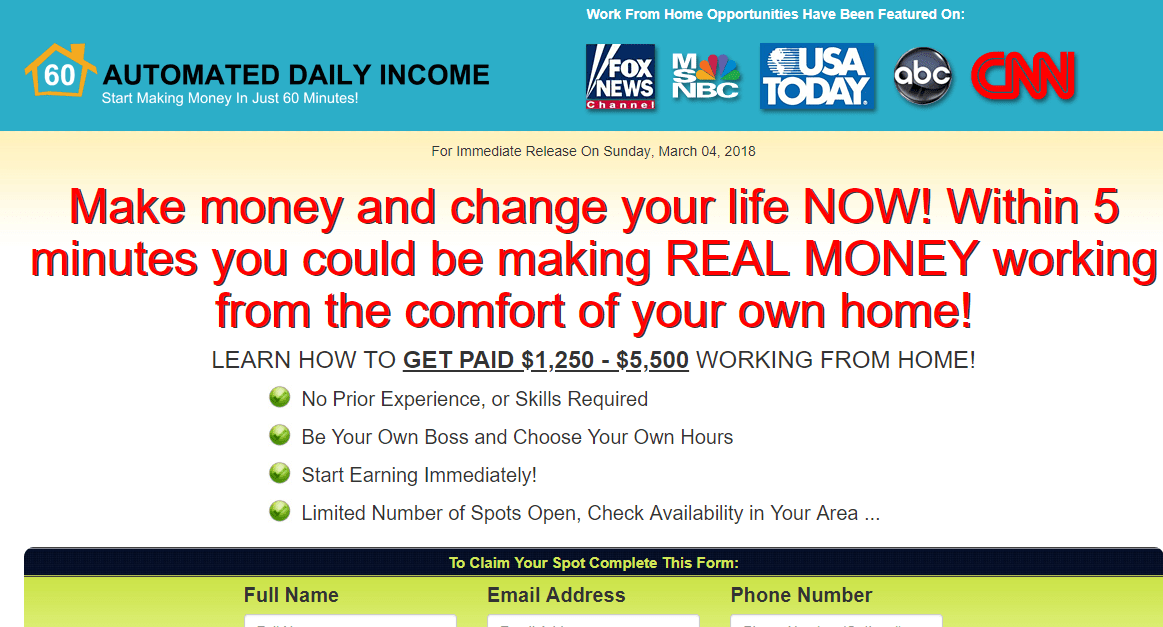 Website: https://automateddailyincome.com
Price: $49, plus up-sells
Founders: Raena Lynn
Overall Ranking: 2 / 10
Who's it For: Not recommended for anyone
---
What is Automated Daily Income About?
If you've heard about Automated Daily Income, you are probably wondering what it's all about. Automated Daily Income is essentially just a culmination of landing pages that feed into a sales funnel for another product called MOBE.
The landing pages are designed to look like legitimate news websites to enhance the authenticity, but are in fact paid affiliate sites. Automated Daily Income claims it provides an easy, guaranteed way to make over $300 per day online. It also promises $500 for just trying the Automated Daily Income system. These claims seem too good to be true, but are they?
 Is Automated Daily Income a Scam?
So, is Automated Daily Income a legitimate way to make money online, or is it another scam designed to lure you in and take your money? Whenever you are evaluating a new system or training program, you need to keep an eye out for Red Flags. Automated Daily Income is full of red flags. Simply put, Automated Daily Income is a scam.

Automated Daily Income is a program from the past which sells mostly hype and bad quality product. I can't believe they still get people to sign up for them and spend thousands of dollars to buy all their up-sells.
On their website, you will have to enter a variety of personal information just to learn more about the opportunity. You will be required to enter your full name, email address, and even your phone number. Providing your phone number upfront is red flag number one.
Automated Daily Income takes advantage of this and you will get hounded by phone calls from telemarketers cleverly described as your "personal coach" for Automated Daily Income. The only job of these telemarketers is to get you to join MOBE—an affiliate site—and purchase their costly up-sells.
In addition, you are promised $500 just for trying the system, the ability to earn a brand new car, and even that their site is not an MLM business. Want to earn that $500? You will only get it for trying their entire system. That means all 21 levels, which would cost you $50,000! $500 is a drop in the bucket for them once they've drained $50,000 from your bank account.
Just reading Automated Daily Income reviews should be enough to keep you away from this system.  Any program that claims you can make triple digits within minutes of signing up for their platform should immediately raise red flags. They're dishonest, make promises that aren't delivered upon, and deceive you from the start.
Price
At $49 a month, Automated Daily Income might not seem like too costly of a program. Compared to the competition, $49 payments spread out monthly seems okay. The issue with Automated Daily Income is the extremely costly up-sells.
Once they have your phone number you will be hounded by telemarketers looking to convince you to join MOBE. Wondering how much joining MOBE would cost you? Their lowest tier of membership cost $2,497. Moving up their chain, you can see packages that cost anywhere from $4,997 to $29,997. In order to make any money on affiliate sales by promoting their packages, you have to have bought them! If you have $30,000 lying around, do you really want to throw it away on these types of MLM products?
Pros / Cons
Pros:
There is some useful information in the training
Cons:
Advertised deceitfully with fake news sites
Fake member testimonials
Harassed by telemarketers posing as coaches to pressure you into buying up-sells
MLM program
Requires a lot of time and money investment
They are dishonest about the $500 reward for trying out the system
Who is it For?
Automated Daily Income is not a program that I can recommend to anyone. Even at just $49 a month, that's almost $600 a year. What do you get out of it? You get harassed by savvy telemarketers trying to sell you thousands of dollars' worth of up-sells. No matter what your experience level is, Automated Daily Income is a system that you should steer clear of.
Training Tools / Support
Automated Daily Income is marketed as a system that can help you make $300 a day easily. Unfortunately, the training they offer doesn't back it up. You will not receive quality training on how to build your oiliness business. What you are provided in the training, is how to sell expensive items and make a lot of money. The issue with this, is if you spend thousands of dollars on products and cannot sell them, you have wasted your hard-earned money.
In terms of support, there is also much to be desired there as well. You will be contacted by a "personal coach," but this person is really just a skilled telemarketer trying to upsell you on other training programs and packages. There is much to be desired with the training and support offered by Automated Daily Income.
Final Opinion / Verdict
If you are looking for a way to grow your wealth online, there are many good options available. Automated Daily Income is not one of them. While some might not consider it an outright scam, there are too many red flags to overlook.
The fact that they make lofty promises that are not delivered upon is the first red flag. That you are constantly hounded by telemarketers disguised as coaches and have to buy into even costlier programs to recoup your money is the second.
Any program that uses fake news sites to lend credibility to their offering has something to hide and should be viewed with skepticism. The Automated Daily Income training might have some good information, but it's not worth the hassle or the cost. There are much better options available for less if you are looking to grow your wealth through an online business. I cannot recommend this system to anyone.
We Constantly Review Programs in "Make Money Online" Niche,
So That You Don't Have to Waste Countless Hours
Want To See Our
TOP RECOMMENDATION?