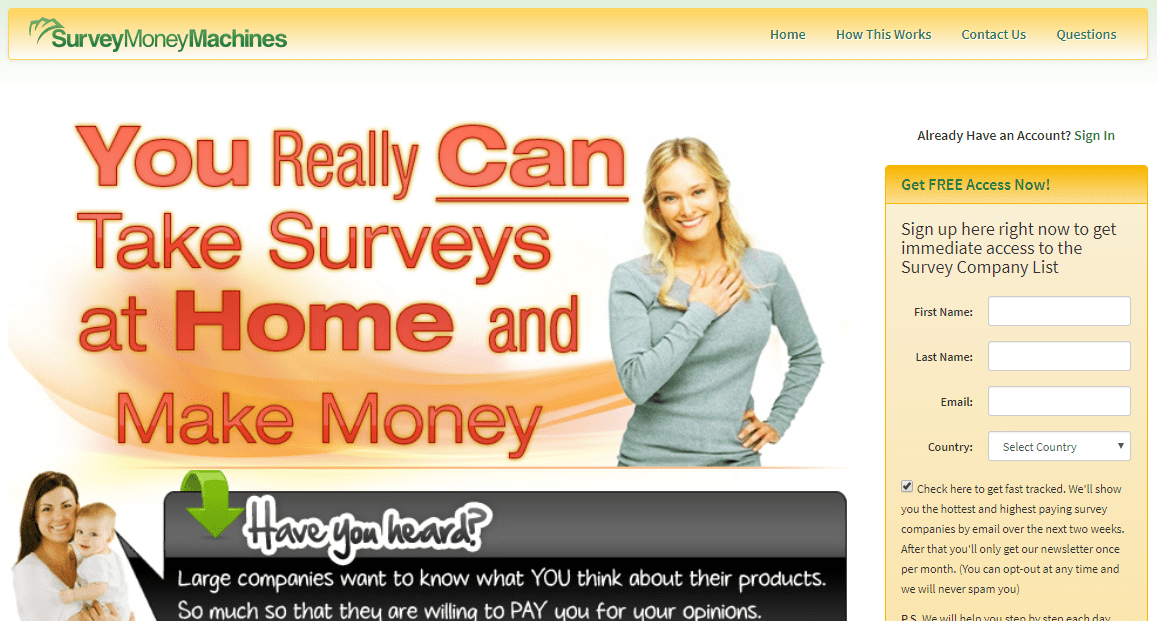 Name: Survey Money Machines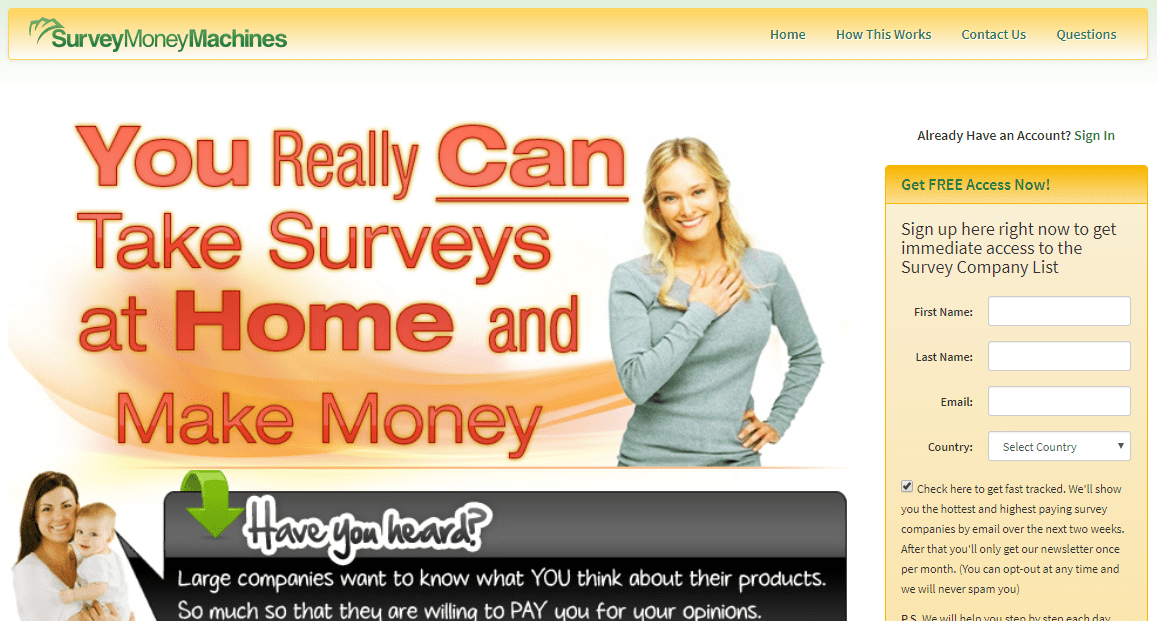 Website: http://surveymoneymachines.com
Price: Free
Founders: Hailey Gates
Overall Ranking: 5 / 10
Who's it For: Anyone
What is Survey Money Machines?
If you are looking for an easy way to make money online, paid surveys might be something on your mind. You might even come across Survey Money Machines and wonder what it's really all about. Survey Money Machines was founded in 2005 by "Hailey Gates" who claims to have made lots of money by taking surveys.
If you know anything about taking surveys online, you know that it's nearly impossible to earn substantial income just from taking surveys at home. Anyone that says they earn tons of money online taking surveys are not saying the truth and mostly say that to market a product. 
Is the Survey Money Machines a Scam?
So, is Survey Money Machines a scam? No, it's not an outright scam. That doesn't mean that it is a legitimate option for making money online either and you will learn why.
What's unique about Survey Money Machines is that it isn't actually a site that offers surveys. Survey Money Machines is a site that links you to paid survey sites that you have probably already heard about. They are essentially the middle man between you and over 200 market research companies that are looking for panelists to take their surveys. Here is a list of top 5 mentioned. Bigger list can be found here: 
i-Say
SpringBoard America
Toluna
My Survey
Global Test Market
 When you visit the website, you will be required to input your name and email address to create an account. After creating an account, you will be given access to over 200 market research companies. The issue, is that you have to sign up for every single one of them individually. This is extremely time consuming and you don't know which ones are good and which ones are bad. 
I have personally tried signing up through another program called: goldopinions.com which does exact same thing – recommending many other survey sites. I ended up with lots of low quality survey sites as well and eventually got frustrated since it was simply overwhelming to deal with so much junk.
So, think about the volume of emails you will receive once you sign up for over 200 paid survey sites. Even if each company only sends you one email per day, that's two hundred emails! Do you want to sign into your email and see that many unread messages and you don't even know if all well paid surveys? I certainly don't!
 Another issue is Hailey Gates' claim that you can make tons of money. Some of the sites even state that you can make up to a thousand dollars a month. That number just is not realistic. The claim is misleading and joining Survey Money Machines will not bring in enough income to quit your day job.
What you will learn is that you can make $100 or $200 at best in your first couple of months and later on it will get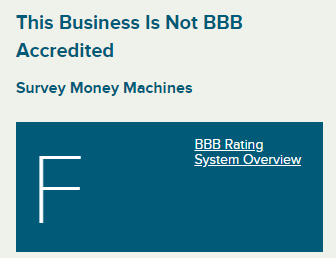 slower and slower and you will spend countless hours in front of the computer doing useless work. How much is your time really worth? $5 per hour or less?
 The final strike against Survey Money Machines is the F rating on Better Business Bureau. There are many complaints against the company and while it isn't an outright scam, it's a website to avoid.
Price
The great thing about Survey Money Machines is that they site is completely free to use. You just sign up and get access to the list of 200 market research companies searching for panelists. The founder makes money by referring you to these sites, which is why access to the list is offered for free.
 However, the site might not actually be free. Several of the sites that you get access to require you to input your credit card information and actually charge you to try their "offers." You should never pay to join a survey site, especially when there are so many free options out there that are legitimate.
Pros / Cons
Pros:
You get a list of over 200 market research companies that offer paid surveys

Can work from the comfort of your own home
Cons:
You have to sign up for 200 sites individually and that takes time

The surveys are generally low paying

Your inbox will be flooded with spam and junk mail

Surveys are extremely time consuming for little pay

Boasts a dismal F rating on Better Business Bureau

Many sites require credit card to sign up for them
Who is it For?
If you are looking for a comprehensive list of survey sites, you can certainly look through the list Survey Money Machines provides, however you want to read separate reviews on each of those survey sites since you won't know which ones are worth looking in to and which should be completely avoided. 
If you are ready to do this much work I recommend to stop wasting your time on surveys and focus on real work in building online business which is far more rewarding and with unlimited potential to build full time income: 

Training Tools / Support
In terms of training and support, there isn't much offered. The site does feature About Us and Questions sections. The FAQ section is actually pretty comprehensive and if you have any major questions about getting paid for surveys or how the site works, you can find it there.
The support section is where there's a major issue. Clicking the "Contact Us" tab at the bottom of the screen takes you back to their Sign Up page. There is an email address provided, but the main focus of the Contact Us page is getting you to sign up for an account.
Final Opinion / Verdict
Survey Money Machines is not a website that I can honesty recommend. Even though it's free, there are many Red Flags that make the company seem shady. The founder gets paid a commission for every site that you sign up for, so there's really no interest in scaling back the offering and sending you only legitimate survey sites. He pushes a ton of websites to you where he can get commission paid. 
You essentially get a data dump of survey sites and are then tasked with signing up for every one of them individually. It's time consuming and frustrating and that's before you even get to the low paying, lengthy surveys.
I have started online in the past with survey sites as well and it didn't lead anywhere. All I remember is frustration in junk mails and very low compensation. The reality is they always need new people to survey, therefore they are only interested in you for few months and even then it's not well compensated. My suggestion is to focus on building solid online business that you can rely on and that will work for you and not otherwise.
If you have any comments or feedback please leave them below:
We Constantly Review Programs in "Make Money Online" Niche,
So That You Don't Have to Waste Countless Hours
Want To See Our
TOP RECOMMENDATION?