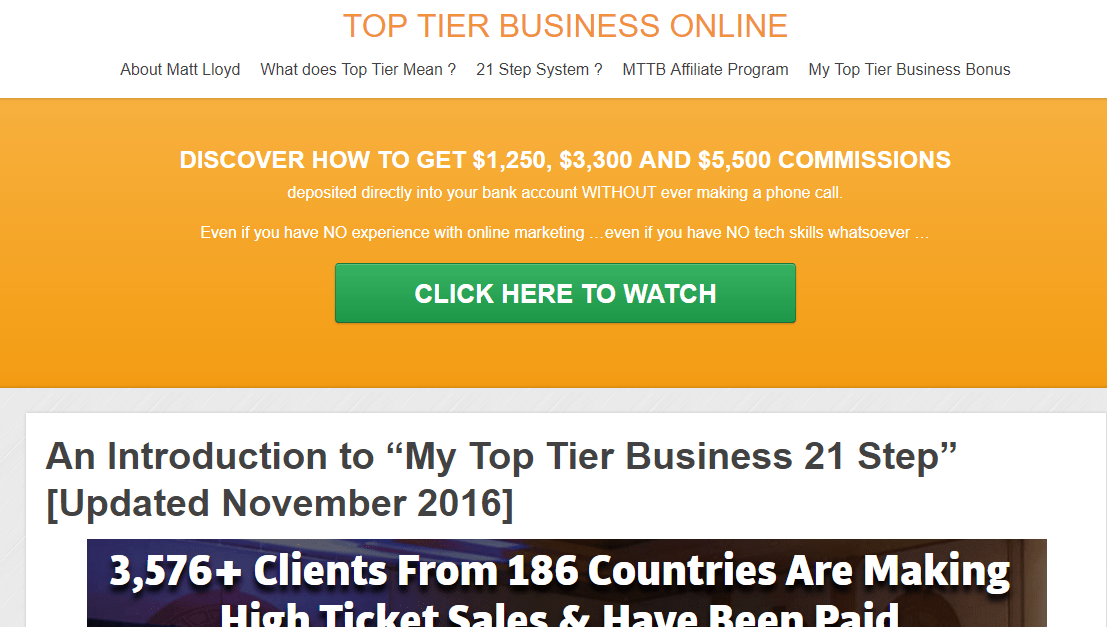 Name: My Top Tier Business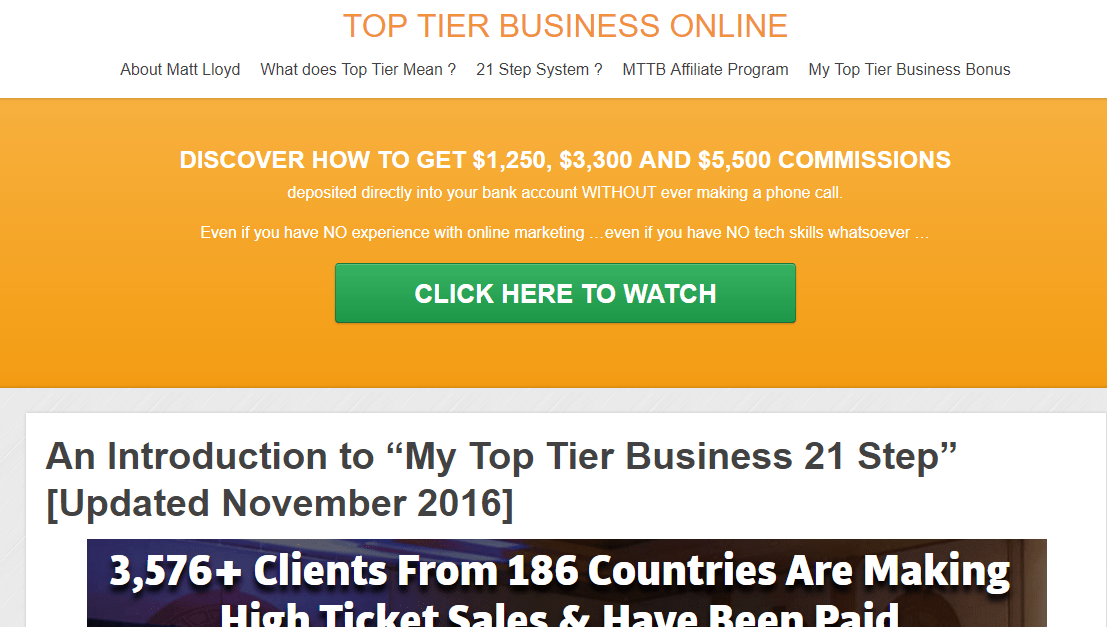 Website: http://toptierbusinessonline.com
Price: $49, plus many upsells
Founders: Matt Lloyd
Overall Ranking: 3 / 10
Who's it For: Not recommended for anyone
---
What is My Top Tier Business About?
My Top Tier Business 21 steps is a program offered by Matt Lloyd. Lloyd is an internet guru who has been generating income on the web since 2009. He created this 21 Step program that is marketed as a "ground breaking" way to make money online.
My Top Tier Business (MTTB) is focused primarily on selling high quality, expensive items online for large profits. The most appealing aspect of My Top Tier Business is the fact that it is a done for you system. Essentially, this means that all you have to do is drive traffic to your site, the rest is done for you. They claim you can easily bank thousands using this platform, but is it legit? Keep reading for an unbiased review of the My Top Tier Business 21 Steps program.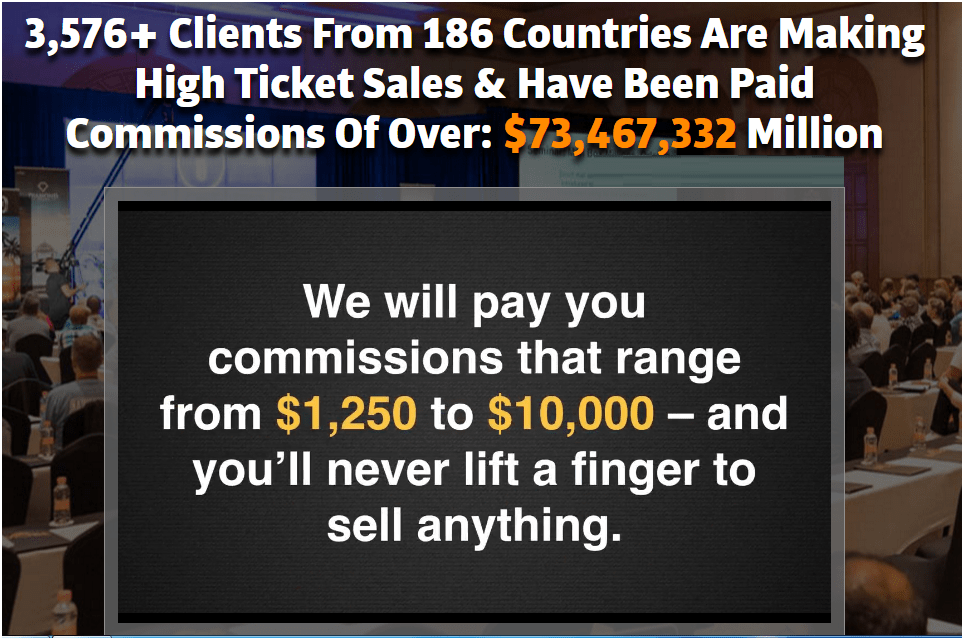 Is My Top Tier Business a Scam?
Reading My Top Tier Business reviews might have you wondering, is there a My Top Tier Business scam? My Top Tier Business is not an outright scam, but there are some Red Flags that need to be considered.
The first is that you have to pay just to apply. This is refundable if you're accepted, but if you're not you'll end up losing fifty bucks just by applying! It's nice that they want to weed out poor applicants, but they could do that for free. This just comes across as a quick money grab.
The next Red Flag is that you will constantly be subjected to up-sells. You might get into the program for less than fifty bucks, but as you work through it, you'll be shelling out a hundreds here and thousands there for the "essentials" packages. Before you know it, your bank account has a gaping hole in it that you'll struggle to recoup.
Price
The application fee for My Top Tier Business is $49. That doesn't seem like much for access to a system that will make you thousands of dollars, but there's more to it than that. In order to make money, you'll need to work through the 21 Steps.
Okay, 21 Steps isn't a big deal. How much can that cost you might think? Well, those 21 Steps come with a price tag of just about $30,000. A $49 refundable application fee doesn't seem like much, but working through all of these steps will cost tens of thousands of dollars! Isn't this a nice way to make money for Matt Lloyd?
Pros / Cons
Pros:
There is no need for experience because the selling is done for you
It costs less than $50 to get started
There is a high level of support and people to hold your hand through the process
Cons:
This is not a get rich quick scheme and will require you to invest time and money
You have to generate traffic to your website(s) to see any profits
There are many up-sells that can be quite costly
You have to purchase all the different expensive packages to make affiliate commissions off them
It can cost around $30,000 to work through the 21 Step system
The $500 reward only comes after you've gone through all of the steps
Who is it For?
Honestly, this is not a program that I can recommend for anyone. If you open the can of worms known as My Top Tier Business, you'll end up spending over $30,000 working through the steps. That's $30,000 before you start making any income. Imagine how difficult it will be to recoup that cost? The truth is that most people don't realize it's a waste of money until it's too late any they've already sunk money into it. Do yourself a favor and avoid the My Top Tier Business 21 Step system.

Training Tools / Support
This program has decent training, which is good because it's based solely on 21 steps meant to train you to run an online business. The first step will review the importance of selling Top Tiered products to make legitimate income. The next step divulges the ingredient that 99% miss when it comes to business success—economics.
You'll then learn about thinking like a business owner instead of employee and the benefit of buying into a proven business system. This is where it gets tricky and they start really selling you on MOBE. They'll push buying a license to sell MOBE products and even have you sign a Non-Disclosure Agreement.
The up-sells start rolling in at this step, and is where most members fall off the map. To move forward, you'll need to spend just under $2,000 on various products.
When I see a program that uses a small fee to lure you in to the program and then try to upsell with higher priced upgraded I clearly recommend to stay out because their main goal is to make money off you. A good product is the one where there are no up-sells and there is a huge focus on training and support.
Although when it comes to support, this is one thing that My Top Tier Business really has. You will have access to an on-call sales team. Once your drive traffic and generate interest, the sales team is ready and waiting to close the deal. You will also be given access to a personal coach that offers assistance for affiliates.
There is also a traffic coach that can help you drive traffic to your website. These MTTB coaches are there to assist with any and all issues. They may try to upsell you, but it's nice having access to real people if you feel like you've hit a brick wall and need assistance.
Final Opinion / Verdict
Is My Top Tier Business an outright scam? No, it's not. That doesn't mean it's the right fit for everyone. In fact, it's not a system that I'd recommend for anyone. It's too expensive for what you're given and to get anywhere close to making income you'll have to invest lots of time and money. The "Done for You" concept is certainly appealing, but $30,000 is too much to pay for that aspect.
If learning about starting and growing an online business is really what you're after, here is the best legitimate program that will be a better fit. You will really learn about online marketing and the best way to build an online business and start making money. Copy/Paste systems like MTTB mostly concerned about up-selling you first and then have you upsell others so that they could make more money. I am certainly not a fan of up-sells.
We Constantly Review Programs in "Make Money Online" Niche,
So That You Don't Have to Waste Countless Hours
Want To See Our
TOP RECOMMENDATION?