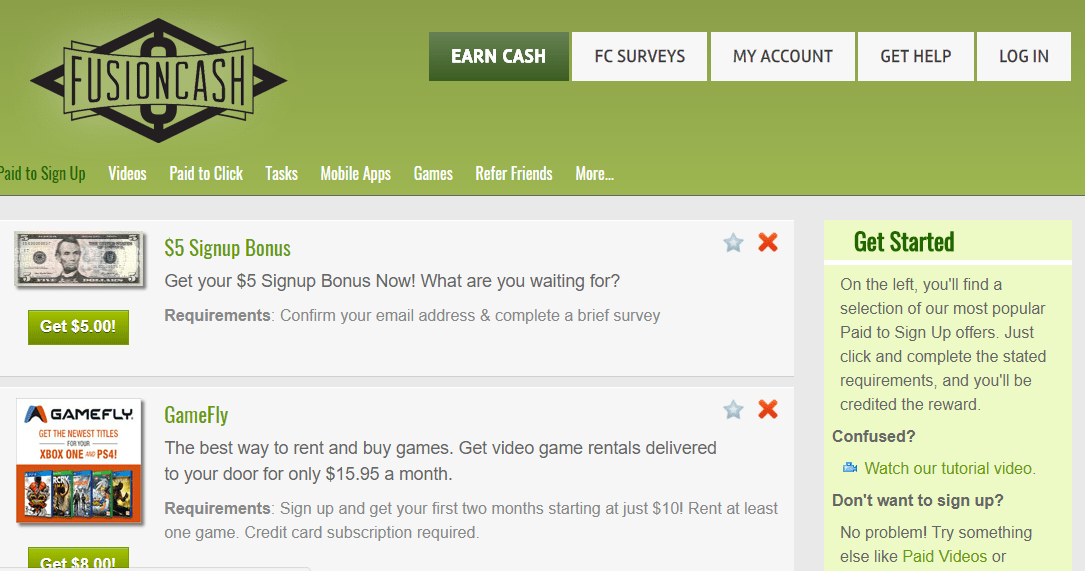 Name: FusionCash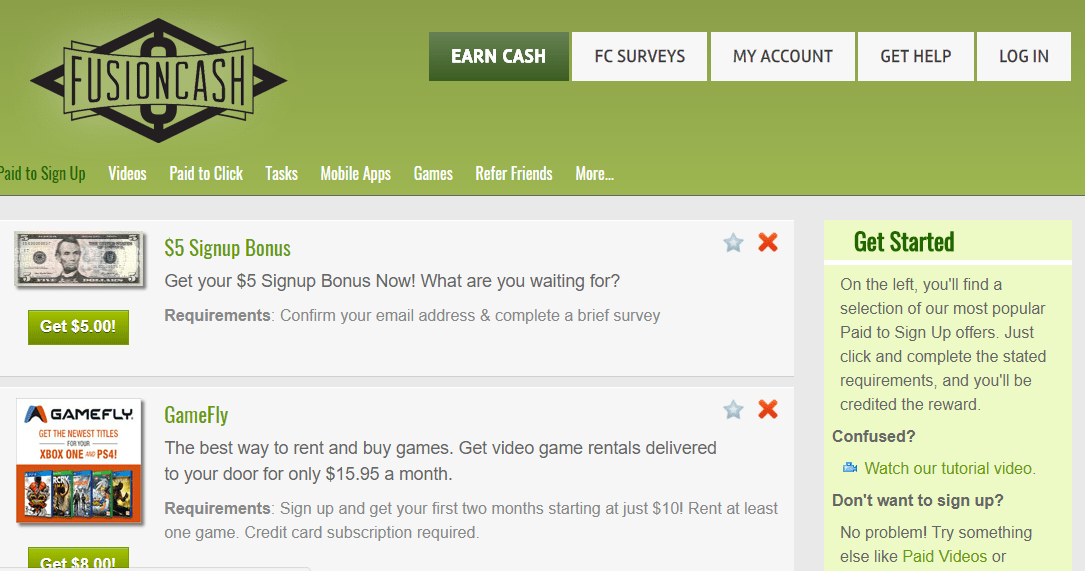 Website: http://www.fusioncash.net
Price: Free to join
Overall Ranking: 4 / 10
Who's it For: Anyone
What is FusionCash About?
FusionCash is a get paid to (GPT) site that started in 2005. They are privately owned and can be accessed in the United States and Canada. Just like all other survey sites you can earn money by taking surveys, watching videos, participating in trial offers and many other online activities.    
 Singing up for FusionCash is simple. You just visit the site and if you meet the requirements—being 18 years of age and from the US or Canada—you can create an account. In fact, FusionCash actually gives you a $5 bonus just for joining. You can also invite friends and earn money when they sign up.
 After you become a member, you can start earning cash right away. The nice thing about FusionCash is that you can choose how you want to earn money. You can participate in trial offers, watch videos, or even take surveys. The flexibility is definitely a selling feature. You can cash out via check, direct deposit, and PayPal, so there's also flexibility in how you receive your funds which is great since many survey companies have strict withdrawal rules. 
Offers max out at around $30 and it seems like a great option to make money. But is it? Sometimes these sites are too good to be true, so let's take a deeper look.
Is FusionCash a Scam?
If you read online FusionCash reviews it will be hard to tell if it's a scam. It might seem a bit fishy by the main page,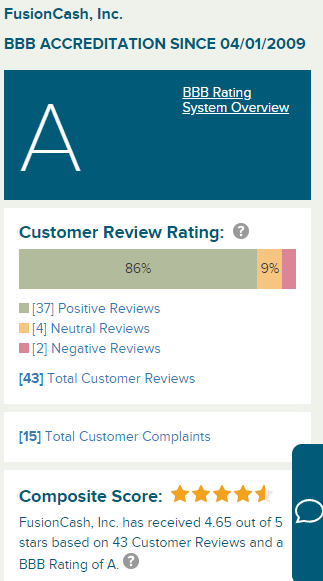 but it's simply outdated. It's true that the site could use a little love and refreshment, but don't let that detract from your money making experience. FusionCash is not a scam, but there are some Red Flags to keep in mind:
 The first and main thing you'll want to note is that earning opportunities can net you as little as $0.25. Sure, they are advertised as higher, but the well-paying offers are few and far in between. You're more likely to earn less than $5 per hour. This is not an opportunity that will make you rich.

 Another issue with FusionCash is that there is a $25 minimum threshold for withdrawals. This means you need to have earned $25 before you can actually take that money out. Many members get so frustrated with the poor payouts that they stop before reaching that threshold and FusionCash keeps their hard earned money.
Ultimately, what it comes down to when determining the legitimacy of FusionCash are your expectations. If you think you're going to be making $25 an hour and seeing a massive cash influx, you'll be disappointed. If you are hoping to make some extra income on the side, you might think it's a good option. One thing's for certain, FusionCash is not a scam. It actually has a strong rating with the Better Business Bureau.
Here is what people say about reaching $25 minimum payout based on survey police site:


 Price
The great thing about FusionCash is that it's free to join. You pay nothing to join and you are able to start earning money through surveys and free trials. However, you might be lured into paid offers. This is where you can see expenses add up. Say a company will pay you $7 to buy their monthly service for $4, try it out and offer feedback. It
looks like you're netting $3, but what happens if you forget to cancel the recurring subscription? You can actually start losing money without realizing. As long as you avoid falling victim to paid opportunity cash grabs, the only thing FusionCash will cost you is your time. 
So think about it how much is your time really worth – $4 an hour? Here is the post I wrote if "You Can Make Money by Taking Online Surveys"
Pros / Cons
Pros:
You can get paid with PayPal

$5 bonus just for signing up

Invited to many surveys, which increases your earning potential

Variety of ways to earn money on the site
Cons:
Redemption threshold of $25

Can only join if you're in the US or Canada

Low payouts for surveys and offers

You can get burned on paid offers

There is no mobile app so you'll need a web browser

Your inbox gets flooded with spam

There can be technical glitches that kick you out of partially completed surveys
Who is it For?
The great thing about FusionCash is that anyone can join. As long as you're located in Canada or the United States you can sign up and start making money. It's worth noting that this is not a good option for someone looking to get rich quick or create a steady income stream. You won't see large sums being deposited into your bank account. FusionCash can help you earn some extra income on the side, but you will not see significant cash flow as a result of your work.

 

Training Tools / Support
In terms of training, there isn't much offered. That's because there's no need for it. FusionCash is a GPT site and everything is quite self-explanatory. If you are having issues and need support, there's a "Get Help" section right on the site that allows you to submit a service ticket. Not sure how responsive they are, but the site claims they strive to respond to requests within 24 business hours.
Final Opinion / Verdict
So, what are our final thoughts on FusionCash? Well, we know it's not an outright scam. Still, it's not a program that I  can honestly recommend to anyone. It's true that you can make some change using FusionCash, but at $4 or $5 an hour, isn't your time better spent elsewhere?
Most members get frustrated with the low payouts and quit before even meeting their $25 threshold. That means FusionCash gets to keep the money you've earned. It's nice that they provide a $5 bonus, but if few people ever reach the minimum payout threshold, they don't actually live up to the promise.
If you were thinking to start taking surveys to actually make money – don't waste your time. I have done this in the past and learned that survey companies need always new people to test products for large corporations and they are not interested in paying you big $$$ they want to collect all information about you and then bombard you with countless offers until you get frustrated and leave.
We Constantly Review Programs in "Make Money Online" Niche,
So That You Don't Have to Waste Countless Hours
Want To See Our
TOP RECOMMENDATION?