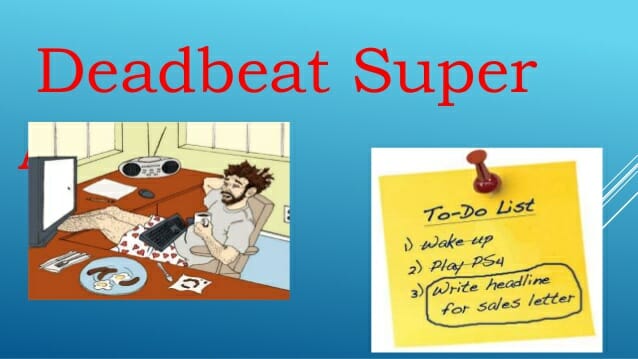 Name: Deadbeat Super Affiliate
Website: http://www.deadbeatsuperaffiliate.com
Price: $17 to join
Founders: Dan Brock
Rating: 7/10
Who Is it For: Affiliate Marketers
Summary: Dan Brock claims that you can sleep walk in to your $3000 a month income. Deadbeat Super Affiliate is the program designed to learn how to build affiliate marketing website and promote products from Amazon.
The price is only $17 and few up-sells. Find out if it has any value and whether you should invest in to it.
Recommended: Yes
Want to Find Out What Really Works?
What is Deadbeat Super Affiliate About?
Do you want to "sleep walk your way into your first $3,000 a month online?" That's what Deadbeat Super Affiliate claims to show you how to do. That seems great, especially if you are looking for a way to make legitimate money online, but is it too good to be true? What is Deadbeat Super Affiliate anyways?
Deadbeat Super Affiliate was launched in 2010 before being revamped and relaunched in 2015 as "Deadbeat Super Affiliate Reloaded". Owner Dan Brock claims to teach you how to make boatloads of money online by selling products from mainly Amazon.
Through Deadbeat Super Affiliate, you will learn how to set up affiliate websites, add content, create videos, get high ranking SEO results, and watch the cash from Amazon sales roll in. Is it really that easy though? How do we go from "sleepwalking" our way to cash, to having to work through all those steps?
How does Deadbeat Super Affiliate actually work?
 Well, you'll sign up, work through the training, and then start building your sites and traffic. The thing is, Deadbeat Super Affiliate takes a lot of work. In reality, any affiliate marketer has to put in a lot of work especially when they get started. If that doesn't seem ideal, then this isn't the field for you. So don't really expect to sleep walk in to your $3000. 
So, Is Deadbeat Super Affiliate a Scam?
So, is there a Deadbeat Super Affiliate scam, or is the site legitimate? If you read Deadbeat Super Affiliate reviews online, you can get a variety of mixed reviews, but I am here to give an unbiased account of Deadbeat Super Affiliate and what it has to offer.
The main reason that Deadbeat Super Affiliate gets poor reviews, is that the sales page screams Scam. First, there are unrealistic earning promises and false advertising claims. You won't "sleepwalk" to your first $3,000 in a month using Deadbeat Super Affiliate and chances are you won't even make $3,000 in the first month.
Affiliate Marketing is a lot of work, especially to get a site up and running. Deadbeat Super Affiliate makes promises it can't deliver on in an attempt to gain more users and increase their profit margins. This is unethical and quite frankly, takes away from their legitimate product offering.
Two other issues with Deadbeat Super Affiliate, are the up-sells and issues with some of the techniques they are pushing. Up-sells are nice if they are necessary or improve the chance of success, but the up-sells in Deadbeat Super Affiliate are neither. Deadbeat Super Affiliate also pushes some marketing techniques—like creating your own backlinks—that can get your site blacklisted by Google.
So, while Deadbeat Super Affiliate does has some good training for those getting started in affiliate marketing, there are some Red Flags to keep an eye out for.
Price
The one nice thing about Deadbeat Super Affiliate is that it is relatively cheap to join. The program is just $17 to join and this payment will give you access to all of the training. However, there are two upsells that Deadbeat Super Affiliate will try to pressure you to purchase. One of them will cost you $47, while the other runs you $97. These aren't needed, so don't fall victim to the peer pressure and think you''' be more successful by buying into them.
Pros / Cons
Pros:
       Low cost to join, initially
       Step-by-step training and solid training materials
       You can outsource tasks to more knowledgeable sources
       There is a good support network
       There is a money back guarantee
Cons:
       There are costly upsells
       They recommend some tactics that are frowned upon by Google and can make your site get blacklisted
       The company utilizes fake testimonials and checks to make them seem like a legitimate company
Who is it For?
When it comes to the target audience of Deadbeat Super Affiliate, this program is geared towards beginners. It is a pretty good training program that encompasses most of the basic for getting an affiliate website up and running. Beginners will learn everything from selecting a quality niche and how to create a website and get hosting off of the ground. You will also learn information about creating and adding content, along with some basic social media marketing techniques. This information won't be valuable for experienced marketers who are already established, but for beginners, it's a good, inexpensive start.
Training Tools / Support
The nice thing about Deadbeat Super Affiliate is that you do get some decent training and support. When you sign up, for just $17, you'll get access to 23 videos, which make up 5 hours of training material. These views cover everything from registering for an affiliate network to choosing a niche and doing some market research. You'll learn how to check for competition, install WordPress, register your hosting and domain, and how to generate and add content. They'll also teach you about using YouTube videos and how to share these across different social media platforms. Some of the information is self-explanatory, but it's still a good start for affiliate marketers.
Deadbeat Super Affiliate also offers some pretty good support. They offer a 30 day money back guarantee and from what we can tell, they seem to honor it. Once you become a member, you can also email their support team at [email protected] with any questions. In addition, there's also a live chat option if you need immediate support.
Final Opinion / Verdict
So, what's the final verdict on Deadbeat Super Affiliate? Well, it's definitely not a scam. There is some good information that can be gleaned from the site. However, there are some red flags that detract from its overall score. Another issue with Deadbeat Super Affiliate is that there are simply better options out there. Yes, some of the training is helpful for beginners, but if you are looking for a more all-encompassing affiliate marketing training, there are other products to consider.
We Constantly Review Programs in "Make Money Online" Niche,
So That You Don't Have to Waste Countless Hours
Want To See Our
TOP RECOMMENDATION?