Name: My Home Job Search

Website: https://myhomejobsearch.com/
Price: Free for Basic, $29 for Premium
Founders: Michael Anderson
Overall Ranking: 2 / 10
Who's it For: No One
Summary: My Home Job Search is another program that is more of a directory that has listed different online products. They claim to hand pick only legitimate online opportunities that can help you earn anywhere from $14 to $56 an hour. Find out if this is true and if they really worth investing in to.
If You are Looking for Truly Legitimate Opportunity

What is My Home Job Search About?
If you are looking for ways to make money online, you might have stumbled across My Home Job Search. My Home Job Search claims to make the process of making money online simple, but what are they really about?
First, it's always a good idea to remember that if it was easy, everyone would be doing it. That being said, let's take a look at what My Home Job Search has to offer.
My Home Job Search is a website that links you to real work from home jobs that are located near
you. It was founded by Michael Anderson—or an actor portraying him.
In reality, My Home Job Search is simply a search engine for online jobs and pretty much nothing else. The only difference is that this site claims to filter out "fake" jobs and only show you the legitimate opportunities so you are not going to get scammed.
To start, you'll enter your zip code and then answer a bunch of questions. Mainly, you'll be asked what type of income you hope to generate and how many hours you can put into this new job opportunity.
After becoming a member—of course, you have to become a member—you'll get access to the job board where you can login to your member dashboard and find the "legitimate" jobs that you've been matched with.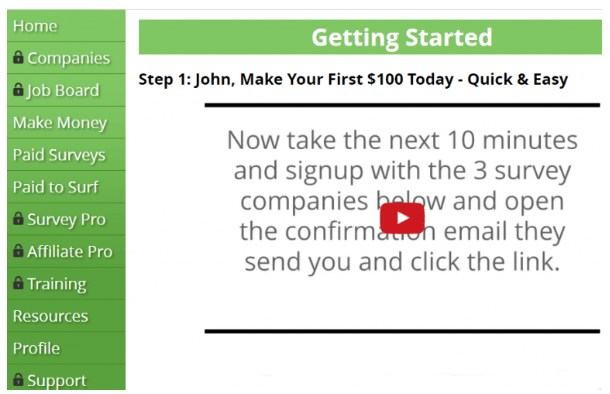 Seems pretty simple right? There has to be a catch, doesn't there? Reading some reviews make people wonder if there is a My Home Job Search scam. So, is there? Or, is My Home Job Search Legit?
Is My Home Job Search Legit?
The truth is, My Home Job Search might not be an all-out scam, but there are too many Red Flags to take the program seriously.
First of all, Michael Anderson, the supposed founder/owner of My Home Job Search is not a real person. He's a paid actor. Why would a legitimate company need to hire a suave actor to pose as the CEO?
That's not where the deception ends, unfortunately. My Home Job Search also makes fake claims that you will earn $14-$56 an hour, or up to $6,000 a month. You will be extremely hard-pressed to earn that kind of income online through any platform, let alone a job search engine.
They utilize other deceptive marketing techniques as well, such as claiming there's only so many jobs available, when in fact, that number on the website never changes.
While My Home Job Search might have some okay job opportunities—spoiler alert, they really don't—right off the bat they just appear deceiving. If they had legitimate job offerings, they wouldn't need to utilize all the deceptive tactics to get you to join.

Price
Like many online money making sites, My Home Job Search has different tiers of membership. The Basic Membership is free. Yes, free! That's great until you realize that it doesn't offer you a whole lot.
With the basic membership, you'll just get access to specific categories like freelance writing and surveys. However, if you want access to more jobs, you'll need to upgrade to a Premium Membership.
Normally the Premium Membership is $99, but sometimes you can get it on sale for $29. This will get you access to all of the site features, and allow you to look at companies and various categories on the job board. You'll also get dedicated customer support should you have questions.
Pros / Cons
Pros:
Cons:
Fake Facebook likes and YouTube views to deceive you
The owner is not a real person, which is a red flag
Misleading questions asked
They use deceptive tactics to get you to join
My Home Job Search makes unrealistic claims and promises
Who is it For?
My Home Job Search is not going to live up to their hyped statements of finding you $50 an hour jobs or making you $6,000 from home. In fact, it's really not worth your time of energy to invest anything in My Home Job Search.
The job opportunities that are "higher" earning require you to invest into expensive products and if you aren't an experienced marketer—and even if you are—you'll never see a return on that investment.
The only thing My Home Job Search might be good for is if you're looking for writing jobs. You can search for these using the Basic Membership, which is free, so it's not a bad tool for freelancers to check out if they've hit a dry spell.
Otherwise the whole idea behind this product is to get you in the system and enable you to upgrade to their premium membership so that the owner could make $99 or $29.
Final Opinion / Verdict
So, what's the final verdict on My Home Job Search? Even though it can be purchased—occasionally—for the low price of $29, it just isn't worth your time or money. Most of the "high paying" jobs are risky investments and sketchy themselves.
In addition, My Home Job Search has so many red flags. The founder is a paid actor, they utilize fake claims, fake monetary promises, fake news videos, and fake statements to try to deceive you into thinking they offer value. A legitimate company wouldn't need to do that. Do yourself a favor and steer clear of My Home Job Search.
We Constantly Review Programs in "Make Money Online" Niche,
So That You Don't Have to Waste Countless Hours
Want To See Our
TOP RECOMMENDATION?