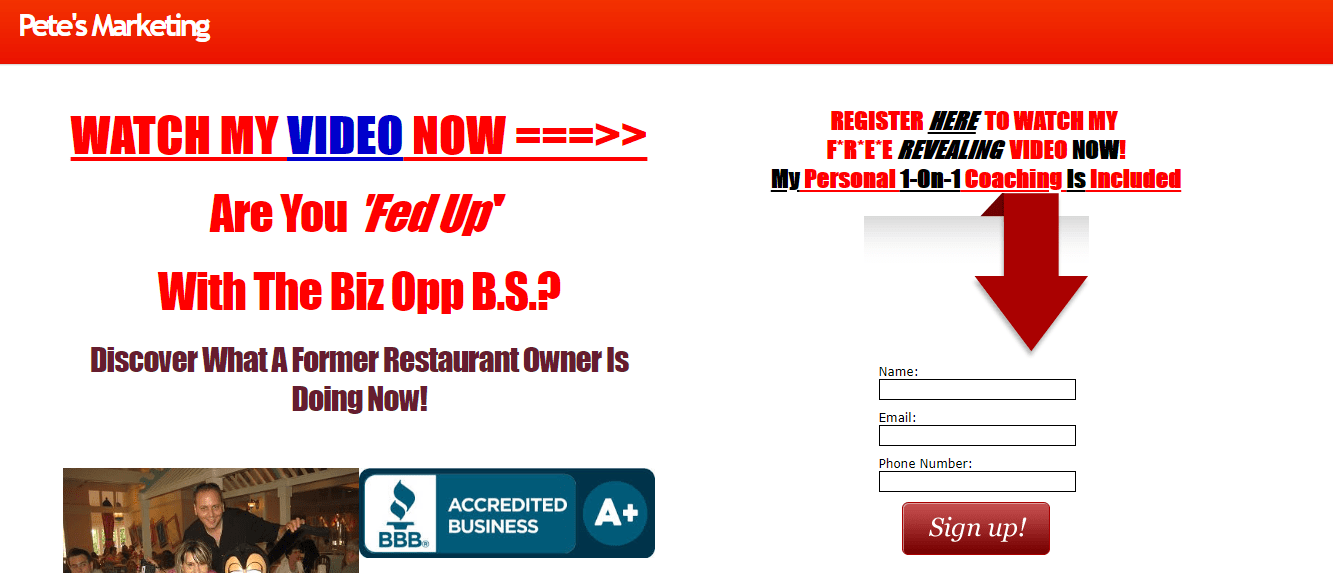 Pete's Marketing Review Summary
---
Name: Pete's Marketing Review
Website: http://www.petesmarketing.com/
Founders: Pete Vlahos
Product Type: Done For You Website for Affiliate Marketing
Price: $1,497 plus up-sells
Quick Summary: Pete's Marketing is a coaching program designed to teach anyone on how to kick start home based business with help of 6 different marketing service strategies. They claim to help many gain success in the filming industry and boasting BBB A+ credit rating. This is an updated 2019 review of the program. Find out below what changed from original product offering.
Overall Rating: 1/10
Recommended: No
*****April, 2019 Update of Pete's Marketing Review
Pete's marketing has changed since I first reviewed this program and possibly due to lots of criticism they completely locked down the website. Here is how their Home page looked before:
You can see a sales video and an opt-in area to collect information for Email marketing. And here is how Home page look right now:
No more sales video or opt-in area. In fact the only information you can really get is the text on the left side offering coaching services and providing contact information.
Pete's marketing also stresses on the BBB accreditation which if you really check:
Has only 2 reviews that are one after another with very short phrases. I think if a service is super popular there will be more than 2 reviews.
By the way speaking of popularity: How really popular Pete's Marketing? Let's take a look at search engine traffic using a tool called Jaaxy:
As you can see highlighted in red monthly traffic for most popular keywords is fairly low. It's not dead but not popular either. Usually it's in thousands if a website being constantly hit with traffic from search engines. But perhaps Pete's Marketing changed their strategy and went on to providing more personalized coaching. I don't blame them especially since they got lots of negative feedback.
Below is my original Pete's Marketing Review that gives an insight in to the program. Like I said I am not sure what has changed since their website offers no more public information, but it's still good to know as you can have an expectation for things like up-sells, lack of transparency and overall concept which still may be used by offering to build a website and forcing to upgrade to different packages.
I am Vasiliy,
Discover My Secrets to Making Money Online
What is Pete's Marketing About?
So, you want to make some money online? Well, chances are you might have stumbled across Pete's Marketing as a way to do so. Whether it came up in a Google search—not likely—or you received an email or another promotional contact about joining Pete's Marketing, it's important to do your research and learn a bit more about what they have to offer.
What is Pete's Marketing? Well, the sales page is pretty vague—and a bit deceiving, but more on that later—but it's essentially a "turnkey system" for affiliate marketers. You will get a website made for you and then promote products and services to earn commissions.
The program is marketed as something that won't cost you a cent and is completely risk free. In fact, the creator, Pete Vlahos claims he will pay you $500 cash if you try the program and do not make any money. Well, that certainly sounds intriguing, doesn't it? A creator who is so confident he's willing to shell out $500 if you aren't successful surely means Pete's Marketing is legit, right? Well, that's not always the case.
The issue is that reading Pete's Marketing reviews can paint a varying picture of whether the system works or not because many people are trying to get you to sign up so they can earn commissions. So, for an unbiased Pete's Marketing, keep scrolling!
Tired of Wasting Time on Low Quality Programs?
I'm so grateful that I was able to find THIS PROGRAM which helped me to finally start making money online!
Is Pete's Marketing a Scam?
What's the deal with Pete's Marketing? Is it a scam or is the site actually legit? Well, I hate to break it to you, but this service is pretty much a SCAM.
The main issue with Pete's Marketing is the complete and utter lack of transparency. They utilize every deceitful marketing trick in the book to get people to sign up. Pete will pay you $500 if you don't make any money? That's a lie. Pete will pay you $1,500 just for watching the sales video? Also, a lie.
All he offers is a done-for-you website valued at $1,500. (Spoiler Alert: It does not cost $1,500 to set up an affiliate website.) Pete's Marketing won't cost you a penny? Then why are members prompted for their credit card information to purchase hosting and his product package? See what I mean? If Pete's Marketing was legit, they wouldn't need to repeatedly lie to try and get people to sign up.
The other issue with Pete's Marketing is that the prices are just absurd and there is no rhyme or reason to them. Yes, it's free to sign up, but then you will reach a sales page that prompts you to select one of three highly overpriced system packages.
From $1,500 to $6,500 for these packages, Pete's Marketing is a total scam just looking to drain your bank account for their own benefit. You won't get what you pay for and chances are that you won't come close to seeing a return on that investment.
Pete's Marketing is promoted as not costing you a cent, which means it's totally free, right? Not so fast. Remember how I mentioned that Pete's Marketing is a scam? Yeah, they're not trustworthy and it's definitely not free.
In fact, it's quite expensive. You will get a free website, but you'll have to pay for hosting that website. The Pete's Marketing site pushed you to ServrCloud to purchase your hosting, which at the very least, will cost you $97 per year.
Less than a $100 doesn't seem like too much, but the expenses don't stop there. You'll also have to purchase a sales funnel and the rights to sell high ticket digital products. On the low end, that will cost you $1,497. There are other tiers marketed at $3,497 and $6,497, and obviously, you are pressured into purchasing the $6,500 package. Does that sound FREE to you?
PROS
CONS
There is very little transparency
You don't know what you're buying
The prices are exorbitant even though it is marketed as "free"
Pete's Marketing utilizes very deceitful marketing techniques
There is limited training offered to help you be successful
You are subjected to costly up-sells
Simply put, Pete's Marketing is not a good fit for anyone. This company is a complete scam and you'll be throwing thousands of dollars away with very little chance of becoming profitable.
From the start, Pete's Marketing uses very deceitful marketing techniques to lure members in and that in itself should be a very major red flag. Marketed as a great program for beginners with little experience, this product is anything but. Do yourself a favor and steer clear of Pete's Marketing.
As far as training goes, Pete's Marketing fails. Yes, you get a website, but what do you do with it? This "turnkey system" is not going to monetize itself. Without proper training, you are throwing money away for a website and affiliate products that you don't know how to utilize.
With the hefty price you are paying to join Pete's Marketing, the last thing you should have to do is pay even more to get a decent training on affiliate marketing. The support also leaves much to be desired, but it comes as no surprise. Pete's Marketing is just here to make money off of you and cares little about your chances of success.
So, what's the final word on Pete's Marketing? STAY AWAY. There are honestly too many Red Flags to count that all highlight Pete's Marketing as a complete scam. From the lack of transparency in the program and the pricing packages to deceitful marketing techniques, Pete's Marketing has no credibility. You won't make the money Pete claims you will, which means you'll lose thousands.
We Constantly Review Programs in "Make Money Online" Niche,
So That You Don't Have to Waste Countless Hours
Want To See Our
TOP RECOMMENDATION?