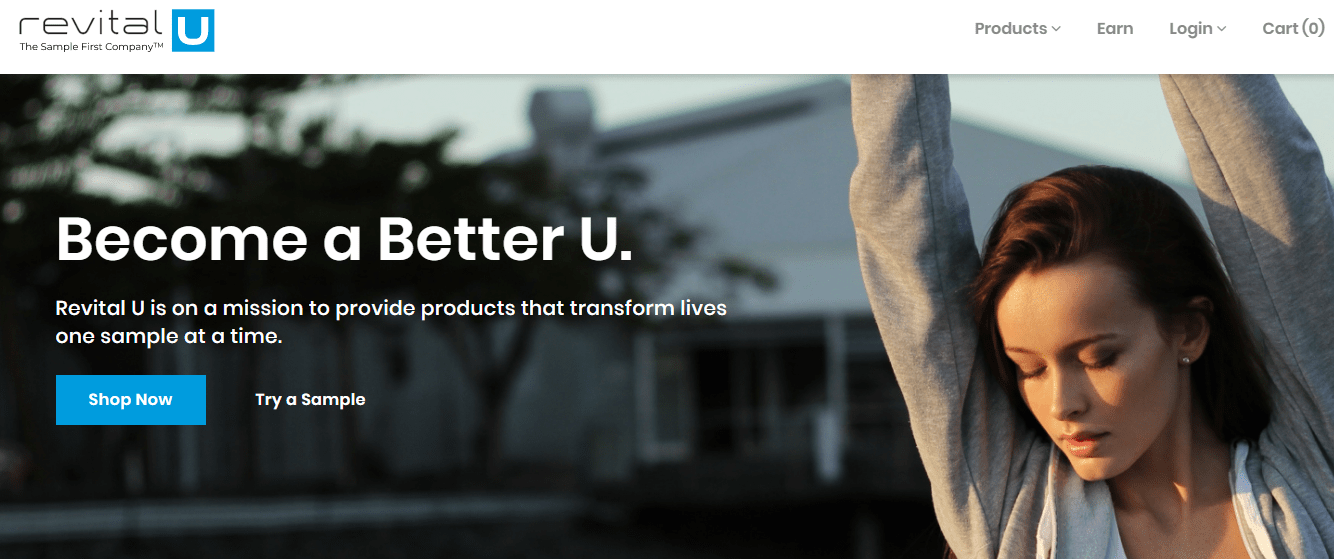 Welcome to My Revital U Review!
In this post, we'll discuss what the company is about, what do they offer, and their compensation plan. We'll also answer the question that most of you are dying to ask: Is Revital U a scam?
Revital U Review Summary
---
Name: Revital U
Website: www.revitalu.com
Founders: Andrew McWilliam
Product Type: Multi-Level Marketing
Price: $49.99
Quick Summary: Revital U is a new MLM company that promotes weight loss products, such as coffee and supplements. It provides money-making opportunities through profit sales and inviting new people.
Overall Rating: 5/10
Recommended: No
The company has been making the rounds on social media so I want to know it's a real deal or just overhyped. Also, if the money-making opportunity is legit or just another scam. I know you want the truth, too, so sit back, relax, and enjoy my unbiased Revital U review.
Revital U is a multi-level marketing company under the health and wellness niche. It's almost similar to CELLiS and Valentus mainly because of their flagship product -- weight-loss coffee.
It was registered in 2016 under Pay Johnston; however, the founder and CEO of the brand is Andrew McWilliam. I can't find the reason why the domain was listed in another name though.
Anyway, here's a quick background of the owner.
Who Is Andrew McWilliam?
Andrew had been involved with several companies before, such as ACN, LuxuriLife, and Momentis where he became the CEO. Other than these, there's nothing much about the brand's founder.
It's not really a bad thing but for me, when you want to make money using their platform (or any company), it's best if you can learn much about the people behind the program. On the bright side, it's good to know that Andrew has a background with network marketing plus, he does live videos on social media.
Revital U Product Line
There's nothing unique when it comes to the products of Revital U. I mean, there are lots of brands marketing weight loss products nowadays. However, it's really up to you and the company how you are going to stand out and attract clients.
Anyways, here's what Revital U offers:
Smart Coffee $49.99
The company claims that this coffee product helps users to suppress their appetite, improve concentration, and increase energy.
Smart Cocoa $49.99
Same as the coffee, the cocoa variant aims to reduce appetite, boost energy, and improve focus.
Smart Caps $49.99
Same as the Smart Coffee and Smart Cocoa but in the form of supplements.
According to their site, their formulation is "backed by science" and that these are plant-based, dairy-free, soy-free, and gluten-free. Perhaps, this is one of their edges. Some people are very particular with what they consume after all.
In case you're interested to try the products or you've tried it already and want to purchase again, they offer an auto-ship price that lets you save 20%.
How To Make Money With Revital U?
As with all MLM companies, there are two basic ways to earn: selling the products and inviting new people.
If you want to make money with this program, you should become a member so you can get the products on a wholesale or discounted rate. Then, you have to sell it based on their suggested retail price so you can earn from profit sales.
The challenge here is how you're going to sell the products. If you're new to this kind of business or you don't have marketing skills, it will take time to get your investment back. So, it's either you level up your expertise or choose another legit source of income.
For instance, if you like promoting products but you don't have capital, you can try affiliate marketing. With this kind of business model, you don't have to worry about the inventory; you only need to find the best affiliate marketing programs, such as Wealthy Affiliate, to sign up with.
Speaking of Wealthy Affiliate, did you know that you can get training, tools, and other perks for free? That's right! You can start making money online without paying for anything. The best part is that you have access to its live community so you know that you'll have the support you need.
Anyway, other than selling, you need to recruit people to join your team. This is the essence of MLM after all. Inviting new individuals to join your team does not only increase your chance to reach milestones but also, boosts your ranking or level so you can get more commissions, bonuses, and incentives.
Here's an outline of Revital U's ranking:
Brand Influencer
Influencer Qualified Brand
Executive Brand Influencer
Senior Brand Influencer
Regional Brand Influencer
National Influencer Of The Brand
Global Brand Influencer
Platinum Brand Influencer
To learn about Revital U's compensation plan, you can watch the video below:
Revital U has only been founded last 3 years ago so it's still too early to tell if it's a scam or not. It's NOT accredited by the Better Business Bureau and it has a B+ rating though so it's something that you should think about first.
Also, I found out one review that's alarming since it involved a client being charged without his consent. Check the photo below for more details:
Nonetheless, it's not involved itself in scandals unlike other MLM programs unlike AIM Global so I guess it's still safe to join this program.
To start earning with Revital U, you have to become an affiliate first, which means you have to pay $49.99. It's cheaper compared to other MLM platforms that cost more than a hundred dollars for the membership fee.
However, Revital U is only available to a few countries, like the USA and the United Kingdom.
Here Is My Top Recommendation to Start Highly Profitable Online Business from Comfort Of Your Home
PROS
You Can Try The Products First
This is the first time that I've seen an MLM brand offer a sample product. This is good if you want to know if you'll like the taste of the coffee or cocoa first or not. However, it's not completely free since you have to pay for the shipping and handling fee that is around $5.
30-Day Money-Back Guarantee
Revital U offers a refund for those who are not satisfied with the products. For me, this is an advantage since it only shows how confident they are with their brand that they are willing to give the buyer's money back in case the product failed to meet their expectations.
Just remember that you need to email or give them a call within 30 days to get a refund.
Least Expensive Products
Compared to other MLM products, Revital U's Smart Coffee is cheaper; however, this doesn't necessarily mean that their brand's essentials are better.
In addition, the membership fee is also affordable.
CONS
Product Is Limited
Revital U has only 3 products to choose from and all are created to help lose weight. While the demand for this kind of product is high, their market is limited. As a distributor, this could be challenging since you have to work hard convincing people to purchase your products.
Too Many Competitors, Limited Market
There are too many weight loss brands in the market nowadays and being a new brand, it would take time for Revital U to get well known. On top of this, the company only serves two countries -- the USA and the UK.
Tired of Trading Your Precious Time for Money?
Here is a Blueprint to Owing Highly Profitable Online Business Without Any Experience REVEALED!
Revital U is a typical MLM company that lets you make money through profit sales and recruitment. That being said, you should have expertise and skills in selling and marketing before joining the brand.
It's also ideal if you have used their products and liked them personally. That way, you can promote the product effectively.
Otherwise, if you think inviting new people is a daunting task or you don't want to be limited with the products you can sell, I suggest you take my FREE STEP-BY-STEP GUIDE now!
Overall, Revital U is fairly a good product and brand. It's still new though so it's too early to assume things. However, managing to keep a good reputation for even a year is tough so I commend the brand for avoiding scandals.
But then, the income potential is low. Why? For one, there are too many companies selling weight loss coffee and supplements. Second, Revital U is still new so it would take time for them to become popular unless their products are innovative enough.
So whether you should join the program or not -- it's up to you. You can try it if you're really curious but to secure your finances, it's always better to have a side hustle or another source of legitimate income.
If you're looking for a side hustle or a full-time income, I suggest you sign up with my #1 recommended program.
It's free and it's easy to get started. All you have to do is fill out a form (no credit card required) and you can instantly take advantage of the benefits, such as:
One-on-one coaching
Comprehensive guide
The best business tools and support you need
Webinars and training resources
And many more!
I hope you enjoyed Revital U review and if you have comments or questions, you can share it in the comment box below.
Thank you!
We Constantly Review Programs in "Make Money Online" Niche,
So That You Don't Have to Waste Countless Hours
Want To See Our
TOP RECOMMENDATION?