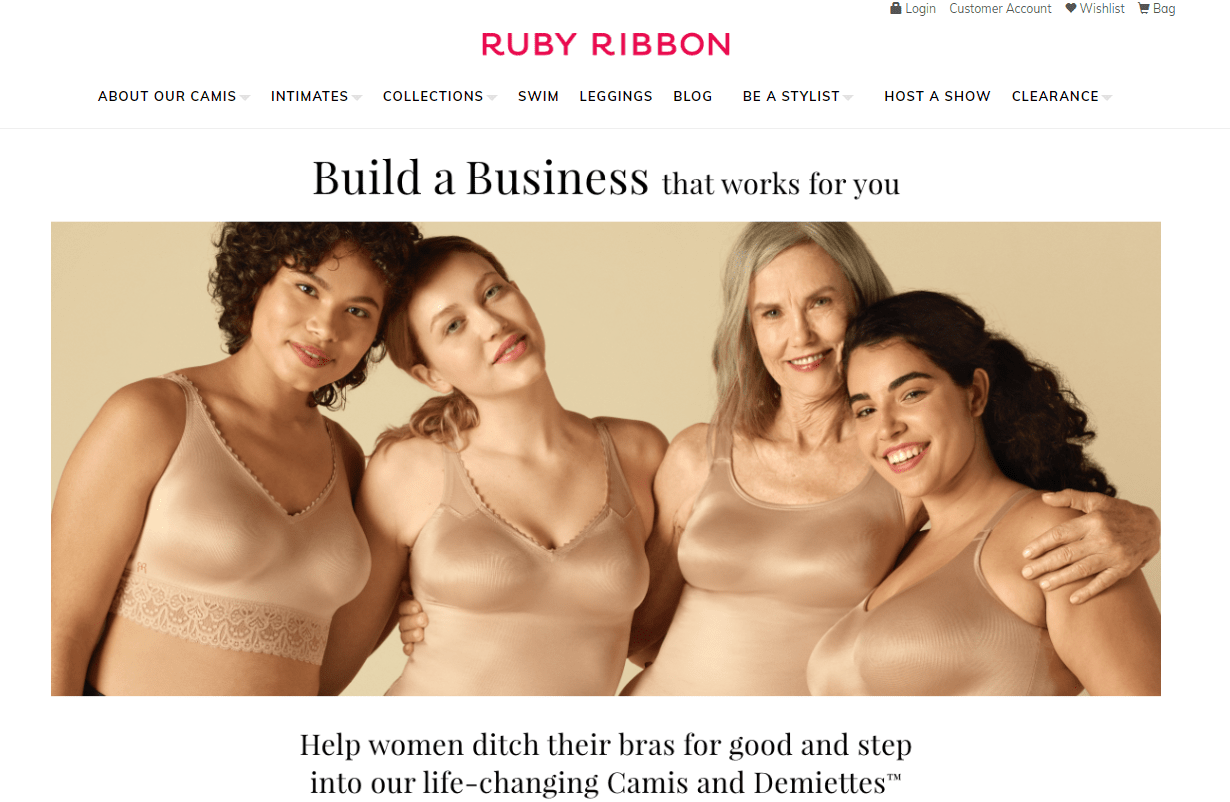 Welcome to My Ruby Ribbon Review!
When it comes to multi-level marketing (MLM), the variety of products is wide and it doesn't just stop from weight-loss shakes, skincare regimens, and nutritional supplements.
And now, we're going to talk about a company in a clothing niche called Ruby Ribbon.
Ruby Ribbon Review Summary
---
Name: Ruby Ribbon
Website: www.rubyribbon.com
Founders: Anna Zornnosa
Product Type: Multi-Level Marketing
Price: $149 To $549 For Their Start Kit
Quick Summary: Ruby Ribbon is a clothing MLM company that focuses on selling camis, leggings, and swimwear. It's founded in 2011 and although a new brand, it has been making rounds online.
As an MLM opportunity, it offers ways to make money but is it worth your time?
Overall Rating: 5/10
Recommended: No
Still new to the industry, is there a chance to make money out of this program? What is it all about? And is it worth your time?
Find out all the answers you need to know in this honest Ruby Ribbon review.
P.S.
If you know how MLM works and you either want to skip this program or just have another source of income, you can check my FREE Step-By-Step Guide now.
What Is Ruby RIbbon About?
Ruby Ribbon is a network marketing company that distributes clothes. While the concept is nothing new, what makes this brand somehow unique is that they focus mainly on selling innerwear, shapewear, and swimwear.
It was founded by Anna Zornosa in 2011, who, according to her profile, has been an executive leader for many brands, such as Yahoo! Personals, Topica, Knight Rider Digital, and Women.com.
But this year, the brand has appointed a new Chief Executive Officer (CEO) named Clint McKinlay.
McKinlay, on the other hand, was known for being a part of several companies, such as Shaklee, Rodan + Fields, JAFRA, and Yves Rocher.
Ruby Ribbon has physical headquarters in Burlingame, California and New York.
Ruby Ribbon Product Line
On their website, you will find several categories of their products, namely: intimates, collections, swim, and leggings. These are available in a variety of sizes, from XS up to XXXL. The good thing about this is that the prices are the same.
Normally, other brands sell plus-size items at a higher rate but that doesn't seem to be the case with Ruby Ribbon.
What makes their product unique, you ask? Their bras are wire-free. If you're a woman, you know the struggle with wearing brassieres all day, especially the ones with wire. It can be painful and annoying so it's a relief to know that there are brands, such as Ruby Ribbon, that would let you protect your private parts comfortably.
Anyway, on their Intimate, you'll find various collections, such as Lace, Original, Sheer, Nursing, Full-Support, Shaping Bottoms, and Full Body.
On their Collections, there are selections for New Arrivals, Core Collection, Spring Collection, Sport Collection, Core Collection Lookbook, and Spring Quarterly Lookbook.
It looks good, aesthetically speaking but since it's from an MLM company, you should not expect less for its price. For instance, I found one sports legging (Panel ⅞ Sports Legging) that costs $89.
I checked Amazon and found alternatives that are less than $30. Even known brands, such as Nike and Adidas, offer sportswear that is less than $40.
So the question is: is Ruby Ribbon worth the price?
I haven't tried any of their products personally but based on the reviews online, the majority of those who purchased it love how it works on their body.
Vlogs and blogs are showing how Ruby Ribbon Cami supported them, especially the slimming part while leaving them comfortable.
Here's one video review to learn more:
How To Make Money With Ruby Ribbon
Like other MLM companies, there are two basic ways to make money with Ruby Ribbon.
One is by selling the products and the other way is to recruit people to join the platform.
The good thing about Ruby Ribbon is that their products are appealing. It's not full of bold claims but the way they market the products through words and its aesthetic, it's not difficult to catch the attention of the market.
As a member, you'll earn around 20% from profit sales and it can go high as 40% depending on your rank.
As mentioned, there's the recruitment part, which is normal for multi-level marketing businesses. While you don't get paid directly for inviting a new person, you can earn around 3% of the sales of your downline, and that's the concept behind the recruitment.
The more people you have under you who are making a sale, the bigger the commission you can get from them even without selling on your own.
Also, recruiting people and making more sales can help you rank higher and faster.
Once you reach the leadership ranks, namely Leader, Senior Leader, Director, Senior Director, and Executive Director, you can get around 40% commission.
To learn more about Ruby Ribbon's compensation plan, you can watch the video below:
Ruby Ribbon is not a scam.
It's a legit MLM business that offers tangible products, which are obviously made of high-quality materials. It's like Avon and Mary Kay, in my point of view, which are well-known in many countries.
While it requires recruitment, it focuses more on sales, which is a good thing. At least it won't get tagged as a pyramid scheme by most people easily.
The challenge is making a sale. The company's rate is steeper compared to the ones offered in the market and if you're a newbie or you don't have enough skills and experience when it comes to marketing this kind of product, then it might not work for you.
But then, if you know how this business works and you're willing to improve yourself to make it work, there's a chance for you to make a good income out of it. Otherwise, direct selling or network marketing is not for you.
To become a Ruby Ribbon member or "Stylist" as they call it, you have to purchase an initial kit that includes the supplies you need to make an income.
Here are the four options to choose from:
Mini Start Kit $149
This includes 2 camis, 1 demiette, business tools, and a website.
Cami Starter Kit $249
This includes 6 camis, 2 demiettes, business tools, and a website.
Ultimate Start Kit $399
This includes 6 camis, 2 demiettes, leggings, and additional products, business tools, and a website.
Ultimate Plus Start Kit $549
This includes 6 camis, 2 demiettes, leggings, and additional products, business tools, a website, and $300 in credit you can use to buy more items.
Here Is My Top Recommendation to Start Highly Profitable Online Business from Comfort Of Your Home
PROS
Legit MLM Company
Ruby Ribbon is less than 10 years old and it's still new to the market. Nonetheless, it's not a scam and some people are making money from it, such as the ones below.
Of course, there are negative feedback and no matter how legit your business is, it's normal to receive backlashes. What's not normal is that there are more complaints than positive reviews. Fortunately, this is not the case with Ruby Ribbon.
Potential To Earn Income
First of all, you are selling tangible products that are interesting and have good quality. There's a market for this already but of course, it's not cheap so you have to know what type of people are your target market.
Also, the startup fee is a bit high so if you want to become their stylist, you need to commit to this opportunity.
CONS
Still New To The MLM Industry
Ruby Ribbon has just started in 2011 so it's too early to assume things. For now, we know that it's legit and it sells real products but we still can't tell it would be in the MLM scene in the long run. After all, there are a lot of networking marketing companies that have been shut down because of unethical practices, low income, etc.
Tired of Trading Your Precious Time for Money?
Here is a Blueprint to Owing Highly Profitable Online Business Without Any Experience REVEALED!
Ruby Ribbon is a good option for those who are interested in clothing, especially in intimate wear. It's also ideal for those who have tried network marketing companies before since these people know how the recruitment part works.
Ruby Ribbon is a legitimate platform that follows an MLM structure; meaning, you have to sell the products and recruit new members to make money. It's been operating since 2011 and it's one of the few network marketing companies that I like.
It focuses on selling, which for me is important when you really want a business. It doesn't put much pressure on inviting people so I assume that their Stylists are not as aggressive as the ones from other network marketing brands.
It won't be easy to make money though because of the overpriced innerwear and swimwear and you have to meet a sales goal or quota to increase your rank but then, it's how an MLM company works.
If you're interested in this kind of opportunity and products, you might want to check out this option. Otherwise, you can see my top-recommended program below.
Making money with an MLM opportunity is a risk; so as joining other types of business but if you want to reduce the "annoying part" a.k.a. recruitment, I suggest that you sign up with my #1 recommended program.
It will let you promote the products you are interested in and believe in. the best part is that you can start now even without paying any fee. Yes, you read that right!
Plus, you can enjoy the following:
I hope I have helped you make a decision with my Ruby Ribbon review and if you have questions or comments, please feel free to drop it down below.
Thank you!
We Constantly Review Programs in "Make Money Online" Niche,
So That You Don't Have to Waste Countless Hours
Want To See Our
TOP RECOMMENDATION?