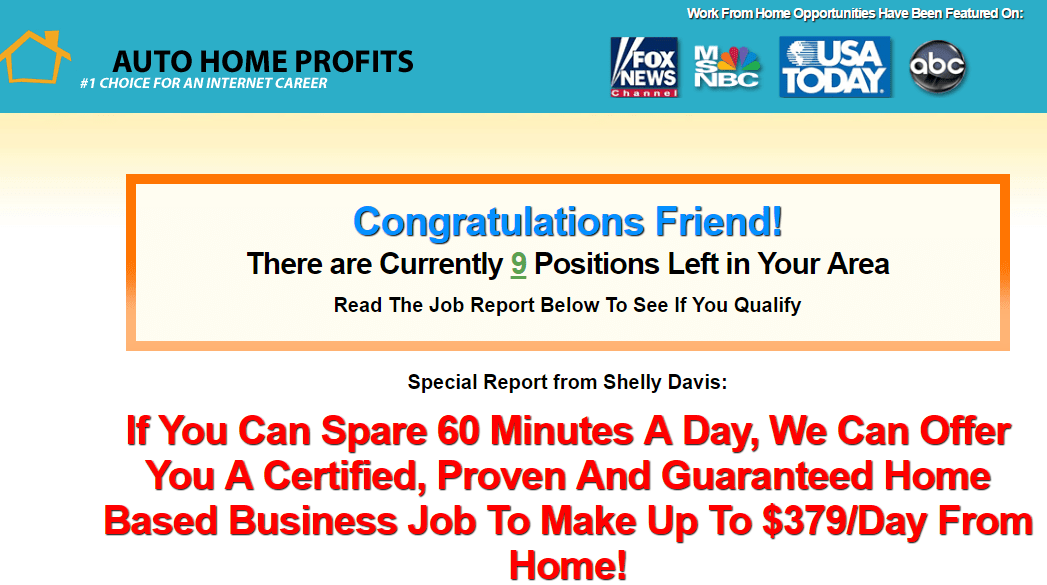 Name: Auto Home Profits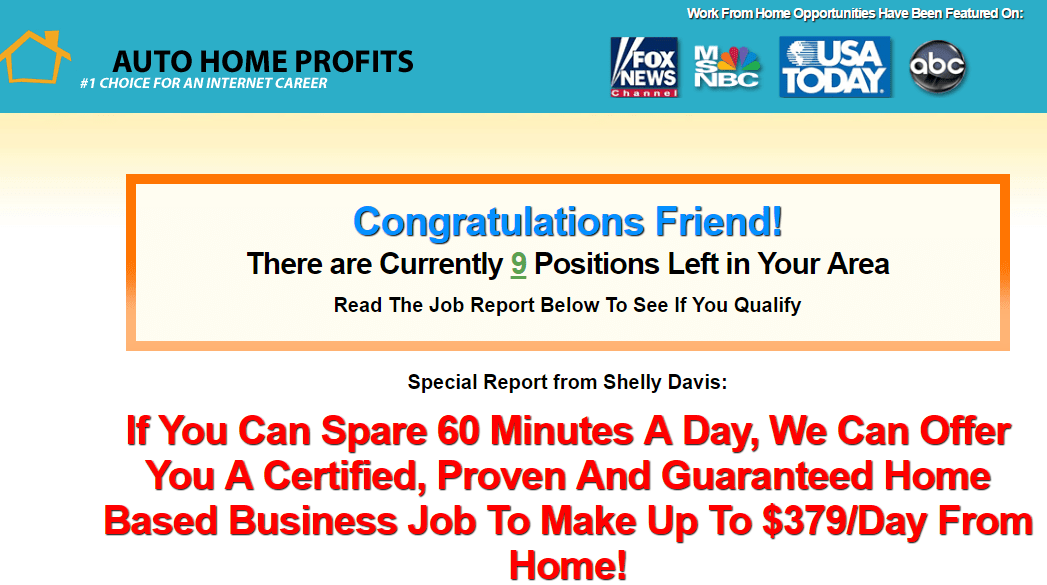 Website: http://autohomeprofits.com/
Price: $97, plus upsells
Founders: Unknown
Overall Ranking: 1/10
Who's it For: No one
What is Auto Home Profits About?
---
Auto Home Profits is a program that supposedly teaches you how to make money from the comfort of your home. The product reportedly teaches you how to generate income online by posting links, which is a business opportunity that is extremely hard to capitalize on.
The home page of their website claims that if you have just 60 minutes to spare every day, they can offer you a job that will help you earn up to $379 a day. The opportunity seems too good to pass up on, right? That's what Auto Home Profits wants you to think.
Is Auto Home Profits a Scam?
Right off the bat, any program that promises to net you large paydays with minimal amount of work, should be viewed skeptically. If you can make up to $379 a day with an hour of work from home, wouldn't everyone be doing that?
Is Auto Home Profits legit?
Well, considering that they claim they can "…offer you a certified, proven and guaranteed home based business job to make up to $379/day from home," but then in tiny letters at the bottom on the extremely long page state that "The typical purchaser does not make any money using this system," does not bode well for Auto Home Profits. If typical users do not make money using their system, you can bet that you're probably dealing with a scam.
Beyond this, there are also other Red Flags that come with Auto Home Profits. The company tries to mislead you by displaying the icons of prominent news networks on the home page banner, but this is trickery. It states that "Work from home opportunities have been featured," but not Auto Home Profits specifically. These companies never reviewed Auto Home Profits, or featured them in stories. This is just a deceptive marketing trick Auto Home Profits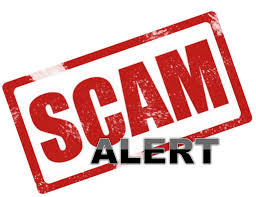 uses to improve their appearance of legitimacy.
Additionally, the system is promoted by Shelly Davis. Interestingly enough, the same image of Shelly Davis is also used on various different scam websites, leading us to the belief that she is not actually a real person. Her sob story is simply used to convince you that you can turn your life around and start earning hundreds every day.
They also try to get you to act quickly and rashly to sign up without doing your due diligence, by posting that there are only 9 spots left in the program. However, if you check back months later, you will realize that there are still nine spots left.
Separately, these facts are reason for caution, but taken together they paint a clear picture that Auto Home Profits is a dishonest company that only cares about getting your money.
If you are looking for Legitimate opportunity to start your online business in 4 Simple Steps I advise you to learn more about my #1 Recommendation Here: 
Price
---
The cost to join Auto Home Profits is $97. It's more to start, but by exiting out of their pages, the price will magically lower for you. Still, even $97 is too much for what little this system actually provides. Aside from the $97, there are also various up-sells that could see you shelling out hundreds for specialized training and tools deemed essential for your success. When all is said and done, you can be out thousands of dollars with nothing to show for it in return.
Pros / Cons
---
Pros:
Some of the training advice was helpful
Cons:
Most of the training videos are old and outdated

You are subjected to up-sells

Your high cost of entry is met with a low probability of success
When you look at Auto Home Profits in its entirety, there is almost nothing good about it. While there are a few good tips and pointers throughout the videos, much of the "training" is littered with outdated material and watered down with poor information. This leaves you with a poor overall product.
Additionally, you are going to face strong up-sell tactics from your "coaches," which offer little advice besides convincing you that you need product x, y and/or z to be successful. You will find your costs quickly adding up, with absolutely NO guarantee that there will be a pay day in the end.
In fact, Auto Home Profits explicitly states that most users will not make any money using their system. Overall, the cons greatly outweigh the benefit, which is essentially a few tidbits of information that you could find free elsewhere.
So Don't, waste your time on Scams. Learn more about my #1 Recommendation that teaches you to make money online
Who Is It For
---
Honestly, I cannot recommend Auto Home Profits to anyone. Not only are the training videos outdated and the information easily accessible other places on the internet, the company is also deceptive. With no guarantee that you will make any money, and no real track record of success, this is one to stay far away from.
Training Tools / Support
---
When you join Auto Home Profits, there are three sections of the program. The first phase is broken down into three steps. First, you are instructed to call a "coach" whose number has been provided. This will likely involve strong up-sell tactics and little actual coaching.
You also register with their affiliate programs that give you the ability to promote products and get credit if someone buys the promoted item. You are also instructed to buy "Click Drop," which is a site that buys you traffic. The "coaching" or training does not stop with phase 1. In the second stage of training, you are taught three lessons; make a free blog, sign up to create an email list, and register with a site that lets you track sales. Finally, the third phase of training provides video training on WordPress, website traffic, eBay, Facebook, and other affiliate marketing tactics.
The training listed above may seem legitimate, but in reality, the information is old and outdated. You can also learn most of these things through free videos or internet articles, which makes your buy in to Auto Home Profits pointless.
Final Opinion / Verdict
---
Overall, Auto Home Profits is a system that you want to avoid. This system will not show you how to make large sums of money with only an hour of work. You will also be throwing away your hard earned money on old, cheaply made training videos. There are much better viable options out there that will actually help you earn income online, so stay away deceitful systems like Auto Home Profits.
If you have any experience with Auto Home Profits or have any comments, please drop me a line below:
We Constantly Review Programs in "Make Money Online" Niche,
So That You Don't Have to Waste Countless Hours
Want To See Our
TOP RECOMMENDATION?