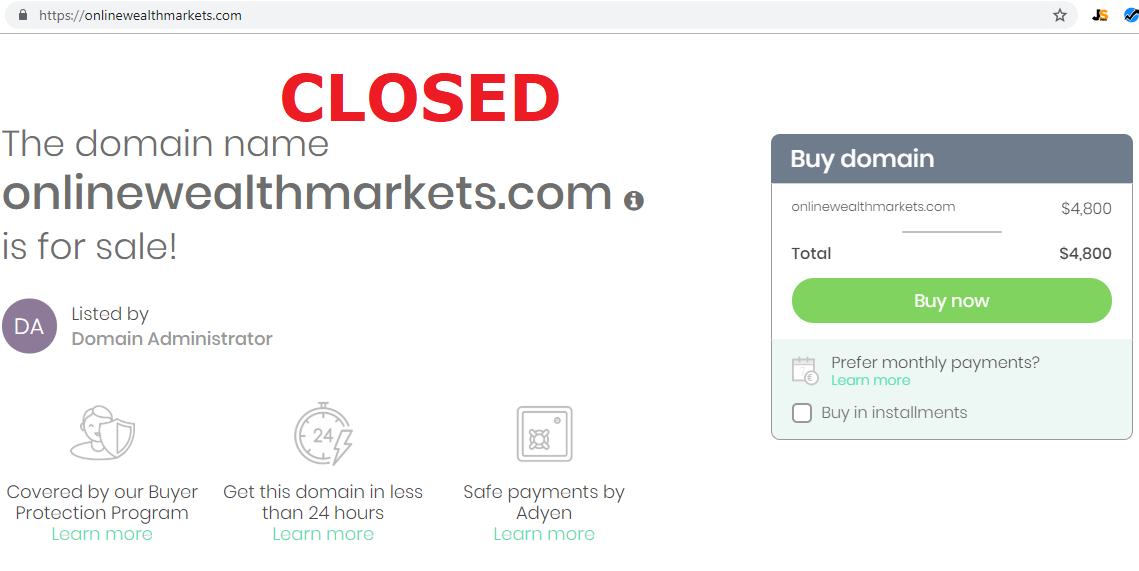 Online Wealth Markets Review Summary
---
Name: Online Wealth Markets
Website: www.onlinewealthmarkets.com
Founders: N/A
Product Type: Binary Options Trading
Price: $97
Quick Summary: As of April 2019 Online Wealth Markets System is not existent as their domain is up for sale. This was a binary options trading program with very low rating which is probably why it shut down. Make sure to check out my Top Legitimate Recommendation for starting online business. Find out how I started this website and learned how to make money online.
Overall Rating: 1/10
Recommended: No
Online Wealth Markets System no longer exists as their domain is moved up for sale. Online Wealth Markets has received lots of negative reviews that most likely resulted in their shut down. You can still read my original review below to find out why they were rated so low:
What is Online Wealth Markets About?
The Online Wealth Markets program is a system that teaches you about binary options trading. With a pitch of "start living your dream life," Online Wealth Markets poses as a work from home opportunity, but is vague right off the bat.
The Online Wealth Markets work from home opportunity is marketed as simple, but is extremely vague. You simply need to sign up with their online form, receive a one on one coaching call, and then activate their trading signals software.
What is Binary Options Trading?
Once signing up, you are actually sent software for binary options trading. Binary Options trading is a form of trading that has been growing in popularity due to its simplicity.
You are essentially betting on whether a particular asset or market will be increasing or decreasing in a specified short period of time. It's essentially a form of gambling that Online Wealth Markets dishonestly advertises as a legitimate get rich fast business opportunity.
Is Online Wealth Markets a Scam?
One thing that is Red Flag right off the bat is the "News Report" detailing work from home opportunities. By displaying prominent and easily recognized news logos, they try to trick the reader into believing that Online Wealth Markets was featured specifically, when in reality it was online job opportunities in general.
Additionally, Online Wealth Markets presents itself as an online job, but in reality you will be provided software for binary trading. You will also be required to provide sensitive information (your telephone number) right away to complete the reservation.
After getting started, you are directed to their payment page right away, without any explanation of what you will be doing. You are required to pay money upfront to a broker before you even know what you are getting into!
Online Wealth Markets presents a risk, even beyond their shady marketing and business tactics. Right on their website there is a risk warning that states, "Trading Binary Options involves substantial risk and may lead to loss of all invested capital." Even if you don't believe Online Wealth Markets is a complete scam, there is still a large risk factor that you take on when joining their program.
Just think about it if you are new to binary options trading and you invest your money in Online Wealth Markets – you also have a high risk of loosing all that money, therefore without any knowledge in options trading you don't want to take that risk.
Tired of Scams? Me Too!
But I'm so grateful that I was able to find THIS PROGRAM which helped me a lot in this online business journey!
Online Wealth Markets Price
In order to qualify for Online Wealth Markets, you will need to become Certified. This is just a way to generate money for themselves, because their Wealth Development Certification Program will cost you $97 right up front.
On top of this, you will be required to front money to your designated broker before you can begin trading. Online Wealth Markets gets referral fees and commissions when you use their software, whereas you are required to front hundreds to even begin.
PROS
Binary trading is becoming popular
CONS
There is a substantial amount of risk
The "business opportunity" is extremely vague
They use dishonest marketing techniques
You are forced to use their broker
The only good thing about Online Wealth Markets is that binary trading is becoming popular due to its simplicity. However, that is where the positives of the program begin and end.
All in all, Online Wealth Markets is an extremely shady program. First off, the business opportunity is extremely vague and they start taking your personal information and money before you even know what you are signing up for. This is absurd and should spark huge red flags.
Additionally, they use dishonest marketing techniques to pressure you into joining the program. From mentioning that there are "limited spots" available to circulating false reviews and news stories, Online Wealth Markets will do whatever it takes to get your money.
The other drawback is that they prey on beginners who aren't knowledgeable of markets and force them to use their broker. There is already enough risk associated with binary trading and drawing in those who know nothing about the markets is predatory.
Perhaps one of the biggest issues with Online Wealth Markets is that it is marketed as a program for beginners. Their website states that they take a traditionally steep learning curve that normally takes months to overcome, and turns it into instant knowledge through their trading triggers and signals.
The issue with that is you are relying solely on the information provided by another and don't actually understand that markets and what you are doing. This can cause you to lose substantial amounts of money very quickly.
While it is true that people with zero to little knowledge of binary trading and the markets can utilize their system, the risks are huge. In reality, only those with strong knowledge of financial markets should get into binary trading, but then they wouldn't need the online training and trading triggers and Online Wealth Markets wouldn't have very many customers.
In terms of training tools there isn't much. In fact, Online Wealth Markets doesn't really even teach you anything. You are provided a vague overview of what binary trading is by your "coach" only after you've signed up for it without knowing, and then are supposed to follow the trading triggers and signals that are sent out. This means you are following whatever your designated broker says, without knowing what you're doing.
Online Wealth Markets is simply not a program that I can recommend. From the start they employ shady and dishonest marketing techniques, which are meant to draw you into their extremely vague online job listing.
Only Online Wealth Markets doesn't provide a job, they just send you binary trading software and have you fork over money to a broker that they receive a commission from. Binary trading in itself is a risky move, but doing it with a shady company like Online Wealth Markets makes it even dicier. Simply put, Online Wealth Markets is a company that you should steer clear of, especially when there are legitimate business opportunities out there.
We Constantly Review Programs in "Make Money Online" Niche,
So That You Don't Have to Waste Countless Hours
Want To See Our
TOP RECOMMENDATION?