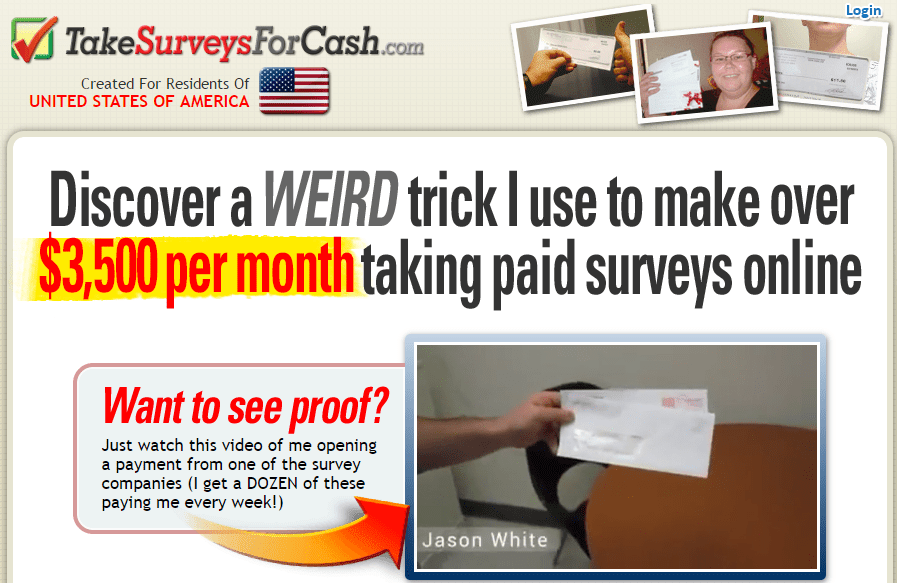 Name: Take Surveys for Cash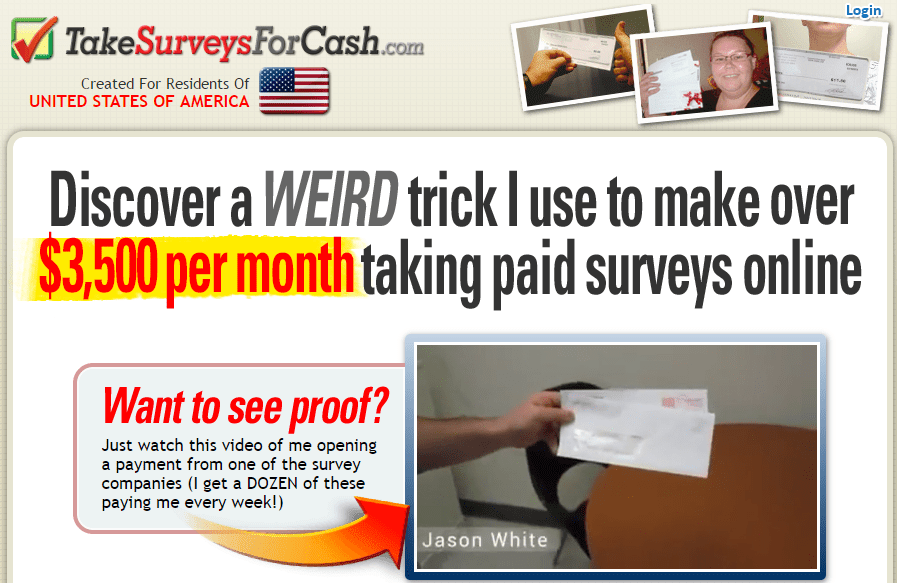 Website: www.takesurveysforcash.com
Price: $37
Founders: Jason White
Overall Ranking: 1 / 10
Who's it For: No One
Summary: The owner of this company Jason White claims he made $274,000 by just taking surveys. He knows the secret on how to get high paying surveys.
Is Take Surveys for Cash a scam or the best way to make money online. Keep on reading below for unbiased review.
Are You Looking for Legitimate Way to Make Money Online?

What is Take Surveys for Cash About?
Take Surveys for Cash is a website that claims you can make over $3,500 per month simply by taking surveys online. Founder Jason White states that he discovered a secret that fills his inbox with high-paying survey options every day and that if you join Take Surveys for Cash, he will fill you in on the secret.
Additionally, you are given access to surveys that are available now. Jason White claims that he's made over $274,000 in the past few years just by taking online surveys, and that if you join, he can show you how to achieve financial independence and freedom as well.
Yes, $3,500 a month sounds great, but is it too good to be true? The number is certainly a staggering claim and it can leave you wondering, is Take Surveys for Cash real?
Is Take Surveys for Cash a Scam?
When you read Take Surveys for Cash reviews, it's obvious that many people are skeptical about it. Their doubt is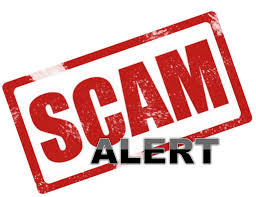 well placed because Take Surveys for Cash is totally a SCAM.
First off, you should never have to pay to join a survey site. There are so many survey sites out there that are FREE to join, so even though the cost seems insignificant, you shouldn't have to pay it. Take Surveys for Cash even goes a step further, claiming that there's "only a few spots left" to get you to take quicker action and sign up without doing your research.
Jason also lies by stating that you will receive $50 for your first survey after joining. What you aren't told is that this payment won't even come in the form of cash. It will come in the form of a gift card and chances are you will have to go above and beyond just taking a survey, by signing up for trails of other websites or businesses to receive it.
The earnings disclaimer is also something to keep an eye on, because it claims outright that you might not make any money using Take Surveys for Cash. It's one thing to claim that you won't make $3,500 a month, but to not make any money is a huge Red Flag.
Price
The price to join Take Surveys for Cash is originally $37. However, when you try to leave the page, the price will get knocked down to $12 to make you feel like you are getting a bargain.
Still, there are so many companies trying to find participants for their surveys, that you shouldn't need to pay to get access to them! I wrote a post on whether you can make money with survey companies and listed few good ones.
Of course Take Surveys for Cash is advertised as the cream of the crop when it comes to high-paying online surveys, but that simply isn't the case here. Any survey website that you need to pay to join is a hoax, especially when there are legitimate ones out there that will cost you nothing to become a member. Simply put, even the low price of $12 is too much to pay for access to Take Surveys for Cash.
Pros / Cons
Pros:
You get access to survey sites
Cons:
You have to pay to become a member

They utilize dishonest marketing tactics

You are not guaranteed to make any money

The support is poor
When you sign up for Take Surveys for Cash you will get access to a list of survey sites that you can sign up for, but you will forever be searching for those profitable $500 surveys that Jason White advertises. When you are repeatedly given surveys that pay $0.50 to $1.50 for ten minutes of your time, you will wish that you hadn't fallen victim to Jason White's scam. In reality, you are not guaranteed to make any money – as it states directly in the site's disclaimer – and you will be hard pressed to recoup even a small investment into Take Surveys for Cash.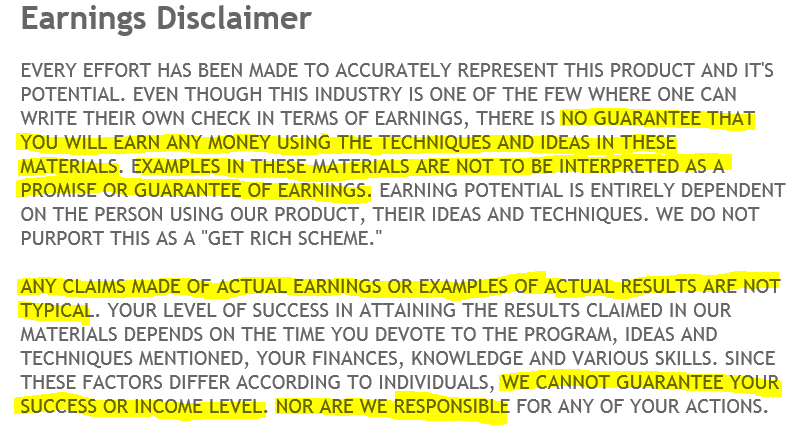 Who Is It For
No one? Honestly, this is not a survey site that I can recommend at all, to anyone. Why would you pay for access to surveys, when there are so many other survey sites that you can join for free? This is a platform that you should stay away from. I have referenced a post above where few legitimate survey sites are listed.
If you are looking to make money online consistently then survey sites are only going to disappoint you. They give you an instant belief that you can start earning quickly only to realize shortly after that you make very little and spend enormous amount of time performing useless online activity, giving out your personal information and flooding your Inbox with bunch of Spam emails. I've done this in the past and do not recommend survey sites to anyone. 

Training Tools / Support
If you are still curious what is support like? Well, you don't get much. When you sign up you are provided a list of survey sites to sign up for and then are essentially sent on your way. There really isn't a need for support since you aren't actually provided training or anything especially useful to have questions about, but it's still nice to have the option.
They offer a "Help Desk" that is essentially a FAQ section and if you need any more assistance you'll have to submit a ticket to their customer service reps and then wait for an answer.
Final Opinion / Verdict
Simply put, surveys are a way to generate a bit of extra spending cash, not a way to replace full-time income or earn your financial freedom. Advertising them as that is deceitful and charging people for a "secret" that doesn't guarantee anything is dishonest.
When you join Take Surveys for Cash, all you get access to is a list of survey sites that you can sign up for. You're essentially paying for Jason White to compile a list of free survey sites that a simple Google search could have revealed.
Do yourself a favor and steer clear of Jason White and Take Surveys for Cash. If you do want to start taking surveys, there are plenty of free survey sites out there to join, and if you want to start making legitimate money online, don't even bother joining legitimate survey sites. As I mentioned before they will only disappoint you because the work you put in is not compensated well enough and you deal with ton of Spam. 
We Constantly Review Programs in "Make Money Online" Niche,
So That You Don't Have to Waste Countless Hours
Want To See Our
TOP RECOMMENDATION?