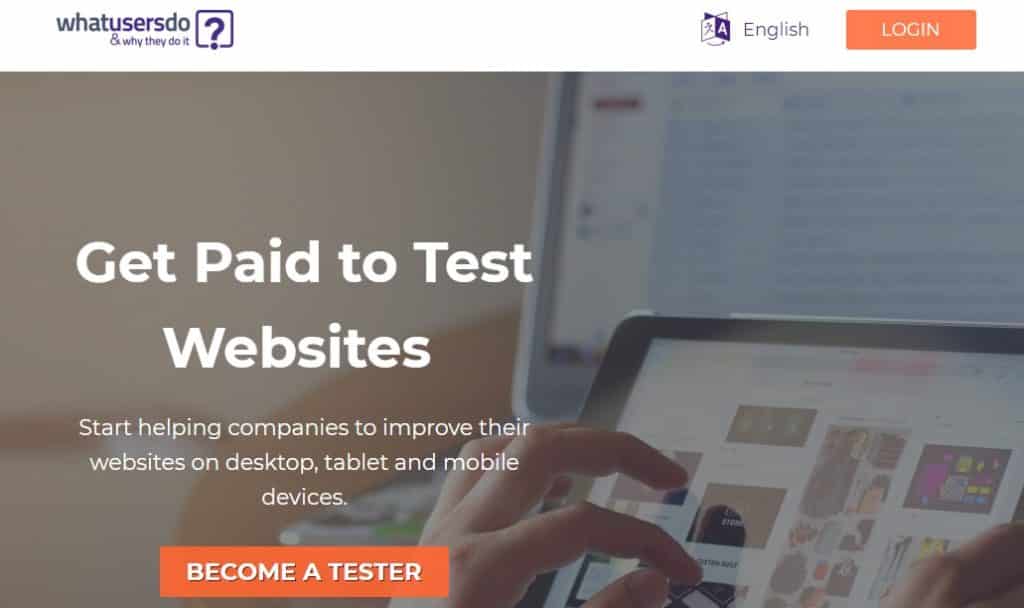 Welcome to WhatUsersDo Review!
For most brands, launching a website is as good as opening a brick and mortar business. That's why they take time building it and find people who can test it before they finally release it in the market. That being said, there are a lot of earning opportunities online in regards to evaluating a page.
WhatUsersDo Review Summary
---
Name: WhatUsersDo
Website: www.whatusersdo.com
Founders: Userzoom
Product Type: Usability Testing Website
Price: Free
Quick Summary: WhatUsersDo is a usability website that claims to pay you for reviewing sites and mobile applications. What you will do is record your opinion about the page using a webcam to help companies find out the areas of their page that need improvement. You'll be using a laptop/desktop and a webcam to perform minor tasks and you'll get paid via PayPal.

But is the pay enough or is it just a waste of time? Is WhatUsersDo a scam or not? Find all the answers you need in this honest WhatUsersDo review.
Overall Rating: 5/10
Recommended: Yes... no?
However, not all usability testing websites are created equal; some pays a good amount of cash while some only give scanty cash. Meanwhile, there are also scams. So before you sign up and share your valuable information, reading feedback about the company is helpful.
In this honest WhatUsersDo review, I'll help you find out what this Get-Paid-To (GPT) website is about. Is WhatUsersDo a scam? Can you really make money from it? If yes, how much?
What Is WhatUsersDo About?
Founded in 2008, WhatUsersDo is a usability testing website designed to help companies find people who will evaluate their websites. In return, they pay the people who perform minor tasks on their pages. It works like UserTesting, another usability website I've reviewed in the past but is it worth your time?
It has worked with more than 3,000 companies and over 1,500 paid testers. The thing is, the idea behind using people outside your company to test your website is good. Aside from getting various unbiased feedback, you have the chance to see anything you might have missed while working on it. So it just pays to work with individuals who will assess your page and compensate them in return. The challenge, however, is finding the right type of person who will evaluate your site -- and this is where WhatUsersDo comes in.
WhatUsersDo act like the middle person wherein they help the company look for the right testers as it cannot be just anyone. Working with qualified individuals will not only help them save time but also money.
While it's a great concept, you should lower your expectations when it comes to GPT websites as some are either too demanding with their criteria while some only pay a small amount.
How WhatUsersDo Work?
On their website, you'll find a simple explanation on how their service works and while this is obviously intended for the client website, it gives potential testers an idea of what they should expect on the platform.
From what I understand, their goal is to provide websites and app developers a video of the tester voicing out their opinion about the page and/or mobile application. This includes any underlying problems that might affect the user experience, such as bugs. As a result, these evaluations will help them find out the areas they need to work on their website.
As a tester, you will complete various tasks for a company website and everything will be recorded using a webcam. While some people are not comfortable with this setup, recording using a webcam is crucial to fully understand what your opinion is and to see your actual reaction while browsing the site.
How To Sign Up With WhatUsersDo
Signing up with WhatUsersDo is easy. All you need to do is provide basic details, such as your name, email address, and location/country. Once the form is completed, you will be led to a short how-to video to have a glimpse of what you need to do as a tester. This includes downloading the screen recorder and taking a practice test.
Here's a video on how you can sign up with WhatUsersDo:
How Much Can You Earn With WhatUsersDo?
The amount you can get from testing a website is around $5 and the tests you will take, which lasts for less than 20 minutes, has three categories: SEO Research, Website Usability, and Website Benchmarking. As for the payment, you will receive it via PayPal, every 25th of the month.
The challenge with WhatUsersDo is that you need to receive an invitation first before you can review a site. This means that you cannot rely on it as a regular source of income as you cannot just evaluate any website you want.
Normally, you'll receive around 3 invitations per month and this depends on how well you review a site or a mobile app. Meaning, the better assessments you provide, the more chances to get an invitation.
If you think you can't wait just wait for any invitation and you want to make a stable source of cash, I'd like to invite you to my top-rated program. This platform is a favorite of many marketers online when it comes to making money. It comes with a free guide on how you can start your own business over the Internet and everything else you need!
No, it's not. WhatUsersDo is legit and it has indeed paid testers; however, I found several complaints against the company and most of which involved poor customer service and testers not getting paid at all.
Signing up and earning with WhatUsersDo is free; however, you cannot just complete a form and expect to get paid. You need to take and pass a test first before you can test actual websites.
If you want to consider WhatUsersDo as your source of income, you should have a good video and audio recording setup as this will affect the quality of your recorded evaluation. So if you don't have one, that means you need to invest in new tools to avoid problems or possible rejection.
While WhatUsersDo is a legit site, you should not expect a lot from it though. First, the average invitations you can get in a month is 3, and this is your potential earnings per month:
3 x £5 = £15
If you're looking for a side hustle or you just want to make your free time more valuable, then you can consider this platform but if not and you want to possibly replace your day job, you can check out my top recommended program.
Here Is My Top Recommendation to Start Highly Profitable Online Business from Comfort Of Your Home
PROS
Legit Make Money Online Platform
Despite all the complaints, WhatUsersDo has proven its legitimacy and this is good enough. There are many scams out there, giving a lot of claims but at the end of the day, instead of helping the individuals make money, these con artists are the ones making money from them.
CONS
Limited Income
As mentioned, you can only review a site when you've received an invitation via email so if you don't get any, which is one of the major complaints of the testers, then you won't earn at all. This is not good news if you're looking for a stable source of income.
Application Is Time-Consuming
You can't just sign up and start earning right away. To become a tester, you need to watch the how-to video first and then perform the test, which lasts for less than 20 minutes, before you get paid to do tasks.
Account May Close Without Notification
Based on the reviews I had in the past, this is usual for most get-paid-to and paid survey websites. Sometimes, it might be the user's failure to understand and follow the company's rules and regulations but often, it's because of the website's own discretion. So in case you join WhatUsersDo, I think you should expect this to happen you won't end up disappointed.
If you want continuous earning and you fear getting blocked without warning, the best thing you can do to make money online is to start your own business. Don't worry, if you've never done this before, my top recommended platform has everything you need.
FREE TRAINING
Learn How I Started Highly Profitable Online Business From Comfort of My Home Following This Blueprint
WhatUsersDo is not a bad website at all. In fact, it has helped a lot of people earn money online, worldwide. The only problem I see is that the amount you'll get is not enough because of the limited reviews you can do. However, if you're only looking for a side hustle and you're good at voicing out your opinion, you can give this website a try.
WhatUsersDo has provided a short video clip on what you would do as a tester. It's pretty straightforward so more or less, you don't need a comprehensive guide on how to do this. However, you can search for free materials online on how you can become a better tester so you can score more invitations via email.
Compared to other money-making opportunities online, usability websites is one of the few things I liked the most, next to blogging and affiliate marketing. The pay is bigger compared to paid survey websites and easier to accomplish than multi-level marketing. But like the usual GPT websites, the opportunity is limited so I guess, I'll leave the decision to you.
Just in case you want more than a side hustle, I have a better option for you! Join my top recommended platform and enjoy the following perks:
Two Free Websites
Live, Supportive Community With Real, Like-Minded Members
Valuable Training You Can Use On Your Online Business
Chance To Talk To The Founders
And A Lot More!
Again, I hope I have enlightened you with my honest WhatUsersDo review and if you have any comments or questions, please feel free to drop it down below.
Thank you!
We Constantly Review Programs in "Make Money Online" Niche,
So That You Don't Have to Waste Countless Hours
Want To See Our
TOP RECOMMENDATION?