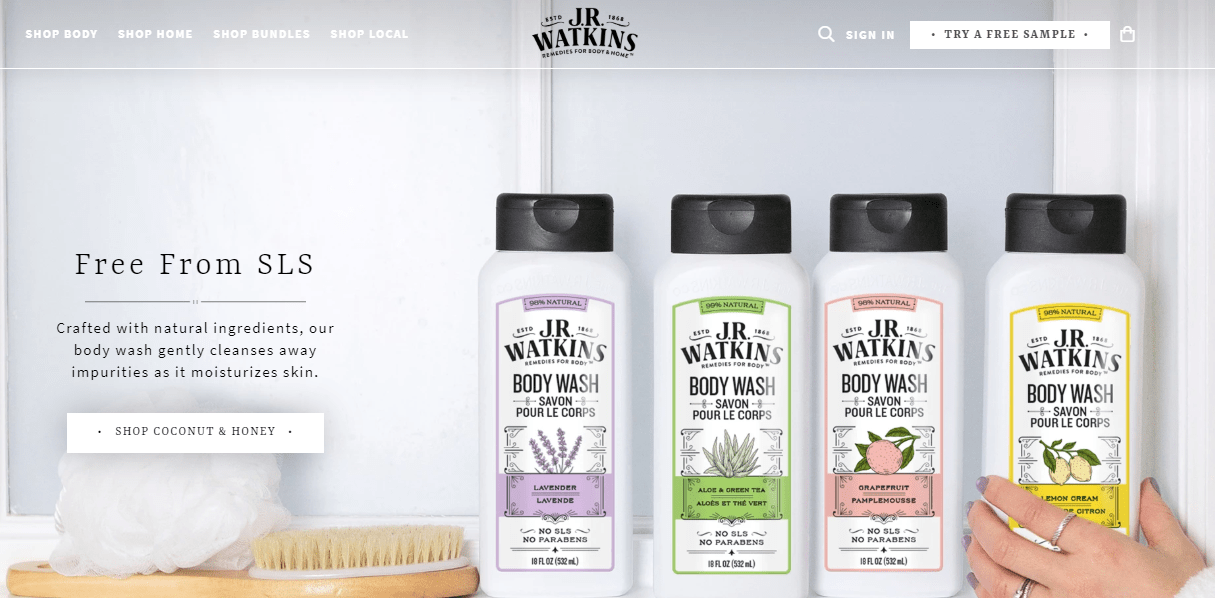 Welcome to My J.R. Watkins Review!
There are a lot of J.R. Watkins reviews online but it's not easy to tell if it's transparent enough, to tell the truth. So, if you're searching for unbiased feedback, then you've come to the right place. My number one intention is to provide an independent review.
J.R. Watkins Review Summary
---
Name: J.R. Watkins
Website: www.jrwatkins.com
Founders: J.R. Watkins
Product Type: Multi-Level Marketing Company
Price: $39.95 For Membership Fee + $29.95 For Annual Fee + $100/ Month For Products + Membership Upgrade (Optional)
Quick Summary: J.R. Watkins is a direct selling company that's been in the industry for more than a hundred years. They promote natural personal and home essentials as well as the opportunity to start a business. It has maintained a good reputation, unlike most MLM companies but can you make money with this program?
Overall Rating: 6/10
Recommended: Yes... No
I am not affiliated with J.R Watkins so expect that I will NOT promote any of their products or invite you to join the program. Rather, I'll discuss the good and the bad about this site based on the independent research I've done, their website, and other sources online.
What Is J.R. Watkins About?
The first time I visited J.R. Watkins' website, I was amazed by how their page and products look like. Unlike the usual MLM brands, there are no bold claims and less attention to recruitment. I even thought that it's a typical shopping site.
J.R. Watkins is a direct sales company that promotes natural personal and home essentials. It's been in the industry for a long time and has become one of the largest direct sales in the world. They also offer a business opportunity to individuals who want to make money.
I've reviewed similar programs before, such as Norwex, Purium, and Neora but I could sense that this one's a better brand.
J.R. Watkins Company
Founded in Plainview, Minnesota, J.R. Watkins Company was founded by none other than J.R. Watkins in 1868. It's one of the oldest multi-level marketing companies that has managed to maintain a good reputation.
In 1970, the company filed for bankruptcy. Despite the good name and glorious days, J.R. Watkins had a hard time keeping up with the market trends, thus resulting in bankruptcy. After 8 years, Irwin L. Jacobs bought the company but even so, the brand wasn't able to get their glory back.
In 2017, it was acquired by Swander Pace Capital -- a sister company of J.R. Watkins. They then focused on selling personal care, home care, and gourmet cooking ingredients.
J.R. Watkins Products
If there's one thing that sets J.R. Watkins from most MLM companies, it's the fact that most of their products can be found on retail stores. Normally, the distributors of network marketing companies are the only ones who can promote it but not with J.R. Watkins.
Also, I found out that the prices of their essentials are reasonably priced, unlike most MLM companies. And, when it comes to quality, many people seem to love their products, and the reviews below would support it:
For their Body Collection, they have:
Gel Hand Soap
Foaming Hand Soap
Hand Creams
Lotions
Body Oil Mists
Body Scrubs
Bar Soaps
Body Wash
Lip Care
Bath Soaks
Pain Relief
Cough & Cold
For their Home Collections, they have:
Room Fresheners
Candles
All-Purpose Cleaner
Dish Soap
They also have bundles where you can buy two or more products on one set at a lower price.
How To Make Money With J.R. Watkins?
J.R. Watkins offers a good source of income to those who are interested. However, I believe that if you want to rely on MLM brands, you should have another source of income, too.
According to a study, 99% of MLM distributors lose their investment so it's wise to always have another side hustle.
Anyway, there are two ways to earn with J.R. Watkins. The first option is to sell the products to consumers. Like a typical business setup, you will buy the products on a wholesale price and sell it based on the suggested retail rate of the company. You can do this by posting online, doing one-on-one sales presentations, group meetings, etc.
You can earn around 20% to 40%, depending on the price that you will give to your clients. Of course, there's a suggested retail price but some consultants can give discounts to their customers.
The next option is to sponsor new consultants. This means recruiting people to join the program, however, since this is a legit MLM company, you don't earn directly just by inviting them to join the platform.
Every time your sponsored distributor makes a sale or sponsors a new consultant, you earn a commission. This is the reason why MLM companies encourage you to grow your team. So, the more members/downlines you have, the higher the chance to make more sales.
The third option is to get incentives and rewards. Like typical MLM companies, the brand has a specific quota, milestones, or goals and if you reach any of it, let's say a certain group sales volume, you can earn leadership rewards and bonuses.
J.R. Watkins is not a scam and it has kept a good reputation for a very long time. Even if I have my personal issues with MLM companies, I find this one appealing. However, it takes a lot of things to make it work.
Selling the products itself is challenging. J.R. Watkins has placed some of their essentials on retail stores so as a distributor, you need to have an edge over these facilities.
I mean, if you're a new consultant, how would you market your business? How would you compete with these retail establishments knowing that more people trust them? On top of that, how would you make your business stand out over your fellow consultants?
Next is sponsoring new distributors. Not everyone is open to starting a business, let alone joining an MLM program. For most people, network marketing companies is the same as a pyramid scheme, which is likely to end up as a scam. So, if you're a distributor, you have to make an effort in making them realize that these two -- MLM and pyramid schemes -- are different.
Also, you have to encourage and train your sponsored distributors to do the same thing; otherwise, it will be useless. If they don't make a sale or sponsor new consultants, then there will be no incentives or bonuses.
In case things don't work out or you just want to secure your finances, I suggest you take my FREE Step-By-Step Guide on how to make money online. You can also use this training to help you grow your business so, take advantage of it now!
To become a consultant, you need to pay $39.95 and $29.95 for the annual fee. This is cheaper compared to other MLM companies, such as Q Sciences, Thrive Life, and CELLiS. The starter kit comes with training, a 35% discount on the products, and a few marketing materials.
On top of this, you have to purchase $100 every month to keep your account active. You can also upgrade your membership with prices ranging from $69.95 to $349. You also have to pay for the web maintenance of your personal website since it's only free for the first three months.
To learn more about J.R. Watkins, you can watch the video below:
Here Is My Top Recommendation to Start Highly Profitable Online Business from Comfort Of Your Home
PROS
Reasonable Price
Compared to usual MLM products, the brand has imposed reasonable prices for their essentials, making it easier to sell on the public.
One Of The Longest Operating Direct Sales Companies
This is just my opinion: if you're starting a new business and you want a reliable brand to partner with, it's good to check their background first. J.R. Watkins has been in the industry for more than a hundred years and they're known for producing high-quality products.
I believe this will help your business since the brand is well-established and getting scammed is less likely to happen.
CONS
Low Income Potential
To be honest, J.R. Watkins is just one of the very few MLM companies I like. Unlike the usual MLM brands with unethical business practices and bold claims, this one has a lot of good qualities to consider. However, since there's nothing really unique with the product plus, it's sold on retail stores, the earning potential is low.
Unless you're an aggressive consultant or you know how to make your products stand out, this business is less likely to work.
Tired of Trading Your Precious Time for Money?
Here is a Blueprint to Owing Highly Profitable Online Business Without Any Experience REVEALED!
J.R. Watkins is ideal for anyone who wants to look for a side hustle. There's a slight chance for you to earn, especially if you have knowledge of marketing this kind of products. However, you should have an alternative source of income because it might be a challenge for you to earn a huge amount from this.
Overall, I like how J.R. Watkins has presented its brand. It's not like the usual MLM companies with intimidating distributors. The products as well are not overpriced plus, it doesn't have any bold claims, which, by the way, is annoying.
The brand does not tell you that their product is unique, one-of-a-kind, or a miracle, unlike typical MLM businesses. But then again, the earning potential is low considering the competitors you have -- retail stores, co-distributors, and other brands with similar products.
So, I'll leave the decision to you. Just be sure to back your finances with a legit source of income.
I hope you enjoyed my J.R. Watkins review and if you have any questions or comments, feel free to drop it down below.
Thanks!
We Constantly Review Programs in "Make Money Online" Niche,
So That You Don't Have to Waste Countless Hours
Want To See Our
TOP RECOMMENDATION?