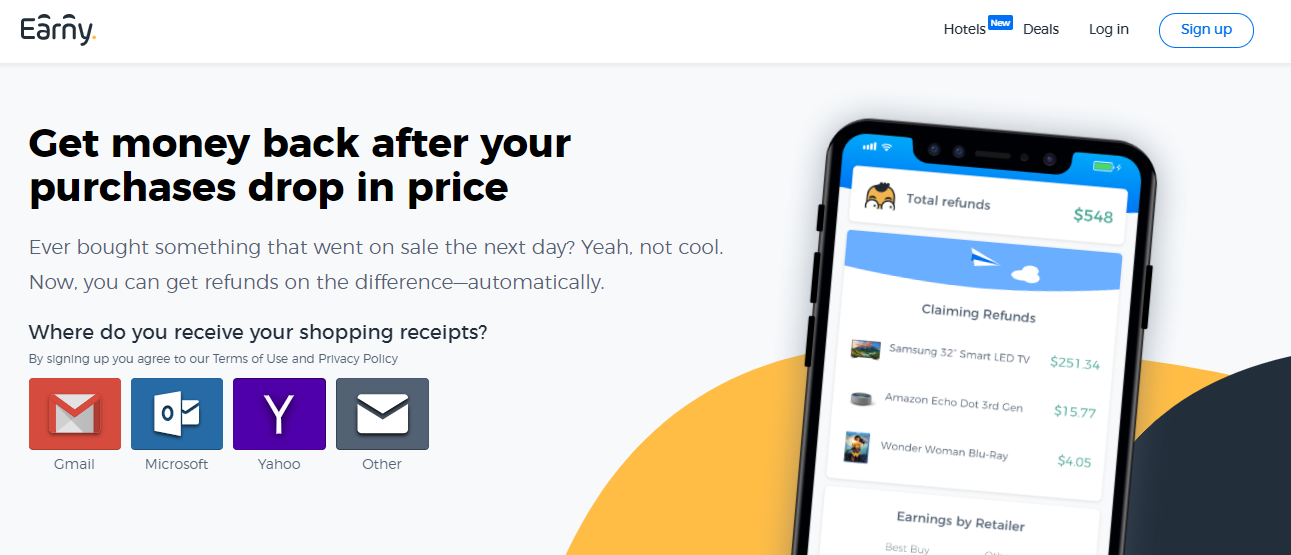 Welcome to My Earny Review!
Signing up for a cashback website is one of the ways to save money online. Most of it offers free service so there's really nothing to worry about. Imagine, all you need to do is buy an item and get a percentage back of the total amount you settled.
If you're a frequent shopper, such platforms would surely benefit you; however, like other programs, you have to know if it's really worth your time. Moreover, if it protects your information online.
Earny Review Summary
---
Name: Earny
Website: earny.co
Founders: Oded Vakrat
Product Type: Cashback Site
Price: Free
Quick Summary: Earny is a legit platform that offers cash through price adjustment. Unlike typical cashback sites, you don't simply earn a percentage back when you shop online; rather, you receive money to your account when the price of your purchases drops. Also, it works with hotel booking sites so you can have exclusive discounts. Sounds promising, right? But your private information might be at risk.
Find out everything you need to know in this honest Earny review.
Overall Rating: 3/10
Recommended: No
One of the most popular cashback sites nowadays is Earny and in this review, we'll find out the good and the bad about this program.
P.S.
Cashback sites are only good when you want to save money, not earn. So if you want to make money online, I suggest you take a look at my top recommended program.
Earny works like a cashback site but unlike the usual, it doesn't give you cash just by purchasing the product; rather, it claims to give you a refund when the price of the items you purchased drops. This is valid even after a month of purchase.
If you're not familiar with typical cashback sites, like ShopSmarter, Mr. Rebates, and Ebates, these sites give you a percentage of the total amount you spent. However, with Earny, you get money back through price adjustment claims.
How Earny Works?
Earny was founded by Oded Vakrat in August 2015. Like other programs, you need to register via the website or download the app to use Earny. By doing so, you give Earny a consent to scan new receipts. They will use this to determine your purchases.
For instance, you buy a pair of shoes from Nike at a regular price. Now, when the price drops, Earny will find the difference between the full price and the adjusted rate. Then they will make a price adjustment claim and once it's granted, they will send the money on your account.
If you're wondering how Earny earns from this, they take 25% from the amount as a fee.
Anyway, after granting the app/program access to your account, the next step, which is optional by the way, is to link it to your Amazon account. If you always shop on this platform, you should not skip this part. Once you're done, the next thing you need to do is to link your credit card, and it can be from any of these issuers:
MasterCard
CitiBank
Bank Of America
Now that you've approved the access, it will continue scanning receipts on your email messages so there's really not much work to do on your part. You shop, sit back, and just wait for the money to be sent to your account.
Want To Earn Commissions?
Earny offers a referral program to its members. In case you have successfully invited a new member to join the platform, you'll earn 5% of their refunds and 5% of their referral's refunds.
Brand Partners Of Earny
Earny has more than 10 retailers covered under the price protection claims, such as
Walmart
Best Buy
Costco
Bloomingdale's
Old Navy
Athleta
Gap
Nordstrom
Overstock
Nike
Newegg
Kohl's
Macy's
JCrew
They've also partnered with different hotel booking websites. Just like with the retailers, they check your email for any price drops and in case there are price adjustments, they will notify you how to rebook the hotel at a cheaper price. You also have a chance to get 60% off the public rates if you're a member.
Earny is not a scam. It is legit and is a safe place for your data. I know the thought of someone scanning your email sounds freaky but don't worry, your information is protected within the platform. You can learn more about what they do with the data they collect from you in their Privacy Policy.
But then, you must remember that companies that require data collection are one of the targets of the hackers and it's one thing that you should consider.
Also, I found a few complaints against Earny from the Better Business Bureau. By the way, it's not accredited by BBB but it has an A+ rating.
In addition, you won't literally earn using the platform. You will only get money back from your purchases. Therefore, you cannot use this if you want a side hustle or as your main source of income.
If you're looking for legit ways to make money online, you can consider these options:
Or, if you want to earn a bigger amount every month (or even have a source of passive income), I suggest you create your own affiliate site.
I know it sounds overwhelming but not if you join Wealthy Affiliate. When you create a FREE ACCOUNT, you have access to various training materials you can use on your site or when you want to build a profitable business online.
You can also meet new people by joining the live community. This space gives you the chance to ask other members, share your tips, or even build a connection. Plus, there's a 24/7 chat support should you need help.
Signing up with Earny is free; however, after registration, you have to pay for the subscription. For a monthly basis, it costs $4.99 and for a yearly subscription, it cost $39.96. The subscription covers the following:
Get paid when your purchases prices' drop.
Full protection of partner retailers and hotel booking websites.
2-day shipping and return FOR FREE
If you shop frequently online, you can easily offset the subscription fee with the money you will get back from the program. However, it's not really an ideal source of income. After all, you're still spending money and you're just getting a small amount back.
If you want a legit way to make money online, I suggest you check my FREE STEP-BY-STEP GUIDE on how to make money online. No experience? Don't worry, it provides training and webinars without the need for your credit card details.
You can learn more about Earny by watching the video below:
Here Is My Top Recommendation to Start Highly Profitable Online Business from Comfort Of Your Home
PROS
Save Money While Shopping
Almost everyone shops but not everyone gets a refund or money back. Therefore, if you want to receive small cash after you purchase, you can consider signing up for Earny. Plus, you don't have to do anything after making an account with them.
CONS
They Are Sending Emails On Your Behalf… Literally
As mentioned, they will scan your email and send messages on your behalf, literally. There was an article entitled: "Earny, a retail app, can save you money... if you let it control your email". According to the post, his CNBC colleague found an email from Earny and it made it sound like it was really sent by her. It even got a smiley icon after her name.
Despite being a legit site and being transparent with how they work, I still don't feel safe about this procedure.
Tired of Wasting Time on Low Quality Programs?
I'm so grateful that I was able to find THIS PROGRAM which helped me to finally start making money online!
Earny is ideal for anyone who shops and books hotel frequently. As mentioned, there's a membership fee you need to settle every month or every year so if you're not buying a lot of things or booking hotels, the fee is not worth it.
While Earny has proven to be a safe and legit site, I am still not comfortable with the fact that they'll be sending email messages on different companies on your behalf. They have access over your personal details so I'm skeptical about this. I'm not saying that they do this but you'll never really know if they are checking other important details, such as your bank account and other private information.
Looking for a safe way to make money online? Don't worry, I got the best offer for you!
Check out my top recommended platform. It's free and easy to get started! Plus, there's no need to provide your credit card details or grant access to your email.
Also, you will enjoy the following benefits:
Training resources
Webinars to help you start your business online
One-on-one coaching
Comprehensive guide
And many more!
I hope I have enlightened you with my honest Earny review and if you have any questions or you want to share your personal experience with Earny, please feel free to comment it down below.
Thank you!
We Constantly Review Programs in "Make Money Online" Niche,
So That You Don't Have to Waste Countless Hours
Want To See Our
TOP RECOMMENDATION?